Biscutis Deliver The Fireworks, Cruise Past Biloxi, 7-4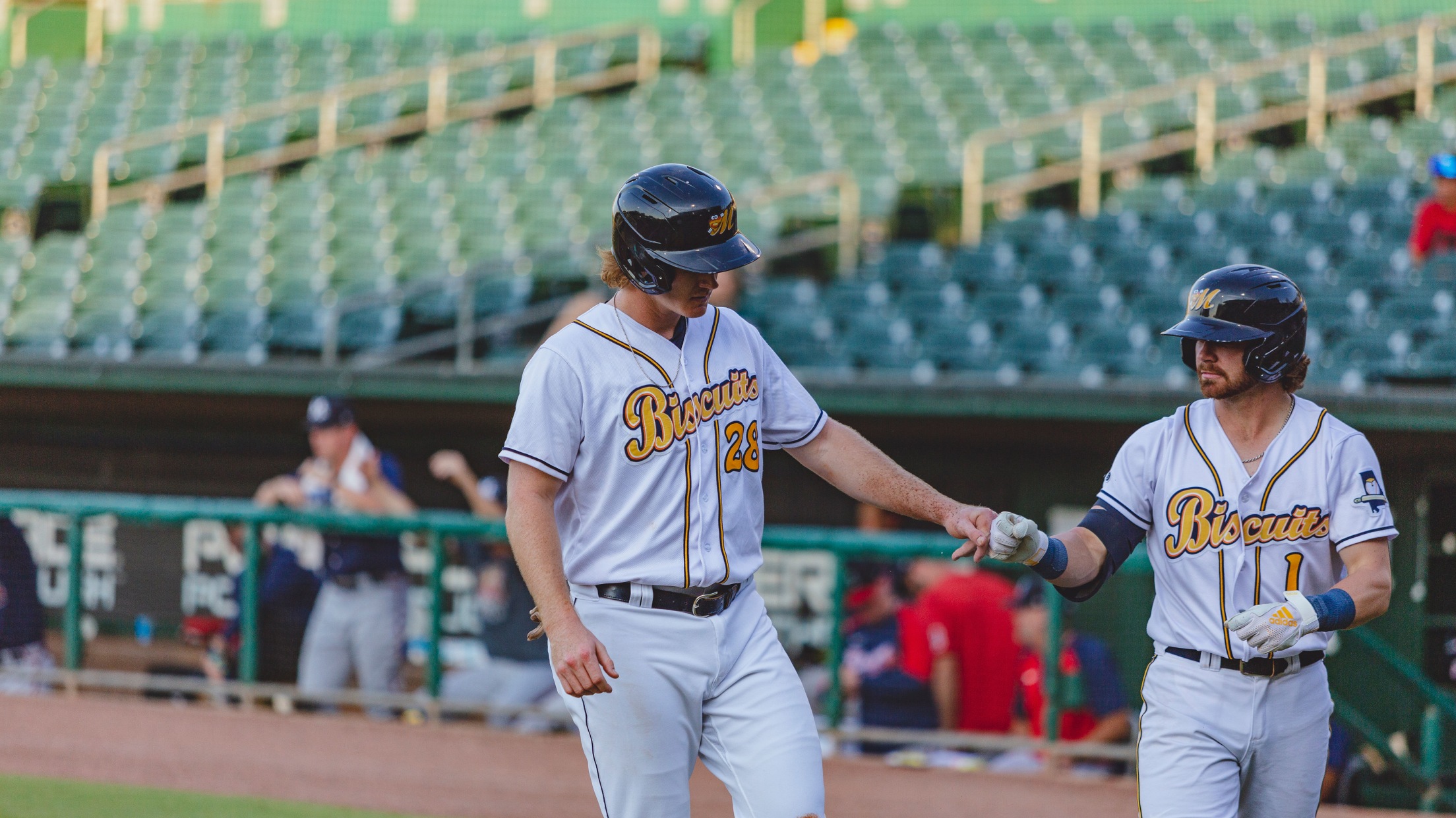 MONTGOMERY, Ala.. – The Biscuits (33-36/5-2) got the best of the Biloxi Shuckers (37-33/2-4) 7-4 in a back-and-forth contest Saturday night at Riverwalk Stadium. Montgomery is clicking on all cylinders in the second half, with a series-opening win and a win streak of three in a row. It didn't take
MONTGOMERY, Ala.. – The Biscuits (33-36/5-2) got the best of the Biloxi Shuckers (37-33/2-4) 7-4 in a back-and-forth contest Saturday night at Riverwalk Stadium. Montgomery is clicking on all cylinders in the second half, with a series-opening win and a win streak of three in a row.
It didn't take long for either team to see action as the series opener in Montgomery was full of fireworks as the Biscuits struck first in the second inning. Tyler Frank got things rolling as he was able to bring the first run home with a sac fly as Osleivis Basabe came to score to put the boys in blue up 1-0.
After two innings of the Biscuits on top, Shuckers designed hitter Thomas Dillard delivered a bomb to right center to tie it 1-1 in the top of the fourth. From there it was Frank again who came through to put the Biscuits on top with another sac fly to score Basabe again and make it 2-1 with a quick Montgomery response.
Immediately in the fifth, Biloxi decided to keep the pressure on the Biscuits as first baseman Noah Campbell connected on a RBI-double to outfielder bring Terence Dotson home and tie it at 2-2. Later in the inning, center fielder Joey Weimer recorded an RBI-single that allowed Campbell to score after a throwing error by Biscuits short Greg Jones as the Shuckers took the lead 3-2. In the bottom of the fifth, Jones recorded his own RBI sac fly to keep the Biscuits engaged and tied 3-3. Kameron Misner still has magic at the plate as he delivered a two-run home run to put Montgomery ahed 5-3.
In the sixth, Biloxi found luck with a home run of their own from outfielder Jason Reetz via a solo bomb to left field to close the gap to one, 5-4 Biscuits. On the other end of the inning, a wild pitch by Shuckers relief pitcher Zach Vennaro allowed Roberto Alvarez to score and extend the lead to 6-4. Montgomery was not done yet as they recorded their final run when Brett Wisely reached on a throwing error by second baseman Felix Valerio that brought Frank home and put Montgomery up 7-4.
From there, Montgomery mounted control for the rest of the game and Justin Sterner came in to pick up his third save of the year. The Biscuits continue their flow with their third win in a row. With the win, Montgomery now is in first place in the South division passing the Mississippi Braves. They look to continue their good mojo Wednesday when the duo of Michael Mercado (2-3, 5.59) and Caleb Sampen (1-3, 4.78) faces the duo of TJ Shook (2-0, 4.62) and Nick Bennett (3-7, 5.84) for Military Wednesday pres. by WOW! at 6:35 PM CT.
The rest of the series includes Bobblehead T-Shirt Giveaway pres. By ARC of Alabama & Thirsty Thursday on Thursday, July 7th at 6:35 PM CT, Kimchi Bobblehead Giveaway pres. By Pulmuone & Jersey Auction, Mystery Bobblehead Night & MAX Fireworks Saturday July 9th at 6:05 PM CT, and Fishing Bobber Giveaway pres. By Go Fish Alabama & Bark in the Park on Sunday, July 10 at 3:33 PM CT.