Biscuits Win Thriller 6-4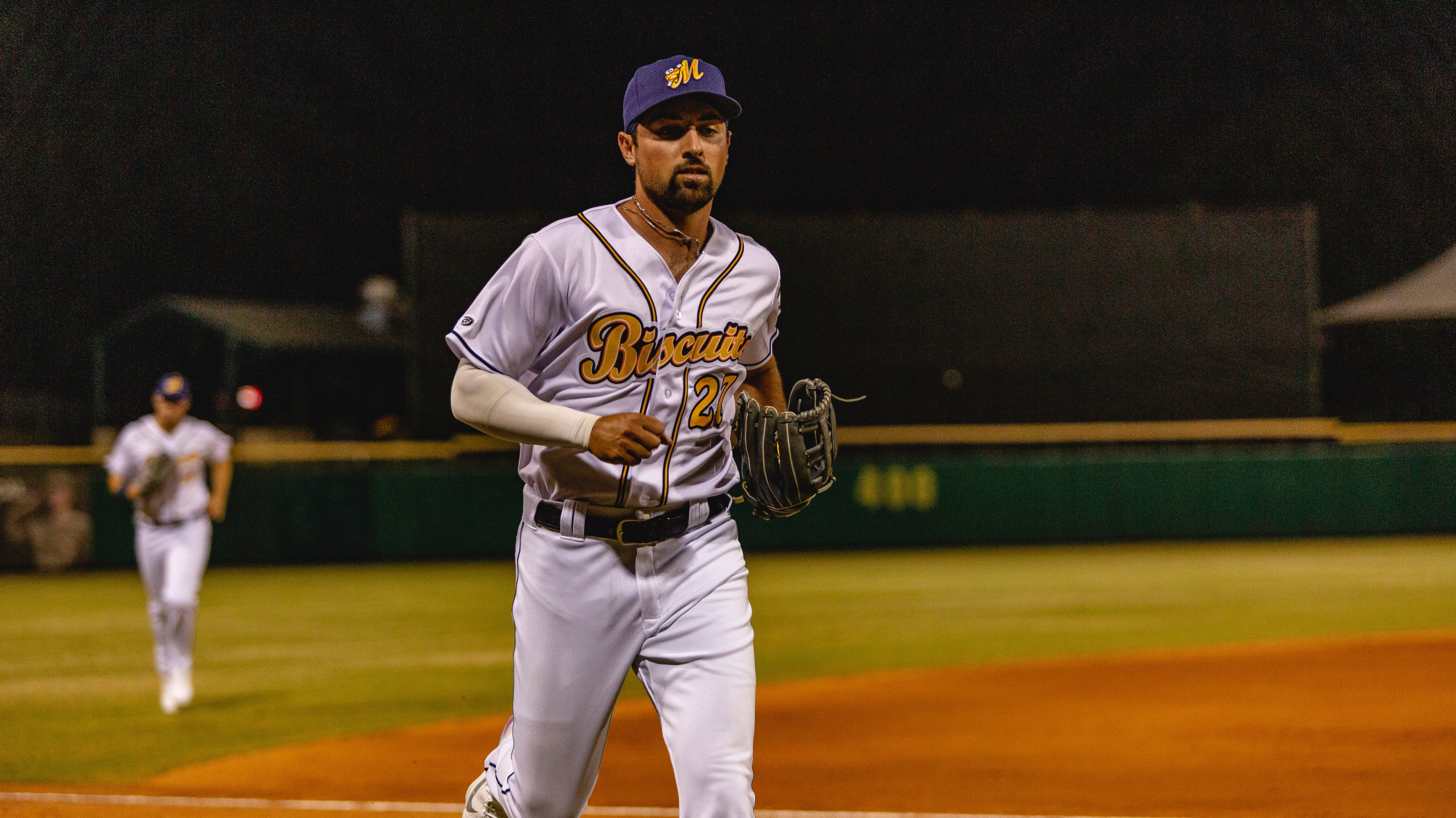 PENSACOLA, Fl.. – The Biscuits (6-6) got back in the win column, beating the Pensacola Blue Wahoos (5-8) 6-4 in a Friday night thriller. Greg Jones has been quiet all season, but he made some noise with his first home run of the season. A two-run home run to open
PENSACOLA, Fl.. – The Biscuits (6-6) got back in the win column, beating the Pensacola Blue Wahoos (5-8) 6-4 in a Friday night thriller.
Greg Jones has been quiet all season, but he made some noise with his first home run of the season. A two-run home run to open the game on the right track for the Biscuits in the first inning.
The Blue Wahoos did not waste time responding when Griffin Conine answered with a home run of his own. A solo shot to center off Biscuit starter Jayden Murray in the second inning makes the score 2-1. With two outs in the same inning, Murray gave up another solo home run to Luis Aviles Jr. with the Blue Wahoos tying the game at two going into the third inning.
Wahoos starter Eury Perez sent two Biscuits on base with a walk and hit by pitch. Back-to-back RBI-singles by Evan Edwards and Hill Alexander set the Biscuit lead to 4-2 in the third inning.
Errors for the Biscuits were the Wahoos' best friend. An error by Jones put Victor Mesa on base. Another throwing error by Grant Witherspoon allowed Mesa to come home and shorten the lead to 4-3.
Pensacola's favorite Jerar Encarnacion hit a league-leading fifth home run to tie the game at four in the bottom of the seventh. With Runners at the corners and with no outs for the Biscuits, Jordan Qsar smacked a go-ahead single to bring Witherspoon and Kameron Misner home to score the eventual game-winning hit.
Closer Jose Lopez approached the mound to secure the win and save for the Biscuits. Montgomery looks to take back control of the series tomorrow at 6:05 pm when Ian Seymour (0-2, 9.95) duels against Zach McCambley (0-0, 9.64).
The Biscuits return back to Montgomery for their homestand vs the Mississippi Braves on Autism Awareness Night supporting Easter Seals of Central Alabama on Tuesday, April 26th at 6:35 PM
The rest of the series will include Military Appreciation Night presented by WOW! Fireworks on Wednesday, April 27th; Craft Beer Night with T-Shirt Giveaway and Thirsty Thursday on Thursday, April 28th; Korean Heritage Night #1 feat. Kimchi Hat Giveaway pres. by Pulmuone on Friday, April 29th; "Fan vs. Food" Challenge & MAX Fireworks on Saturday, April 30th; and Kids Lunchbox Giveaway pres. by the Montgomery Area Food Bank on Sunday, April 31st.