Pelicans Strike Out 16, Win 3-1 over RiverDogs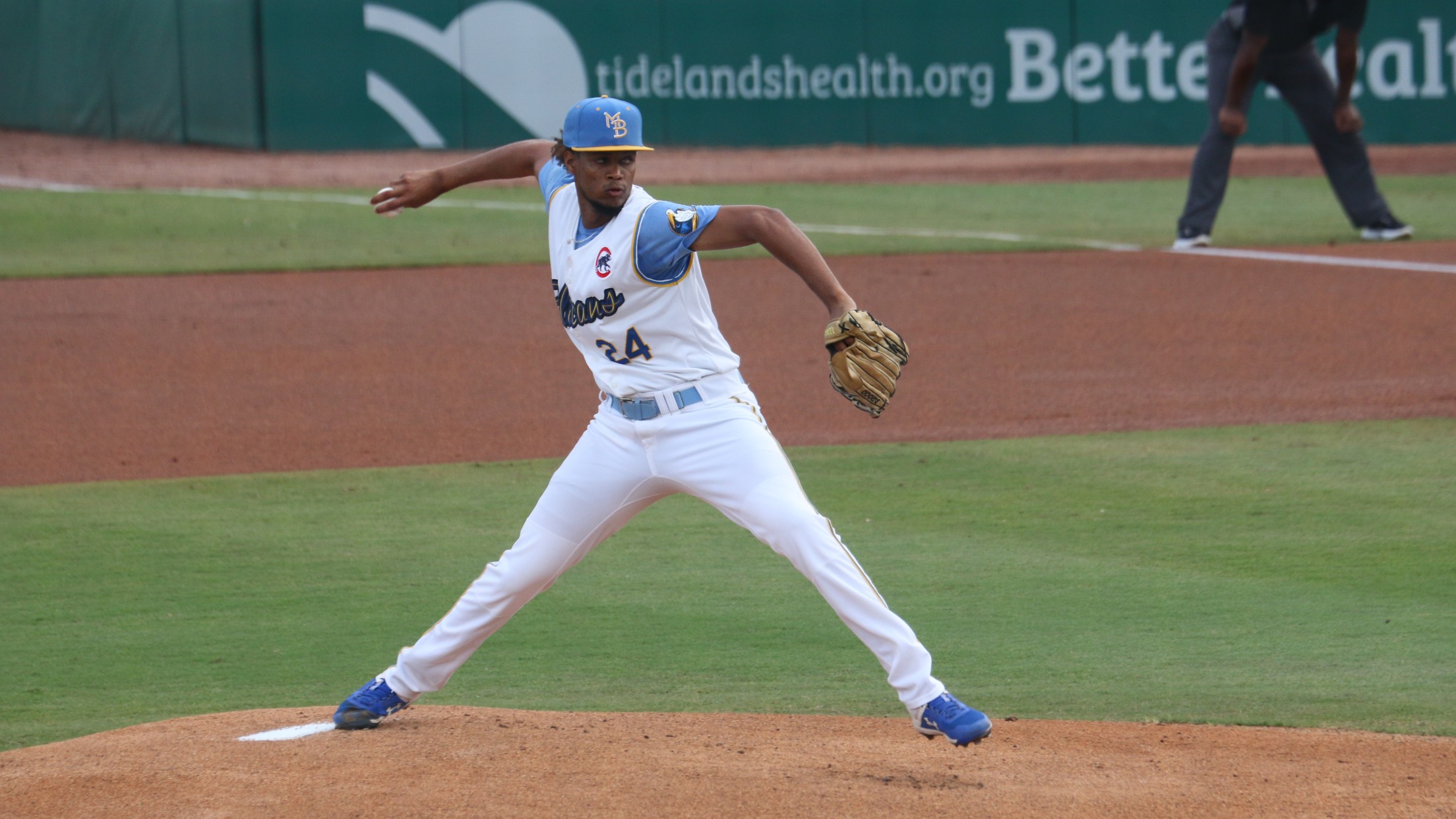 (Larry Kave/Myrtle Beach Pelicans)
Starter Luis Devers tied his career-high with nine strikeouts through five innings
Starter Luis Devers tied his career-high with nine strikeouts through five innings
By Sam Weiderhaft
Against the top hitting team in the Carolina League, the Myrtle Beach Pelicans held the Charleston RiverDogs to just one run and four hits with a 3-1 win in Wednesday night's contest. With the victory, the Pelicans improved to 49-22 and 2-3 in the second half. The RiverDogs dropped to 48-23 and 2-3 in the second half after winning the series opener on Tuesday.
The Pelicans packed all their scoring in the first three innings as Kevin Made (2-4, HR, RBI) led the lineup with a solo homer in the first. Jacob Wetzel (0-2, RBI) added a sacrifice bunt to bring in a run in the second, and Ezequiel Pagan (1-3, 2B, RBI, R) drove in one on a double in the third. Matt Warkentin (2-4, 2B) tallied a multi-hit game with a double for the Birds as well.
It was a gem of a night for three pitchers as Luis Devers (9-3) secured his league-leading ninth victory off nine strikeouts through five innings with one earned run. Devers has hit the nine-strikeout mark in back-to-back home starts. Chase Watkins followed with two scoreless innings with four strikeouts and Johzan Oquendo closed out the game with three strikeouts across two innings with two hits allowed to earn his second save.
The RiverDogs scored their lone run on a solo homer by Nathan Perry (1-3, HR, RBI) in the third inning. Shane Sasaki (2-3) was the only player with a multi-hit game as the RiverDogs tallied just four hits and did not draw a walk.
Antonio Jimenez (3-4) took the loss with three earned runs through his 5 2/3 innings off five hits and two walks while striking out three. The pitching staff held the Pelicans scoreless with just two hits after the third inning.
With two outs in the first, Made took a 1-1 pitch to left field for a solo home run to give Myrtle Beach an early lead. It was his sixth homer of the season.
The Pelicans struck once again in the second as Wetzel came up with runners at the corners with one out. Wetzel dropped down a bunt that was fielded by Jimenez as Pagan came in to score for a 2-0 Pelicans advantage.
After retiring the first six batters, Devers gave up a solo home run to Perry to right-center field to lead off the third, which made it a 2-1 game.
The Pelicans tacked on their final run in the third as Kevin Alcantara walked and Warkentin singled with two outs. Pagan followed with a line-drive double to right field that hit off the wall to score Alcantara and make it a 3-1 Myrtle Beach lead.
Game three between Myrtle Beach and Charleston is slated for Thursday night at 7:05 p.m.