Deja Vu – Fisher Cats lose by one after comeback
New Hampshire scores five runs in last two innings at Erie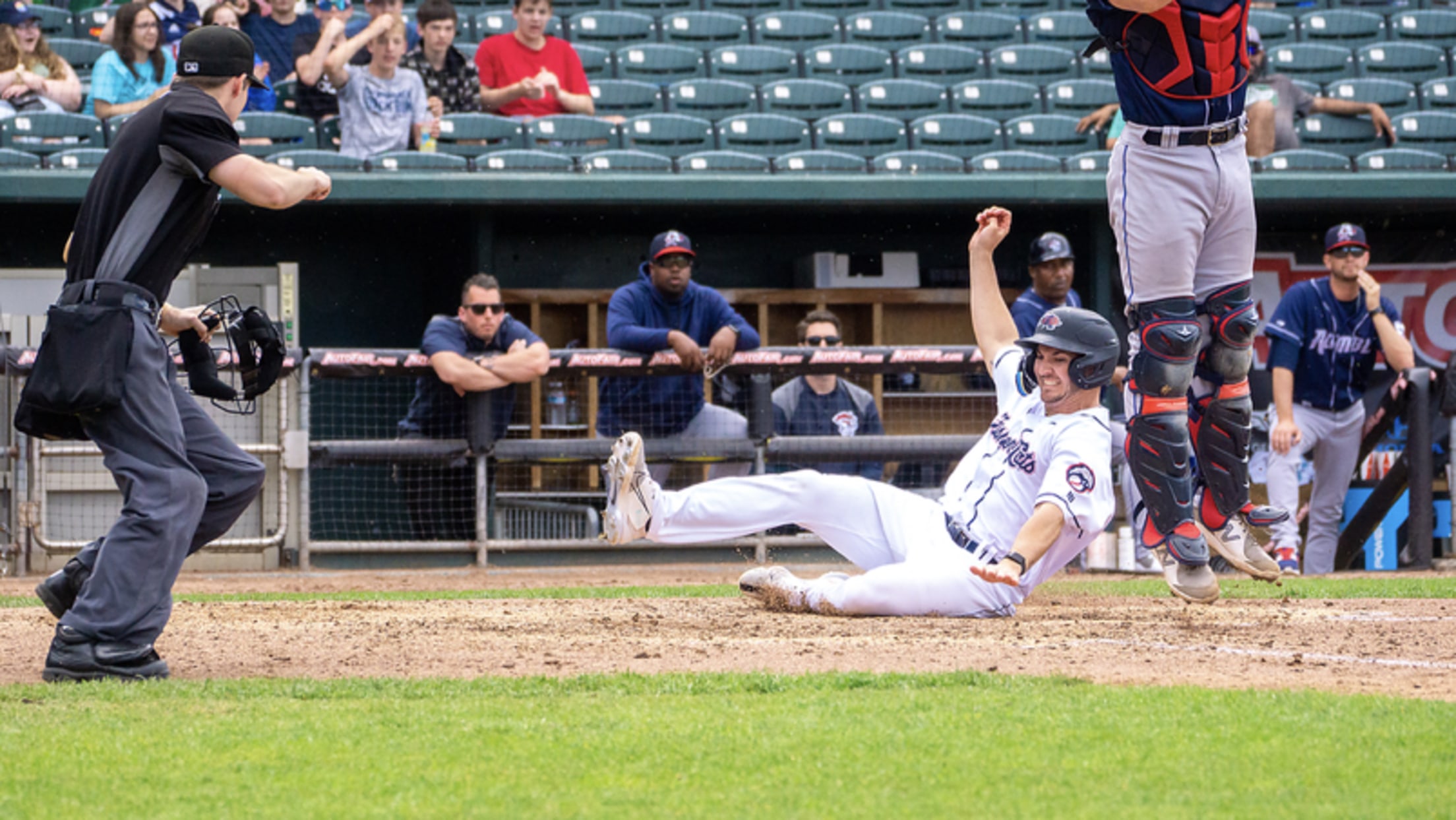 (Photo courtesy of Kristin Basnett)
Erie, P.A. – The New Hampshire Fisher Cats (16-20) scored five runs in the final two innings but lost by one, 8-7, to the Erie SeaWolves (20-17) on Friday night at UPMC Park. The defeat marked the fifth time the Fisher Cats have scored multiple runs in their last frame
Erie, P.A. – The New Hampshire Fisher Cats (16-20) scored five runs in the final two innings but lost by one, 8-7, to the Erie SeaWolves (20-17) on Friday night at UPMC Park. The defeat marked the fifth time the Fisher Cats have scored multiple runs in their last frame at the plate but lost by one.
Rafael Lantigua and Spencer Horwitz sparked the comeback with back-to-back doubles in the eighth inning. Lantigua has a team-high 11 doubles this year and is hitting .348 in May.
Tanner Morris, Luis De Los Santos and Will Robertson each tallied an extra-base hit in the ninth inning. Morris extended his hit streak to seven games with a double, and De Los Santos hit his first triple of the season into the right field corner. Robertson cracked an opposite field double off the wall in left to bring the Fisher Cats within one.
New Hampshire had four hits in the first seven innings, followed by six hits across the final two frames.
Erie jumped out to an early 4-0 lead, as they tagged Paxton Schultz (L, 2-4) with four earned runs in 3.1 innings of work. The SeaWolves hit four homers in the game, including two from left fielder Kerry Carpenter. He went 4-for-5, and every hit was for extra bases.
The SeaWolves threw another impressive starter. Righty Reese Olson went 4.1 innings and gave up two runs. He struck out a career-high 11 batters and did not allow a run until the fifth inning.
Reliever Marcus Reyes helped tame the Erie offense. He came in in the fifth inning with the bases loaded and worked out of the jam. Zac Cook made a spectacular leaping catch at the wall in left-center to rob Andrew Navigato of extra bases and possibly a grand slam. Reyes finished with 2.2 hitless, scoreless innings of work. He walked two and struck out a season-high four.
Catcher Chris Bec also notched his first extra-base hit of the season with a double in the third inning, and he caught a runner stealing in the first.
The Fisher Cats continue their six-game road series against the Erie SeaWolves (Detroit Tigers) tomorrow, May 21 at 4:05 p.m. New Hampshire returns home on Tuesday, May 31 versus the Portland Sea Dogs (Boston Red Sox). Tickets can be found at NHFisherCats.com, via email at [email protected], over the phone at (603) 641-2005, or in-person at the Fisher Cats box office at 1 Line Drive in Manchester.