New Hampshire evens series with win over Rumble Ponies
Defense shines, Martinez homers for Fisher Cats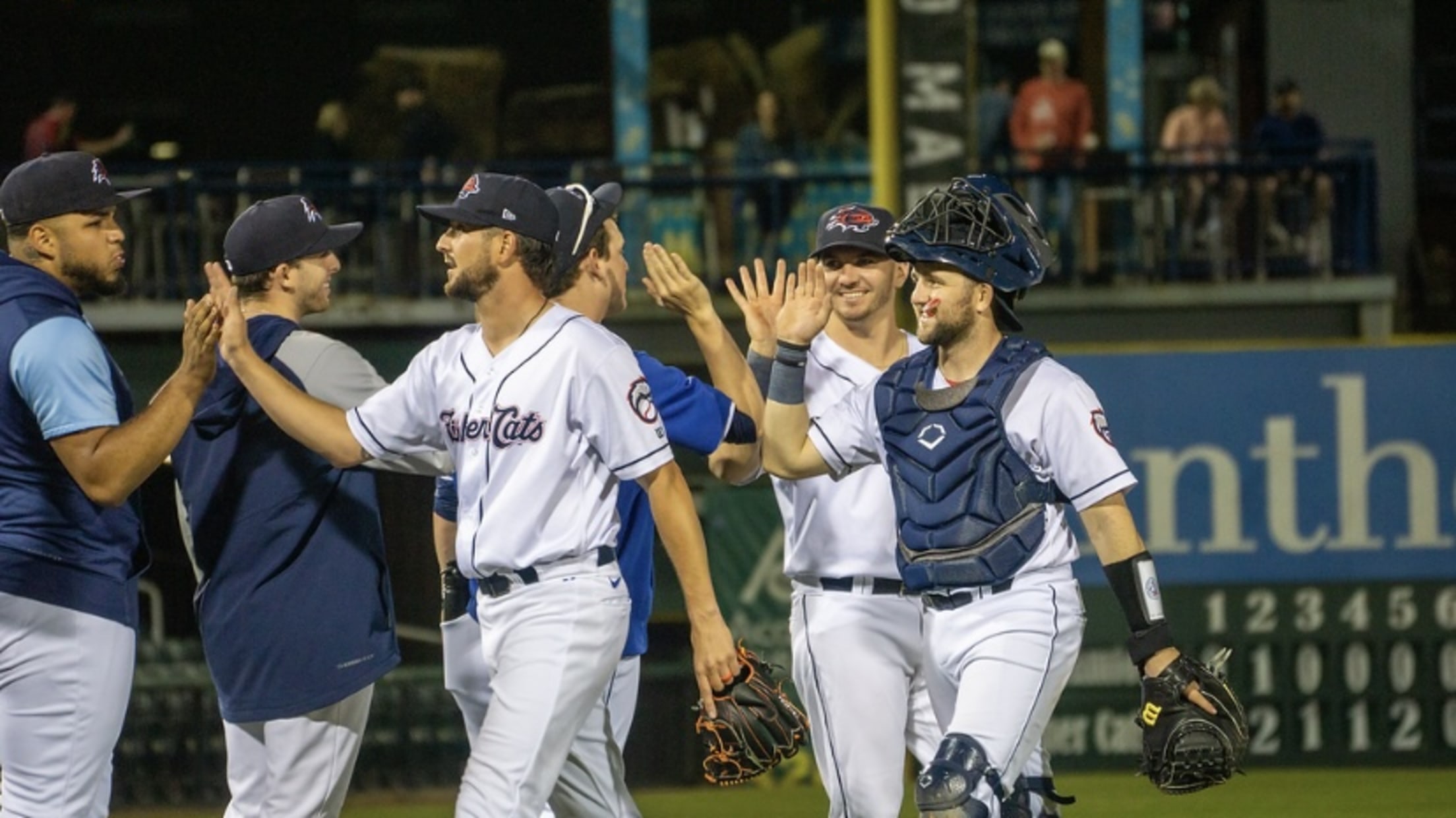 (Photo courtesy of Kristin Basnett)
Manchester, N.H. – The New Hampshire Fisher Cats (14-16) evened their series with the Binghamton Rumble Ponies (New York Mets, 10-20) with a 5-2 win on Friday night in front of 3,656 fans at Delta Dental Stadium. The Fisher Cats tallied 10 hits in the win, including home runs from
Manchester, N.H. – The New Hampshire Fisher Cats (14-16) evened their series with the Binghamton Rumble Ponies (New York Mets, 10-20) with a 5-2 win on Friday night in front of 3,656 fans at Delta Dental Stadium.
The Fisher Cats tallied 10 hits in the win, including home runs from Spencer Horwitz and Orelvis Martinez.
On the mound, Paxton Schultz (W, 2-3) turned in his best start of the season. The 24-year-old threw his longest outing of the year with 5.0 innings, allowing two earned runs and issuing one walk. He struck out a season-high eight batters, one off his career high.
Three singles in the first inning scored the first run of the game. Horwitz delivered an RBI single to score Tanner Morris, who had two hits in the game. For Horwitz, the RBI was his first since May 1 versus Reading. For Morris, Friday marked his seventh multi-hit game of the season and third of the month.
Horwitz's solo homer in the fourth inning was his third of the season and first since April 23 at Altoona. Martinez's two-run blast in the seventh inning was his 10th of 2022. He is the first player in the Eastern League to hit double-digit homers.
Sebastian Espino stayed hot in the second inning, this time in the field. He robbed Jeremy Vasquez of extra bases by making a leaping catch at the right field wall.
Morris and LJ Talley also caught sharp line drives in the defensive showcase. Talley made his first start for New Hampshire in 2022, and he finished off his line drive catch by doubling up Zach Ashford at first. Talley began the year with Triple-A Buffalo.
Will Robertson made a tumbling catch in center field to end the sixth inning. It was the Creighton product's first start in center this season.
The Fisher Cats continue their six-game series against the Binghamton Rumble Ponies (New York Mets) tomorrow at 6:35 p.m. at Delta Dental Stadium. Tickets can be found at NHFisherCats.com, via email at [email protected], over the phone at (603) 641-2005, or in-person at the Fisher Cats box office at 1 Line Drive in Manchester.