Cyclones Take Rubber Game from Jersey 4-2 on Sunday
Brooklyn's four-run seventh propels Cyclones to win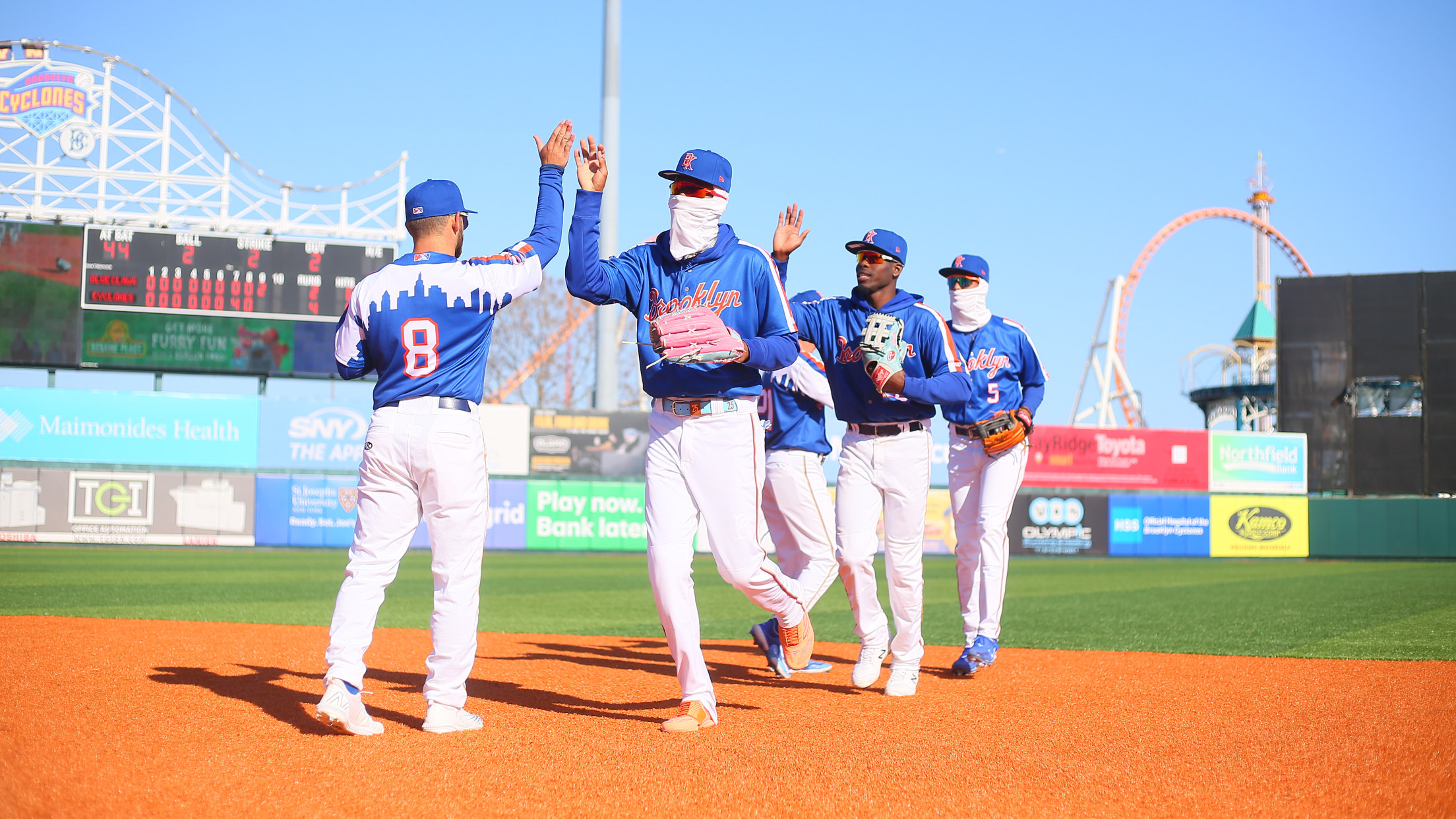 The Brooklyn Cyclones celebrate on the field at Maimonides Park following a 4-2 series-clinching victory over the Jersey Shore BlueClaws before 2,864 fans on Sunday afternoon. (Matt Kipp / Brooklyn Cyclones)
BROOKLYN, N.Y. (April 9, 2023) - On the backs of strong pitching combined with a four-run bottom of the seventh inning, the Brooklyn Cyclones defeated the Jersey Shore BlueClaws, 4-2, to capture the final game of a three game set. The win marks Brooklyn's second in three days, giving the
BROOKLYN, N.Y. (April 9, 2023) - On the backs of strong pitching combined with a four-run bottom of the seventh inning, the Brooklyn Cyclones defeated the Jersey Shore BlueClaws, 4-2, to capture the final game of a three game set. The win marks Brooklyn's second in three days, giving the Cyclones their first series victory of 2023.
Brooklyn starter RHP Tyler Stuart was strong in his first outing of the year. The righty allowed just one hit through four frames, keeping the BlueClaws off the scoreboard. He struck out five Jersey Shore batters, and walked only two.
Neither team scored through the first six innings of the contest. After Jersey Shore crossed the plate initially in each of the first two games of the series, the Cyclones punched first during the rubber match.
In the bottom of the seventh, 2B Justin Guerrera walked to start off the inning. From there, LF Omar De Los Santos singled to put two men on with no outs. After C Drake Osborn struck out swinging, 1B Joe Suozzi was plunked in the hip to load the bases. That set up SS Kevin Kendall, who drew a bases-loaded walk to force in the game's first run.
That was far from the only scoring in the frame, though. C Kevin Parada struck out for the inning's second out. With two gone, OF Alex Ramírez barreled up a single into left field to plate two more. RF Stanley Consuegra then walked, setting up 3B Jaylen Palmer for an RBI infield single to extend the Brooklyn lead to four. The base-hit was Palmer's first of the season.
Still, the BlueClaws offense did not go down without a fight. After a scoreless eighth inning on both sides, C Anthony Quirion led off the top of the ninth with a solo blast off RHP Jordan Geber. The very next batter, Geber responded, striking out SS Casey Martin.
With one out and the bases empty, RHP Wilkin Ramos hit the first batter he faced out of the Brooklyn bullpen to put the tying run in the on-deck circle. Ramos then walked CF Jared Carr to hand it back to the top of the Jersey Shore order with just one out.
LF Marcus Lee Sang singled home a run, cutting the Brooklyn lead in half. 2B Hao-Yu Lee kept the line moving with a one-out single to load the bases, prompting another call to the bullpen for the 'Clones. LHP Daniel Juárez came in with only one out, but retired the next two batters to strand the bases loaded to earn the save and end the ball game.
Brooklyn is off on Monday, before a trip to Winston-Salem for the team's first trip away from Maimonides Park this season. The Cyclones meet the Dash, the High-A affiliate of the Chicago White Sox, at 7:00 p.m. from Truist Stadium.