Torkelson, Greene earn stripes for Tigers
Near-ready Top 100 prospects giving Detroit hope on horizon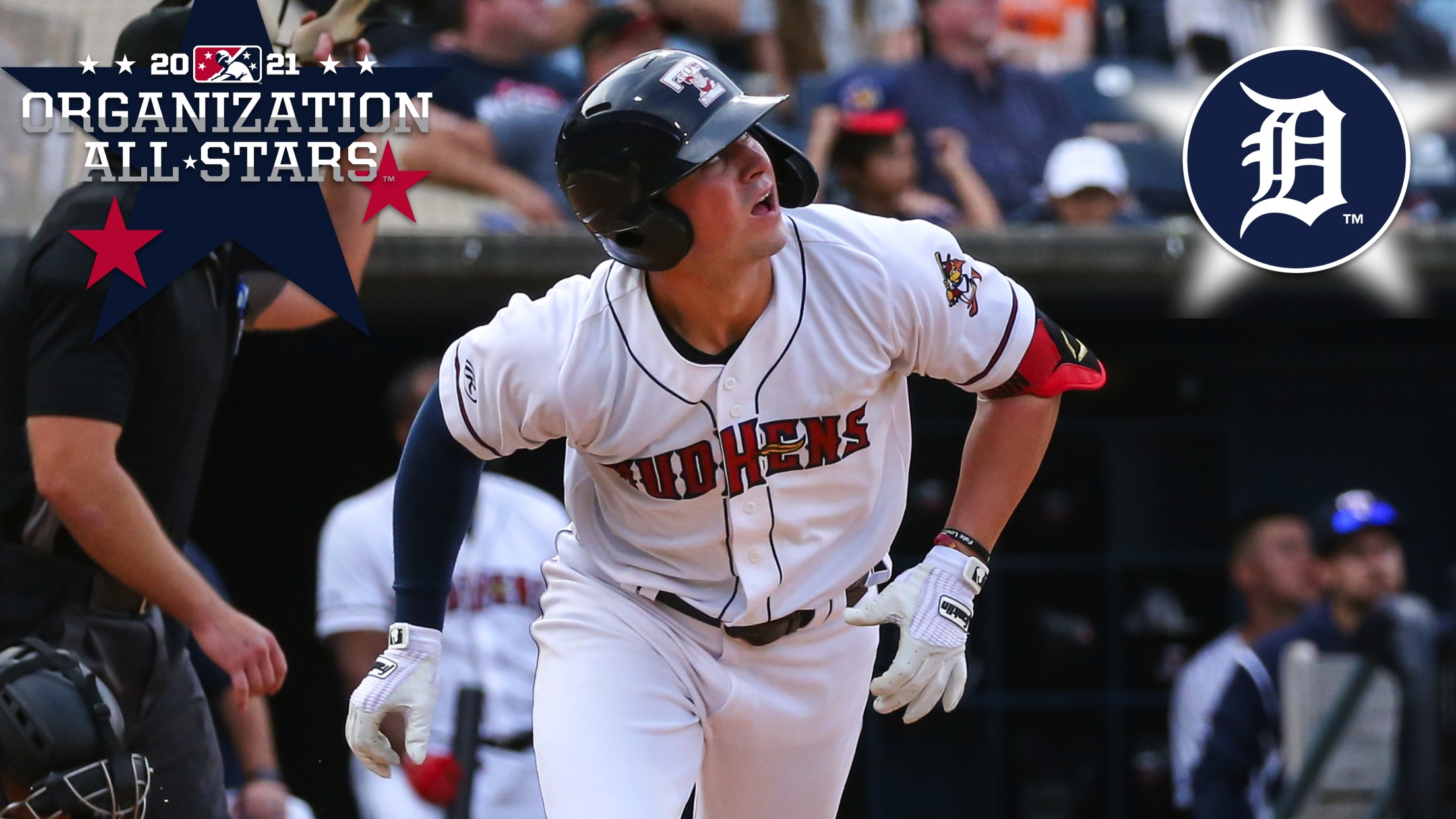 Spencer Torkelson clubbed 30 home runs across three levels in his first Minor League season. (Scott W. Grau/MiLB.com)
Each offseason, MiLB.com goes position by position across each system and honors the players -- regardless of age or prospect status -- who had the best seasons in their organization. Click here to locate your favorite club. Matters could be at a turning point in the Motor City. It's no
Each offseason, MiLB.com goes position by position across each system and honors the players -- regardless of age or prospect status -- who had the best seasons in their organization. Click here to locate your favorite club.
Matters could be at a turning point in the Motor City.
It's no secret that the Tigers have been enduring a years-long rebuild, one geared toward beefing up the farm system and constructing a lasting contender in the AL Central. To back that up, the system ranked No. 2 in MLB Pipeline's preseason rankings and began to bear some significant fruit with Top 100 prospects Casey Mize and Tarik Skubal graduating from prospect status to become bona fide members of the Major League rotation. Detroit finished 77-85 under the guidance of new manager A.J. Hinch, giving the franchise its best winning percentage since 2016.
There's more where that came from, and that's according to plan. The Tigers still boast three Top 100 prospects in No. 4 Spencer Torkelson, No. 7 Riley Greene and No. 46 Jackson Jobe. The organization's top two affiliates in Triple-A Toledo (69-51) and Double-A Erie (64-55) finished the 2021 regular season comfortably above .500. So while the big club is trending upward -- and could get some more jolts of talent this offseason -- there are more franchise cornerstones on the way.
Tigers Organization All-Stars
Catcher -- Eliezer Alfonzo, Low-A Lakeland (39 games), High-A West Michigan (59 games): If there's one thing to know about the 22-year-old switch-hitting backstop, it's that he makes contact -- and lots of it. Alfonzo struck out in only 8.2 percent of his times at the dish in 2021. Reds prospect Alejo Lopez (7.8 percent) was the only Minor Leaguer with a lower K rate among those with at least 400 plate appearances. The result was a solid .287 average and (as one would expect) not a ton of power with eight homers and a .407 slugging percentage between his two stops.
Still, Alfonzo remains a career .304 hitter since signing out of Venezuela in July 2016, and the 2021 campaign established a baseline of full-season success.
"We challenged him to do more damage and and to pick spots to be more aggressive," said Tigers director of player development Kenny Graham. "But in times like with two strikes and runners in scoring position, that elite contact rate and what he's able to do with barrel control is a lethal weapon, and he's got that as well."
First baseman -- Spencer Torkelson, West Michigan (31 games), Erie (50 games), Toledo (40 games): Expectations were sky high for the Arizona State product and justifiably so. Torkelson entered the year as the reigning No. 1 overall pick after signing for a record $8,416,300. He did so on the strength of his elite hit and power tools, and both played in his first full season.
The right-handed slugger finished with an even 30 homers in 121 games, his 61 total extra-base hits led all Detroit Minor Leaguers and he slugged at least .500 at all three of his stops. He took a healthy number of walks as well (77 in 530 plate appearances) and finished with a .267/.383/.552 line and 148 wRC+ (tied for tops in the organization among full-season hitters with Greene). Part of the key to his development was working more toward the opposite field as he faced more advanced pitching.
"We talked to him about all the homers he had in college, and he had just a handful that he hit to the pull side right down the line," Graham said. "He has that power that he can go from pole to pole. He wants to be an elite hitter. He wants to be complete, not just a guy that hits homers. So he knows in order to be a complete hitter, he has to use the whole field. That has to be a part of his game, and it is a part of his game."
Perhaps the biggest question coming out of Torkelson's season concerns his future defensive home. The Tigers announced him as a third baseman on Draft Day and gave him 43 starts at the hot corner this summer. But he got 75 at his more natural position of first, where he played in college, and he stuck to that spot during his entire time in Triple-A following a mid-August promotion. With even Hinch anointing Torkelson the "first baseman of the future," expect that to be where he makes a push for Major League time next spring.
Second baseman -- Isaac Paredes, Lakeland (three games), Toledo (72 games), Detroit (23 games): Paredes can be overlooked as a player who graduated from prospectdom in June, but it's important to remember he's still only 22. So while we can't take his stellar Minor League campaign into account for prospect rankings, it will certainly earn him a place here and in Detroit's long-term plans for the infield.
Paredes hit .265/.397/.451 with 11 homers in his 72 games with Toledo during the summer. He was only one of three Triple-A hitters to walk more than they struck out while receiving 300 plate appearances or more, and his 1.2 BB/K ratio was tops among that group. The Mexico native has had trouble translating those results to the Majors, where he batted .215 with a career .592 OPS in 57 games dating back to 2020, but time remains on his side. Paredes also saw time at third and shortstop as Detroit tried to figure out his place in its future.
Third baseman -- Cristian Santana, Rookie-level Dominican Summer League (54 games): Santana came with his own set of expectations as a $2.95 million signing out of the Dominican Republic in January, and he took little time showing why Detroit made that investment. The 17-year-old hit .269/.421/.520 with nine homers and 12 steals in 54 games on the Dominican complex circuit. His 161 wRC+ was tops among all short- and full-season qualifiers in the system.
The 6-foot infielder is seen as having average tools across the board, though his hit tool could be above-average thanks to a good approach and discipline in the strike zone. Originally signed as a shortstop, he also made 17 starts at the hot corner to make him eligible for this spot. In either case, Santana should provide enough value with the bat to fuel his push toward Detroit as the Tigers look forward to his move stateside.
"There's a big change in how guys pitch in the States," Graham said. "The guys see more breaking balls. But that's something that Cristian does very well. He controls the strike zone very well. He walked [13.9] percent of the time. So I think as he continues to move up, I think that's going to be something that he uses to his advantage."
Shortstop -- Ryan Kreidler, Erie (88 games), Toledo (41 games): The 2019 fourth-rounder out of UCLA entered the season -- technically his first full one in the Minors -- as a solid prospect but ended it as a player tied closely with bigger names Torkelson and Greene.
Kreidler was a solid Double-A performer, hitting .256/.325/.429 with 15 homers in 88 games at Erie, but took matters to a new level (literally) at Toledo, where he produced a .304/.407/.519 line. He cut his K rate from 30.7 percent to 24.1 and raised his walk rate from 8.2 to 14.8. With 22 homers and 15 steals total, he was one of only two 15-15 Tigers Minor Leaguers this season.
How active the Tigers decide to be on the free-agent shortstop market this winter could decide Kreidler's future position in Detroit, but he's laid down the building blocks to make him a potential part of the club's foundation in some capacity.
"He really took that pandemic year and did a lot with his body to get stronger, increase his mobility, stability, and really honed his swing," Graham said. "He knew, just as much as everybody knows, that he's an incredible defender. He's always shown that through college, after the Draft and in his time with us. But he knew he really needed to improve his bat, and that's what he did."
Outfielders
Riley Greene, Erie (84 games), Toledo (40 games): It's a little shocking to note Greene had only 24 games of experience with a full-season club entering 2021. The canceled Minor League season had a lot to do with that. The Tigers sent the then-20-year-old to Double-A anyway, and the left-handed slugger rewarded that confidence with a stellar season that ended at the Minors' top level.
Greene's .301 average between the two stops led qualified Tigers full-season hitters while his .387 OBP, .534 slugging percentage and .921 OPS all ranked among the top four. As mentioned, he tied Torkelson at the top of the system leaderboard with a 148 wRC+. With 24 homers and 16 steals, he joined Kreidler in the 15-15 club. He did all of this over 558 plate appearances. No one else aged 20 or younger got more than 224 plate appearances at the Minors' two highest levels.
The 2019 fifth overall pick is one of the biggest offensive threats in the Minors thanks to a balanced and explosive swing, and he should be just as big a cog in Detroit's next contender as Torkelson, all while being a year younger.
"You never know until you know, but we fully expected and were looking for Riley to succeed," Graham said. "Challenging him and starting him at Double-A after just one year of pro ball, we know that says a lot about Riley Greene, who he is, how he works, the level of hitter he is, his ability to use the whole field, the power he's got. He's built different. He's going to be a special player."
Jacob Robson, Erie (18 games), Toledo (78 games), Detroit (four games): The 2016 eighth-rounder was in danger of becoming a lost prospect at age 26. He was initially sent to Double-A after spending all of 2019 at Triple-A and missing out on a year in 2020. But he forced his way back quickly by hitting .424/.531/.712 in 18 games with Erie and proved to be an above-average bat at Toledo as well, where he had a .259/.385/.389 line in 78 games.
Robson's plus speed remained his bread and butter with 19 steals, and he likely would have crossed the 20 threshold for the third time in his career if he hadn't missed some time playing for Team Canada in Olympic qualifiers. All the same, the Tigers gave him his Major League debut in August, and his speed and improved bat could help him become a bench option for the big club moving forward.
Eric De La Rosa, Lakeland (16 games), West Michigan (59 games), Erie (29 games): Prior to 2021, the last time Tigers fans saw De La Rosa, he had an OPS of .435 at Class A Short Season Connecticut. Smash cut to present day, and he's replacing Greene as Detroit's outfield representative in the Arizona Fall League following a breakout summer. What changed? In De La Rosa's words, he stopped trying to be other players and found his game as a fast top-of-the-lineup type with gap power.
De La Rosa led all Tigers Minor Leaguers with 34 stolen bases in 2021 and backed that up by hitting .273/.367/.440 with a 124 wRC+ across three levels. The 24-year-old became enough of a headache for opposing clubs and an asset for his own team that Detroit wanted to give him one more challenge before the year was up. True to form, De La Rosa is holding his own in Arizona against much more hyped names.
Right-handed starting pitcher -- Beau Brieske, West Michigan (13 starts), Erie (eight starts): Around the midpoint of the 2021 season, Tigers officials admitted that Brieske -- a 2019 27th-rounder out of Division II Colorado State-Pueblo -- was commanding their attention with every passing start. It wasn't hard to see why.
The 6-foot-3 hurler thrived on pitching in the strike zone and used his above-average control to post a 3.12 ERA, a 1.01 WHIP, 116 strikeouts and only 23 walks in 106 2/3 innings. His 5.04 K/BB ratio was 25th-best among all Minor Leaguers with at least 100 frames, and he led all Detroit's full-season qualifiers in ERA, WHIP and FIP (3.16). Brieske's changeup remains his only true above-average pitch to this point, but his ability to hit his spots with the fastball and even the slider bode well for his ability to stick as a starter.
"He commands the baseball so well," Graham said. "He has great stuff, but he's another guy that is always asking good questions and learning. He pitched all year long, learned who he was and what he does well and learned how to use it."
Meet Beau Brieske, a 27th-round pick who's surprising batters at every level.

The #Tigers No. 27 prospect is moving quickly up the Road to Detroit, presented by @Carhartt.

— Detroit Tigers (@tigers) September 3, 2021
Left-handed starting pitcher -- Adam Wolf, Lakeland (seven games, five starts), West Michigan (16 starts): The 2018 fifth-rounder out of Louisville rebounded nicely from a 2019 season in which he finished with a 6.23 ERA in 78 innings at Class A. His 108 strikeouts in 107 innings were fourth-most among Tigers Minor Leaguers (and the most by a southpaw), and he finished with a 4.12 ERA and 1.24 WHIP in that same span at age 24.
Relief pitcher -- Bryce Tassin, Lakeland (nine games), West Michigan (30 games): Evaluators always look for extremes when it comes to relief prospects. Here's one: Tassin induced ground balls on 61.4 percent of batted balls during 44 1/3 innings with West Michigan. That was the fifth-highest ground-ball rate among the 316 pitchers who threw at least 40 frames at the High-A level.
Inducing such weak contact helped Tassin finish with a 2.44 ERA with the Whitecaps and a 2.22 mark in 56 2/3 innings for the season, including his earlier time at Low-A. He allowed only two homers in that span, making him a potentially good foil to the elevate-and-celebrate approach taken by modern hitters.
"We're not trying to cookie-cut pitchers and make them all one thing," Graham said. "We take what each pitcher is, take the information we get from our scouting department and try to maximize their stuff. Part of the teaching part of development is teaching those guys to learn who they are and what they do well, and we have a good idea of that with him."
Sam Dykstra is a reporter for MiLB.com. Follow and interact with him on Twitter, @SamDykstraMiLB.