Amarillo Pitches Their Way To Game Two Win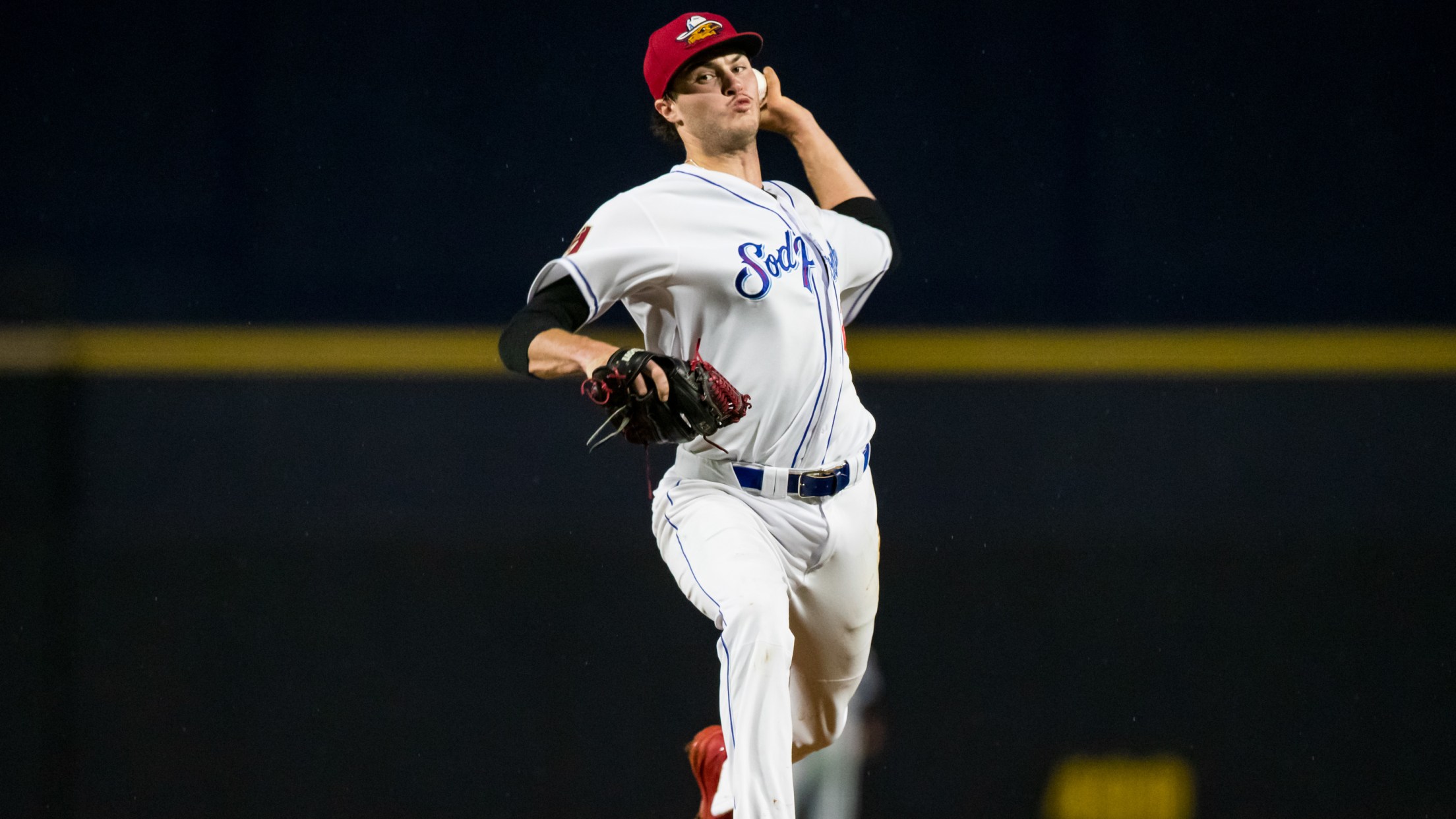 (John Moore)
AMARILLO, Texas - Amarillo got another excellent start from left-hander Blake Walston and followed it up with a shutdown relief effort to take down the Midland RockHounds on Wednesday night. After falling behind 2-0 after the second inning, Amarillo pitchers fired seven scoreless, earning a 3-2 win over their Oil
AMARILLO, Texas - Amarillo got another excellent start from left-hander Blake Walston and followed it up with a shutdown relief effort to take down the Midland RockHounds on Wednesday night. After falling behind 2-0 after the second inning, Amarillo pitchers fired seven scoreless, earning a 3-2 win over their Oil Pan Cup rivals.
Following a hitless first inning, Sod Poodles' third baseman Tristin English picked up the game's first hit. A leadoff single was left stranded as Amarillo was unable to capitalize on the base knock. Walston started the bottom of the second with a strikeout ahead of a single and two-run home run to put the RockHounds in front. The D-backs' No. 5 rated prospect picked up his second strikeout and worked around a two-out single to take the game to the top of the third inning.
Drew Stankiewicz drew a one-out walk as the second base runner of the game for Amarillo. Like English in the second inning, Stankiewicz was left stranded as the next two batters were retired by Midland starter and Oakland's No. 14 rated prospect, Ryan Cusick.
Walston retired the RockHounds in order in the bottom of the third inning, striking out his fourth of the night in the process.
Blaze Alexander notched his second triple of the season but was left stranded standing on third as the Sod Poodles failed to cut into the deficit after the top of the fourth inning. Alexander roped the second pitch of his at-bat off the base of the wall in deep right-center field. Walston was back out and made quick work of the RockHounds once again. The left-hander retired the side in order for the second straight inning, and his seventh consecutive batter faced.
A one-out base on balls drawn by Nick Dalesandro turned into the first Amarillo run of the night. The speedster swiped second base, later advancing to third on a wild pitch. Drew Stankiewicz lined a ball into left field, easily scoring Dalesandro and cutting the lead in half on the sac fly.
Walston continued to mow down the RockHounds, retiring his 10th straight to get through the fifth inning. He added strikeouts No. 6 & 7 to get through the frame trailing by just one.
Wally's retired his last 🔟

END 5 | AMA - 1 | MID - 2 pic.twitter.com/0i3YduTDun

— Amarillo Sod Poodles (@sodpoodles) August 18, 2022
Leandro Cedeño started the top of the sixth inning with a leadoff single before advancing to third on an Alexander one-out double that nearly left the yard. Roby Enriquez knotted the game at 2-2 with a bloop single into shallow left field that allowed Cedeño to score from third. Juan Centeno gave Amarillo their first lead of the game, scoring Alexander from third just one batter later.
After working a full count to each of the first three batters Walston faced in the sixth inning, a two-out double brought an end to his night. Mack Lemieux came on to relieve Walston after his streak of retired batters came to an end at 12. The fourth-straight 3-2 count ended in a walk and another baserunner for Lemieux to deal with. A sharply hit ground ball to Cedeño at first base ended the Midland threat.
The Sod Poodles put a potential insurance run on third base with two outs in the seventh. Eduardo Diaz singled and then stole second and advanced to third on a throwing error. Cedeño was on the other end of a hard-hit ground ball as the inning came to a close and Amarillo clinging to a one-run lead.
Right-hander Brent Teller took over pitching duties after the seventh inning stretch. Teller fired a 1-2-3 inning and was back to work after the bats did the same in the top of the eighth inning. Teller returned to the mound in the eighth. A two-out single kept the frame alive before Teller spun a perfect curveball that froze the RockHound hitter.
Popsicle toes @Brentelllller

End 8 | AMA - 3 | MID - 2 pic.twitter.com/q2wi3a5wxx

— Amarillo Sod Poodles (@sodpoodles) August 18, 2022
Dalesandro dropped a one-out bunt single and then once again stole second base. A lineout resulted in a double play as Amarillo was unable to tack on an insurance run and maintained their one-run advantage.
Teller went back out for his third inning of work in the bottom of the ninth. With heavy rain falling, the right-hander proceeded to strike out all three batters he faced, slamming the door on Midland, securing a 2-0 series lead.
The Oil Pan Cup series continues the rest of this week with Amarillo now holding a 12-8 advantage in 2022. RHP Ross Carver takes the mound for Amarillo across from J.T Ginn. Both are ranked as top 30 prospects in their respective organizations. Carver is the D-backs' No. 25 rated prospect while Ginn comes in at No. 10 in the A's organization. First pitch on Thursday from Momentum Bank Ballpark is slated for 7:00 PM.
Notes:
Start Me Up: LHP Blake Walston retired 12 straight Midland hitters from the bottom of the second into the sixth inning after surrendering a one-out home run to give Midland the early lead. A two-out double down the left field line brought an end to his streak. The Arizona Diamondbacks' No. 5 rated prospect ended his night after 5.2 IP with 4 H, 2 ER, 7 K. Over his last five starts dating back to July 23, Walston is 3-0 with a 2.63 ERA and has allowed just 18 hits and has fanned 38 over the span. His start tonight made it five straight where he has gone at least 5.0 IP and allowed two or fewer earned runs.
Tell Yea: Right-hander Brent Teller picked up his first career Double-A save in impressive fashion. After taking over pitching duties in the bottom of the 7th, Teller allowed just one hit and tied his season-high with five strikeouts. He punched out the final four Midland batters he faced and all three in the 9th went down swinging. Teller was promoted to Double-A after just one appearance with High-A Hillsboro and has proceeded to go 3-0 with a 3.76 ERA in his first nine Double-A appearances. In his 10 full-season affiliated minor league appearances, Teller is 4-0 with a 3.73 ERA and is now 1-for-1 in save opportunities.
Oh Baby, A Triple: SS Blaze Alexander tripled in the top of the 5th inning. The three-bagger was Alexander's second triple of the season in Double-A and the 14th of his professional career. The former IMG Academy product and 11th round pick upped his batting average for the season to an even .300 after a 2-for-4 night that included a double as well. In 63 games played, Alexander has 11 home runs and 11 doubles to go along with his pair of triples.
Swiper Did Some Swiping: C/OF Nick Dalesandro added two more stolen bases on Wednesday night, raising his season total to 30 in 33 tries. The catcher by trade has 63 stolen bases dating back to last season, trailing only Wilderd Patino, who not only leads the organization this season but all of MiLB with 67 stolen bases in 2022.
Dirty 30: OF Roby Enriquez extended his on-base streak to 30 games with a RBI single to left-field in the 6th inning. During the span that also included a 20-game hitting streak, Enriquez is hitting .400 (48-for-120) with 9 2B, 4 HR, 3B, and 27 RB, good for a 1.039 OPS over these last 30 games for the first-year pro. His 30-game on-base streak is the longest active streak in the minors.
Tie game courtesy of @robyenriquez17

Also makes it 3⃣0⃣ straight games reaching base.

Juan Centeno scored Blaze from third.

M 6 | AMA - 3 | MID - 2 pic.twitter.com/wiUroLnX2K

— Amarillo Sod Poodles (@sodpoodles) August 18, 2022