A's trades net both former Lugnuts and top pitching prospects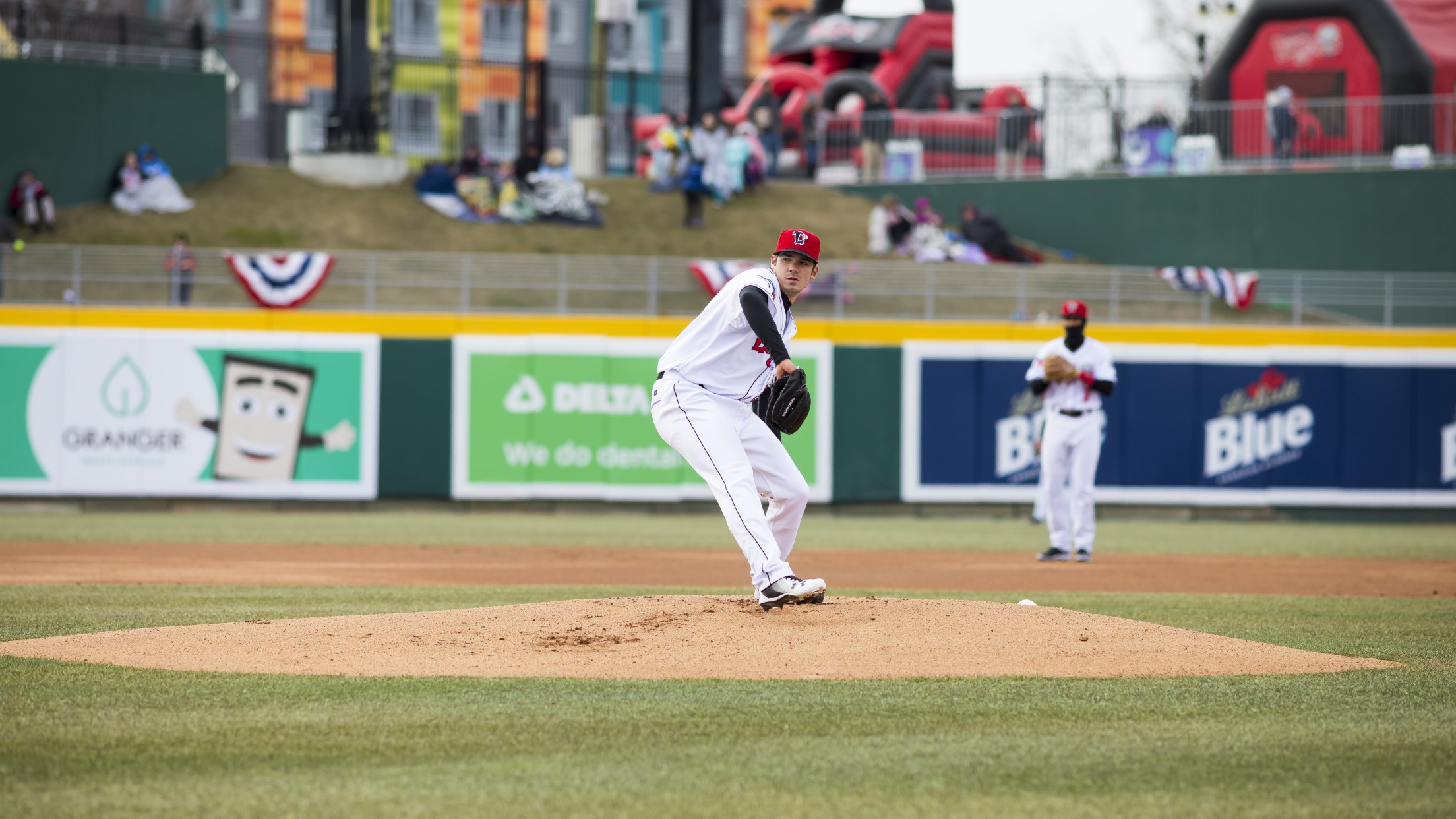 When the 99-day lockout was lifted, the Oakland Athletics launched into a series of moves that reshaped both the A's MLB roster and the MiLB prospect depth. - On Saturday, March 12, the A's dealt staff ace Chris Bassitt to the New York Mets for minor league pitchers J.T. Ginn
When the 99-day lockout was lifted, the Oakland Athletics launched into a series of moves that reshaped both the A's MLB roster and the MiLB prospect depth.
- On Saturday, March 12, the A's dealt staff ace Chris Bassitt to the New York Mets for minor league pitchers J.T. Ginn and Adam Oller.
- On Monday, March 14, Oakland sent All-Star first baseman Matt Olson to the Atlanta Braves for four minor leaguers in catcher Shea Langeliers, outfielder Cristian Pache, and pitchers Ryan Cusick and Joey Estes.
- On Wednesday, March 16, the Athletics traded All-Star third baseman Matt Chapman to the Toronto Blue Jays for a four-player package comprising infielder Kevin Smith and pitchers Zach Logue (pictured above), Kirby Snead and Gunnar Hoglund.
If that last collection of names sounded familiar, it's because Smith was a superstar for the Lugnuts in 2018, batting .355 with 34 extra-base hits in 46 games; Logue was one of the Nuts' best starters that same season, turning in nine strong starts and Snead pitched effectively out of the Nuts' pen in 2016 and 2017.
This gives Lugnuts fans a double connection, going from watching Smith, Logue and Snead play in Lansing as a Blue Jays prospects to seeing them suit up for the Nuts' new parent club in Oakland, where each should receive a significant MLB opportunity. Smith, an excellent defensive third baseman and shortstop, regained his 2018 offensive form last year in Buffalo. Logue looked the part of an ace with the Bisons last summer and will audition to join Oakland's rotation (particularly if the A's trade Frankie Montas and/or Sean Manaea). Snead will get plugged directly into the A's bullpen. (It's a good life being a tough lefty.)
Oller, acquired from the Mets, and Langeliers and Pache, picked up from the Braves, are similarly Major League-ready players. Oller was the Mets' Minor League Pitcher of the Year in 2021. Langeliers has the strongest throwing arm (and perhaps best overall defensive ability) of any catcher in MiLB. Pache is considered the best defensive outfielder in MiLB.
The other four? Hang on to your hat.
J.T. Ginn was the Mets top pitching prospect, the 52nd overall selection in 2020 out of Mississippi State University. He signed for $2.9 million, first-round caliber money. If not for undergoing Tommy John surgery that ended his final college season after only one start, he likely would have been picked significantly higher. Mets director of amateur scouting Tommy Tanous gushed about the selection, "He's anywhere from 91 to 99. [He has] an out pitch curveball he throws at will for strikes. It's a plus changeup.... He's got all the quality of being a top of the rotation guy." Ginn immediately became, in MLB Pipeline's estimation, the A's No. 1 pitching prospect.
Ryan Cusick was the Braves' first-round pick in 2021, taken 24th overall selection out of Wake Forest University, one pick in front of Oakland's own selection, high school shortstop Max Muncy. Cusick signed for $2.7 million. Braves area scout Billy Best described the right-hander "as good as anybody I've scouted, makeup-wise, in my 21 years. I'd bet some money on this one.... He would show you signs of Verlander with the durability, fastball and breaking ball. That might be too high expectations, but that's who he showed glimpses of. You can look at his fastball, the curveball, both were pretty identical to Verlander. Time will tell." Cusick, clocked at 99-102 mph and now throwing a slider, is now the No. 3 A's pitching prospect.
Gunnar Hoglund was the Blue Jays' top pitching prospect and 2021 first-round pick, selected five players ahead of Cusick at 19th overall out of Ole Miss and signed for $3.2 million. Two months before the draft, Hoglund underwent Tommy John – otherwise, he would've been drafted even earlier. As Toronto director of scouting Shane Farrell said, "His trajectory along the year, he was pitching his way into a top-10 pick. Unfortunately, the injury kind of derailed that. We were extremely fortunate for him to be there when we selected today." MLB Pipeline ranks Hoglund as the No. 2 A's pitching prospect.
Lastly, Joey Estes, who was taken by Atlanta in the 16th round three years ago, but don't be fooled: At 17 years old, he was handed a signing bonus of nearly $500,000, the seventh-largest signing bonus given out by the Braves in 2019, to turn to pro ball over a commitment to Long Beach State. Fast-forward two years, and Estes was the ace of the 2021 Low-A Augusta GreenJackets with a 2.91 ERA over 20 starts, striking out 127 batters while walking just 29 in 99 innings. He's still only 20 years old, and he's the A's No. 6 pitching prospect.
*
Of the quartet, J.T. Ginn is the unlikeliest Lugnut. He finished 2021 with 10 starts at High-A Brooklyn and, as Melissa Lockard writes for The Athletic, "will likely start the season in Double-A, with a chance to compete for a big-league rotation spot in 2023." will probably be sent to Double-A Midland to open 2022.
Gunnar Hoglund is still recovering and rehabbing from his surgery; "he isn't likely to make his debut until June or July," writes Lockard. When Hoglund is ready for professional baseball, a stop in Lansing is a reasonable expectation on his speedy way up the ladder.
If you wanted to be certain of seeing one or more of these prospects with the Lugnuts, hang your hat on Cusick and Estes. Lockard projects both to start this season in Lansing with Cusick on track for a midseason call-up and Estes ticketed for a full year at the High-A level.
That would put the Verlander-esque Ryan Cusick and young gun Joey Estes in good company on a potentially prospect-packed Lugnuts roster.
Get your tickets now to the 2022 Lansing Lugnuts season, opening April 8 at home against the Lake County Captains. Click here to purchase tickets or call (517) 485-4500.
# # #