Sodders, Burrows provide solace for Tigers
Detroit grooming high-ceiling arms, power bats as rebuild begins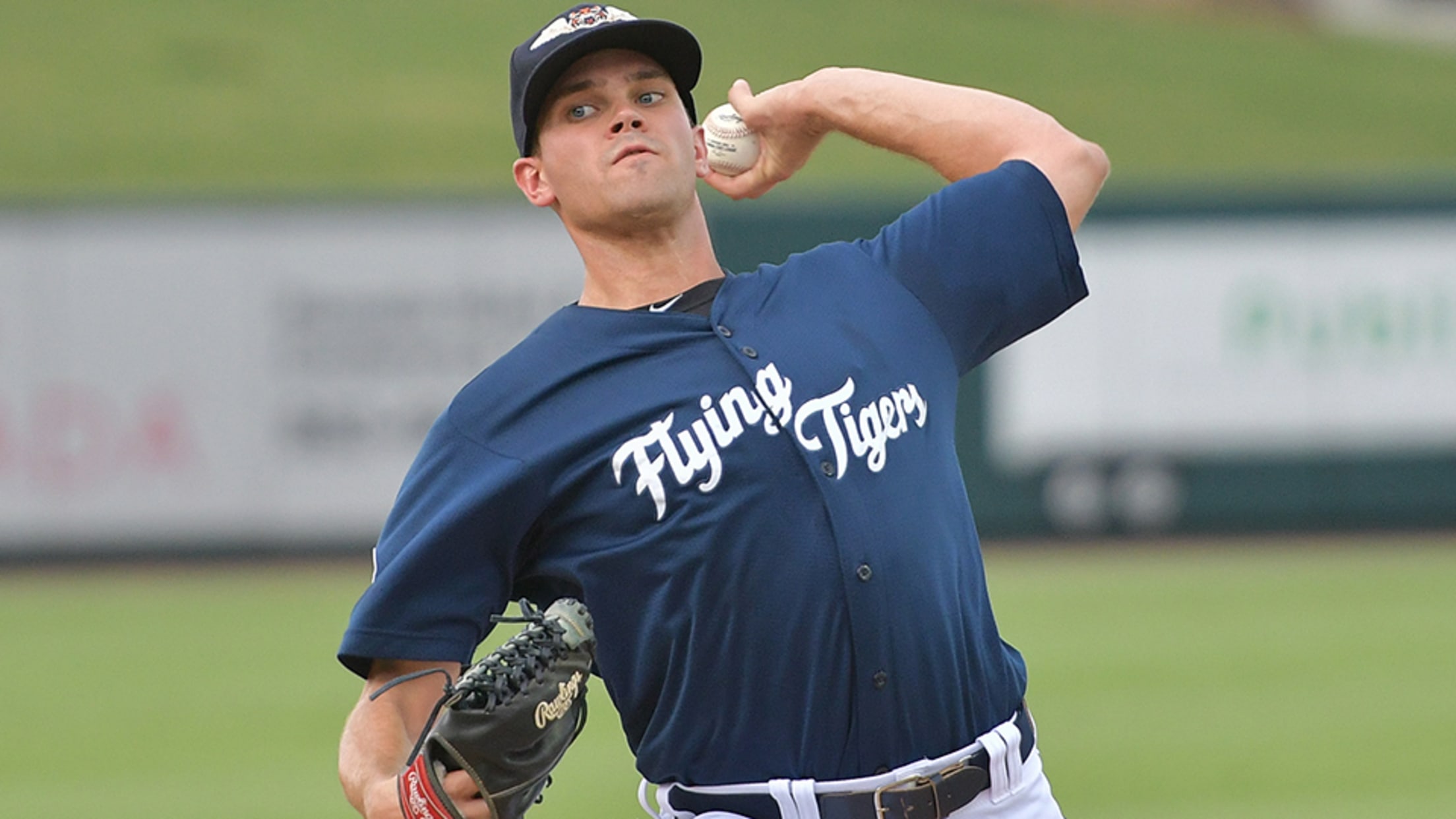 A seventh-round pick in 2016, Austin Sodders went 11-5 with a 1.81 ERA over 139 innings across two levels this season. (Tom Hagerty/MiLB.com)
This offseason, MiLB.com will be honoring the players -- regardless of age or prospect status -- who had the best seasons in their organizations. We're taking a look at each team to determine the outstanding seasons in Minor League Baseball.It was a rough year at the Major League level for
This offseason, MiLB.com will be honoring the players -- regardless of age or prospect status -- who had the best seasons in their organizations. We're taking a look at each team to determine the outstanding seasons in Minor League Baseball.
It was a rough year at the Major League level for Detroit as the 64-98 Tigers said farewell to longtime ace Justin Verlander, bringing back 19-year-old right-hander Franklin Perez in a deal that clearly signaled a rebuilding movement. After drafting high schooler Matt Manning with the ninth overall pick in 2016, the Tigers continued to stockpile promising arms by adding University of Florida product Alex Faedo with their first selection this year. With the worst record in the Majors in 2017, they'll have a shot at another elite player next June, too.
At the Minor League level, Triple-A Toledo finished a game under .500 at 70-71 and missed the playoffs, as did Double-A Erie (65-75), Class A Advanced Lakeland (62-66), Class A Short Season Connecticut (37-35) and the Rookie-level GCL Tigers (East went 14-45 and the West squad finished 29-28). Class A West Michigan lost in the first round of the Midwest League playoffs to Dayton.
Tigers Organization All-Stars
Catcher -- Bryan Holaday, Toledo (92 games):
Holaday's days as an up-and-coming prospect are long behind him, but he still proved to be a value asset for Detroit in 2017. The 29-year-old backstop, released by the Phillies toward the end of Spring Training, hit .269 with a dozen homers, 50 RBIs and 20 doubles in 92 games at Triple-A before earning a September callup. Holaday had more homers this year than he did his past four Minor League seasons combined, and he ranked second among all Detroit Minor League catchers in hits with 83. His 50 RBIs also led all Tigers backstops.
"Doc is a tremendous leader. He's a guy who can lead a pitching staff," said Dave Owen, the Tigers' director of player development. "On top of that, he had a nice year offensively. He's just did a great job for us. A solid baseball player, a guy you love having on your staff. Pitchers like throwing to him, and he goes out and does a really nice job."
First baseman -- Blaise Salter, West Michigan (66 games), Lakeland (55):
A 31st-round pick in 2015, Salter has quietly produced nice numbers over three seasons since leaving Michigan State. The 6-foot-5 infielder hit .304 with eight homers, 75 RBIs, 39 doubles and a .355 on-base percentage in 121 games across two levels, earning Midwest League All-Star honors along the way. His batting average was the highest among all Tigers Minor Leaguers with at least 100 at-bats.
"Blaise did a very nice job between two levels. He had a solid performance," said Owen. "He's a guy that's just a good teammate, he plays the game the right way, plays it hard, shows up every day -- a very professional young man."
Second baseman -- Chad Sedio, West Michigan (80 games), Lakeland (5 games): Sedio made his full-season debut in April and was up for the challenge, hitting a respectable .261 with 11 homers, 44 RBIs and a .784 OPS in 85 games. The 23-year-old had 31 extra-base hits and scored 42 runs in his second year out of Miami University in Ohio.
"Chad did a very nice job for us," said Owen. "First full year, just kind of came into it as a guy who can swing it. He can play third and short and he's got a lot of time at second. He even got a few games in the outfield, so he's able to play multiple positions and he had a very nice year swinging the bat. He showed a little power."
Honorable mention: Other second baseman worth noting include Will Maddox, an 18th-round pick in 2014 who hit .286 with 28 RBIs for Lakeland, and Anthony Pereira, a 20-year-old who batted .251 with seven homers and 64 RBIs at West Michigan. Veteran Omar Infante, now 35, ranked second in the Tigers system with 138 hits for Toledo.
Shortstop -- A.J. Simcox, Erie (125 games): The Tennessee product earned a promotion to Double-A this spring and hit .250 while setting career highs with eight homers and a dozen stolen bases in 125 games. The Tigers' 14th-round pick in 2015 -- currently making his Arizona Fall League debut with the Mesa Solar Sox -- knocked in 36 runs for the SeaWolves while leading the team with five triples.
"He's a very athletic shortstop, obviously a kid that can stay at short," Owen said. "He's out there in Arizona now and had a good game this week -- couple hits, hit the ball hard four times. So he's a kid that's had a lot of growth. We're expecting good things out of A.J."
Third baseman -- Josh Lester, West Michigan (66 games), Lakeland (44 games): Lester hit .271 with 13 homers, 66 RBIs and a .745 OPS in 110 games this year, 92 of which came at third base. He led all Detroit third basemen in doubles (29), RBIs and hits (117), edging Kody Eaves, who posted an identical average and home run totals but fell behind in hits, doubles and games played.
"I like them both, obviously, and Kody is also out in the Fall League. But Josh had a nice year -- his stats say it all," said Owen. "And Josh is able to play third and first and we can swing him around to both those places. Josh did a nice job getting himself in shape, and his performance showed it, so he had a nice developmental year. We look forward to seeing what happens as he continues."
Outfielders
Christin Stewart, Erie (136 games): Detroit's No. 6 prospect and 2017 Minor League Player of the Year once again turned in big power numbers, hitting 28 homers and knocking in 86 runs at Double-A. The 23-year-old batted .256 and led the Eastern League with 138 K's, but it was a big year in the 2015 first-round pick's development as he led the Detroit system with 243 total bases. Owen said the Tigers will bring Stewart to Major League camp next spring and likely start him at Triple-A.
"No doubt about it, he had some swing and miss, but his power is undeniable," Owen said. "Back-to-back years with 20-plus home runs -- he can generate some pop. Power to all fields, and he continues to develop as a defensive player. Offense is his calling card, and we continue to work with Stew and expect really good things."
Mike Gerber, Erie (92 games), Lakeland (5 games), Toledo (4 games): Gerber makes this list for the third straight year after hitting .304 with 14 homers and 50 RBIs in 101 games across three levels. He was an Eastern League All-Star at Erie, where he spent the bulk of his season, hitting .291 in 92 games. The Tigers' No. 10 prospect won a Gold Glove in 2016 and could see time in Detroit as early as next year, especially if an injury helps open a door.
"Very versatile athlete, he can play all outfield positions. He's solid at all three but probably more of a natural corner guy," Owen said. "He's able to play center, he runs well, can swing the bat and had a very solid year again. He's a good all-around player."
Cam Gibson, West Michigan (65 games), Lakeland (44 games): It's hard to talk about Gibson and not mention his famous father, but after 2017, the young slugger is starting to make a name for himself. Gibson hit .262 with 13 homers, 47 RBIs and 19 stolen bases across two levels, finishing with 107 hits and a .796 OPS. He ranked second in the Tigers' system with 70 runs scored, seventh in homers and fitfh in stolen bases and notched his first cycle as a professional in August.
"Gibby had a good developmental year also -- he started out in West Michigan and ended up in Lakeland and he's in the AFL for us again," Owen said. "It's a matter of continuing forward with Gibby as he develops as a hitter. A lot of talent there, and we're looking forward to watching him develop."
Utility -- Gabriel Quintana, Erie (118 games): The 25-year-old was an asset in the lineup and on the field, where he played 55 games at first base and 24 at third, getting the rest of his at-bats as a designated hitter. And he hit, too, finishing at .265 with 22 home runs, 73 RBIs and 30 doubles. Quintana's .299 OBP was actually an improvement over his 2016 campaign in which he produced almost identical production numbers, but he'd still help himself next year if he can further cut down on strikeouts and draw some more walks (he's had 40 combined over the last two seasons). Detroit re-signed him this fall after he entered free agency.
"He's a power, power bat. This guy can really swing," said Owen. "He has swing and miss in him, but he can bring the bat through the zone. Big pop. We're going to continue to work on his defense as he gets comfortable at first and third, but the bat's gonna tell where this guy plays. He can really swing it. We'd like him at first base, but we're working him at third. He's a great kid, a hard-working young man."
Right-handed starting pitcher -- Beau Burrows, Erie (15 games), Lakeland (11 games): Detroit's first-round pick in 2015 reached Double-A in his second full season, going 10-7 with a 3.20 ERA in 26 starts. The 21-year-old ranked third in the system and led all Tigers righties with 137 strikeouts in 135 innings. The No. 84 prospect in baseball, he walked 44, allowed eight homers and had one complete game while also earning Futures Game and Florida State League All-Star honors.
"Beau has made some really nice strides," Owen said. "We got him in Double-A as a 20-year-old, he's on the rise and doing some good things. He's a baseball player -- he's smart. He has a power fastball, throws all four -- a curve, slider and change -- and his curveball really looks good. He's got a good changeup, so we may settle in with those three. He's a bulldog on the mound, and you hear that a lot, but he really competes and it was nice to see him being that pitcher and at that level."
Left-handed starting pitcher -- Austin Sodders, Lakeland (12 games), West Michigan (11 games): The 22-year-old southpaw went 11-5 with a 1.81 ERA in 23 starts over 139 innings across two levels. He struck out 122 (good for sixth among all Tigers pitchers and third among all left-handers) and walked just 30, earning Midwest League All-Star honors along the way.
"Austin does a very nice job. He continues to improve his curveball, has a good changeup and he's got the mix and he's got the wherewithal to know how to pitch," Owen said. "He's got some deception in his delivery, which is a bonus, but this guy, he's a sharp guy and we're going to keep challenging and see how it goes."
Honorable mention: Gregory Soto was chosen by the Tigers as the organization's Pitcher of the Year after going 12-2 with a 2.25 ERA and 144 strikeouts.


Relief -- Bryan Garcia, Toledo (14 games), Erie (17 games), Lakeland (7 games), West Michigan (14 games): The 2016 sixth-round pick moved up three levels in his first full season, finishing the year at Triple-A. The Miami product dominated everywhere the Tigers sent him -- from throwing seven scoreless innings in Lakeland to graduating Erie with a 0.96 ERA in 17 appearances. In 55 innings, the righty struck out 78 and walked 22, holding batters to a .187 average.
"He started at [Class] A and ended at Triple-A -- pretty good year," Owen said. "Very professional, he comes to work, he's a businessman. He has his fun but he's business. He's got a really good fastball he can locate, a hard slider, changeup, movement -- he really looks like he'll be an exciting kid to watch. He'll probably start at Triple-A and obviously the state of the big league team will determine who goes up, but Bryan will give himself a chance. He knows what he's doing on the mound."