Best streams of 2019: Riveting rivalries
Regional battles produce runs, make for gripping baseball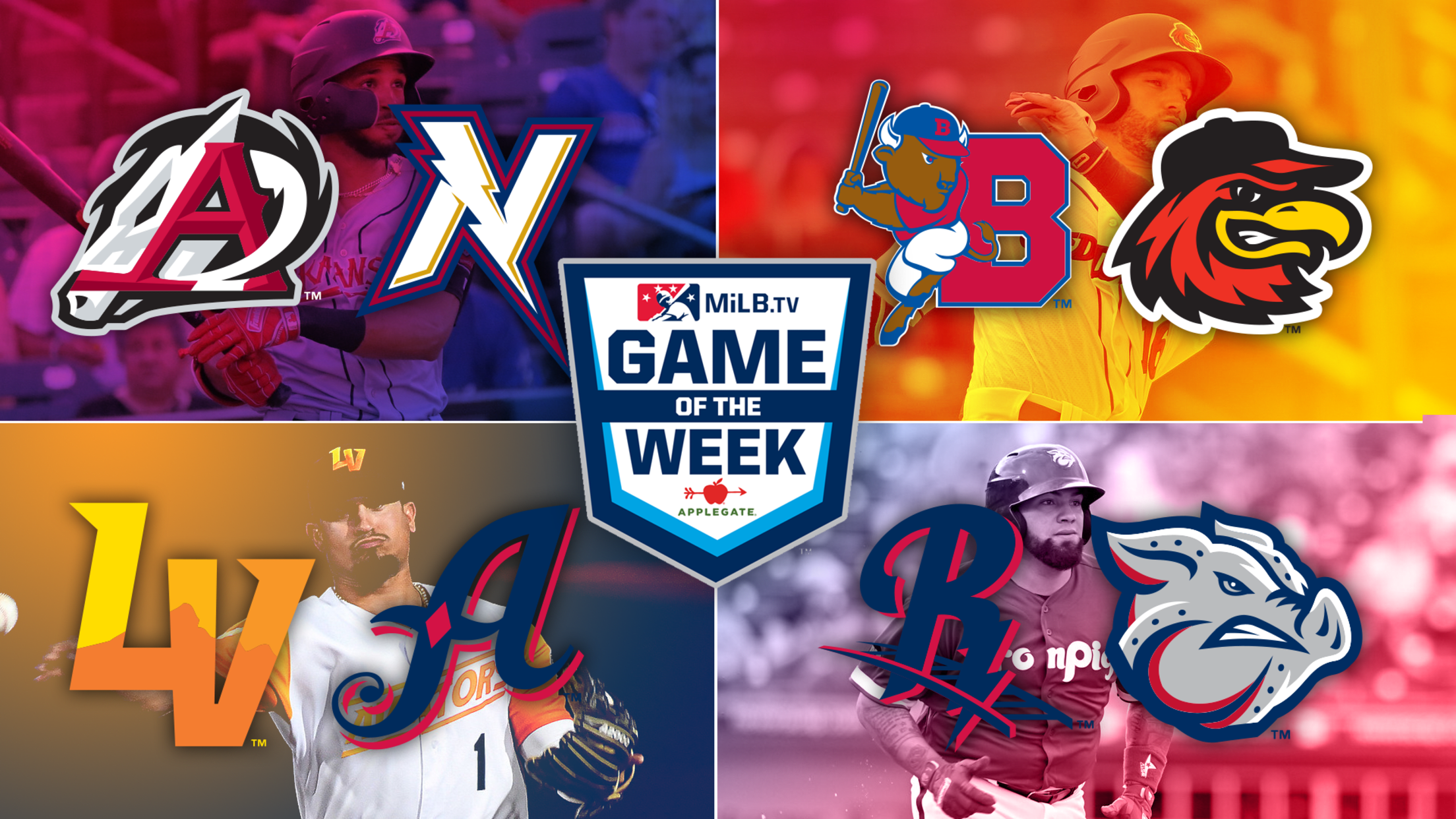 What's not to love about rivalries? They bring an added component of competition and turn up the stakes of each game. Plus, who doesn't enjoy bragging rights? With 160 Minor League teams, rivalries are aplenty. Flash back to these games and fans will be able to dive in to late-inning
What's not to love about rivalries? They bring an added component of competition and turn up the stakes of each game. Plus, who doesn't enjoy bragging rights?
With 160 Minor League teams, rivalries are aplenty. Flash back to these games and fans will be able to dive in to late-inning dramatics, walk-off heroics and the never-say-die attitude that envelops regional matchups in every circuit.
Here are four of the most exciting rivalry games from 2019 that you can watch during the MiLB.TV free preview. Head over to Twitter to vote on which one will be streamed as the Game of the Week, presented by Applegate, on Facebook Live this Thursday!
Naturals nudge past Travelers
The state of Arkansas is home to two Double-A affiliates: the Arkansas Travelers and Northwest Arkansas Naturals. Although the Travelers may have the upper hand when it comes to established status (the team has been located in Arkansas since 1961, while the Naturals relocated from Wichita in 2008), it was the Naturals who earned bragging rights after a back-and-forth 13-inning contest on July 2. Nick Heath jump-started the game with a leadoff homer and Anderson Miller followed up with a two-run blast, giving Northwest Arkansas an early 3-0 lead. Arkansas answered with a four-run fourth inning, and the teams went toe-to-toe the rest of the way. The Travs held a two-run lead in the ninth, but Heath sparked the Naturals with his second roundtripper of the game and Meibrys Viloria singled in the tying run to send the game to extras. Even with each extra inning beginning with a runner on second base, both teams were held scoreless into the 13th. Joe DeCarlo scored on a throwing error to put Arkansas in front, but Northwest Arkansas again played spoiler, with Angelo Castellano singling in the tying run and Khalil Lee delivering a walk-off knock to right field. Gameday | Highlight: Lee walks it off | Watch game
Red Wings win Thruway battle
The July 30 offensive barrage between upstate New York rivals featured 18 runs and 26 hits, with nine of those runs coming in the first inning and a half. Rochester and Buffalo waged a back-and-forth battle throughout. The Red Wings got home runs from Caleb Hamilton and Wynston Sawyer, while the Bisons elected to go with the small ball approach, using a two-run double from Michael De La Cruz and a pair of RBI singles by Andy Burns. The teams were all squared up at 8-8 heading into the ninth, but Rochester broke through as Jake Cave delivered a one-out single and Alejandro De Aza ripped a two-run homer on the first pitch he saw from reliever Jason Adam. Ian Krol notched a scoreless ninth for the save, sealing the victory for the Red Wings. Gameday | Highlight: De Aza's go-ahead homer | Watch game
Barreto barrels Aviators over Aces
Las Vegas and Reno are separated by 450 miles and an entire division in the Pacific Coast League's Pacific Conference. But they faced each other 16 times in 2019, including this May 28 slugfest at Greater Nevada Field. The game featured 25 hits, including 10 for extra bases. Aviators center fielder Franklin Barreto took center stage by collecting a triple, three doubles, four runs scored and a pair of RBIs. Reno's Matt Szczur did his best to match the Major League veteran, going 3-for-3 with a solo homer, three runs scored and two RBIs and falling a triple short of the cycle. The contest was tied at 8-8 going into the seventh inning, but Las Vegas scored four times, highlighted by Barreto's third double of the night. Gameday | Highlight: Barreto rips triple | Watch game
Grullon, IronPigs outlast RailRiders
A crowd of over 10,000 witnessed a back-and-forth in-state battle to remember on June 30 when the Lehigh Valley IronPigs outlasted the Scranton/Wilkes-Barre RailRiders at the unfriendly confines of Coca-Cola Park. The box score was far from orthodox, with the teams combining for 17 runs, 19 hits (including eight for extra bases) and four errors. The RailRiders' Clint Frazier doubled in a run in the top of the first and Lehigh Valley's Nick Williams battled back with a solo dinger in the second. The teams continued to go back and forth throughout the game, highlighted by seven total runs in the fourth frame. Ultimately, it was the seventh that decided the outcome. Logan Morrison ripped a two-run homer off Scranton/Wilkes-Barre's Edubray Ramos to knot the game, 6-6. Not to be deterred, however, the RailRiders came surging back in the bottom half of the inning with four more runs. The major damage was done courtesy of Deivy Grullon, who mashed a three-run shot off Danny Coulombe. Gameday | Highlight: Grullon goes deep | Watch game
Katie Woo is an editorial producer for Minor League Baseball. Follow her on twitter at @katiejwoo.