Casteel's Two Homers Lead Stripers' Rout in Lehigh Valley
Ryan Casteel drives in five, Rylan Bannon adds four RBIs in 13-2 victory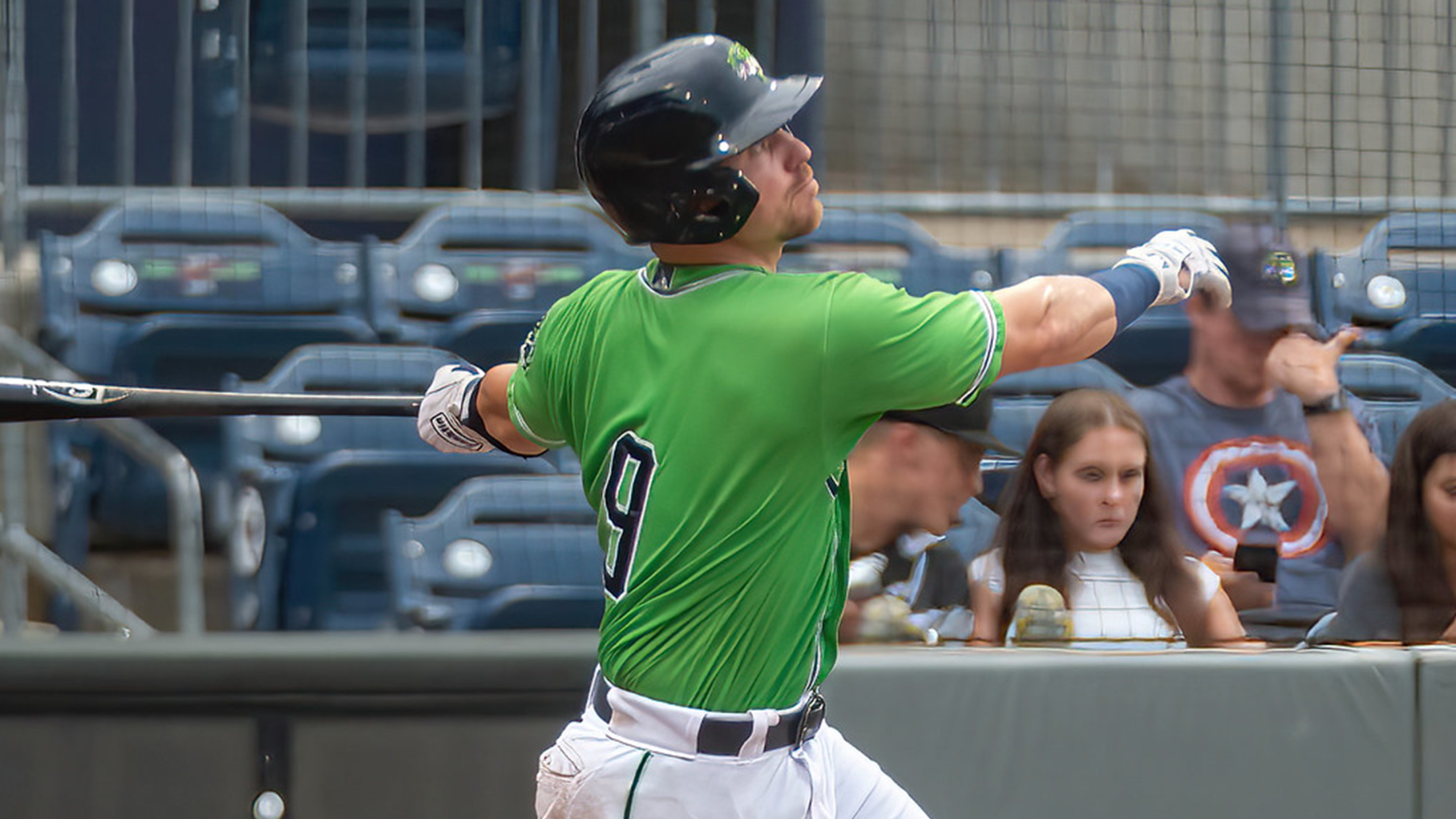 Ryan Casteel notched his first multi-homer game with the Stripers on Sunday, hitting three-run and two-run shots at Lehigh Valley. (Bernie Connelly)
ALLENTOWN, Pa. – Ryan Casteel homered twice and tallied five RBIs, and Rylan Bannon also homered in a four-RBI effort as the Gwinnett Stripers (60-63) routed the Lehigh Valley IronPigs (68-55) 13-2 on Sunday afternoon at Coca-Cola Park. The Stripers' 11-run winning margin was a new season high. Decisive Plays:Two
ALLENTOWN, Pa. – Ryan Casteel homered twice and tallied five RBIs, and Rylan Bannon also homered in a four-RBI effort as the Gwinnett Stripers (60-63) routed the Lehigh Valley IronPigs (68-55) 13-2 on Sunday afternoon at Coca-Cola Park. The Stripers' 11-run winning margin was a new season high.
Decisive Plays:Two batters into the game, Bannon connected on a two-run homer (13) off Colton Eastman to give the Stripers a 2-0 lead. In the third, Casteel greeted reliever James Marvel with a first-pitch three-run shot (14) to make it 6-0. The IronPigs cut it to 6-2 in the bottom of the third on a homer by Darick Hall, but Gwinnett put the game away with five runs in the eighth and two more in the ninth. Casteel's second clout of the day, off position player Ali Castillo in the ninth, capped the scoring.
Key Contributors: Casteel went 2-for-4 with two homers and a season-high five RBIs, his first multi-homer game in two years with Gwinnett. Bannon finished 3-for-4 with a double, homer, and four RBIs. Greyson Jenista added a two-run single in a 1-for-4 effort, and both Pat Valaika and Yariel Gonzalez had one RBI apiece. Following 2.2 innings from starter Freddy Tarnok, relievers Victor Vodnik (W, 1-0), Darius Vines, Jesus Cruz, and Michael Tonkin combined on 6.1 scoreless, two-hit frames.
Noteworthy: Casteel's two-homer day was his first multi-homer effort at any level since August 7, 2019 with Double-A Mississippi at Jacksonville. Bannon has reached base safely in all 10 games since joining Gwinnett, hitting .387 (12-for-31) with three doubles, two homers, 15 RBIs, and a 1.189 OPS. The Stripers have won five consecutive series finales (now 8-13 this season).
Next Game (Tuesday, August 30): Gwinnett vs. Jacksonville, 7:05 p.m. at Coolray Field. Radio Broadcast: 6:50 p.m. on MyCountry993.com. Starting pitchers for both teams TBD. It's a Family Value Tuesday at Coolray Field. Enjoy $2 hot dogs and $1 select desserts, courtesy of Coolray Heating & Cooling.