CC Walks Off Amarillo Again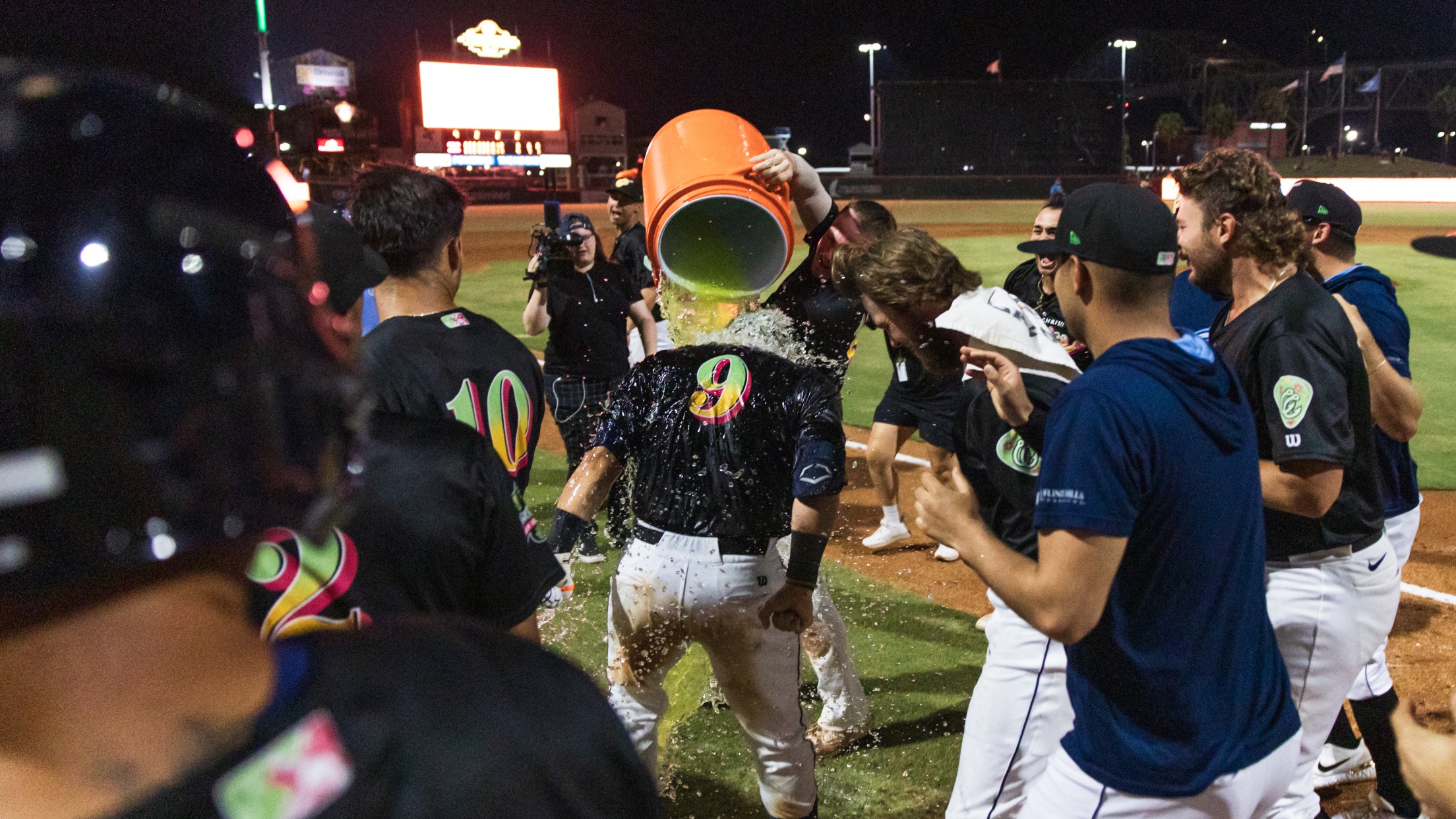 (Ben Zaragosa)
Box Score CORPUS CHRISTI – Cesar Salazar belted a two-out home run to right field with two away in the ninth inning as the Hooks, for the second time in as many nights, engineered a walk-off win over Amarillo, a 4-3 decision Friday night at Whataburger Field. Corpus Christi has
CORPUS CHRISTI – Cesar Salazar belted a two-out home run to right field with two away in the ninth inning as the Hooks, for the second time in as many nights, engineered a walk-off win over Amarillo, a 4-3 decision Friday night at Whataburger Field.
Corpus Christi has won seven of its last eight games.
Making its debut as the Corpus Christi Cumbias, the home club received a sterling start by Jimmy Endersby, who blanked the Sod Poodles over a career-best seven innings. Endersby struck out a season-best eight batters against three hits without issuing a walk in the longest outing by a Hooks pitcher this season.
Endersby was in line for the victory as the Cumbias broke through in the fifth against lefty Blake Walston via a two-run single by Salazar, his batterymate.
Wilyer Abreu, celebrating his 23rd birthday, clubbed an eighth-inning home run onto the berm in right for a 3-1 CC edge. This comes after Abreu hit a three-run, 385-foot blast with two out in the eighth on Thursday night.
Amarillo engineered a two-out rally in the ninth to extend the contest, with Roby Enriquez cracking a two-run single against Matt Ruppenthal.
Sod Poodles right-hander Ty Tice recorded the first two outs quickly in the home ninth. Salazar, who threw out two runners trying to steal in the eighth, fell behind 0-2 before battling back to send a 2-2 pitch over the fence in right.
Corpus Christi, endeavoring for a third consecutive win, sends Jaime Melendez to the hill Saturday night. First pitch 7:05 as the first 2,000 fans receive a Cumbias Jersey, courtesy of CITGO.