Cedeno Sets Single-Season Home Run Record In Win
Sod Poodles Now 2.0 GB In Playoff Push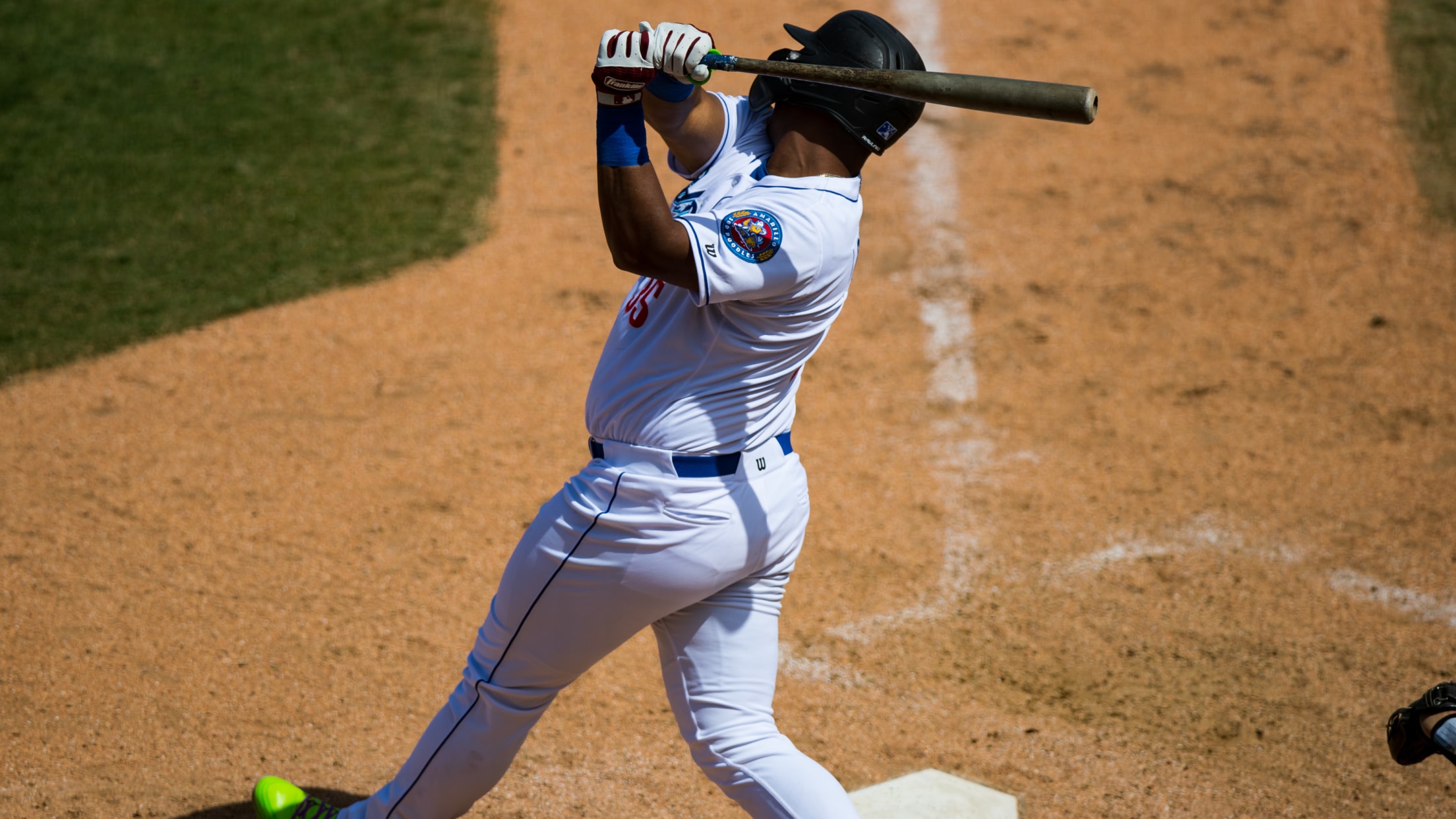 (John Moore)
Corpus Christi, Texas - Leandro Cedeño launched two home runs to set the single-season franchise HR record as the Sod Poodles shut out the Corpus Christi Hooks 8-0 on Tuesday night. Starter Slade Cecconi (7-5) earned the win after six dominant innings in Amarillo's second consecutive shutout win. Both teams
Corpus Christi, Texas - Leandro Cedeño launched two home runs to set the single-season franchise HR record as the Sod Poodles shut out the Corpus Christi Hooks 8-0 on Tuesday night. Starter Slade Cecconi (7-5) earned the win after six dominant innings in Amarillo's second consecutive shutout win.
Both teams combined for just one hit across the first two innings as Cecconi struck out three. Amarillo jumped ahead with three runs in the 3rd.
Tim Tawa was hit by a pitch with one out in the inning, and Juan Centeno put runners at the corners with a single. Jorge Barrosa put the first run on the board with an RBI groundout. Freshly promoted SS Jordan Lawlar drew a full-count walk to put two runners on, and Leandro Cedeño made it 4-0 with a three-run homer to left field.
NOBODY HAS EVER HIT MORE HOME RUNS IN ONE SEASON WEARING A SOD POODLES JERSEY THAN @learcedeo

2⃣6⃣

*we know it's only been 3 years, but still! pic.twitter.com/ektVIVrQUK

— Amarillo Sod Poodles (@sodpoodles) August 24, 2022
Cedeño's home run was his 26th of the year, which passed Stone Garrett (25) for the most in a single season in franchise history. He hit another one in the top of the 7th, and his 27 total home runs are the most by any player in franchise history. Cecconi cruised through a 1-2-3 bottom of the frame.
Blaze Alexander added to the Sod Poodles' lead with a leadoff homer in the top of the 4th. He roped an 0-1 breaking pitch to left field for his 12th dinger of the season to make it a 5-0 game.
Tim Tawa smacked Amarillo's third homer of the game in the 6th to extend their lead to 7-0. He scored Roby Enriquez on the two-run shot to left, his third homer of the year.
Aided by the healthy lead, Cecconi kept dealing into the 6th inning. After a one-out single in the 4th, he set down eight Hooks in a row to cap his quality start. He was relieved by Jake Rice in the 7th, ending his outing at 6.0 IP, 2 H, 0 R, 0 BB, 5 K. Cecconi improved to 7-5 on the year and 2-0 against Corpus Christi, who he has not surrendered a run to in 14.1 IP.
After Cedeño made it 8-0 in the 7th, the Sod Poodles bullpen closed out the game with three scoreless innings. Jake Rice allowed a hit with a strikeout in one inning of work, Garrett Leonard walked the bases loaded but escaped the 8th, and Andrew Saalfrank shut it down with a 1-2-3 9th.
Amarillo out-hit Corpus Christi 10-3 and pitched their second consecutive shutout for the first time this season. The Sod Poodles were led by a three-hit game by Cedeño and a two-hit performance from Tawa, and improved to 24-21 in the Texas League second half.
Notes:
Cecconi Controls Corpus Christi: Soddies starter RHP Slade Cecconi dominated the Hooks tonight to earn his seventh victory of the season (7-5). He tossed six scoreless innings in the win with just two hits, no walks, and five strikeouts. Arizona's No. 11 prospect is now 2-0 in three starts against the Hooks this year and has not allowed a surrendered a run to them in 14.1 IP. Tonight was Slade's fourth scoreless start of the season and his sixth with zero earned runs. On the year, the former first-round pick has a 4.39 ERA with 103 strikeouts and 26 walks in 106.2 IP. He is the 9th pitcher in the Arizona farm system to eclipse 100 Ks this year and ranks 8th in the farm in strikeouts.
Home Run King: 1B Leandro Cedeño cracked his 26th and 27th home runs of the season to pass Stone Garrett (25) for the most in a single season in franchise history. His three-run bomb put Amarillo on top 4-0 in the top of the 3rd, and he made it 8-0 with a solo shot in the 7th. Cedeño has already set a single-season career high in homers and is now the franchise all-time leader in home runs. In his record-setting season, Cedeño leads the Sod Poodles with 82 RBI and 120 hits. He is tied for 1st in Double-A in RBI and is 4th in hits.
MASHED. TATERS. @learcedeo pic.twitter.com/SMFSRfne5B

— Amarillo Sod Poodles (@sodpoodles) August 24, 2022
No Runs For You: The Amarillo pitching staff combined for their second consecutive shutout victory after blanking the Midland RockHounds 2-0 on Sunday. It was the second time they've shut out the Hooks this year and their fourth shutout effort overall.
Power From The Prospects: SS Blaze Alexander and 2B Tim Tawa each went yard in tonight's victory. Alexander, Arizona's No. 15 prospect, launched his 12th home run of the year in the top of the 4th. Tawa, the No. 24 prospect in the D-backs system, hit his third in the top of the 6th. Alexander is batting .300 (12-for-40) with 11 RBI in August, and Tawa went 2-for-3 tonight with two runs scored and two RBI.
The Blonde Bomber takes over south Texas.@BAlexander52 💣 pic.twitter.com/JpjIypvHN5

— Amarillo Sod Poodles (@sodpoodles) August 24, 2022
Defense Wins Chips: The Sod Poodles did not commit an error for the eighth game in a row, the longest active error-free streak in Double-A. Their 75.1 consecutive scoreless innings are a new season-high, surpassing the 68.1 innings in a row without a miscue from April 28 to May 7. Amarillo has a .980 fielding percentage on the year and ranks third in the Texas League with 98 double plays in 115 games and has committed the second-fewest errors, 83.
Welcome To The Sod Squad: SS Jordan Lawlar and RHP Garrett Leonard made their Double-A debuts in tonight's win. Lawlar, Arizona's No. 3 prospect and No. 13 in all of baseball, went 1-for-4 with a walk and a run scored in his Double-A debut. Arizona's No. 6 overall pick in 2021 is batting .321 across 81 minor league games this season. Leonard walked the bases loaded but turned in a scoreless frame in his Soddies debut. He spent three years in the Pittsburgh Pirates system and was signed by Arizona on August 19, 2022.