Centeno Plates Five In Game-One Victory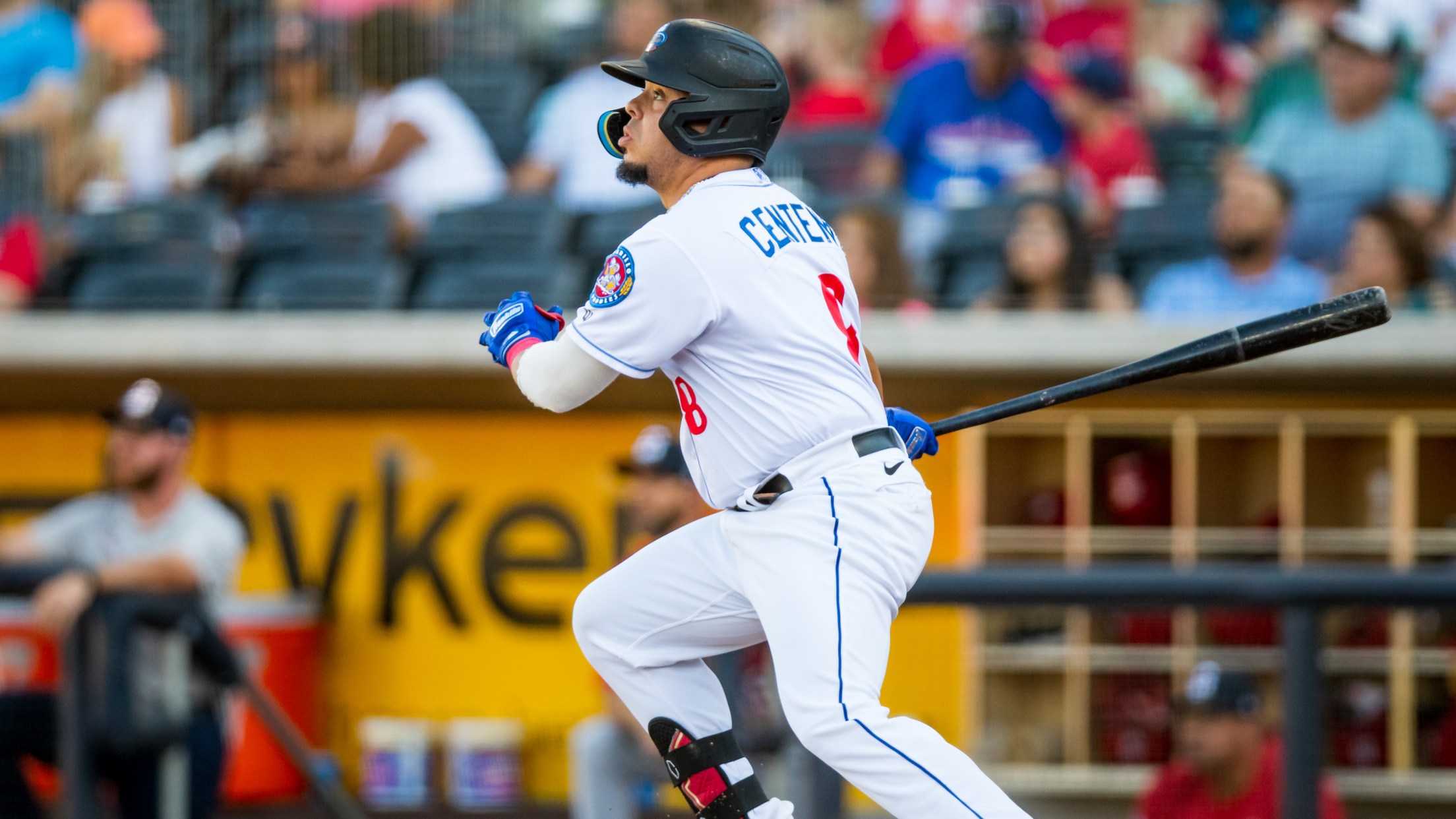 (John Moore)
Midland, Texas - Juan Centeno tallied five RBI and Blake Rogers made his 100th career appearance with Amarillo as the Sod Poodles (52-57) defeated the Midland RockHounds (56-53) on Tuesday night. Slade Cecconi (6-5) earned the win and the offense racked up 16 hits. The Soddies got things started with
Midland, Texas - Juan Centeno tallied five RBI and Blake Rogers made his 100th career appearance with Amarillo as the Sod Poodles (52-57) defeated the Midland RockHounds (56-53) on Tuesday night. Slade Cecconi (6-5) earned the win and the offense racked up 16 hits.
The Soddies got things started with three runs in the top of the 1st. Eduardo Diaz singled and Leandro Cedeño drew a walk to put two on with one out, and Roby Enriquez loaded the bases with a two-out walk. Juan Centeno came through in the early RBI spot, plating all three runners on a line-drive double to left field. Another walk and a wild pitch put two runners in scoring position, but a strikeout ended the frame.
The RockHounds responded with two runs of their own in the bottom of the 1st. Cecconi retired the first batter of the game, but a single and a two-run homer made it 3-2, Sod Poodles. He forced a popout and a strikeout to end the inning.
The Amarillo offense stayed hot early and bolstered their lead with a two-run 2nd. Jorge Barrosa singled with one out and Diaz made it a 5-2 lead with a two-run homer to left field. It was his 11th home run of the season and came on the eighth pitch of the at-bat. Two more Soddies singled in the inning, but it ended on a double-play.
3....2....

🚀 Lift Off 🚀 pic.twitter.com/OYtqi9YkBK

— Amarillo Sod Poodles (@sodpoodles) August 17, 2022
Cecconi allowed just one hit across the 2nd and 3rd, and Amarillo pushed the lead to six in the top of the 4th. Diaz was hit by a pitch and the offense rallied with three straight two-out hits. Tristin English doubled to score English, Enriquez then scored him on an RBI single, and Centeno made it 8-2 with an RBI double.
The RockHounds launched another two-run home run in the bottom of the 5th to cut the lead to four. Cecconi (6-5) punched out two more batters before escaping the inning. He was relieved in the 6th, ending his night at 5.0 IP, 6 H, 4 R, 4 ER, 2 BB, and 6 K, and in line for the win.
Centeno added another two-out RBI in the 6th inning, plating Cedeño from 2nd on an RBI single. The Sod Poodles' catcher was on fire to start the series, with three hits and 5 RBI in his first four at-bats.
Midland homered once again in the 6th to climb within two runs. LHP Kenny Hernandez allowed back-to-back one-out singles, and Zack Gelof launched a three-run homer to make it 9-7. Hernandez struck out two to end the frame.
The first three Sod Poodles reached to load the bases in the 7th, but the next three were retired for a scoreless half-inning. Hernandez allowed a single in a scoreless 7th, and the runner was caught stealing by Nick Dalesandro.
LHP Kyle Backhus entered in the 8th after three earned runs in 2.0 IP for Hernandez. He allowed a hit and picked up a strikeout in a scoreless inning. Ti'Quan Forbes added an insurance run with a leadoff home run on the first pitch of the 9th inning.
They passed along the save opportunity to Blake Rogers, who secured Amarillo's win with two strikeouts in the bottom of the 9th. It was his 11th save of the season and 100th career appearance with the Sod Poodles, most by any pitcher.
The Sod Poodles out-hit Midland 16-12 in tonight's win. Five Soddies had two hits and Juan Centeno led the way with a 3-for-5 performance. The pitching staff struck out 11 and held the RockHounds to 1-for-7 with runners in scoring position.
Amarillo now trails Midland by five games in the Texas League South second-half standings with five games remaining in the series. LHP Blake Walston (4-3, 6.13 ERA) will start for the Sod Poodles in tomorrow's game two against RHP Ryan Cusick (1-5, 8.13 ERA).
Notes:
Mr. Sod Poodle: RHP Blake Rogers earned his 11th save of the season tonight in his 100th career appearance as a Sod Poodle. It is the most appearances by a pitcher in franchise history, and he leads the Diamondbacks organization in saves since being signed on June 17, 2021. His 11 saves lead the team and are T-2nd in the Texas League, and T-5th in Double-A this season. The closer sports an excellent 3.53 ERA with 55 strikeouts in 43.1 IP.
Dial it up, @BlakeRogers23

😤 pic.twitter.com/hkKLiMdgXV

— Amarillo Sod Poodles (@sodpoodles) August 17, 2022
Air Force Juan: C/DH Juan Centeno was dominant at the plate in tonight's victory. The veteran catcher went 3-for-5 with five RBI, which all came with two outs. He smacked two doubles tonight and has been a doubles machine as of late, with six in his last four games. He also has nine RBI in that span, and tonight was his second-highest RBI total of the season after his career-high of 6 on April 19 against San Antonio. Centeno also has ten hits over his current six-game hitting streak, where he is batting .400 (10-for-25) dating back to August 8.
Update: Make that 4 doubles in his last five ABs

lol. https://t.co/5bXnaR1ZFG pic.twitter.com/TFmM17AhLd

— Amarillo Sod Poodles (@sodpoodles) August 17, 2022
Two Times Five: Five Sod Poodles had a two-hit night tonight, and Juan Centeno led the way with three. Eduardo Diaz, Leandro Cedeño, Tristin English, Roby Enriquez, and Drew Stankiewicz each knocked two hits, with eight runs scored between them. Tristin English added an RBI double, Ti'Quan Forbes led off the 9th with his 11th home run of the season, and Eduardo Diaz laced a two-run homer to give him 11 on the year as well. With six multi-hit performances tonight, the Sod Poodles have seen 291 such games this season.
Put The Team On His Back-hus: LHP Kyle Backhus tossed a scoreless 8th inning tonight and has not allowed a run through his first 4.0 IP in Double-A. He has five strikeouts and one hit through his first three appearances as a Sod Poodle and allowed his first hit tonight. The newly-promoted southpaw allowed just one run over his final 10 relief appearances for High-A Hillsboro this year and had a 0.87 ERA in July with 21 strikeouts and just one earned run across eight appearances with the Hops.
What The Win Means: The Sod Poodles returned to 20-20 in the Texas League second half and now trail the 25-15 RockHounds by 5.0 games. The Sod Poodles also lead the season series 11-8 with five games remaining in the 2022 Oil Pan Cup. On a superlative note, the team also improved to 7-5 when recording 15 or more hits.