Dreams Go On for worthy cause close to Curve
Local nonprofit among five MiLB CommUNITY grant recipients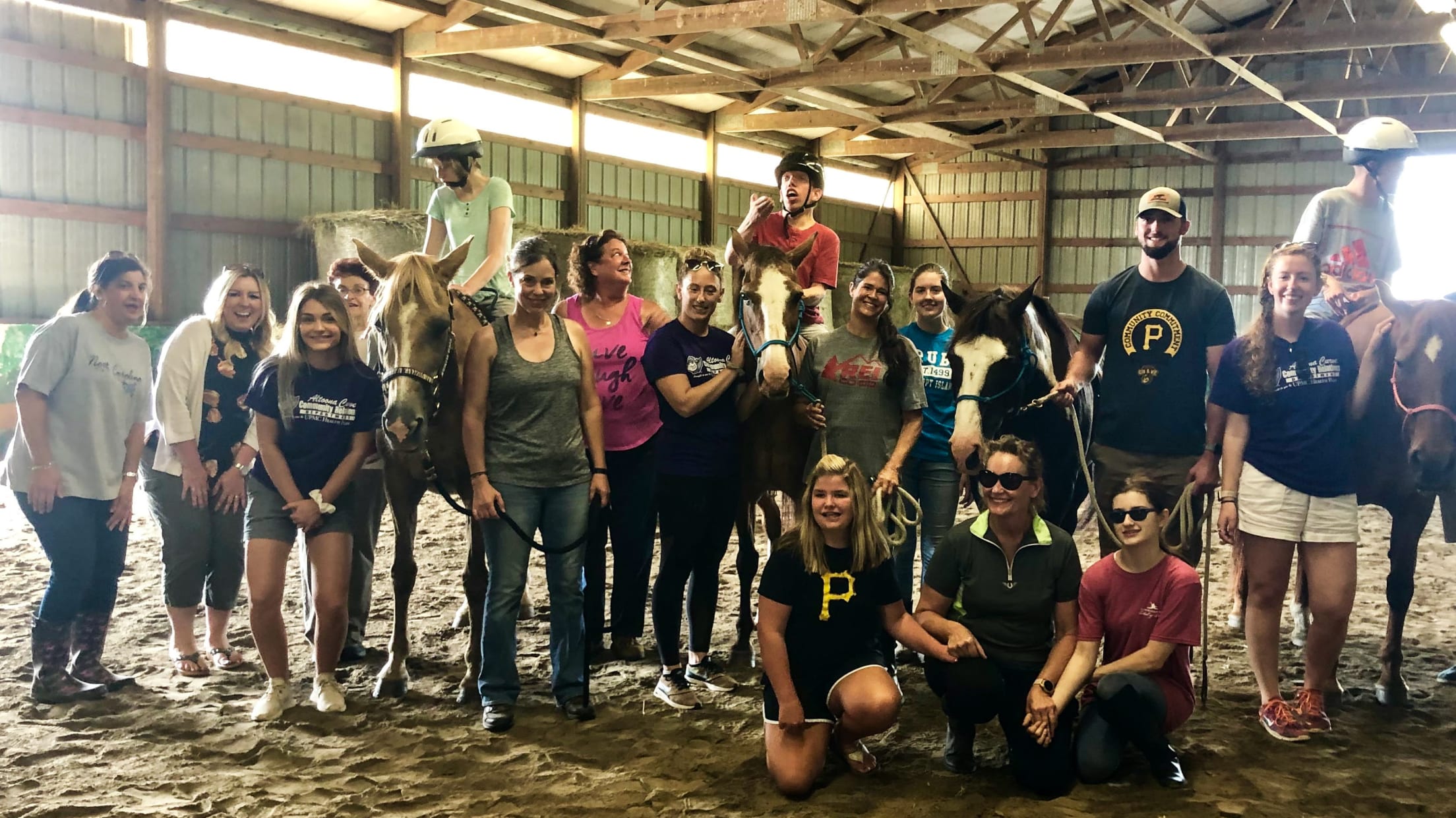 Dreams Go On provides therapeutic horseback riding for physically and mentally challenged children and adults. (Altoona Curve)
It didn't take long for Altoona's Annie Choiniere to decide which organization she wanted to nominate for Minor League Baseball's CommUNITY grant program. It was Dreams Go On, and for excellent reason.
It didn't take long for Altoona's Annie Choiniere to decide which organization she wanted to nominate for Minor League Baseball's CommUNITY grant program. It was Dreams Go On, and for excellent reason.
"They were the absolute first I thought of when they asked for nonprofits that are inclusive and welcoming," said Choiniere, the Curve's director of community relations and social media. "I couldn't believe it when we were chosen."
Located in nearby Hollidaysburg, Pennsylvania, Dreams Go On serves physically and mentally challenged adults and children through horseback riding therapy under the watchful guidance of certified instructors and a team of volunteers. The goals, according to its mission statement, include teaching "responsibility, trust, rules, patience, compassion, self-confidence, teamwork, and safety."
Nate Bowen, the Curve's assistant general manager, needed no convincing on Choiniere's selection. He's seen first-hand the relationship between the team and the nonprofit grow over time, especially among the players who volunteer and the kids who take part in the program.
"Usually right after we go out there, the kids come here either that same day, or sometimes it's like the next week, but I know the kids always want to come right after they've had interactions with our team out there," Bowen said. "And I know our guys over the years, it's the most popular thing for them to do out in the community."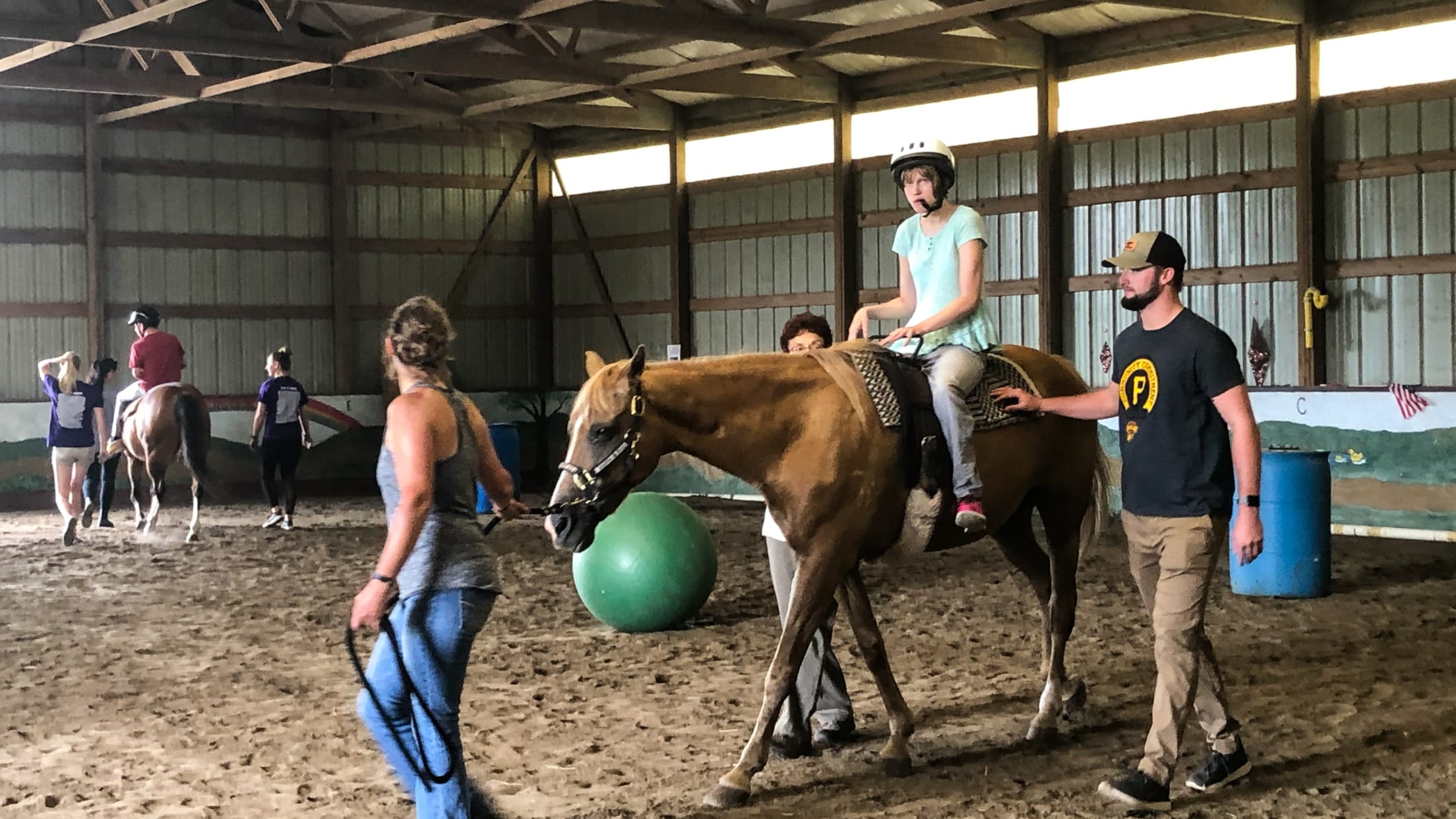 As for the grant program itself, Minor League Baseball had been brainstorming ways to recognize nonprofits during the trying times that are 2020. The idea of honoring five worthy candidates with a $500 donation on behalf of MiLB Charities became a perfect way to do just that, while also celebrating a milestone for its CommUNITY initiative.
"It's been something we've wanted to do for a while," said Minor League Baseball director for community engagement Courtney Nehls. "This is the fifth year we've done the CommUNITY initiative in August, and we thought a good way to celebrate was to launch this grant program."
The mission behind the CommUNITY initiative, not surprisingly, is to "create unity within our communities," according to Nehls. Of course, that mantra was a big part of what she and the committee were looking for when the grant applications started rolling in.
"We looked for a few things," Nehls said. "Obviously that the organization aligned with promoting unity and supporting diverse communities. We also wanted to make sure that even though the funds might be a little small, we could still make an impact."
That money will be extremely useful for all of this year's winners, which also include Charleston Hope (Charleston RiverDogs), the Young Black Leadership Alliance (Charlotte Knights), El Pasoans Fighting Hunger Food Bank (El Paso Chihuahuas) and ¡HICA! (Birmingham Barons). For Dreams Go On, those funds will help in the care of its six therapy horses as well as aid in a scholarship that Dreams Go On provides for less fortunate riders.
As Bowen puts it, the foundation is special not only for its good work but also it's unique approach.
"It's not something you see in every area," he noted.
Unfortunately, the chance to provide its services was encumbered this year due to the COVID-19 pandemic, especially given the fact that many Dreams Go On participants have pre-existing conditions, and the typical riding season was canceled as a result. That also included its fundraising efforts, which the Curve play a large part in.
But just like everything else surrounding the nonprofit organization, hope remains.
"Debbie Kelly, their program manager, said they're hoping to do another volunteer session or training session soon, but she's still not sure if they'll be able to swing that," Choiniere said.
No matter when the doors open back up, the grant will go to great use for a great cause.
"Them getting that $500 grant should be huge in helping to still maintain that ability next season," Choiniere said. "They were just ecstatic that we had thought of them."
Brian Stultz is a contributor to MiLB.com. Follow him on Twitter @brianjstultz.