Hamilton Slams Hounds Again, CC Wins Series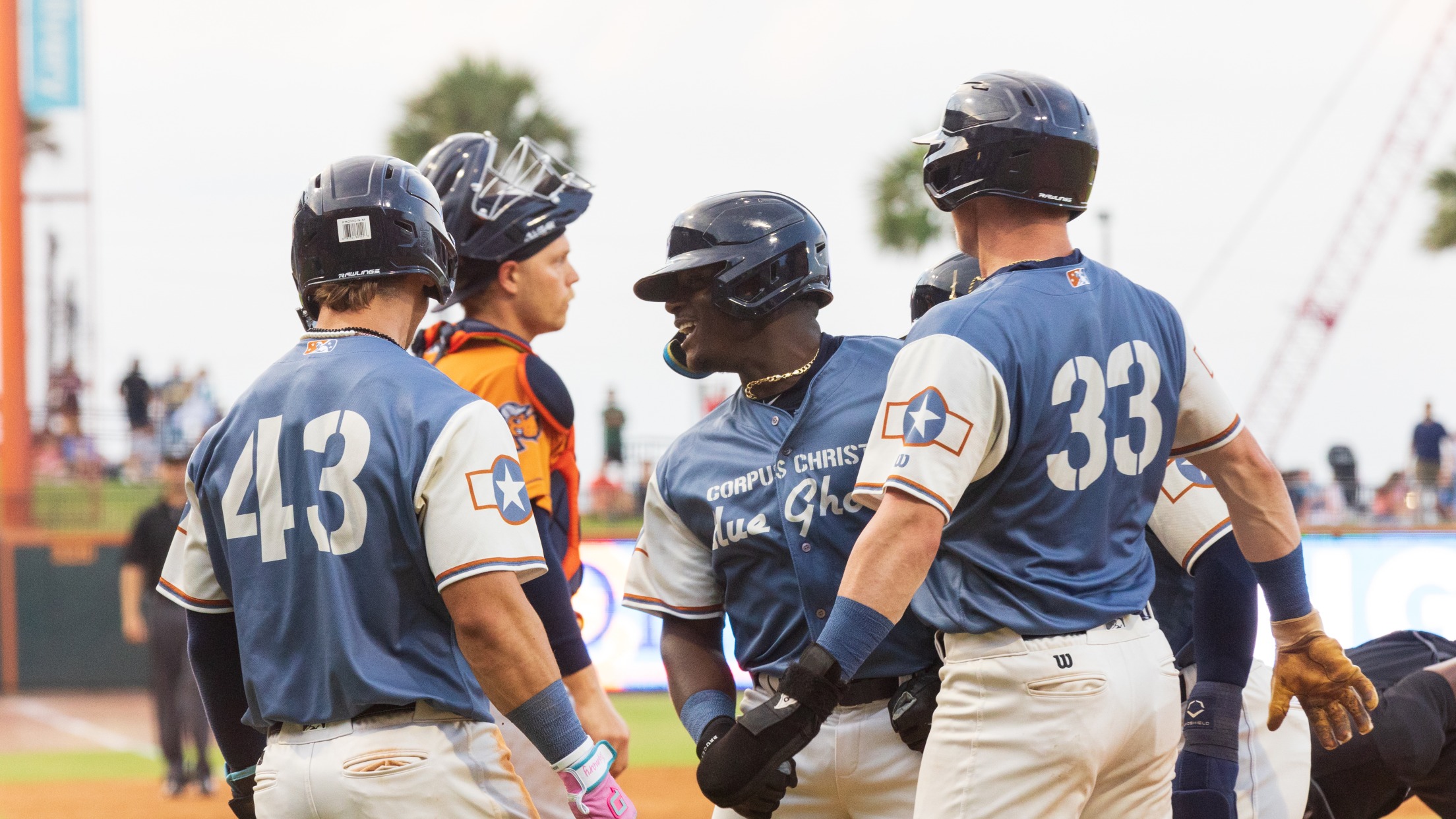 (Ben Zaragosa)
Box Score CORPUS CHRISTI - Quincy Hamilton belted his second grand slam in as many nights, helping cap Blue Ghosts Weekend with a 7-5 win over Midland before 5,323 fans Sunday at Whataburger Field. Corpus Christi, 9-4 in the last 13 games, has won its last three home series. Kenedy
CORPUS CHRISTI - Quincy Hamilton belted his second grand slam in as many nights, helping cap Blue Ghosts Weekend with a 7-5 win over Midland before 5,323 fans Sunday at Whataburger Field.
Corpus Christi, 9-4 in the last 13 games, has won its last three home series.
Kenedy Corona, who belted a two-run dinger on Saturday, opened the home first with a home run to left field, leveling the score at 1.
With Julio Robaina pitching well, the Hooks pushed in front, 2-1, in the fourth. Zach Dezenzo cracked a lead-off double down the right-field line before coming home on a two-out knock by J.C. Correa.
Separation came in the fifth. Back-to-back singles by Corona and Drew Gilbert put two on for Dezenzo who was then hit by a pitch. With the bases loaded, Hamilton deposited a fly ball into the pool area in right-center field for his second pro grand slam and a 6-1 lead.
Hamilton joins Scott Schreiber (2021) and Drew Locke (2012) as Hooks who have clubbed slams in consecutive games over the team's 18-year tenure.
Robaina, sporting a 1.85 ERA in five May assignments, picked up his fourth win by firing five innings of one-run baseball.
Shay Whitcomb helped manufacture an insurance run in the eighth. After notching a lead-off single, Whitcomb advanced on a wild pitch and then stole third base. Correa knocked him in with a smash single to second.
Working in relief, Aaron Brown held Midland to one marker and two hits over three innings before surviving a two-out, three run rally in the ninth. Brown struck out the potential tying run at home plate for his first Double-A save.
In taking four of six from the first-place RockHounds, CC went 8-4 during its two-week homestand.