Hooks Club 17 Hits in Runaway Win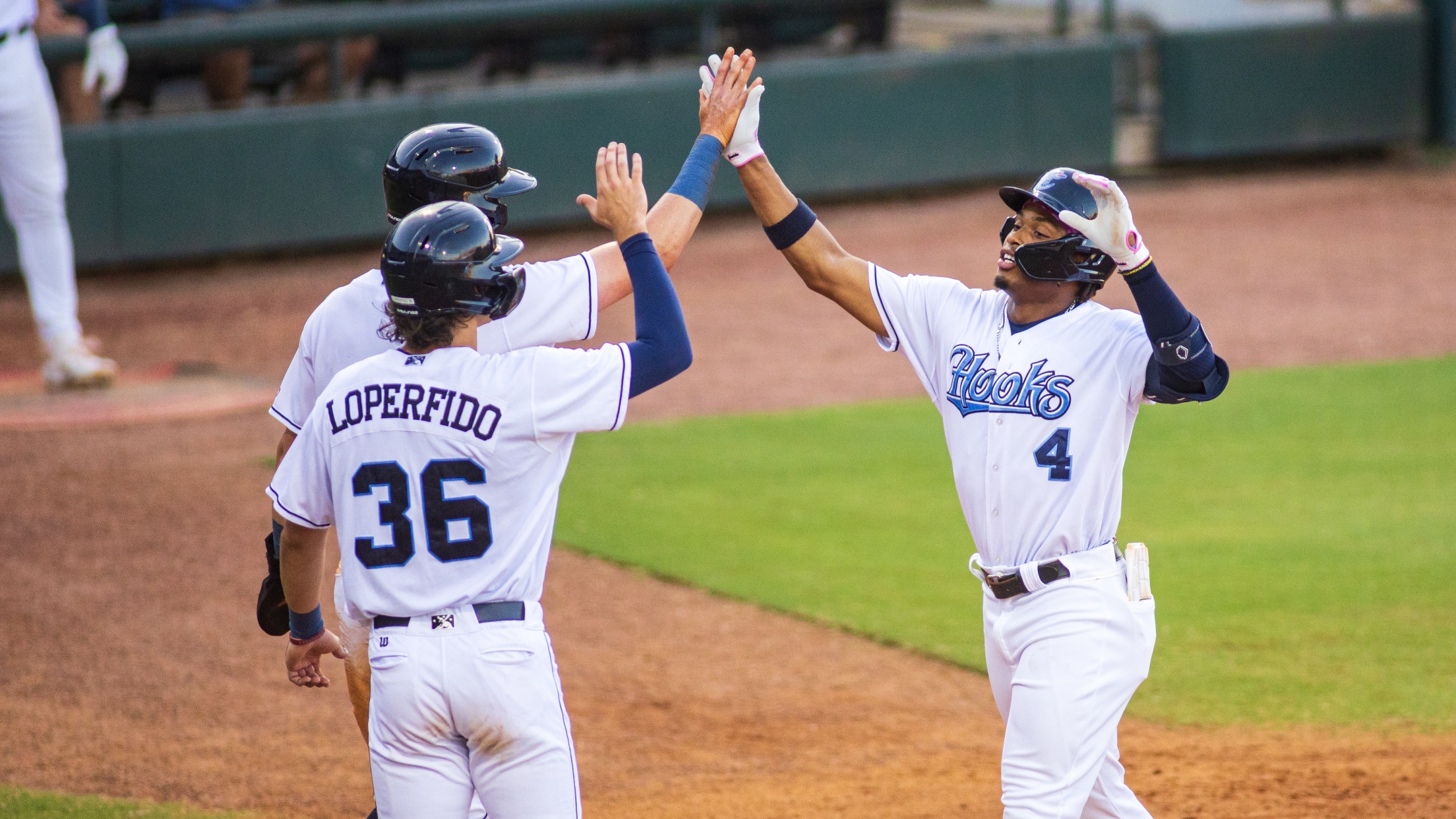 Zach Daniels, who has hits in six of seven games with the Hooks, belted his first Double-A home run Thursday night. (Ben Zaragosa)
Box Score CORPUS CHRISTI - The Hooks sent 12 men to bat in a seven-run fourth inning Thursday night, paving the way to a 13-4 win over the RoughRiders before 3,760 fans at Whataburger Field. A three-run home run by Zach Daniels - his first at Double-A - and RBI
CORPUS CHRISTI - The Hooks sent 12 men to bat in a seven-run fourth inning Thursday night, paving the way to a 13-4 win over the RoughRiders before 3,760 fans at Whataburger Field.
A three-run home run by Zach Daniels - his first at Double-A - and RBI doubles by J.C. Correa and Kenedy Corona highlighted the big inning as CC erased a 3-2 deficit.
Corona pulled down three RBIs out of the lead-off spot, including an third-inning single that capitalized on a lead-off double by C.J. Stubbs.
Three singles and a Luis Aviles, Jr. sac fly handed the Hooks two more runs in the sixth before Joey Loperfido belted a two-run bomb to right in the seventh.
Loperfido ranks second and third in the Astros system with nine home runs and 36 RBIs, respectively.
Zach Dezenzo, who leads Minor League Baseball with a .400 batting average, led the charge Thursday with four hits, including a first-inning triple.
Chad Stevens reached base five times with three hits, two walks and two runs scored. Correa went 2-for-3 with two RBIs and two walks.
Rhett Kouba, who struck out nine over 4 2/3, was forced to exit early due to an elevated count of 90 pitches.
Diosmerky Taveras retired 10 of 12 batters in relief to pick up his first Double-A win.