Hooks Pen Secures Triumph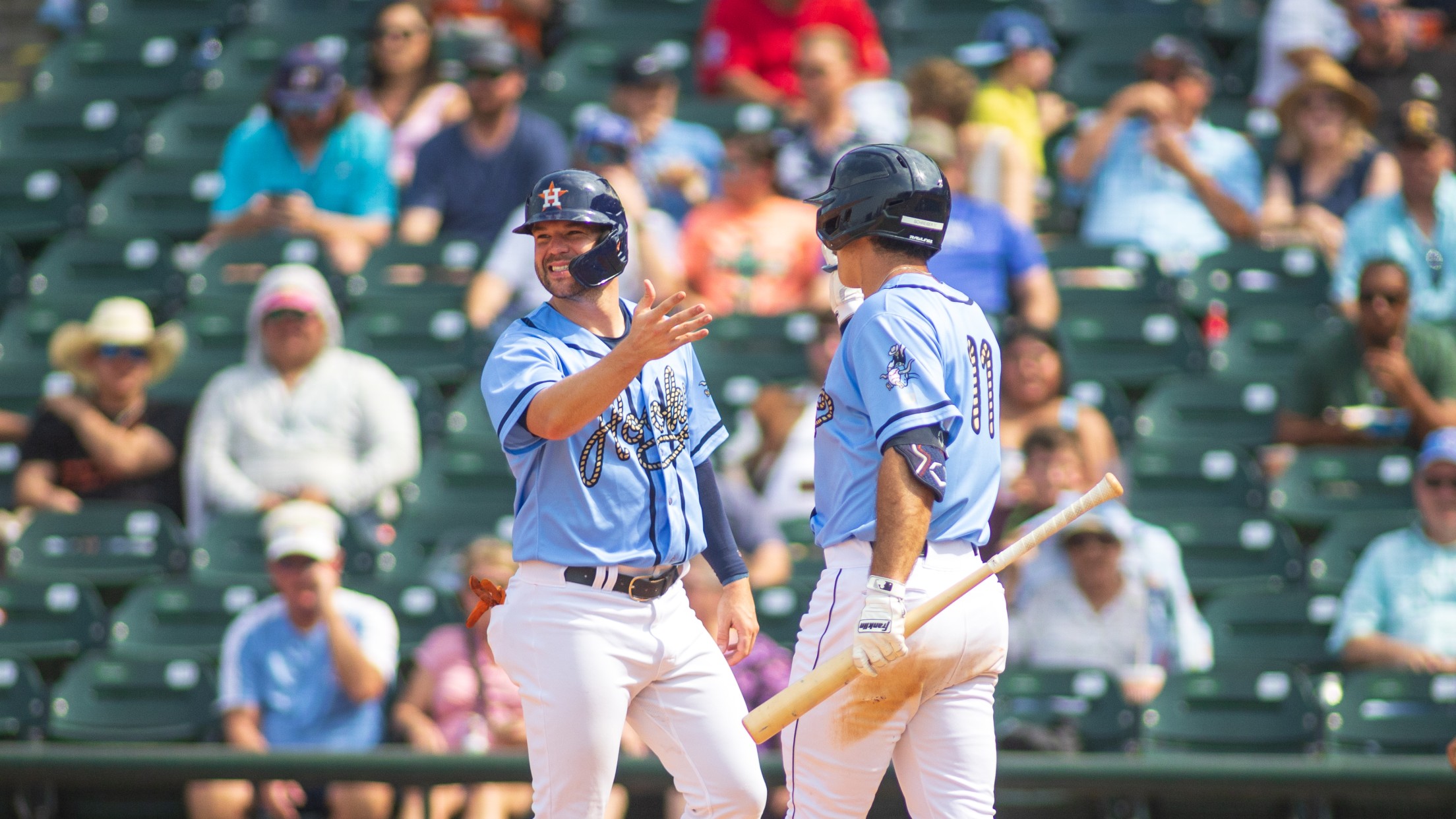 Chas McCormick and Scott Schreiber teamed for four hits and three runs Saturday afternoon at Whataburger Field. (Ben Zaragosa)
Box Score CORPUS CHRISTI - The Hooks posted a pair of early five spots and enjoyed tremendous relief pitching Saturday afternoon, knocking off Amarillo, 12-7, before 4,327 fans at Whataburger Field. Leading the series, 3-2, Corpus Christi can win the set with a victory in the Sunday finale. Hooks relievers
CORPUS CHRISTI - The Hooks posted a pair of early five spots and enjoyed tremendous relief pitching Saturday afternoon, knocking off Amarillo, 12-7, before 4,327 fans at Whataburger Field.
Leading the series, 3-2, Corpus Christi can win the set with a victory in the Sunday finale.
Hooks relievers accounted for 4 1/3 innings of two-hit, one-run baseball.
Logan VanWey, making his Double-A debut, earned the victory by retiring four of the six batters he faced. Jonathan Sprinkle and Jacob DeLabio each worked a scoreless inning. Tyler Brown was touched for a solo home run in the ninth, throwing 12 of 17 pitches for strikes.
Amarillo starter Marcos Tineo was chased from the game after recording only one out. The first six Hooks reached Saturday thanks to three singles and three walks. Colin Barber's two-run knock finished the sequence. Two batters later, J.C. Correa added a sac fly as part of the five-run outburst.
CC sent nine more to the plate in the third, making the most of five walks and a hit batsman. Correa's RBI double into the right field corner served as the lone hit in the five-run frame.
Hooks starter Blair Henley thrived over four innings of work, allowing just three men to reach. The roadblock came in the fifth as the Sod Poodles rallied for six runs.
At 10-6, CC mustered insurance markers in the sixth and seventh, cashed in by a Chad Stevens sac fly and Scott Schreiber two-out knock, respectively.
Schreiber finished the day 3-for-5 as the Hooks generated nine hits and 11 walks.
Joey Loperfido worked a pair of bases-loaded free passes, giving him 17 RBIs in 13 games.
Rehabbing Astros outfielder Chas McCormick, who homered Friday, went 1-for-3 with two runs and an RBI hit-by-pitch.