Hounds Sweep Doubleheader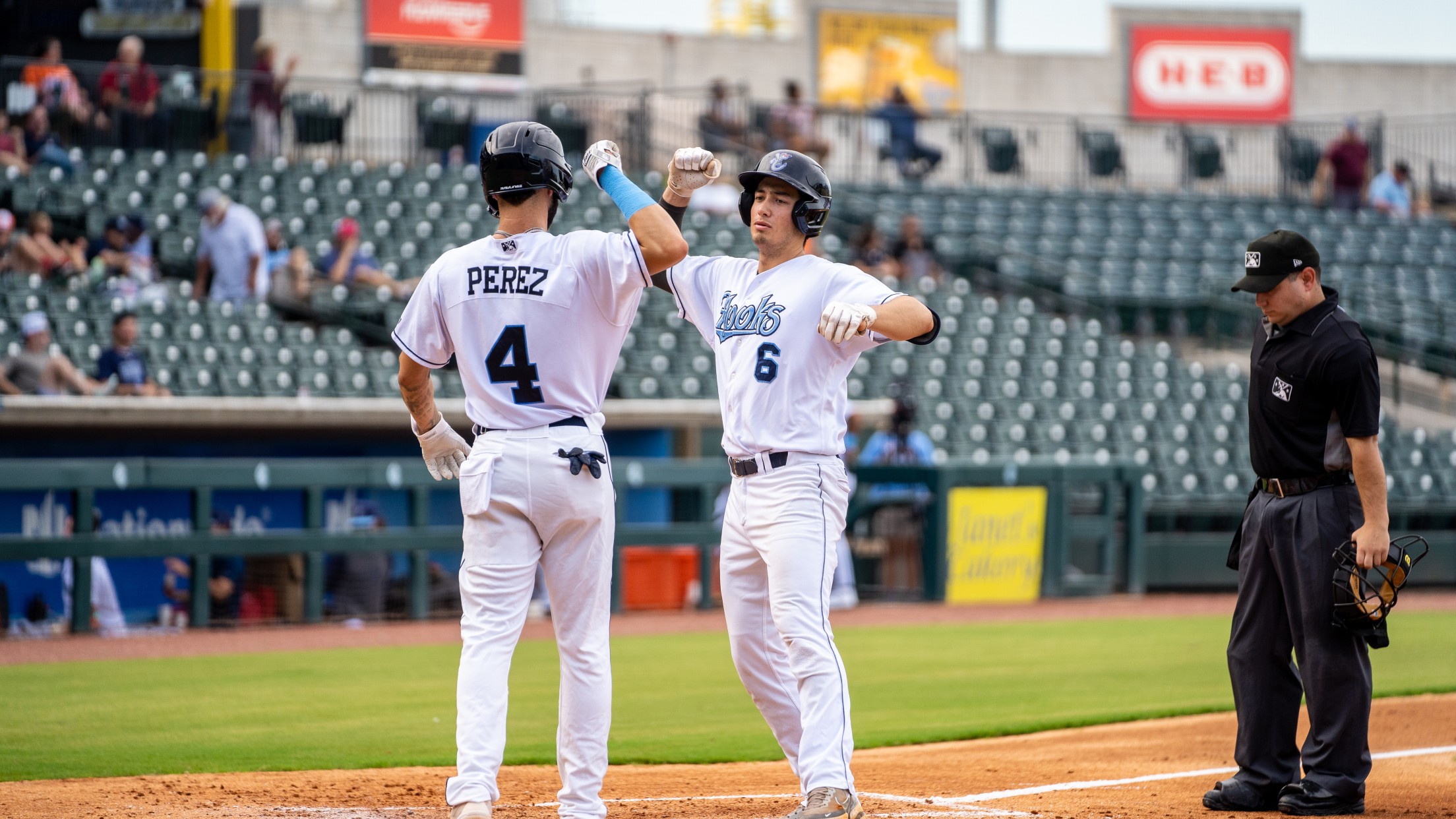 Shay Whitcomb plated four Wednesday, including a two-run home run in the opening game. (Marcus Sarate)
Game 1 Box Game 2 Box CORPUS CHRISTI – By scores of 4-3 and 8-7, Midland took both ends of Wednesday's doubleheader at Whataburger Field. The Hooks were 8-2 in a 10-game stretch before absorbing the pair of one-run setbacks. In Game 1, Shay Whitcomb put CC ahead, 2-1, on
CORPUS CHRISTI – By scores of 4-3 and 8-7, Midland took both ends of Wednesday's doubleheader at Whataburger Field.
The Hooks were 8-2 in a 10-game stretch before absorbing the pair of one-run setbacks.
In Game 1, Shay Whitcomb put CC ahead, 2-1, on two-run home run off the batter's eye in center in the fourth.
Jayden Murray, who had held the RockHounds to three hits over the first five innings came undone in the sixth. A lead-off free pass put a man on for Logan Davidson, who sent a triple into the right-field alley. Brett Harris followed with a double for a 3-2 Midland lead.
The visitors struck for insurance in the seventh via a sac fly by Davidson. The marker was needed as Corpus Christi mustered a run in the bottom half via a Luke Berryhill RBI single. Chase Cohen earned the save for the Hounds, stranding the tying and winning runs on base.
In the nightcap, Midland got to Hooks starter Cesar Gomez for eight runs on 10 hits over 4 1/3 innings.
Harris' three-run homer in the fifth handed the Hounds an 8-3 edge.
Hooks made it a one-run game by scoring four times in the sixth, thanks in part to consecutive RBI knocks by Ross Adolph, Quincy Hamilton and Berryhill. Hamilton drove in two in the sequence with a double into right-center. Berryhill then cracked a two-bagger to left-center.
Austin Briggs, who stranded runners at third in both the sixth and seventh, retired four of five Hooks to notch his seventh save
Layne Henderson and Freylin Garcia teamed for 2 2/3 scoreless innings out of the CC bullpen.
Grae Kessinger was 4-for-7 for the Hooks in the twin bill, including a fourth-inning solo homer in the nightcap. Whitcomb totaled four RBIs over the two games. Joe Perez reached base five times, going 3-for-6 with a double.