Wu-Yelland's debut ends in a combined no-hitter
Red Sox 2020 4th-rounder spearheads first Drive no-no since '18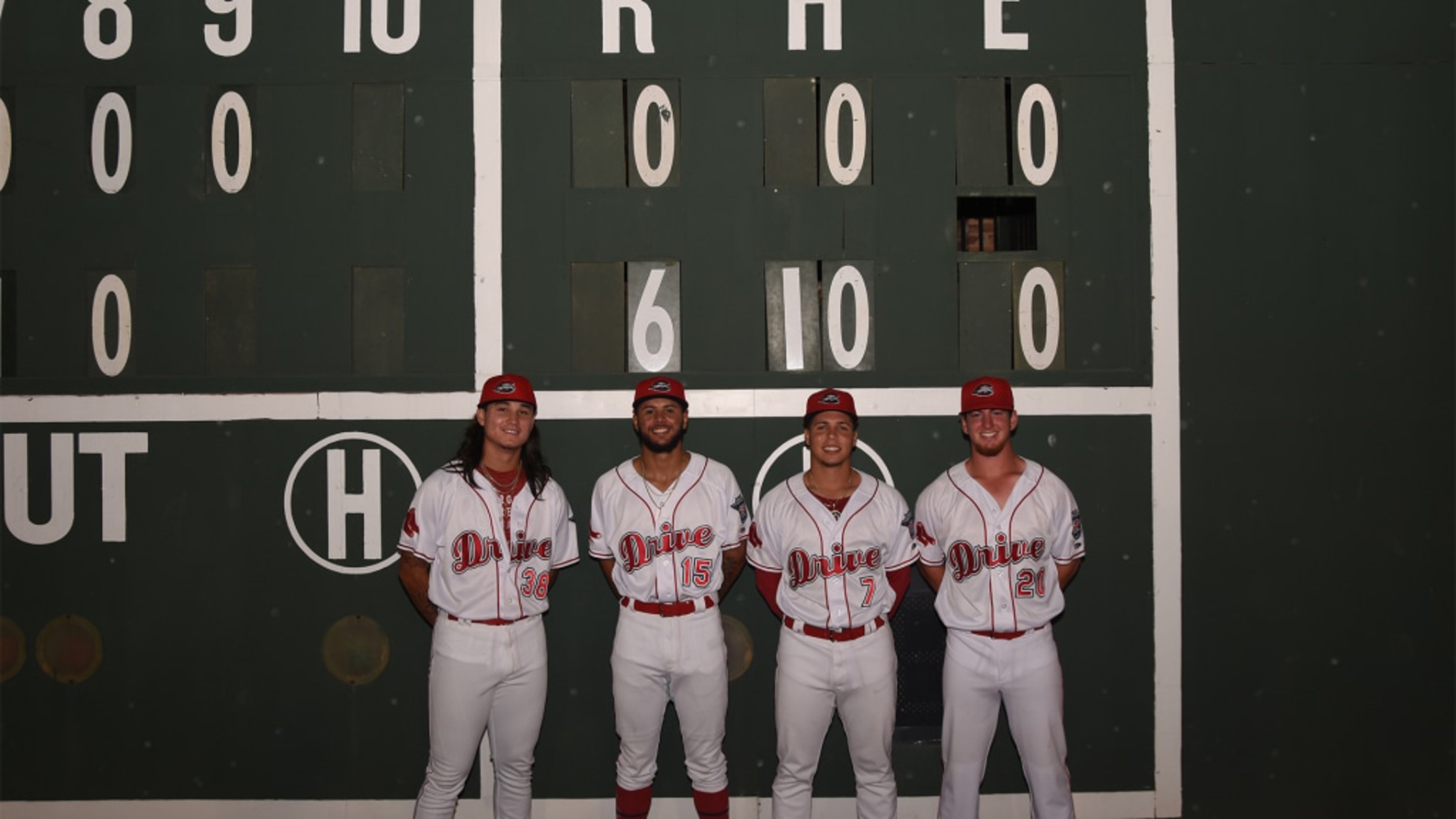 Jeremy Wu-Yelland, Jose Espada, Oddanier Mosqueda and Jacob Wallace combined for the fourth no-hitter in Greenville history. (Greenville Drive)
As first impressions go, Jeremy Wu-Yelland couldn't have asked for much more. Boston's first-year hurler struck out a career-high nine over five hitless innings and three High-A Greenville relievers finished off the historic 6-0 victory over Asheville at Fluor Field at the West End on Thursday night. Jose Espada, Oddanier
As first impressions go, Jeremy Wu-Yelland couldn't have asked for much more.
Boston's first-year hurler struck out a career-high nine over five hitless innings and three High-A Greenville relievers finished off the historic 6-0 victory over Asheville at Fluor Field at the West End on Thursday night.
Jose Espada, Oddanier Mosqueda and Jacob Wallace combined to retire 12 of the last 13 batters, six via the strikeout, to clinch the fourth no-hitter in franchise history and the first since July 19, 2018. Coincidentally, that no-no also came against Asheville.
Wu-Yelland admitted to some nerves early on in his Greenville debut, but the word "nervous" doesn't exist in his vocabulary.
"I was little excited early on, but that's normal for me during my starts," the 2020 fourth-round Draft pick said. "I don't see it as being nervous. I'm anxious to compete and always want to pitch. There was a little more [adrenaline] than usual making my first start in front of new fans and new teammates. It was an awesome experience."
Wu-Yelland worked around two walks in the first inning and struck out the side in the second before finding trouble again in the third. The 22-year-old loaded the bases with nobody out after hitting a batter and walking two. A strikeout and a double play got him through the jam unscathed. Wu-Yelland fanned the side in the fourth and set Asheville down in order in the fifth to complete his outing after 72 pitches.
"I scuffled a little bit early on and was having some trouble working out of the stretch with my slide step," Wu-Yelland said. "But [catcher Elih Marrero] called a terrific game. He settled me down there early on and really helped guide me through. I couldn't have done it without him or the defense, which made all the plays."
Espada contributed two strikeouts in two scoreless frames, Mosqueda worked around a walk to strike out three in the eighth and Wallace closed out the game by whiffing the leadoff batter and inducing a pair of groundouts.
Having left the game with four innings to go, Wu-Yelland was quick to credit his new bullpen mates.
"Never a doubt in my mind that those guys would get the job done," the Seattle native said. "I hung some zeros and gave my team the best chance to win, but I did the easy part. To come out of the bullpen and lock it down against hitters who have a few at-bats under their belts isn't easy, but they were awesome."
The outing was the latest success story in a strong professional debut for Wu-Yelland. The University of Hawaii product limited opposing batters to a .204 average while striking out 77 in 67 innings with Low-A Salem.
Including his start Thursday, Wu-Yelland sports a 3.75 ERA and a 1.21 WHIP with 86 whiffs in 72 frames across 21 combined starts.
"The strikeouts are great, but as a starter I need to just go out there and put zeros on the scoreboard," Wu-Yelland said. "It's not important how I get them there, just that I stay efficient and hold the offense scoreless."
Michael Avallone is a contributor to MiLB.com. Follow him on Twitter @MavalloneMiLB.