Longball Powers AquaSox to 7-1 Win over Hops
Dariel Gomez's Big Night Leads Everett to Win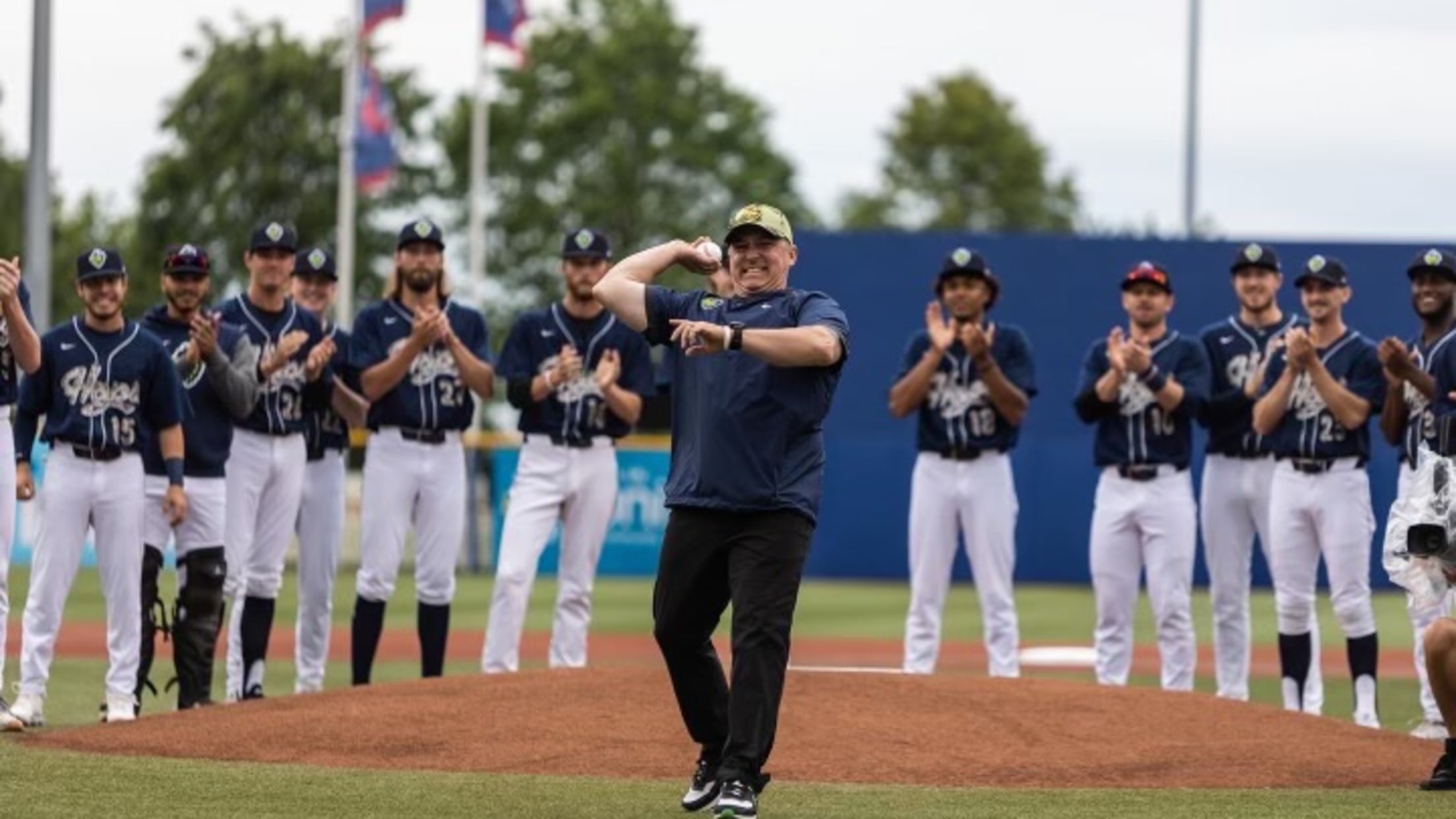 Pictured above is Hillsboro Strength & Conditioning Coach, David Robertson, a military veteran who threw out the ceremonial first pitch on Salute to Service Night. Hillsboro, OR (June 7, 2022) – The Hops were looking to improve their 5-1 home record this year against Everett, but couldn't get past the
Pictured above is Hillsboro Strength & Conditioning Coach, David Robertson, a military veteran who threw out the ceremonial first pitch on Salute to Service Night.
Hillsboro, OR (June 7, 2022) – The Hops were looking to improve their 5-1 home record this year against Everett, but couldn't get past the longball on Tuesday. Everett connected on three home runs, including a pair off the bat of Dariel Gomez. All four Hillsboro pitchers gave up at least one run in the game, as the AquaSox took game one 7-1.
Everett came out of the gates hot against Hillsboro starter, Scott Randall. Three first inning hits, including a two-run homer by Gomez, gave the AquaSox a quick 2-0 lead.
Prelander Berroa made his third start of the year against the Hops, pitching four scoreless innings while striking out four. Berroa threw 61 pitches in his fifth appearance since being acquired by the Seattle Mariners.
More damage was done in the fourth inning against Randall, as Andy Thomas led off the inning with a home run, his fourth this season. Randall's night was finished after 3.2 innings, allowing eight hits and four earned runs.
Jose Santamaria was the first in relief of Randall, as he pitched 2.1 innings, surrendering two hits and a run. Dariel Gomez was once again responsible for that run via the home run, hitting his second of the game in the fifth inning. The AquaSox led 5-0 after five.
The lone Hop run of the game came in the sixth inning, an Adrian Del Castillo home run to right-center field.
A run in the eighth and ninth for the AquaSox would seal the deal, a 7-1 final.
Dariel Gomez, Victor Labrada and Andy Thomas all had three-hit games for Everett. Leon Hunter Jr recorded the win, making him 4-1 this year.
Six different Hops recorded a hit, with Jose Curpa drawing two walks in his first game back from the IL.
Hillsboro (26-24) and the Everett AquaSox (22-29) will play game two on Wednesday at 7:05, with the pre-game show at 6:50 on Rip City Radio 620 and MiLB.tv. Important to note, 6/9, 6/10 and 6/12 are all 1:05 matinee starts.