Major Fun returns to Minor League communities
Fans enjoyed the sights, sounds and people that make MiLB special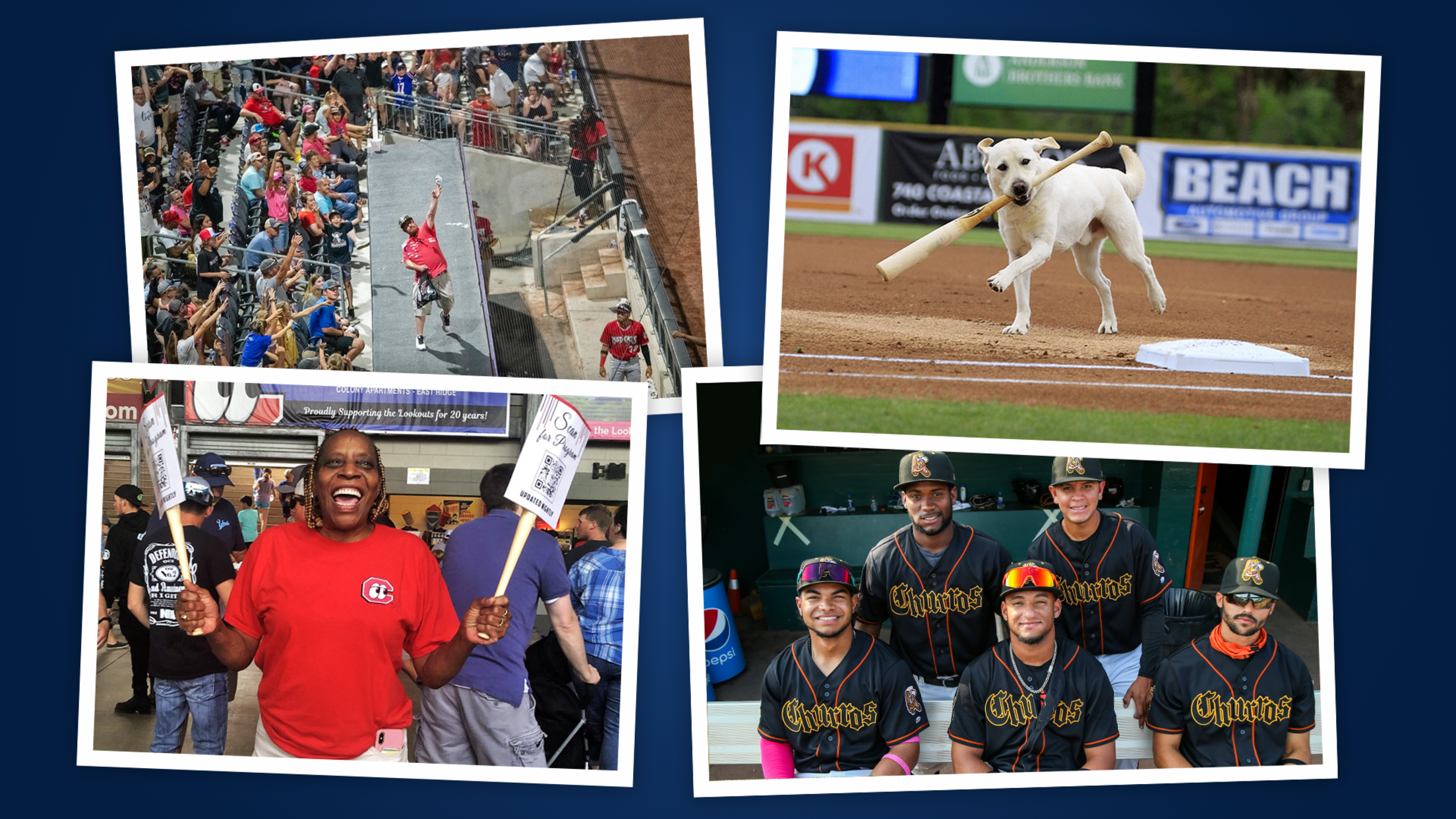 This article first appeared in the 2021 edition of Major League Baseball's official World Series program.
This article first appeared in the 2021 edition of Major League Baseball's official World Series program.
The bat dogs. The players. The food. Even the sound of a ticket being scanned can spark joy. That welcoming signal that you're home.
For what could be the longest offseason in history, Minor League Baseball fans waited 20 dreary months to return to the ballpark. Splitting nachos with friends was replaced by social distancing. At Major League stadiums, fans were replaced by cardboard cutouts while Minor League parks became drive-in movie theaters, testing facilities and restaurants. The Double-A Pensacola Blue Wahoos even opened their doors as a vacation rental.
Communities supported their local teams by buying merchandise online and concessions at take-out windows. And on May 4, the clubs thanked their neighbors with a game for the first time since September 2019.
"The most rewarding thing about this 2021 season was to open the gates and see those fans walk through with the smiles on their faces, enjoying being together again in a ballpark watching the ballgame," said Derek Sharrer, executive vice president/general manager of Triple-A St. Paul.
Of course, it didn't come back all at once. Masks and intentionally empty seats were commonplace to start the year. Kids weren't allowed in the dugout, so players served as bat boys. But for every new challenge, Minor League teams got creative with their solutions.
When players weren't allowed to sign autographs for fans during batting practice, teams handed out pre-signed cards and balls to make sure kids got their souvenirs. Broadcasters flexed new skills by calling road games from home. And the Low-A Greensboro Grasshoppers and Carolina Mudcats made toilet paper and hand sanitizer front-and-center for "2020-themed" promotions.
While capacity restrictions weren't lifted until Fourth of July for most cities, the fans who were able to come early got that familiar taste of enjoying the everyday experience.
"What speaks to a sense of normalcy more than going to a Minor League Baseball stadium, taking in a game?" asked Benjamin Hill, a Minor League culture reporter. "It's such a day-to-day, summer-to-summer, year-to-year experience."
For MiLB.com and MLB.com, Hill travels to parks across the country, getting a sense of the team's unique twist on ballpark staples like creative concessions and inventive promotions. Hill, who's been to 182 parks, knew this season would not be "normal," but was thrown right back into it as soon as he got to his first game of the year with the Double-A Chattanooga Lookouts.
So much of Hill's job is getting to know the team and, in turn, the local community. The first person he interviewed in Chattanooga was Wanda Goins, better known as "Wanda the Program Lady."
"[She] is probably the most beloved person in the whole city, who just sells programs. You hear her voice as soon as you enter the ballpark, just an iconic ballpark character," Hill said. "So just to meet someone like that, it was a good reminder for me with what I do, how special the people are who work for the team and how they're the heart of the experience from generation to generation."
For St. Paul, this season was not just about adapting to the changing times, but also joining the Minor League family. After years of being an independent team, the Saints became the Twins' Triple-A affiliate. With the two clubs being only 10 miles apart, it was a natural fit – though the team was surprised by how many Minnesota jerseys started popping up at CHS Field while St. Paul garb began appearing at Target Field.
"The marketing slogan for the Saints historically has been 'Fun is good,' and that will never change," Sharrer said. "But we did have an opportunity this year to embrace 'Fun is better together' as part of this new partnership with the Twins, and of course coming off of a year in 2020 where most fans couldn't come to baseball games. Fun was definitely better together this year."
Low-A Myrtle Beach also worked more closely with its parent club than in years past, though the Pelicans have been a Cubs affiliate since 2015. Working with Chicago and the league, the Pelicans welcomed fans in a safe way, and on July 18, bat dog Slider and his trainer were allowed to return to the dugout. The 5-year-old yellow lab retrieved bats in a perfect season debut, much to the delight of fans.
"You always know when it's a Slider inning because the crowd will just erupt into cheers," said Ryan Moore, Pelicans GM. "The players joke that he gets a better reaction from the fans than anything that they could possibly do on the field."
But the crowds were also treated to plenty of excitement between the chalk. There were 47 three-homer games, 20 cycles, 36 no-hitters and 17 triple plays at Minor League parks. Of MLB Pipeline's preseason Top 100 Prospects list, 79 played in MiLB parks. Additionally, more than 400 2021 Draft picks made their pro debuts.
2021 also meant the return of Copa de la Diversión, or Fun Cup, MiLB's season-long celebration of Latinx culture and values within participating teams' communities. This year, 76 clubs participated in the event series, with three making their debuts.
"Copa is important every year, but without baseball in 2020, it's especially important to continue to keep sending that message that all fans and cultures are welcome," Hill said. "It's necessary to keep reaching new fans and new communities and make them part of the ballpark atmosphere and hopefully lifelong fans."
In a season full of welcome returns, Moore remembers the Opening Day flyover at Charleston when the crowd sang the National Anthem, giving the visiting GM both goosebumps and tears. Hill felt quintessential Minor League moments in Rocket City, both watching the post-game fireworks with a sold-out crowd and watching team employees toss parachuting cow toys as a promotion.
Kurt Hunzeker traveled to 20 stadiums this summer. And each time, MLB's vice president of Minor League business operations makes a point to talk to fans and ask why they came to the ballpark.
"They missed the game so much, they missed having the family fun night out," he said. "They miss getting the hotdogs, the cotton candy and ice cream in the little mini helmet."
For Hunzeker, the Minor League experience is about the players, the fresh-cut grass, the crack of the bat, "the laughter with family and friends, and just the laid-back atmosphere."
"We all lost that for an entire season, and just to be able to sit back and you're in your chair at the ballpark. You can reconnect with family and friends, and some of them, you may not have seen during the pandemic," Hunzeker said. "That is what our ballparks are for."
Hill adds that Minor League parks are built for socializing, from the wide concourses with views of the field to party decks that put you right next to the action. Tickets are affordable and concession workers are familiar. Add in 60 home games in an intimate venue, and you have the perfect place for community to flourish.
"Being able to come back out to the ballpark and see old friends and reunite was probably the biggest thing that fans were missing," Moore said. "We had sports on TV, but we didn't have that emotion that comes from the live experience."
Kelsie Heneghan is a writer for MiLB.com. Follow her on Twitter @Kelsie_Heneghan.