Martinez and Basabe Homer In Loss To Hooks
Garrett & Herrera Streaks Come To An End, Fletcher Keeps His Intact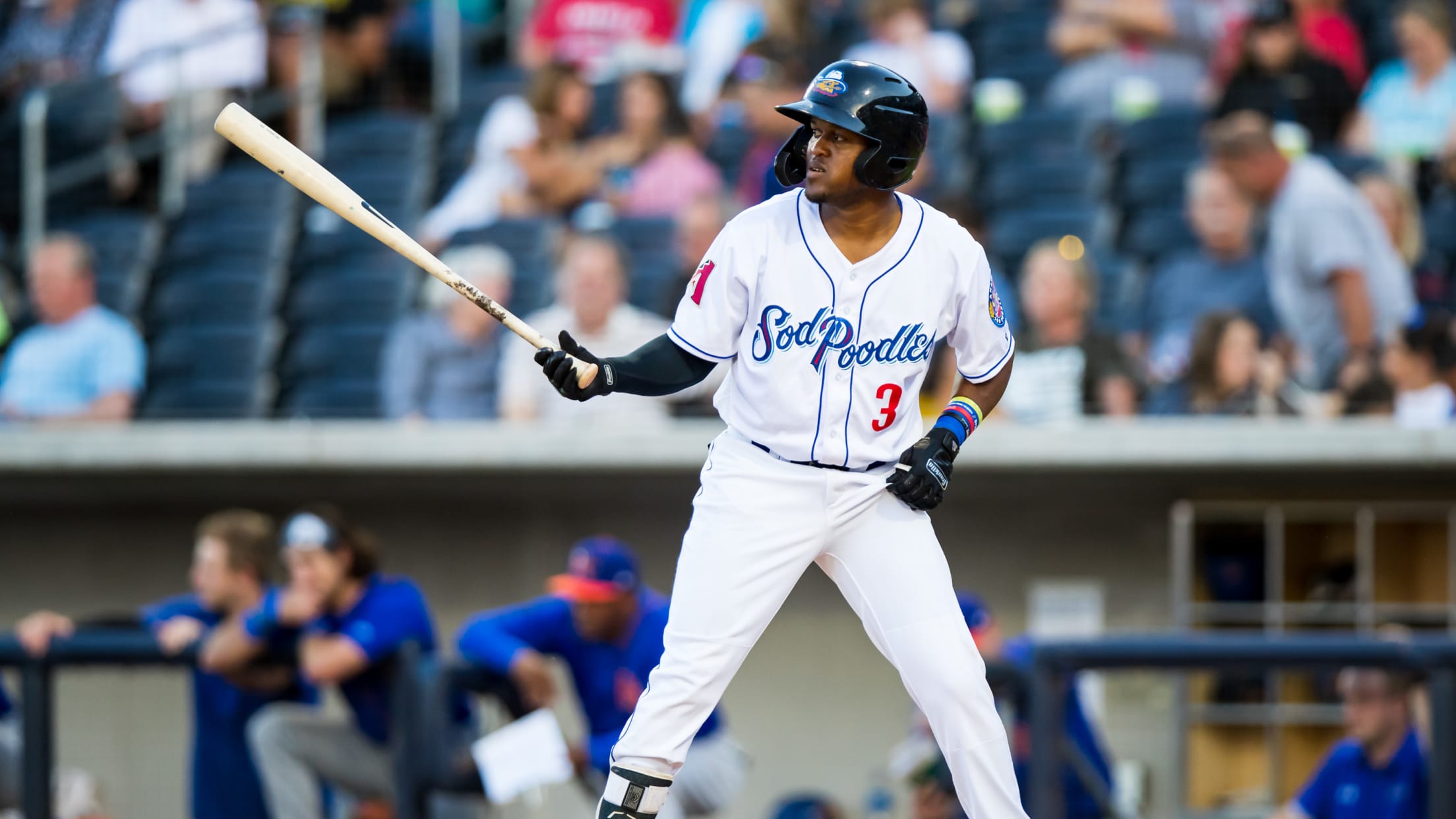 (John Moore)
Wednesday, June 23, 2021 @ Corpus Christi Hooks [HOU] Amarillo Sod Poodles (20-24) | Corpus Christi Hooks (19-25) Corpus Christi, Texas — The Amarillo Sod Poodles dropped game two of their series against the Corpus Christi Hooks by a score of 13-2 Wednesday night at Whataburger Field. The loss dropped
Wednesday, June 23, 2021 @ Corpus Christi Hooks [HOU]
Amarillo Sod Poodles (20-24) | Corpus Christi Hooks (19-25)
Corpus Christi, Texas — The Amarillo Sod Poodles dropped game two of their series against the Corpus Christi Hooks by a score of 13-2 Wednesday night at Whataburger Field. The loss dropped the Sod Poodles to 20-24 on the season and even the series in south Texas at a game apiece.
The Hooks started the scoring on Wednesday night with a solo home run in the bottom of the second inning. They added one more run in the next frame on a RBI single after the Hooks drew a leadoff walk followed by a hit batter by Soddies starter Matt Tabor. The D-backs' No. 22 rated prospect buckled down to strike out the next two batters before a wild pitch moved both runners on base into scoring position. Another walk loaded the bases before Tabor and the Soddies got out of the jam on a ground out up the middle.
Corpus then broke the game open with a five run fourth inning. A solo shot with one out made it 3-0 before another hit batter and walk was followed by consecutive RBI singles, putting an end to Tabor's night.
RHP Jeff Bain inherited two runners and struck out the first batter he faced for the second out of the inning. A single into shallow center field loaded the bases prior to a two-RBI double off the bat of Astros' No. 2 rated prospect Pedro Leon to push their lead to 7-0.
D-backs' No. 15 rated prospect Dominic Fletcher extended his current hitting streak to 12 games with his single in the first inning. The Sod Poodles managed just two other base runners via walks over their next 13 batters before Renae Martinez put Amarillo on the scoreboard with a solo home run in the fifth.
Corpus got that run right back in the bottom of the inning as two errors helped push a runner to third base and would score on a sac fly into center field.
The Sod Poodles cut into the deficit on Luis Basabe's sixth home run of the year, another solo home run, to make it 8-2.
Like they did in the fifth, Corpus countered Amarillo's run with a run of their own to keep the Sod Poodles at bay and keep it a seven run ballgame at 9-2. Unfortunately it would not stay that close, with Corpus adding a grand slam to make it a 13-2 lead.
Amarillo loaded the bases in the top of the ninth after drawing three walks but with two outs, a fly out ended the ballgame.
Notes:
All Good Things: Soddies outfielder Stone Garrett saw his career-long 13 game hit streak come to an end after an 0-for-3 night with a walk. Still, over his last 14 games Garrett is 25-for-61 (.410) and leading the team in home runs (8), RBI (26), and AVG (.307). In 119 games with Double-A Jacksonville (MIA) in 2019 Garrett never hit above .250. Sod Poodles catcher Jose Herrera also saw his 11-game hit streak come to an end after going 0-for-2 tonight - he did draw two walks.
Putting In WORKman: Blake Workman, who was promoted to Amarillo from High-A Hillsboro on Monday, made his Double-A debut in tonight's game. He tossed two no-hit innings while striking out four of the six batters he faced. In 2019 with then Single-A Kane County, Workman had a 11:1 K/BB ratio with 67 strikeouts and just six walks issued while converting on nine of the 10 save opportunities he had. His nine saves were tied for eighth most in the D-backs' farm system.
Settling In: After beginning his Amarillo stint 0-for-9, Renae Martinez has hit safely in his last three games. He has now hit a home run in two of his last three games and had a multi-hit performance in game one of this series on Tuesday.
And New: With his single in the top of the first inning, D-backs' No. 15 rated prospect Dominic Fletcher now has the longest active hit streak on the team at 12-games. He is hitting .354 (17-for-48) during that span. Since the beginning of June, the former Arkansas Razorback is hitting .348 with seven multi-hit games. Fletcher's career long hitting streak is at 13 games which he accomplished in 2019 with Kane County.
Starters Splits: The Sod Poodles starters have dropped to 5-17 with a combined 5.91 ERA. The wins total ranks 7th in the Double-A Central and 10th in the league in ERA. Meanwhile, the bullpen ranks 4th in the league in strikeouts (242) and T-3rd in saves (11).
Tomorrow's Tidbits: Game three of this series will feature LHP Tyler Holton (1-2, 8.89 ERA) on the mound for Amarillo against the Houston Astros No. 3 rated prospect in RHP Hunter Brown (0-3, 6.20). It is the same pitching matchup from the June 12th game between these two clubs at HODGETOWN. Amarillo used a three-run eighth inning to erase an early 5-0 deficit and win 7-5 in that ballgame.