Dunshee helps 'Hounds flirt with no-no
A's No. 28 prospect spins 7 1/3 hitless innings, fans seven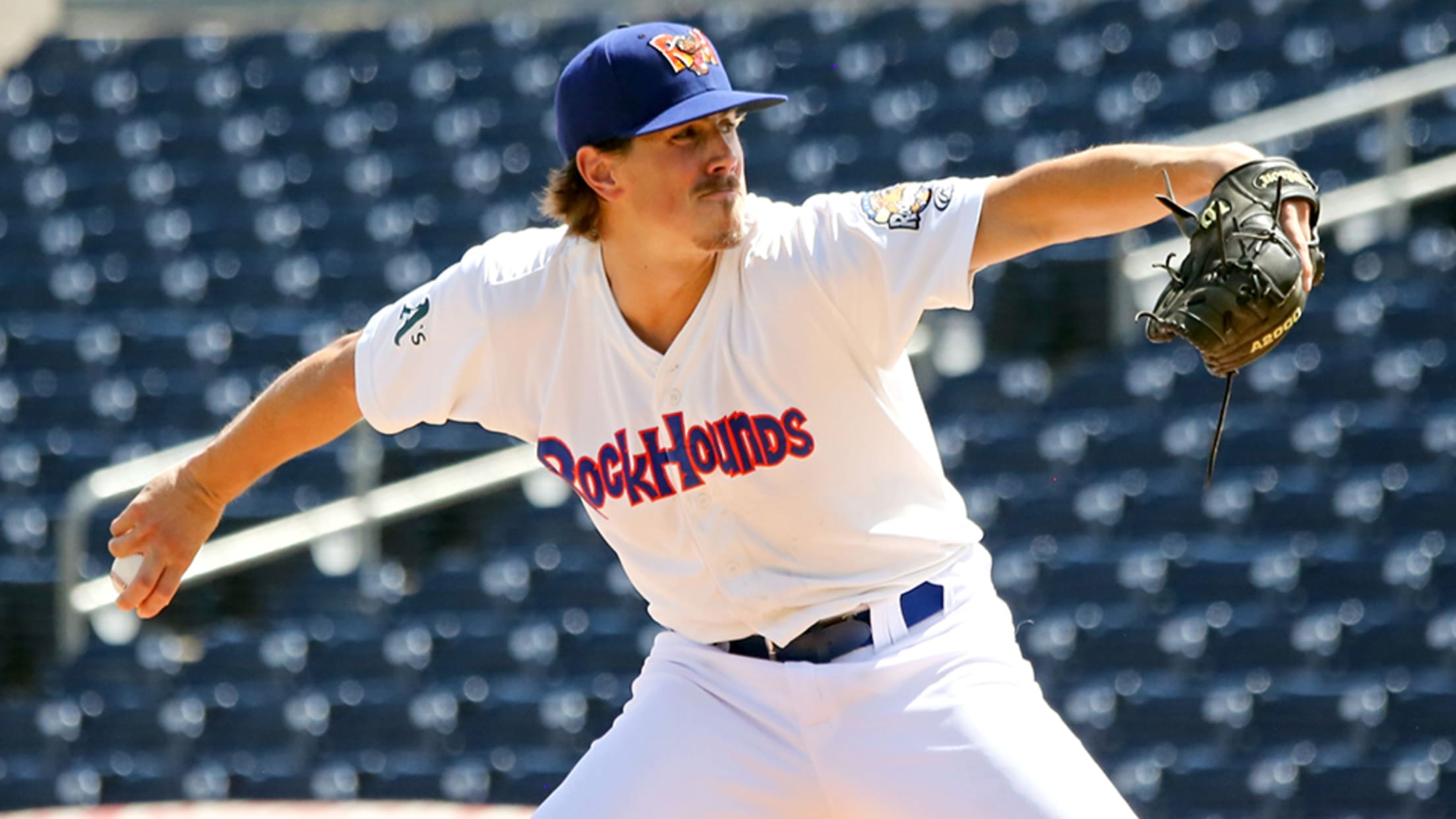 Parker Dunshee is 5-1 with a 1.10 ERA and 39 strikeouts over 41 innings in his last six starts. (Midland RockHounds)
Don't utter the words "under the radar" to Double-A Midland pitching coach Steve Connelly when talking about Parker Dunshee. He's not having any of that. "I wouldn't put him under the radar," Connelly said after the A's No. 28 prospect twirled 7 1/3 hitless frames in the RockHounds' 3-1 win over Corpus Christi
Don't utter the words "under the radar" to Double-A Midland pitching coach Steve Connelly when talking about Parker Dunshee. He's not having any of that.
"I wouldn't put him under the radar," Connelly said after the A's No. 28 prospect twirled 7 1/3 hitless frames in the RockHounds' 3-1 win over Corpus Christi on Friday at Whataburger Field. "He's got 14 months of total pro ball experience and he's ending the year in Double-A with numbers that will put him in Triple-A next year, if not a big league invite. He's no longer a senior sign, under-the-radar pick, he's working himself into prospect status.
"He's got a great routine and he wants the ball ... he's gotta be on the top of the list for best athletes on the team, not just pitchers but position players as well. He's a gifted person."
Midland couldn't complete Dunshee's no-hit bid and fell three outs short of the first nine-inning no-hitter in team history.
The RockHounds' last no-hitter was a seven-inning affair, with Arnold Leon and Jason Hernandez combining to blank Corpus Christi on Aug. 1, 2009.
Dunshee was perfect until issuing a leadoff walk to Ronnie Dawson in the fourth. He retired the next 12 batters but walked Carmen Benedetti to open the eighth and allowed him to reach second on a throwing error before getting Chas McCormick to ground to short. Dunshee tied his season high with 108 pitches, 74 for strikes.
"I felt good tonight, for sure, from the outset," Dunshee said. "I feel like I had four pitches going and there were some great defensive plays behind me on some hard-hit balls. ... I felt like I was using [my pitches] in all counts and kept guys from just sitting on a certain pitch on a certain count, which I think was a huge key for me tonight. I was on the same page with my catcher [Jason Goldstein] and we did a pretty good job keeping them at bay."
Gameday box score
Since being promoted to the Texas League on June 13, the Wake Forest product sports a 2.20 ERA in 11 starts. He went 6-2 with a 2.70 ERA over 70 innings for Class A Advanced Stockton to start the season in the hitter-friendly California League. The 2017 seventh-round pick dominated in the New York-Penn League last summer, throwing 38 1/3 scoreless innings in 12 games, including nine starts.
The 23-year-old knew there was a chance he could ascend quickly in the A's system when they selected him in the seventh round of the Draft following his senior season at Wake Forest.
But this fast?
"I didn't really know what to expect," Dunshee said. "They kind of told me after the season that I'd have a chance to go to [Class A] Beloit or Stockton and I came into Spring Training with no expectations and try and do what I did in Vermont and show them what I was capable of."
What makes Dunshee so advanced for his age?
"He's a five-pitch pitcher really out there and he's got great feel for his pitches," Connelly said. "He tunnels his fastball and cutter well and his changeup is a pitch that's really come a long way for him. That's probably the most improved pitch for him since he came here. And he's got good feel in the zone for the curveball and good separation on it.
"When you mix those pitches and competes the way he does -- he works fast and he attacks the zone -- good things usually happen."
Dunshee agreed with Connelly's about his improved changeup. But he thinks there's room to grow.
"I think my changeup can keep getting better," he said. "I threw some good ones tonight and I got some outs on it, and I also threw some ones that could have been better and got hit pretty hard. That's something that's important for me, it's going to be big. I know the A's are big on the changeup development. They've been in my ear all year about throwing it and I think it's been a big positive for me this season."
Dunshee also wants to further tune his command, even though it's already one of his best assets. Per MLB Pipeline, his best tool on the 20-80 scouting scale is his control at 55.
"I just think my command could continue to get better. That's something that I think everyone can continue to work on," Dunshee said. "I had some at-bats tonight where there were a couples walks that I let get away, just kind of lost my delivery as little bit. But that's what I'm trying to minimize -- I try to have a simple, short delivery and I try and repeat it well.
The Indiana native pitched mostly out of the bullpen for the Demon Deacons in his first two seasons, then slid into the rotation and posted a 3.20 ERA in 16 games as a junior to warrant the Cubs selecting him in the 14th round of the 2016 Draft. He opted to return to Winston-Salem for his senior season and improved his Draft stock by going 9-1 with a 3.91 ERA.
Kyle Finnegan walked Stephen Wrenn and Ryne Birk to load the bases after Dunshee exited in the eighth, but escaped unscathed after Josh Rojas flied to left and Dawson struck out.
Lorenzo Quintana ended the no-bit bid with a leadoff single in the ninth off Finnegan as RockHounds third baseman Nate Mondou was unable to handle a short hop, making for a tough call for the official scorer. Randy César followed with a single to right in his best attempt to end any potential controversy.
"We were all pretty upset about the decision," Dunshee said. "We thought honestly they just took it in their own hands and called something that wasn't a hit a hit, and in that situation that's kind of unfortunate that they decided to do that. But we couldn't do anything about it and [Finnegan] did a good job keep attacking and, unfortunately, they got a real hit, but I think we did a good job."
Tyler Ramirez belted a two-run homer and Skye Bolt clubbed a solo shot and a double for the RockHounds, who totaled six hits.
McCormick singled home Quintana in the ninth with the Hooks' lone run.
Josh Horton is a contributor to MiLB.com. Follow him on Twitter @joshhorton22