Military, Minor Leagues share unique bond
Chihuahuas reaching out to show gratitude to Fort Bliss community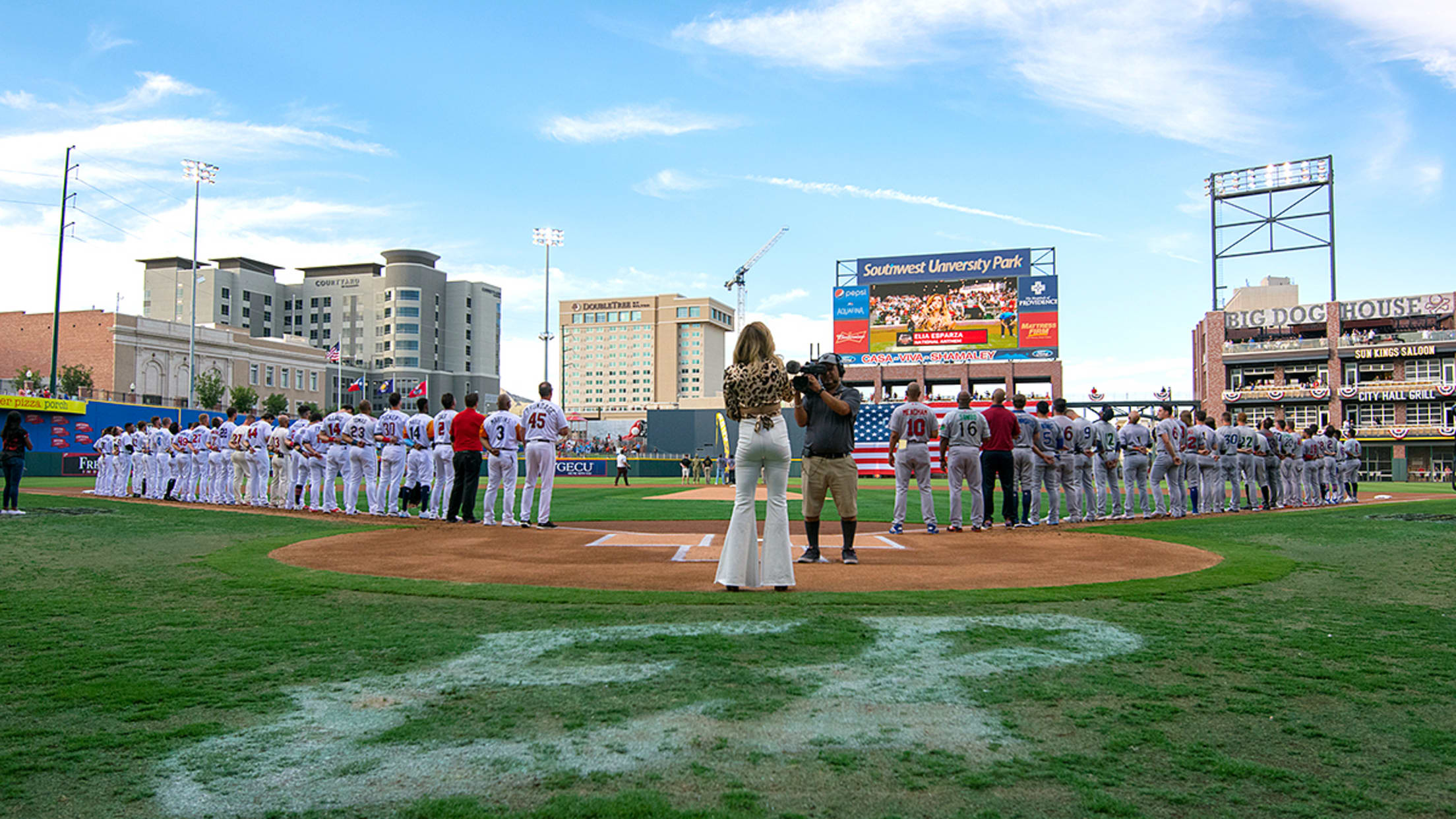 Since its Opening Night ceremonies, El Paso has focused on fostering a relationship with the military. (Jared Ravich/MiLB.com)
"Hey, Each, what's the score?" "Huh, Sarn't?" I said groggily after a quick nap on a luxurious Army cot. "Yeah, Each, the score," my first line supervisor, Sgt. Michael Thebeau, repeated. "Did the Rangers win?" It was late October 2011 and my unit (2nd Squadron, 13th Cavalry Regiment) just finished
"Hey, Each, what's the score?"
"Huh, Sarn't?" I said groggily after a quick nap on a luxurious Army cot.
"Yeah, Each, the score," my first line supervisor, Sgt. Michael Thebeau, repeated. "Did the Rangers win?"
It was late October 2011 and my unit (2nd Squadron, 13th Cavalry Regiment) just finished a convoy from Mosul, Iraq, to Camp Virginia, Kuwait -- roughly the distance from Boston to Richmond, Virginia -- going no faster than 35 mph. My squad was crammed inside our mine-resistant, ambush-protected (MRAP) vehicle wearing all of our protective armor, full load of ammunition and everything else we couldn't fit into a shipping container for more than a week, stopping at seemingly every U.S. base along the way for food, fuel and a few hours of sleep. Thankfully, the only "casualty" suffered on that journey was a shipping container that didn't quite fit under an overpass, but the subsequent delay tacked on a few unnecessary hours to that trip.
Between the lack of a decent air conditioning system, horrible suspension and even worse Iraqi roads, I don't think any of the five soldiers in that vehicle remembered what it felt like to be comfortable.
On top of that, I was barely three months removed from cavalry scout Basic Combat Training at Fort Knox, Kentucky. I spent only a month at Fort Bliss, Texas, before hopping on a plane to northern Iraq as America's future involvement in the country was murky, at best. I was about as clueless as a new soldier could get. My head was spinning so much that I barely remembered that baseball had its playoffs in October, let alone who was playing.
Yet here was my supervisor, a broad-smiling south Texan built like a fire hydrant with an unbridled passion for the Houston Astros and Texans, asking me about baseball games as if my brain received live updates from MLB.com. Maybe I shouldn't have told Sgt. Thebeau where I used to work.
At the time, I was surprised that despite completing this most uncomfortable road trip, the first thing on his mind after his wife and young son wasn't getting some rest, it was baseball. But he already had two deployments under his belt -- both were longer and more dangerous than this tour -- and had adapted to the life. For Sgt. Thebeau, now a staff sergeant, a little thing like finding out the score of a ballgame made him feel a little closer to home.
Baseball seems to have a closer relationship with the American military than the other major sports, dating back to when the game's biggest starts served in World War II and Korea. But as big leaguers' salaries and status went beyond the reach of your everyday grunt, the Minor Leagues have subtly filled that role. What it lacks in star power and national recognition, it more than makes up in affordability, accessibility and a personal touch found nowhere else in professional sports.
Growing Up Green
Life on the road and living out of a suitcase is nothing new to Fresno Grizzlies pitcher Jake Dunning. While it's a struggle for some to develop a rhythm or method to deal with all the packing and traveling, the lanky right-hander spent most of his childhood doing this every two years or so. But Dunning does not come from a family of professional athletes -- he's an Army brat.
The 25-year-old was born in Fort Stewart, Georgia, which is headquarters for the 3rd Infantry Division (3rd ID), and traveled to Fort Bragg, North Carolina (home of the famed 82nd Airborne Division "All-Americans"), Fort Knox, Pittsburgh and Camp Blanding, Florida, just outside Jacksonville.
"It's not a normal childhood that everyone goes through," Dunning said. "Every two years, you have to get up and move. You have to make new friends quick and change schools every two years. As soon as you get comfortable, it changes, shakes things up and next thing you know, you're in a different state.
"It's definitely helped growing up in a military family. I'm always on the go now and always in different cities. Growing up as a kid, doing that makes it a lot easier to deal with now."
Change is the only constant for the family of a service member, and the more valuable a service member is to the military, there's usually more change. Dunning's father was a valuable asset -- John Dunning retired from the Army in 2002 as a sergeant first class after 20 years of service and acquired a skill set that would make most soldiers envious: Airborne-certified, senior jump master, pathfinder, master gunner for the M1 Abrams tank, platoon sergeant and senior drill sergeant.
For two years at Fort Knox, Sgt. 1st Class Dunning struck fear in the hearts of new recruits hoping to become tankers or cavalry scouts, molding them into soldiers while marching them up and down three long and viciously steep hills, known affectionately as Heartbreak, Agony and Misery. But the younger Dunning only knew of the quiet and loving John. That is, until, John took Jake in for a "bring your child to work" day.
"It was, ummm, pretty interesting," Dunning recalled with a chuckle. "I got to see him yell at some people and see a side of him I didn't see at home. It was definitely a wakeup call."
John Dunning isn't the only member of the family who's spent time wearing the green suit. Jake's sister, Nikki, is assigned to the 2nd Infantry Division at Joint Base Lewis-McChord outside Tacoma, Washington, as a human intelligence collector. As recently as 2013, Nikki was down range with her unit in Afghanistan.
Dunning was with Fresno when the Grizzlies faced El Paso as the Chihuahuas opened Southwest University Park on April 28. The Chihuahuas took time during the opening ceremonies to pay tribute to the soldiers stationed at nearby Fort Bliss, gestures that resonated a little more with Dunning than most of the other players on the field.
"It definitely touched home with me," Dunning said. "Those [service members] are giving up their bodies and lives for this country. If coming to a baseball game helps them in some way, then I'm glad I'm able to help. I have a lot of respect for all of our military."
Reaching Out
Chihuahuas general manager Brad Taylor has been dealing with the military for almost 20 years, since he was entering his second year in the Minor Leagues with the Fayetteville Generals, a former Detroit Tigers' affiliate in the South Atlantic League. Back in 1995, Taylor knew next to nothing about the military, but he did know that his ignorance would hurt the team's relationship with the Fayetteville/Fort Bragg community.
"We [in the front office] got the inkling that maybe we should get smart in our efforts to engage, gosh, at the time I want to say it was around 100,000 people affiliated with the Army and Fort Bragg somehow," he said. "We ought to find somebody who could help us talk to them."
The someone they found turned out to be supremely qualified: current Huntsville Stars GM Buck Rogers. Prior to his Minor League baseball career, Rogers was an airborne infantryman with hundreds of jumps under his belt and participated in Operation: Just Cause, in which the U.S. military captured Panamanian dictator Manuel Noriega in 1989.
But back in 1995, he was just "Buck" and he loved going to Generals games with his family.
"Buck was the one who was absolutely the most responsible for showing me how we -- the baseball team -- could talk with the men and women of the Army," Taylor said. "To fit things that fit their lifestyle into our plans, and that was also the proper way to honor them."
Over the years, Taylor used Rogers' lessons and his own experiences, including several years with the Trenton Thunder -- located near Joint Base McGuire-Dix-Lakehurst -- to develop an array of ceremonies, promotions and events that showed appreciation for what the military does and make members a part of the Minor League experience in El Paso. The Chihuahuas plan on having mass re-enlistments at home plate prior to games and are planning a special celebration for June 14, the U.S. Army's 239th birthday. Every Monday is Military Appreciation Night, where special pricing is available only to service members while the team wears jerseys patterned after the Army combat uniform (ACU).
Most stirring, though, was the team designating a spot behind home plate as a memorial seat for service members killed or missing in action. That seat, guarded by Sgt. 1st Class Jose Feliciano of Fort Bliss' 1st Battalion, 43rd Air Defense Artillery Regiment during the Opening Ceremonies, will never be sold.
"We want to do everything that's the right way, not the over-the-top way," Taylor said. "It's our intention to always honor our service members and not be so overtly corny.
"When we showed the ACU jersey to (Fort Bliss Commanding General) Maj. Gen. Sean MacFarland, the first thing he said was, 'Hey, you guys got the flag the right way [on the right sleeve, with the stars facing in the direction of travel].' And to me, that's a feather in my cap. I thought it was cool that he noticed it right away, and that excited me because it came from somebody who wears that to work every day."
El Paso has come up with myriad ways to show the team's gratitude to military service members. Even little things, like the proper placement of the flag on the jersey or when manager Pat Murphy and Padres Minor League pitching coordinator Trevor Hoffman stand at attention during the national anthem, do not go unnoticed or unappreciated by soldiers, sailors, Marines and airmen. But in light of dilemmas like defense budget cuts, the rise in mental health issues and a faltering Veterans Affairs, today's service member or newest veteran needs more help than ever. Surprisingly, Minor League Baseball may be poised to help.
From Front Line to Foul Line
Grizzlies media relations coordinator Ryan Young knows better than almost anyone in the baseball world what the modern service member faces. He served five years with the 101st Airborne Division as part of the 3rd Battalion, 187th Infantry Regiment "Rakkasans." The infantry sergeant did two tours in Iraq during some of Operation: Iraqi Freedom's bloodiest years -- 2006 in Samarra and as part of "The Surge" and 2007-08 in Yusafiyah.
Since getting out in 2009, Young earned a bachelor's degree from Loyola University in Chicago and has been involved with Major League or Minor League Baseball since 2011. But even getting a foot in the door was difficult as soon as some companies saw his time as an infantryman on his resume.
"I remember there was this one time I was getting interviewed," Young said, "and the job involved dealing with kids. The lady basically asked me if I'm OK to be around children, and it felt like she was implying I might have some sort of issue because I was in the Army and had seen combat. It took a lot of self-control, a lot of it to not react to that comment.
"Despite all the progress that has been made lately, veterans are still dealing with that stigma in the job market that they may have [post-traumatic stress disorder] or traumatic brain injury, that they have some sort of issue inside their mind. The Grizzlies were the only team or company who actually asked what did the military do for me. That floored me, and I actually struggled for a moment to answer that, not because I didn't have an answer but because I wasn't expecting that question."
As the military continues with its drawdown of all branches, more and more veterans will find themselves in similar, if not worse, situations as Young's. Thankfully, a service member usually has at least a few months to prepare for the end of his or her military career. A new opportunity may be standing up as units prepare to stand down.
Fort Bliss and the Chihuahuas have been working together to come up with an internship-like program for soldiers on their way out. Taylor has sat in on meetings with members of the Army's Department of Morale, Recreation and Welfare and the Better Opportunities for Single Soldiers program to craft something that allows soldiers to find a role with the team that suits their interests and follow a club employee for a period of time.
Not only should this give that soldier valuable on-the-job training and experience, but the soldier can build a network of references that could help him or her get a job with whichever of the 159 other Minor League teams is closest to home.
"The military is such a tight-knit world," Young said. "It's difficult to step out of that comfort zone. A program like this would definitely help with that transition because there are so many careers in the Minor Leagues. But if you don't know anybody who can vouch for you, you have fewer chances at getting a good job. This could help solve that problem."
Should this program get off the ground and succeed, it could provide a template for other installations across the country -- and not just Army bases. The U.S. Navy has a huge base in Norfolk, Virginia, home of the International League's Tides, while the Marine Corps' Camp Pendleton is within a two-hour drive of many California League teams, not to mention being right next to the San Diego Padres.
More than 70 years ago, the military allowed baseball to do its part in war time. Bob Feller, Ted Williams, Yogi Berra and many others served side-by-side with ordinary service members. Now Minor League Baseball has the opportunity to return the favor and help those who have served.
This story is dedicated to five individuals, four of whom are no longer with us. On May 13, 2013, in the Zhari district of Afghanistan, an improvised explosive device (IED) attack claimed the lives of Spc. Cody Towse, William Gilbert and Mitch Daehling from 3_rd_ Battalion, 41_st_ Infantry Regiment, 1_st_ Brigade, 1_st_ Armored Division, as well as EOD technician Sgt. 1st Class Jeff Baker from 3_rd_ ID. One of my medics from 2-13 CAV, Sgt. Adam Hartswick, was with them and as he ran to save his friends, stepped on a secondary IED. He survived, despite losing both legs below the knees and his right index finger, fracturing a hip and suffering a severe concussion. Not only did the blast fail to take his life and spirit, it made him stronger. Sgt. Hartswick is proof that a man can have a hero and role model 10 years younger than himself. Doc Hartswick, I don't just love you like a brother, you are a brother.
Michael Echan is a contributor to MiLB.com.