Brewers' Wiemer taps into power potential
Outfielder's homer surge fuels wild month, promotion to High-A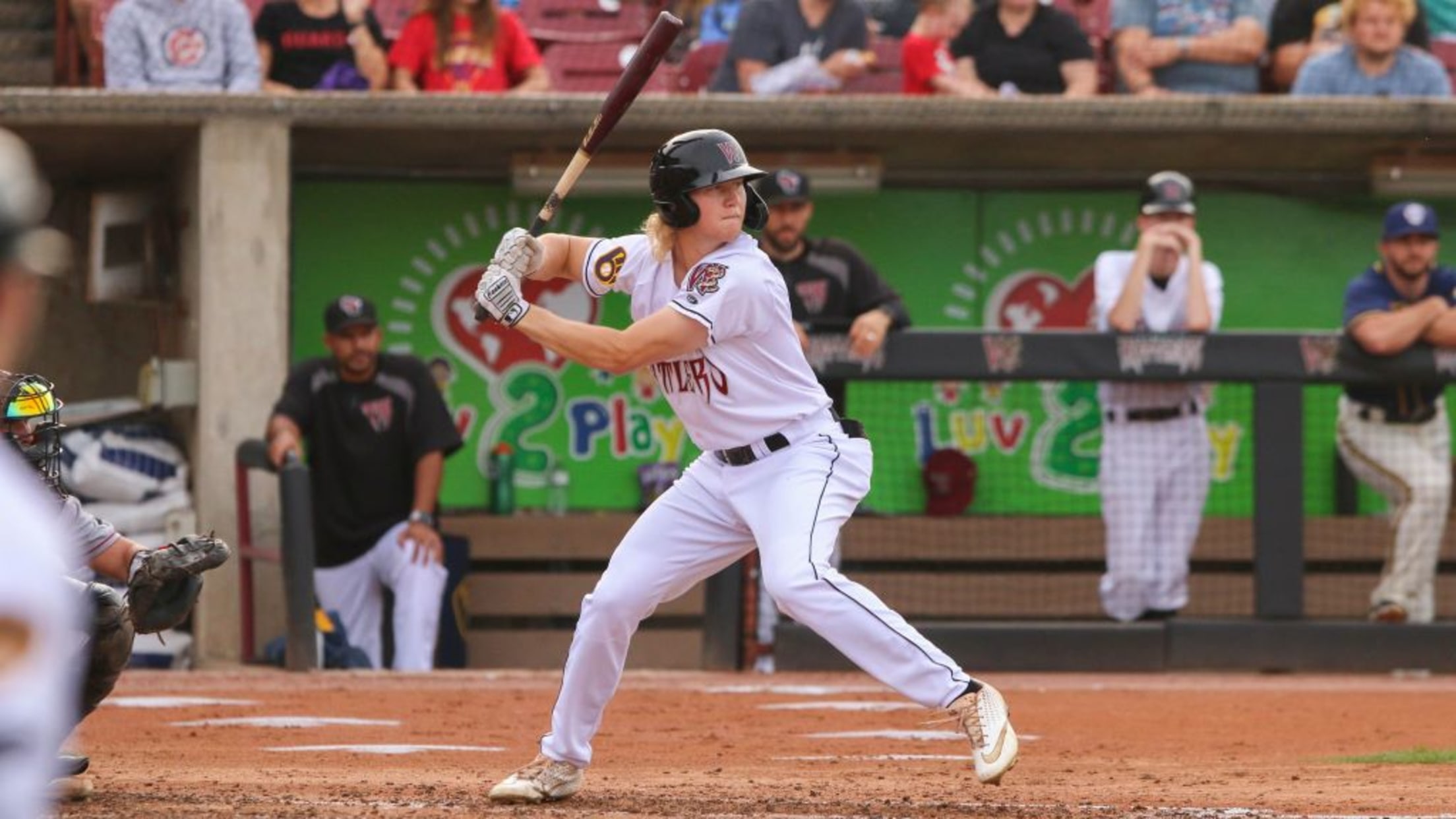 Joey Wiemer hit 12 of his 17 total homers this season during a 28-game stretch beginning July 16. (Nick Guenther/Wisconsin Timber Rattlers)
The power has long been there for Joey Wiemer -- it just wasn't showing up as frequently on the field as he would've liked. But sometimes a single adjustment can open up a world of possibilities. In Wiemer's case, it was more than halfway through the season while playing with
The power has long been there for Joey Wiemer -- it just wasn't showing up as frequently on the field as he would've liked.
But sometimes a single adjustment can open up a world of possibilities. In Wiemer's case, it was more than halfway through the season while playing with Low-A Carolina during a series in Kannapolis in mid-July when he realized it was time for a change.
"The first game of that week, I think I was 0-for-4 with like three hard groundouts," the Brewers outfield prospect recalled. "And the first at-bat of the second game, I had another hard groundout, and I was like, 'Dude.'"
After the rough start to that series, Wiemer got a tip from Mudcats shortstop Zavier Warren. After getting on top of a couple balls and having nothing to show for his hard contact, Warren suggested that Wiemer start a little lower and more into his load. Wiemer took that advice, got into his back leg a little more in his stance, and noticed the tremendous difference after a three-run homer in the fourth game of the series on July 16.
"I'd be interested to see my splits since then," Wiemer pondered.
The 22-year-old's suspicions of the damage he'd been doing to the baseball since then were accurate. That game was the start of an incredible stretch in which he's gone deep 12 times with 26 RBIs while batting .374/.442/.804 with a 1.245 OPS over 28 contests.
Within the midst of that stretch, the 2020 fourth-rounder earned a promotion to High-A Wisconsin the day he was named Player of the Week in the Low-A East. Ironically enough, he got the call at the start of last week and was joined on the trip up the ladder by Warren, the teammate who helped him find his stroke.
"You're kind of in that flow state where I wasn't concerned about getting blown up by a fastball up and in or chasing anything out," Wiemer said last week prior to his promotion. "I was kind of just, 'See ball, hit ball.' Not really thinking. Just going up there and playing the game that I've been playing forever. So, I think it translates pretty well."
Wiemer's first couple at-bats at the new level came with some nerves, and ended with a pair of quick strikeouts.
"I was like, 'Oh, hey. Welcome to High-A,'" Wiemer joked.
He went 0-for-3 in the first game of a doubleheader last Wednesday but collected his first hit for the Timber Rattlers in the nightcap. Of course, it left the yard.
Wiemer has hits in 10 of his first 25 at-bats (.400) at High-A, including four homers in that seven-game span. Overall this season, the Sylvania, Ohio native is batting .287/.397/.515 with 17 homers, 49 RBIs and 62 runs scored.
"It's actually kind of funny because my entire life, I've known I've had raw power. And it was a matter of getting to it," Wiemer said.
The 12 homers that Wiemer has hit in the past month match his total from just a little more than two seasons and 121 total games at the University of Cincinnati.
While the promotion has likely been the highlight of this tremendous stretch for Wiemer, his final week with the Mudcats was something truly special. He went 14-for-24 (.583) with 12 RBIs in the series against none other than Kannapolis.
Wiemer homered four times in a three-game span throughout the week, two of which were walk-off winners on Aug. 5 and 7.
"To have that happen twice, it was really exciting," Wiemer said. "I think I was a little more excited the second time just because you don't really get to do that very often."
Both walk-offs came in extra innings. He won the game on Aug. 5 in much more modern style -- a two-run homer on the first pitch of the 11th inning -- and, of course, it was Warren standing on second when the ball cleared the fence. The latter game-winner happened on a three-run shot in the 13th inning two nights later. Both times White Sox right-hander Karan Patel took the loss.
Joey Wiemer is red-hot.

The @Brewers prospect has 8 homers in his past 11 games with 4 dingers in 5 games since joining the @TimberRattlers. pic.twitter.com/7KMEEYs67v

— Minor League Baseball (@MiLB) August 15, 2021
While the whole situation with the walk-offs was unique, Wiemer reached new heights during the game in between. In that contest, the 6-foot-2, 215-pound outfielder recorded his first professional two-homer game, including a grand slam, and set a career high with six RBIs, breaking his previous mark of three that he last matched in that July 16 game.
It's a tall order for any outfield prospect to stand out in the Brewers' system. Milwaukee boasts nine outfielders among their top 30 prospects, including top prospect Garrett Mittchell and third-ranked Hedbert Perez. That group doesn't even include 2021 first-rounder Sal Frelick. And all that's waiting at the Major League level are 2018 National League MVP Christian Yelich, who's signed through the end of the decade, and All-Stars Lorenzo Cain and Jackie Bradley Jr., who are both under contract through next year.
Due to COVID restrictions in Spring Training, Wiemer didn't get to pick the brains of those outfielders. But it seems like he'll have plenty of chances to figure things out. And until that time comes, he's making sure to not get too far ahead of himself.
"I'm a big, 'Be where your feet are at,' kind of guy," Wiemer said. "Just taking it every day. Because I know, especially with how I play, if I get lazy and take a day off, it's not going to end well."