Mini Golf, Boardwalk Games Lead Ballpark Improvement and Fan Enhancement Highlights In 2018
First steps in major improvements to FirstEnergy Park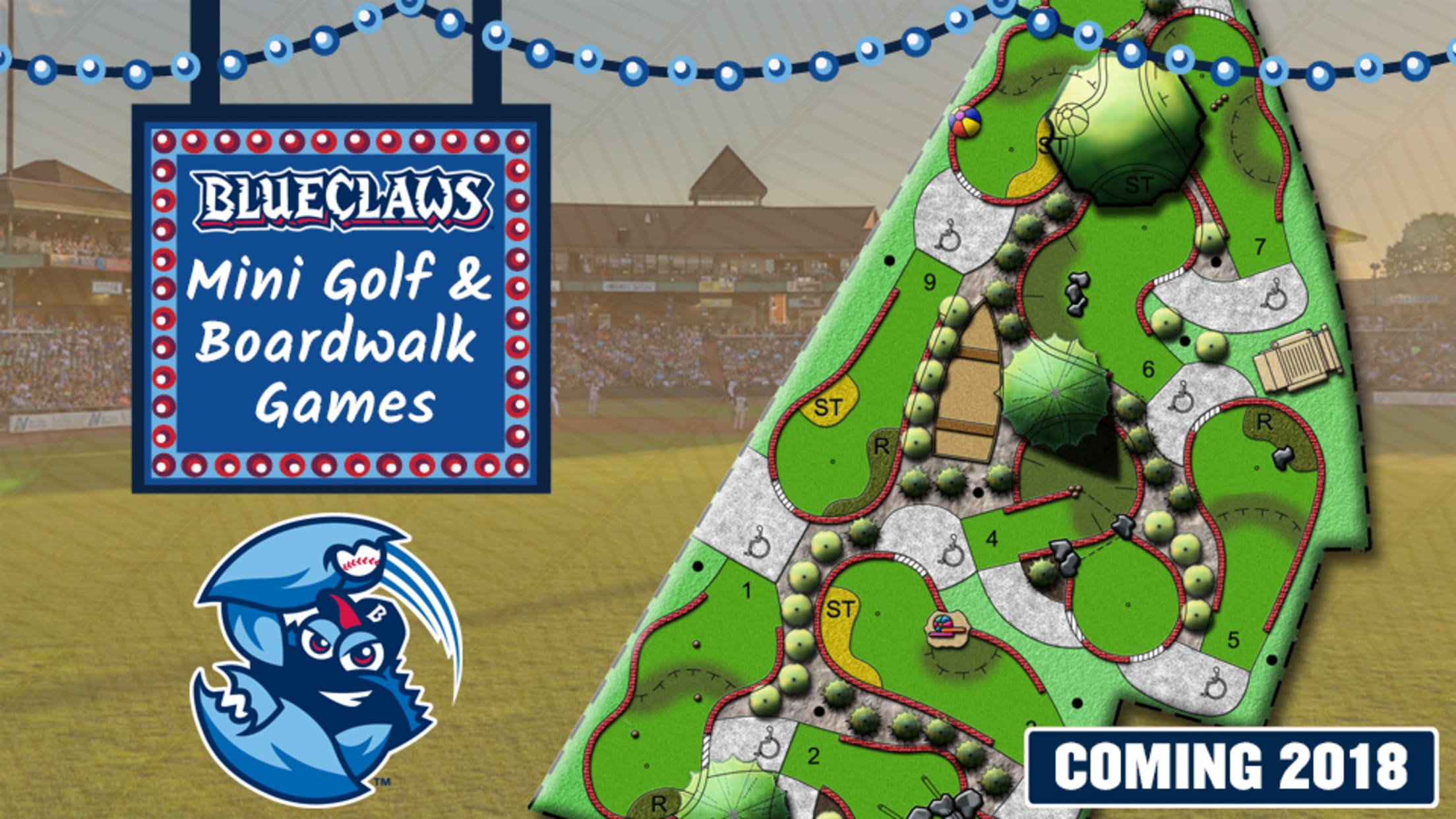 The BlueClaws have announced several significant ballpark improvement and fan enhancement highlights entering the 2018 as part of the first step in a major ballpark development plan.---
The BlueClaws have announced several significant ballpark improvement and fan enhancement highlights entering the 2018 as part of the first step in a major ballpark development plan.
---
LAKEWOOD, NJ - As the BlueClaws embark on a new season of fun at the Jersey Shore, several exciting additions are coming to FirstEnergy Park! The team unveiled an ambitious multi-year re-development plan for a series of family & fan enhancements, the first major series of renovations since the ballpark opened in 2001. The 2018 phase of the plan includes both a miniature golf course and boardwalk attractions, both games and food options, around the outfield concourse.
"We're excited to usher in this new era of BlueClaws Baseball," said Art Matin, managing partner of Shore Town Baseball, the team's new ownership group. "These improvements to the ballpark are just the start of what Shore Town Baseball has in store for BlueClaws fans moving forward."
These ballpark improvements are the first in a multi-year capital investment plan designed to create an even more fun, family-friendly, and Shore-themed destination at FirstEnergy Park.
The nine-hole family course will be open during games and available for private events. The course was designed by leading miniature golf course design firm Harris Miniature Golf and will offer a feel of the Jersey Shore with a series of Shore-themed items.
The Shore-themed course will also recognize BlueClaws history through "Holes of Fame," celebrating the past accomplishments of a BlueClaws player on each hole while also recognizing the long-term partnership between the BlueClaws and Phillies. Each hole will include special recognition for the achievements of a former BlueClaws player. The list of "Hole of Fame" players will be unveiled on BlueClaws.com and through the team's social media channels leading in to Opening Day.
A revamped food court, including ballpark favorite Charlie's Pizza, will sit adjacent to the mini golf course.
The new boardwalk attractions, which will be located in right-center field, will include select boardwalk games such as Ring Toss, Wiffleball Toss, Hoop Shot, Balloon Burst, and Fat Cat as well as select seaside sweets such as caramel apples, taffy, and cotton candy while providing additional family entertainment.
"The BlueClaws are a top Jersey Shore entertainment destination and we're excited to make some great enhancements to the ballpark. Our vision is to capture the Jersey Shore feel within FirstEnergy Park," said Joe Ricciutti, BlueClaws President/General Manager. "This marks the first phase of a multi-year ballpark development plan that will serve as the face of a bright future of BlueClaws Baseball."
The miniature golf course, new boardwalk attractions, and Suite enhancements will not be the only enhancements that will greet fans in 2018. The team has added seven Saturday night fireworks shows (June, July & August) to the already popular Friday Fireworks series which runs throughout the entire season. This year, the team will have a team-record 20 shows: every Friday, select Saturdays, plus Tuesday, July 3rd and Sunday, September 2nd.
Further, the BlueClaws have announced plans to upgrade the heating & cooling system in the FirstEnergy Park Luxury Suite level to ensure optimum climate comfort for Suite Holders and fans in the Monmouth Medical Center Champions Club no matter the temperatures outside.
The heating & cooling upgrades in the Luxury Suite Level represent an overhaul of the existing HVAC system. Luxury Suite Holders are now protected from extreme temperatures and weather conditions better than ever before.
BlueClaws Luxury Suites include 20 tickets in a private climate-controlled room with a dedicated Suite attendant, HD-TV, both indoor and outdoor seating, and a panoramic view of the game. BlueClaws Luxury Suites are available both through single-game reservations and multi-game Suite partnerships.
The BlueClaws have launched several new ticket initiatives. The team now has three distinct seven-game Mini Plans that include tickets to the top games and promotions of the summer. For the first time, Mini Plan holders receive a free Ticket Package Holder gift with their plans in addition to value-pricing ($3 savings per ticket off the single-game price), and the team's Flexible Exchange Policy.
Further information can be found online at BlueClaws.com or by calling a BlueClaws representative at 732-901-7000 option 3.
The popularity of these new Mini Plans is already reflected in highly limited reserve seat availability for select games including June 2nd, that are close to sold out despite single-game tickets not going on sale until March 24th.
The BlueClaws are the Jersey Shore's top stop for affordable, family entertainment. 2018 ticket packages and group outings are currently on sale with additional information available at BlueClaws.com.
- BlueClaws -