Missions Withstand Late Charge for Series Win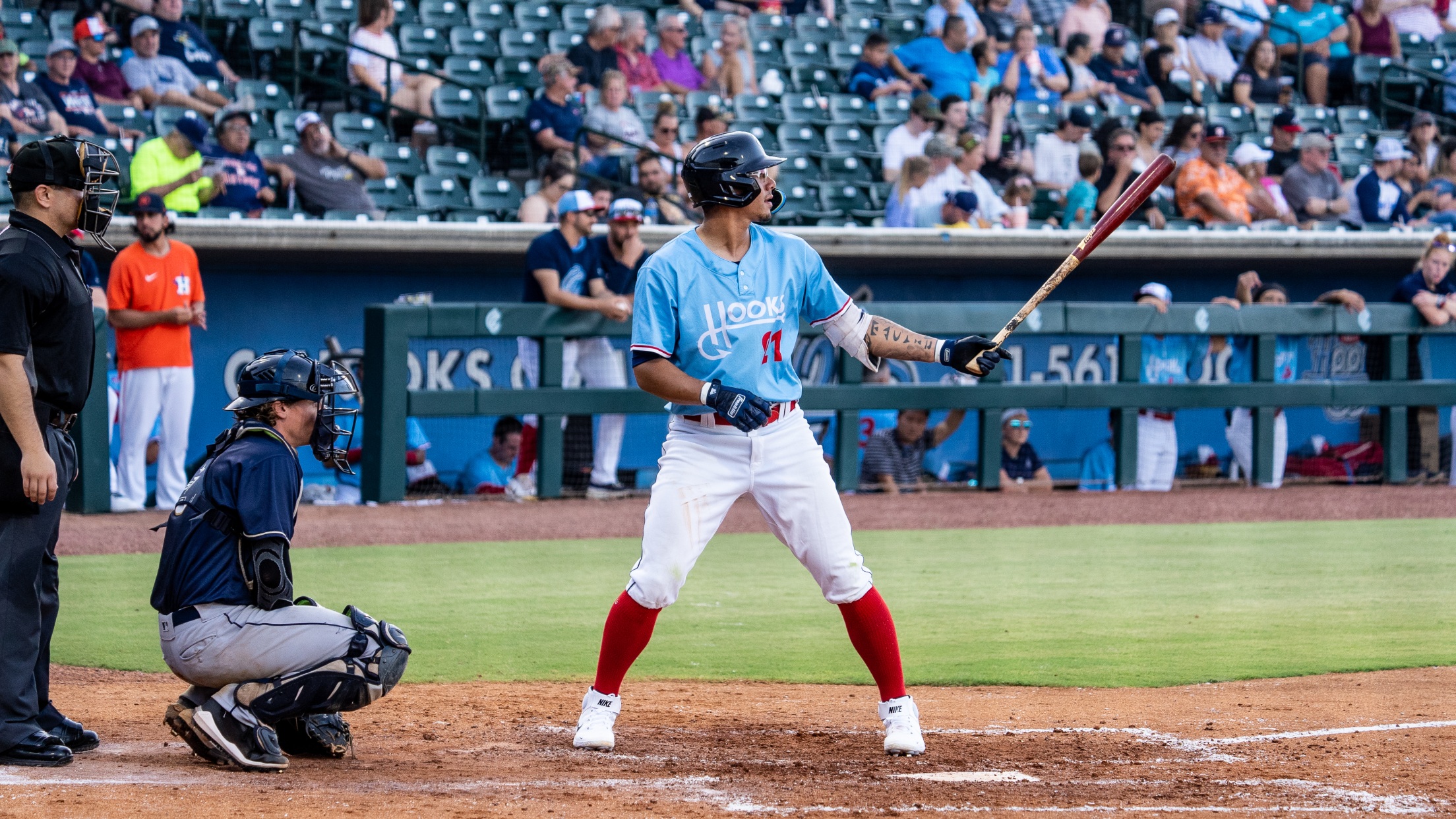 Edwin Díaz clubbed his first Hooks home run Sunday afternoon at Whataburger Field. (Marcus Sarate)
CORPUS CHRISTI – San Antonio plated three unearned runs in the second inning en route to a 5-3 victory over the Hooks Sunday afternoon at Whataburger Field. After trailing 5-0 and being held to one hit over the first seven frames, Corpus Christi erupted in the eighth. Edwin Díaz opened
CORPUS CHRISTI – San Antonio plated three unearned runs in the second inning en route to a 5-3 victory over the Hooks Sunday afternoon at Whataburger Field.
After trailing 5-0 and being held to one hit over the first seven frames, Corpus Christi erupted in the eighth. Edwin Díaz opened the inning with a home run to left field for his first long ball as a Hook. Mason Fox then surrendered a single to Wilyer Abreu before Yainer Diaz hit his third homer of the series, a line drive over wall in left to make it 5-3.
CC managed to get the go-ahead run to the plate in the ninth, but Angel Felipe induced a double play to end the game.
Reggie Lawson struck out nine against four walks and one hit over 4 2/3 innings in the start for the Missions. Lefty Tom Cosgrove earned the victory, retiring five of the six men he faced. Cosgrove fanned four.
Hooks right-hander Jimmy Endersby permitted one earned marker before giving way to Derek West in the fifth. Matt Ruppenthal and Devin Conn blanked SA over the final three innings, with Ruppenthal handling the seventh and eighth.
The Missions won three in a row to claim the six-game set. San Antonio finished its Whataburger Field slate with a record of 10-5.
Corpus Christi is off Monday while traveling to Springfield, MO. The Hooks open a six-gamer against the Double-A Cardinals at Hammons Field on Tuesday night. First pitch 6:35.