Ports' Mondou triples twice on four-hit night
A's infield prospect heating up in second week in Cal League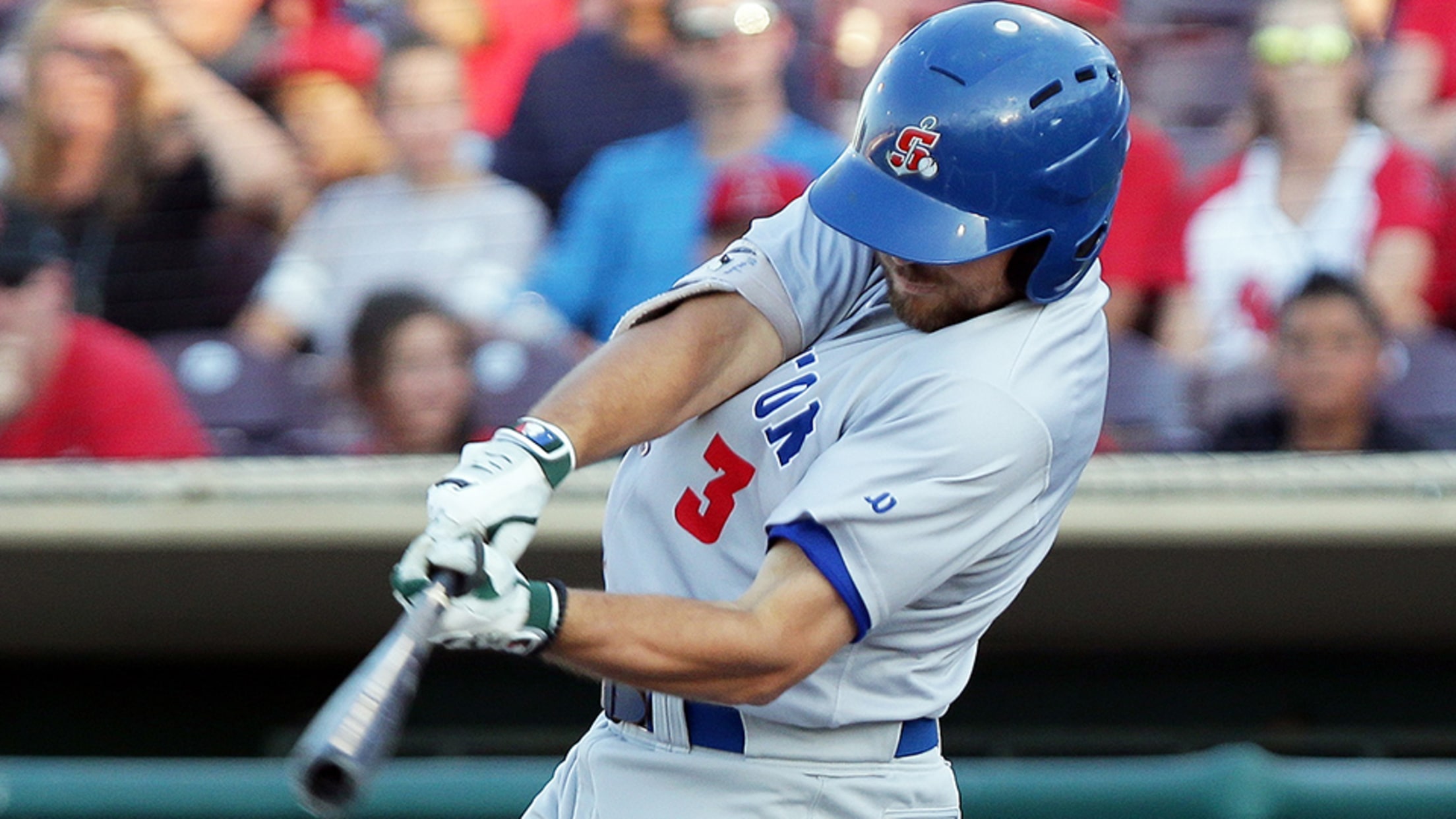 Nate Mondou is hitting .386 in 10 games since a promotion from the Class A Midwest League. (Donn Parris/MiLB.com)
Knowing he was a homer shy of the cycle after the fifth inning for Class A Advanced Stockton, Nate Mondou couldn't deny that thoughts of the milestone loomed over his final two at-bats. "It's definitely in the back of my mind, but I just try and stick to my approach as
Knowing he was a homer shy of the cycle after the fifth inning for Class A Advanced Stockton, Nate Mondou couldn't deny that thoughts of the milestone loomed over his final two at-bats.
"It's definitely in the back of my mind, but I just try and stick to my approach as much as I could," the A's prospect said. "The wind was blowing out pretty good tonight to right. ... It's definitely there, but it was definitely not something that I was trying to do. "
Mondou could not complete the feat, but he was able to achieve some personal milestones.
Gameday box score
The 22-year-old tripled twice, doubled, singled and drove in two runs on Friday in the Ports' 8-1 win over Lancaster at The Hangar. It was the first four-hit performance of his career and the first in which he's collected three for extra bases.
"I think when I start feeling better at the plate the ball starts moving more to the right-center field gap and as long as I can stay gap-to-gap like that, I usually tend to have good results," Mondou said. "Tonight was just one of those nights where I was just seeing the ball really well and just move to right-center and kept it on a line for the most part. And that helps definitely, too."
Prior to a June 26 promotion, the Wake Forest product hit .296/.371/.385 while driving in 32 runs without a homer for Class A Beloit. With Stockton, he's 17-for-44 with a homer and nine RBIs, matching his total with the Snappers with three triples in 10 games.
"It's been fun being up here and getting into more of a hitters' league than the last league, definitely. I'm just sticking with the same approach that I had there," he said. "Just trying to spray the ball to all fields, put together quality at-bats and just kind of stick with that plan throughout every single day and you're bound to have days like that if you can stay consistent."
Leading off the game against right-hander Trey Killian, Mondou pulled a fly ball beyond the reach of right fielder Yonathan Daza and hustled for a triple.
"First at-bat, it went fastball running kind of down and away and then he came back with it and left it up a little bit more," Mondou said. "I was able to get under it pretty good to right-center and then it kind of was off to the races there."
He scored when Lancaster second baseman Avery Romero made an errant throw on Brett Siddall's grounder. Following Josh Vidales' leadoff walk in the second, Mondou beat Daza again for a run-scoring triple.
"He kind of left the changeup hovering over the middle of the plate. I knew he had a good changeup, so I was kind of looking for it in that count," Mondou said. "Luckily, he left it up and I was able to drive it to right-center again. Similar pitch sequences and knowing the report definitely helped there."
Siddall again pushed Mondou across, this time with a single to right.
The 2016 13th-round pick delivered another extra-base hit in the third. After Killian plunked Santiago Chávez with two outs, Mondou doubled to right to pick up his second RBI of the night. Eli White followed with a homer to right-center to extend the Ports' lead to 8-0.
Argenis Raga and Vidales started the fifth with back-to-back singles off reliever Marc Magliaro, who struck out Chavez before Mondou singled to right.
Mondou walked on eight pitches in the eighth and struck out on three pitches in the ninth, both turns coming against right-hander Carlos Polanco.
A's No. 13 prospectNorge Ruiz started for Stockton and allowed a run on five hits and two walks with three strikeouts over six innings, bringing his ERA to 4.50.
Gerard Gilberto is a contributor to MiLB.com. Follow and interact with him on Twitter, @GerardGilberto4.