A's Dunshee headlines Pitchers of the Week
Oakland right-hander keeps zeros coming in Stockton starts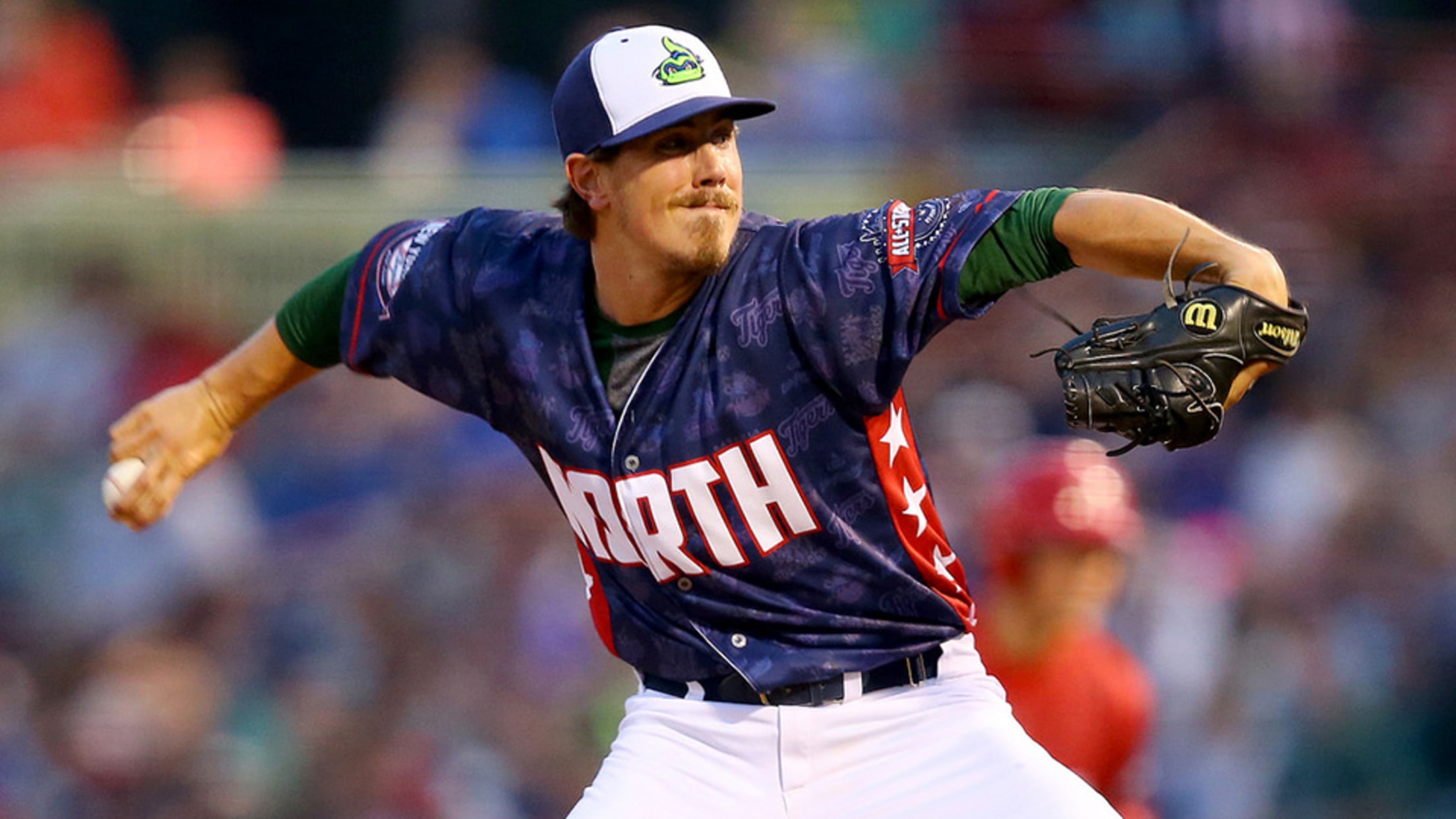 Parker Dunshee hasn't allowed a run in his last 48 1/3 regular-season innings dating back to 2017 with Vermont. (Danny Wild/MiLB.com)
Looking at his career stat line, Parker Dunshee has quite a streak going. He hasn't given up a run since June 24, 2017 -- the day of his professional debut in the Arizona League. That's a stretch of 48 1/3 scoreless innings that includes 38 1/3 frames to end his
Looking at his career stat line, Parker Dunshee has quite a streak going. He hasn't given up a run since June 24, 2017 -- the day of his professional debut in the Arizona League. That's a stretch of 48 1/3 scoreless innings that includes 38 1/3 frames to end his first Minor League campaign at Class A Short Season Vermont and 10 to begin this season at Class A Advanced Stockton.
He doesn't quite see it the same way.
"It's kind of an ongoing joke with some of us because that doesn't include the playoff starts, where I gave up plenty of runs," said Dunshee, who gave up seven earned runs over 3 1/3 innings in last year's New York-Penn League postseason. "I don't know why they don't count, but for me personally, I already feel like I lost the streak in Vermont, so there's less pressure. Throwing zeros is always a goal for me, so it's nice to see this go as long as it can. But if it ends, it definitely won't be the end of the world."
Even if he doesn't consider the streak as noteworthy as others, the A's right-handed pitching prospect has at least one new line to add to his resume. Dunshee was named the California League Pitcher of the Week on Monday as part of the first installment of weekly Minor League winners for the 2018 season. This is the first Pitcher of the Week award of the 2017 seventh-rounder's brief career.
• View the Player of the Week winners »
Dunshee has been nearly untouchable in his first two starts for the Ports. He's allowed only three hits and a walk while fanning 14 over 10 innings in two appearances. He fanned 10 in his first start at home against Lake Elsinore on April 7 and followed that up with four K's over five one-hit innings five days later at San Jose. His 0.40 WHIP is sixth-lowest among all qualified Minor League pitchers on the young season.
"In a word, he's a pitcher," said Stockton manager Rick Magnante. "That's exactly what he is in the best sense. He's able to repeat his delivery. He can change speeds. He pitches with tempo and speed. Those 48 1/3 innings are really indicative of how much he does to give it his best every time he's out there. I don't have much of a history with him. I didn't have him last year and only saw one Spring Training outing before the season. But from what I have seen here, I really think he's a big leaguer."
Dunshee's control has been his calling card during this latest streak and beyond. He averaged only 3.2 BB/9 during his four years at Wake Forest, during which he became the school's all-time leader in strikeouts with 330. He had that number down to 2.6 in his 2017 campaign before becoming a senior sign last summer and has taken it down even further to 1.6 over his 50 1/3 frames in pro ball. The 6-foot-1 hurler generally needs to fill up the zone because his pitches don't usually grade out as standout offerings. His fastball typically sits in the low-90s, but his slider and changeup are solid enough to give him three solid pitches. At the behest of Oakland pitching coordinator Gil Patterson, he's added a cutter this season and is already happy with the results it's producing in the Cal League.
"I'm just using it like a normal offspeed right now," Dunshee said. "Righties, lefties, I want to use it against everyone and can go with it pretty frequently. ... It's just harder velocity-wise. The spin is tighter. The movement is sharper. When it comes to pitch recognition, it can be a lot tougher on the hitter, and I'm feeling comfortable with it."
His Stockton skipper is excited to see what's next.
"He's able to make adjustments basically pitch to pitch," Magnante said. "If he expands the zone or doesn't command something the way he should, he can right the ship pretty quickly. It's very impressive. He's not a guy with a 95 mph fastball or a plus-plus breaking ball. But he's a guy who has a mix that allows him to compete and the command to make it all work. When he gets the cutter down, it'll be a work in progress for a while, but he'll master it like he has with so many other things."
The next step in Dunshee's development will be length: He's yet to pitch into the sixth inning as a pro. He was lifted after reaching his five-inning limit last Thursday, despite having thrown only 62 pitches (44 of which were strikes). Magnante expects Dunshee will soon start expanding to 85 pitches -- he threw 82 in his Ports debut -- or six or seven innings, whichever comes first. No matter how deep he goes, all involved are excited to see how far the former Demon Deacon can take his string of zeros, whether he counts them or not.
"Being a senior, I was a little older in Vermont than most, and I knew the jump to [Class A Advanced] was a possibility. But it's just baseball out here," Dunshee said. "It's the same game. I've noticed the guys here can get pretty aggressive, and that's something I try to use to my advantage. But basically, I'm just trying to do the same things I've always been doing."
Below is the complete list of the 2018 season's first Minor League Pitchers of the Week for April 5-15:
Sam Dykstra is a reporter for MiLB.com. Follow and interact with him on Twitter, @SamDykstraMiLB.