Pitching Staff Shines Again in Series-Clincher
A 13-strikeout performance from the staff only included two runs allowed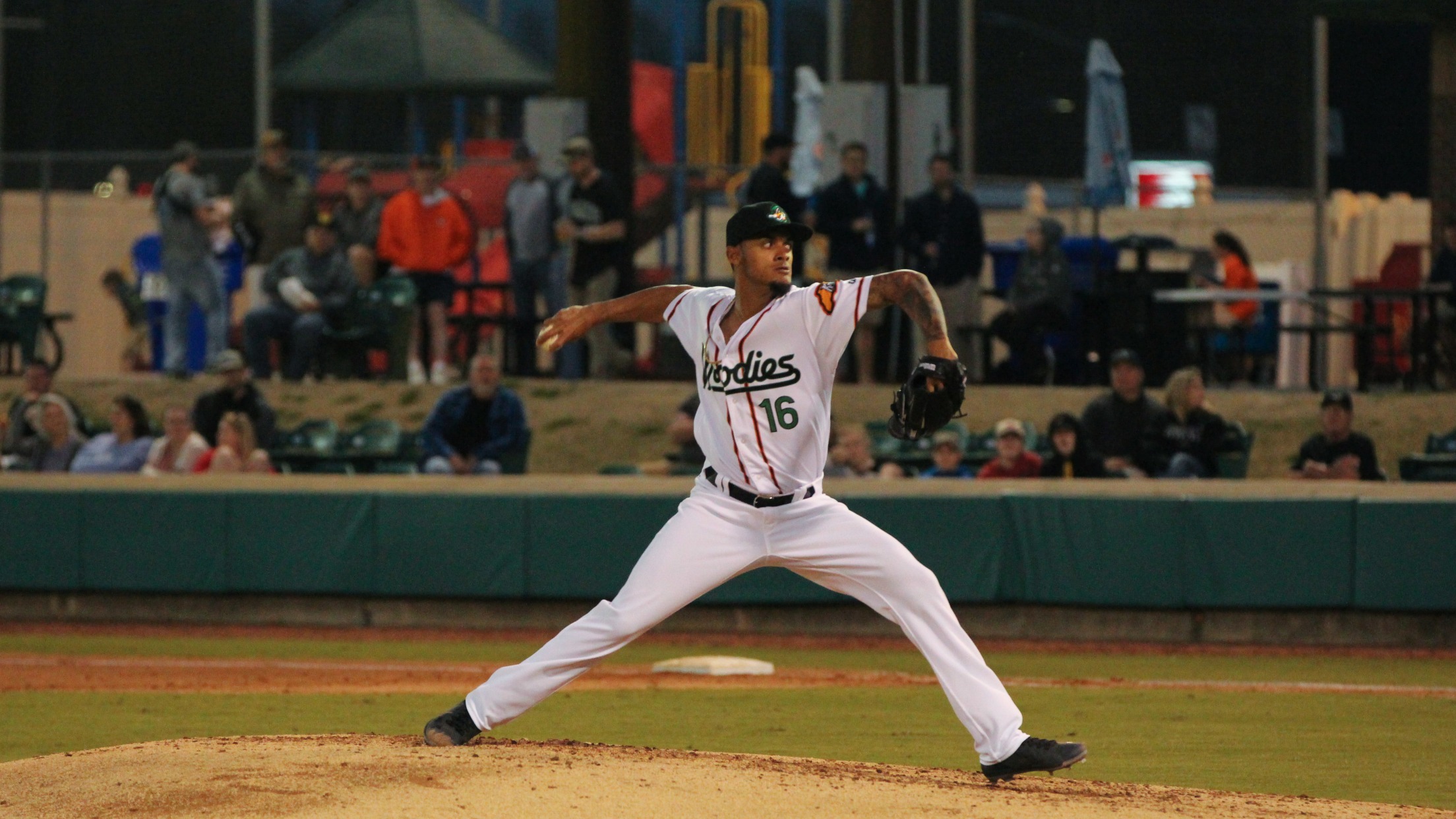 (Dominic Cotroneo/Down East Wood Ducks)
KINSTON, NC -Jonathan Hernández turned in a stellar performance on the mound as the offense came alive late in a 4-2 Wood Ducks (22-17) victory over the Mudcats (18-21). The right-hander struck out a career-high 11 batters while only allowing five hits on the night. His offense supported him with
KINSTON, NC -Jonathan Hernández turned in a stellar performance on the mound as the offense came alive late in a 4-2 Wood Ducks (22-17) victory over the Mudcats (18-21). The right-hander struck out a career-high 11 batters while only allowing five hits on the night. His offense supported him with ten hits, including three from Leody Taveras in the win.
Hernandez nearly started the game with an immaculate inning (nine pitches, nine strikes and three strikeouts) but the inning ended with an 0-2 fly out to left. The Dominican struck out six of his first 14 batters, only allowing two infield hits against him.
He would collect at least one strikeout in each of his six innings of work despite a no decision. He exited the game tied at two runs apiece.
Offensively, the Woodies were trailing 1-0 in the fifth when Eric Jenkins sparked a two-out rally with an RBI triple to right-center. Next, Taveras would follow with an RBI double on a screaming line drive off of the wall in center. The Woodies led 2-1, but would later face a tied game in the seventh.
Anthony Gose, debuting as a DH in 2018, reached on a single to lead off the frame. He was bunted to second by Matt Whatley and would score on a Leody Taveras single to left - while batting right-handed. For Taveras, Wednesday was his first three-hit game of the season for the Woodies.
The bullpen effort of Kaleb Fontenot and Jacob Lemoine combined to only allow one baserunner over the final three innings as they received the win and the save respectively. Chuck Leblanc added an insurance run in the eighth on a single to push his league-leading RBI total to 34.
Down East also moved up a game in the first-half race as they are in second place and only one game back of the Buies Creek Astros. The Wood Ducks will go for the sweep on Thursday with right-hander Michael Matuella on the mound at 7:00 p.m. against lefty Nathan Kirby.