Prospect Q&A: Reds lefty Abbott
Club's No. 13 prospect discusses strikeout artistry, facing Votto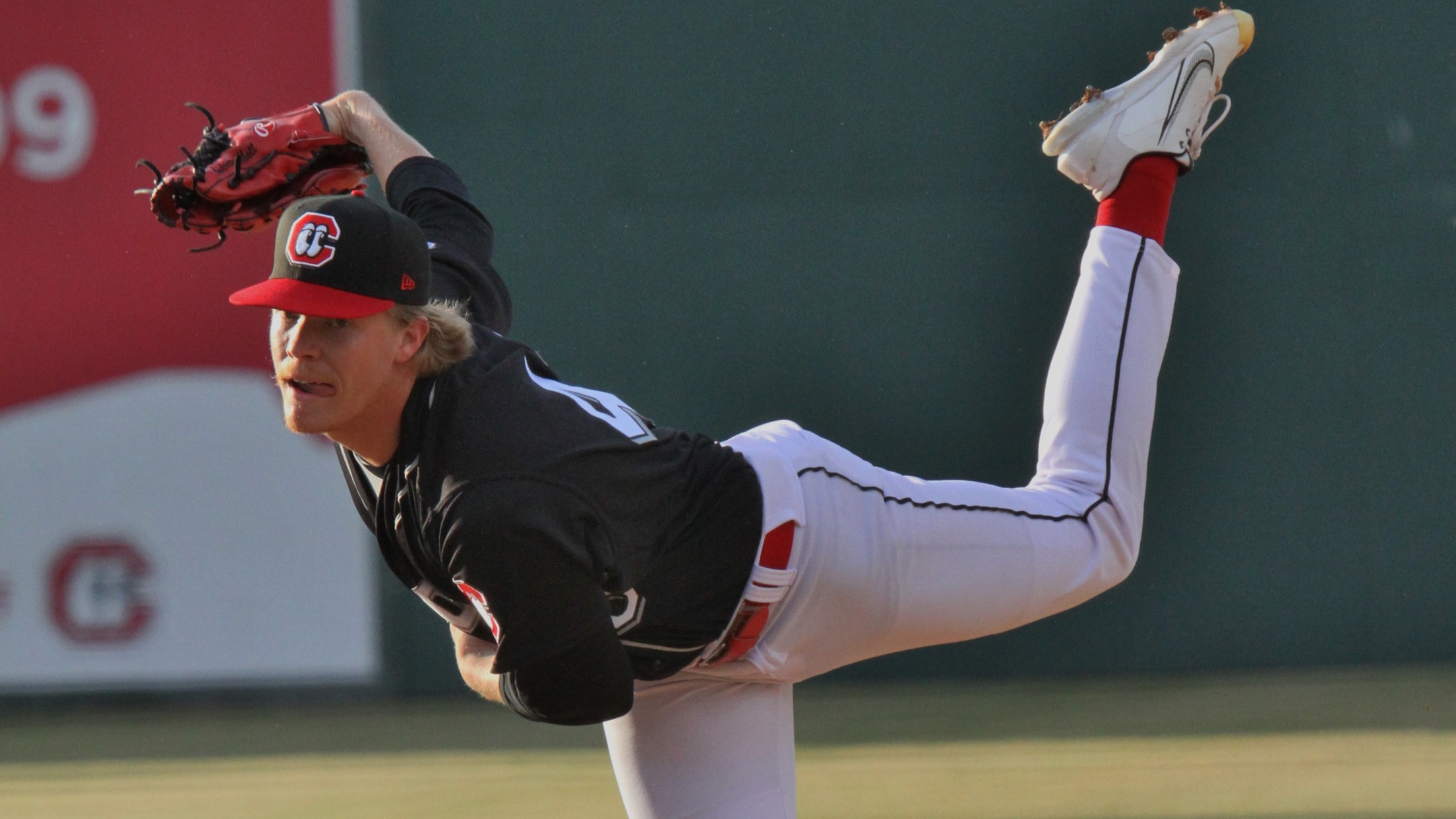 Andrew Abbott compiled double-digit strikeout totals in three of his first six appearances of the 2022 season. (Meeks/Norris, Chattanooga Lookouts)
Andrew Abbott's uncanny ability to strike out batters in droves dates back to his amateur career. Now ranked as the No. 13 Reds prospect, Abbott has continued to rack up punchouts in high quantities. The six-foot, 180-pound left-hander sports a 14.3 K/9 in his first six appearances between High-A Dayton
Andrew Abbott's uncanny ability to strike out batters in droves dates back to his amateur career.
Now ranked as the No. 13 Reds prospect, Abbott has continued to rack up punchouts in high quantities. The six-foot, 180-pound left-hander sports a 14.3 K/9 in his first six appearances between High-A Dayton and Double-A Chattanooga this season. He even fanned 12 in his Lookouts debut on May 14.
So far, Abbott is 4-0 with an 0.55 ERA over 32 ⅔ innings as opponents are batting .165 against him. He's had three double-digit strikeout games and ranks among the top 10 in total Ks across the Minor Leagues with 52.
The 22-year-old was selected by the Reds with the No. 53 overall pick in the second round of last year's Draft out of the University of Virginia. Abbott was primarily used as a reliever in his first three years at UVA, including nine appearances in the pandemic-shortened 2020 season, but moved to the rotation in 2021. Overall, he compiled 327 strikeouts over 215 innings (13.7 K/9).
In the latest Prospect Q&A, Abbott discusses his four-pitch mix and the mound mentality he shaped under the tutelage of former Major League All-Star closer Billy Wagner. He also talks about facing Joey Votto in the spring, how competitive swimming helped him with baseball and, of course, what it takes to be a strikeout artist.
MiLB.com: You've gotten off to an excellent start to the season -- what's been working for you?
Andrew Abbott: I would say just being aggressive and just going at hitters. Pitching to my strengths, really. I like to throw fastballs up, breaking ball has always been a great pitch for me. So, just kind of using that model the entire time, no matter who the hitters are. You know, me and BG [pitching coach Brian Garman] in Dayton and now me and Woot [pitching coach Rob Wooten] in Chattanooga will make adjustments when we need to. But until I need to make a significant adjustment, we're going to let it ride, and so far it's been going really well.
MiLB.com: Your promotion came pretty quick. Was that a surprise?
Abbott: It was definitely exciting. My mom and dad were there for Mother's Day in Dayton when they told me I was getting promoted. So, it was kind of a feel-good moment for them as well because they knew exactly what was going on. Some details kind of get lost in translation sometimes. But, it was definitely a great moment.
MiLB.com: Could you describe your pitch mix?
Abbott: I'm a majority four-seam fastball guy. I throw a curveball and I can manipulate a slider as well. And then I throw a changeup, so I'm a pretty typical lefty. Just fastball, curveball, slider, change. ... I've always been able to carry the fastball pretty well. I don't know the numbers directly behind it, but people have always said I have a deceptively riding fastball. And then my curveball, I try to throw it as hard as I can and create as much spin and movement because I'm a cross-body thrower, so I already have a little bit of deception coming at hitters. And then, just trying to add movement and throw it hard to let the grip do its work.
MiLB.com: How did you develop this mix?
Abbott: Ever since probably the end of high school, going into college. I had a lot of guys help me in my early career. Billy Wagner was one of my high school coaches for travel ball, so he kind of got behind me with the mentality part. I was a reliever earlier in my career, so getting that mentality part engrained in me and then translating it over to starting now. And then, Jeff Stevens, who played in the Braves system, he really helped me mechanically and helped develop some off speed pitches for me growing up.
Joey Votto singles to center to end a 10-pitch at-bat vs. LHP Andrew Abbott, Reds' 2021 2nd-round pick, in a minor-league intrasquad game. pic.twitter.com/T14lPWghLA

— Bobby Nightengale (@nightengalejr) March 28, 2022
MiLB.com: What was it like learning from Wagner?
Abbott: He's from around the Charlottesville, [Virginia], area and I'm from southern Virginia. When I got placed on my travel team growing up, I was placed with a Virginia-based team out of Fredericksburg. Most of my teammates were from Virginia, and [Wagner] said he would be the coach, so he wound up being my head coach. That's kind of how that got started. But when talking to him and learning, it was all about who you are as a person. That was the biggest thing he said. Really understanding who I am as a pitcher and using what I'm good at to get guys out. Not trying to be somebody that I'm not is something that I'm not is really something that he told me, which really has stuck with me. ... It was really how he talked to me, and I was 15 [years old] at the time, so that was definitely something that was new to me. But now, I can sit back and say I fully understand what he talked about.
MiLB.com: You strike a lot of batters out, and you've had this ability since college. When did you realize you had this ability?
Abbott: I really think the most important thing for pitchers to be strikeout artists is definitely getting ahead. It doesn't really matter who you are, but if you get ahead in the count, then you get the hitter uncomfortable and they have to swing at your pitch. And that's kind of the mentality behind a strikeout, like trying to set up a strikeout. I'm throwing my best stuff at all times against him to try to strike him out and get ahead in the count. And I kind of realized that my first year in college, as a reliever, I was in these high-pressure situations. Only throwing majority fastball, curveball, so I really honed in on those two pitches. You're either throwing breaking balls early in the count for strikes, or throwing fastballs by them if I need to, but making sure that I didn't fall behind in any counts, because when you fall behind, then hitters easily adjust to what's coming and you kind of become a predictable pitcher. So it's being able to toss all pitches in every count, pretty much.
MiLB.com: You had an interesting intrasquad matchup with Joey Votto, what was that like?
Abbott: There's really no words for it. I had been to Reds games probably 10-11 years ago growing up. Seeing Votto playing then and then now that I'm pretty much in the system with him, that's really cool. He's the face of the Reds right now. That's obviously one part of it. But the second part is that whenever I get a chance to face guys that are Major Leaguers or they are where I want to go in my career -- they're the guys I'm going to have to get out. That's always a good learning experience. Just being able to learn how an MLB All-Star reacts to pitches, fights off pitches until he gets a mistake and then he gets a hit. It's just those things that teach a young guy like me how to get better. Hopefully, I gave him a little bit of help too and it's not just a one-way street. For the most part, it's me learning from what I'm seeing from him. That experience can't be taken away from me, and I think it's going to help -- if not right now than down the road -- with how to pitch guys in the big leagues. I was really grateful for the opportunity. I faced him like four or five times throughout Spring Training. We had a good quarrel in Spring Training and it was enjoyable because it's fun playing the game, so what's not to like.
MiLB.com: You had a pretty good high school swimming career, what did that do for you physically?
Abbott: I do get in the pool still. My girlfriend was a swimmer at UVA, so I still have that a little bit. Swimming, I attribute being really loose and agile to swimming. It's a good stretch for all my muscles and bones and tendons and all that. It's a workout, but it's also a really good conditioning and stretch and stuff. I would do that in the offseason when I wasn't playing. I would swim with my mom, who was my coach, and just kind of build toward the baseball season. Everything I've done in my life was kind of built toward kind of helping my baseball career. We settled on swimming being conditioning and agility. It's worked for now and I definitely incorporate it into my offseason training. In-season, it's a little bit harder to find places to get to a pool, but I try to mimic it as much as I can.
MiLB.com: What does a successful 2022 season look like for you?
Abbott: I think it's very simple. No. 1: Staying healthy. That's obviously everyone's idea. No one wants to get hurt, no one wants to miss time, so that's obviously No. 1. No. 2: I would say it's just making sure every outing I go out and give it my all. Just give it whatever effort I got. If it's 80 percent that day, then I give 100 percent of my 80 percent. ... Just making sure that I hold myself accountable. That's really what UVA taught me was whatever you have that day, give it all. Whether it's cheerleading for the team, whether it's pitching, whether it's bullpen, whether it's lifting, whatever you're doing, make sure you're giving your entire effort. I think that that's something that I can live with. I gave it my all, I did what I came to do. That's been my successful mentality for the last five years, and I don't think I'm going to change it.