Prospect Q&A: Brewers outfielder Mitchell
No. 51 overall prospect looks ahead to new challenges in 2022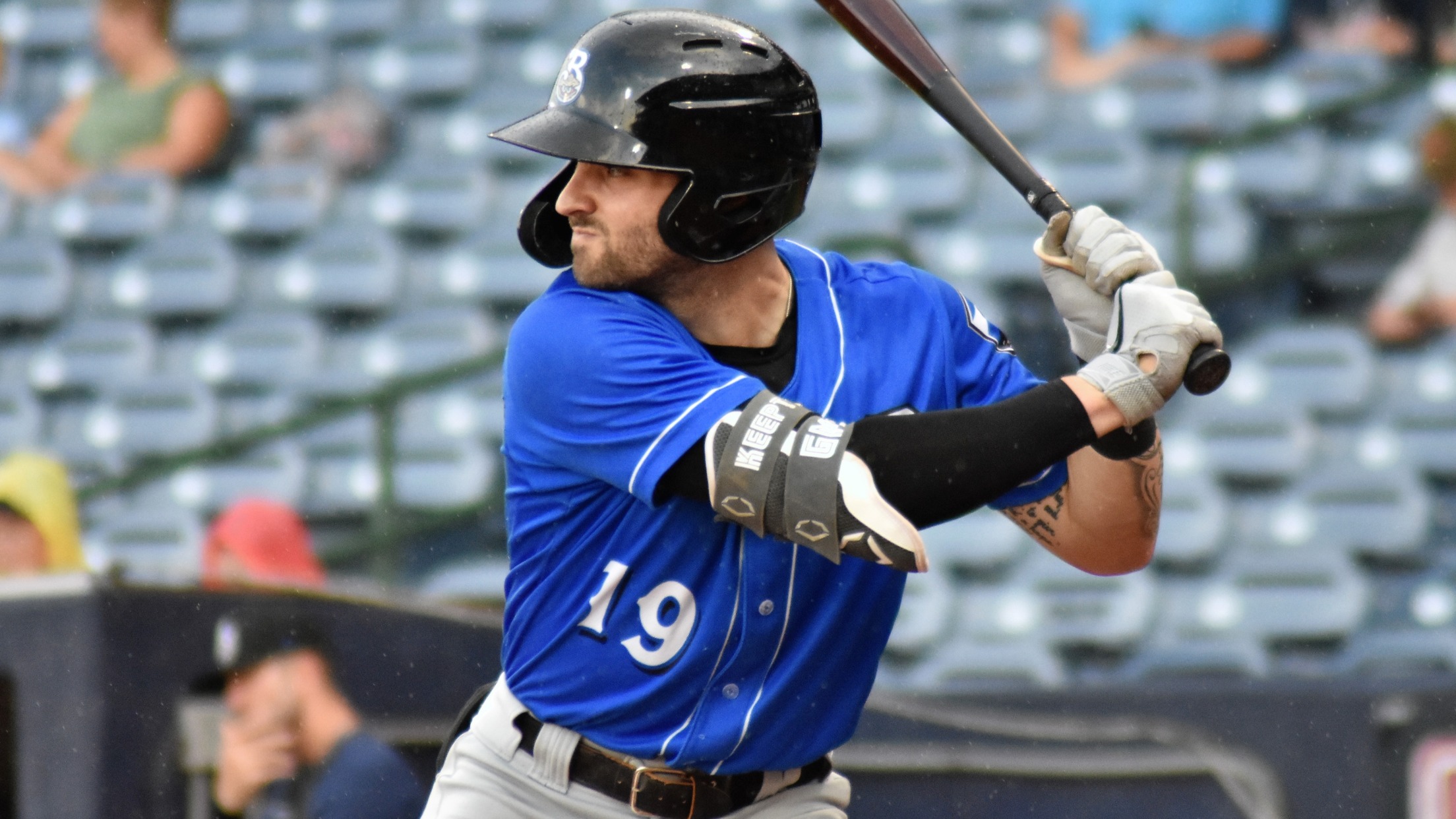 Garrett Mitchell hit more homers (eight) in 64 games in his first Minor League season than he did in nearly twice as many games in college. (Walter Barnard/MiLB.com)
Garrett Mitchell suffered an injury-plagued debut season in 2021 but could put himself on the doorstep of the Major Leagues as soon as this year. The top Brewers prospect compiled a .258/.388/.412 slash line with eight homers, 30 RBIs, 46 walks and 17 stolen bases in 64 games between High-A
Garrett Mitchell suffered an injury-plagued debut season in 2021 but could put himself on the doorstep of the Major Leagues as soon as this year.
The top Brewers prospect compiled a .258/.388/.412 slash line with eight homers, 30 RBIs, 46 walks and 17 stolen bases in 64 games between High-A Wisconsin and Double-A Biloxi.
Mitchell was ranked by MLB Pipeline as the No. 6 overall prospect in the 2020 Draft after three strong seasons at UCLA but fell to the Brewers at No. 20. Many felt that the slip was due to concerns over his Type 1 diabetes, which he's played with since the third grade.
The No. 51 overall prospect discusses his first season in the Minors and his recent marriage to professional softball star Haley Cruse before looking forward to 2022.
MiLB.com: How was the offseason -- anything in particular you worked on in the ramp-up to camp?
Garrett Mitchell: The offseason has been great. Just getting myself right physically and mentally and emotionally and just getting ready for another solid year going forward. Nothing in particular. Just all-around gains, just continuing to get my mind and my body kind of strong. Just kind of tapping on a little bit of everything -- hitting, fielding, running. Doing what it is that makes me unique. You never really stop. You're continuing to teach yourself how to become a better baseball player. I'm not really satisfied in one aspect, so I'm just continuing to build on everything. What I've really been focused on this offseason is doing the things I do really well already, but then also just continuing to work on the things that need slight improvement here and there.
MiLB.com: What areas are you looking to improve?
Mitchell: Nothing crazy, just kind of continuing to work on the things I need to improve on. But I feel like that's an every year thing, every time you learn something new or talk to something or have a different conversation or figure out something new about your body and you try to incorporate that into your game. I know it's kind of boring, but it's the same stuff, you know?
MiLB.com: Congratulations on getting married! What's it like being able to share these experiences of the game with your wife?
Mitchell: It's great. Someone who understands the grind and what it takes to work hard every single day. Not only is she a really big supporter, but she's one that also pushes me. It's a ton of fun knowing that we play the same position, kind of do similar things in our own respective games. Just being able to bounce things off each other. We talk a lot about hitting, we talk a lot about defense. We play catch a lot together. We work out together too sometimes, depending on schedules. But you make the time to kind of bounce things off each other. Her being in softball and in that head space, kind of just giving her a little bit of insight of what the professional side looks like. Obviously, it's slightly different and it's a shorter season than baseball is, but just continuing to get better on both sides. We get to talk about the easy things that become fun when you're just being out on the baseball or the softball field. But also the things that challenge us. It's been really, really fun, and it's been a really good offseason being able to start this marriage off on the right foot. It's been nothing but a blessing.
MiLB.com: What is it like to manage Type 1 diabetes as a professional athlete?
Mitchell: Everyone has a different opinion about how they see it, and it's the reason why I'm with the Brewers today. It's an organization that feels like they knew a lot about the disease or have been around it enough to understand. For me, I was blessed with the opportunity to do a lot of Area Code [Games] or scout ball with the Brewers. They knew me really well, they'd seen me deal with it. So, it almost felt like the perfect fit and the right timing. There was other teams, I mean you can only assume that they had their concerns. I don't think it's ever really been about the ability to play baseball and play at a high level, it's just a matter of the consistency piece. Being able to take care of my body on an everyday level with the diabetes. I look back on the situation and it's just like nothing's changed. I think, if anything, the diabetes is what gives me an advantage because I know how to take care of my body and what it means to be ready on a day-to-day basis. But I'm in the right situation. I'm with the right organization who trusts and believes in me and that's all that I can ask for -- not just as a baseball player, but as a Type 1 diabetic. I've been going through life with people who have believed and me and people who haven't, and that's OK. But it's kind of shaped me to who I am, not only as a baseball player but as a man.
These past 24 hours have been absolutely crazy. I want to thank the Milwaukee Brewers for believing in the T1D kid from Orange County whose dream is to play Major League Baseball. I cannot wait to get back out on the field and get to work! #GoBrewers #ThisIsMyCrew @MLB @Brewers pic.twitter.com/vfysPWSnrc

— garrett (@GarretMitchell5) June 11, 2020
MiLB.com: What was Minor League life like compared to what you maybe expected?
Mitchell: It felt pretty similar to what I thought it was going to be like. Constantly learning, constantly figuring out ways to grow and mature on both sides when it comes to just taking care of your body and also playing every single day. But I think there's always room to learn and grow, so when I look back on the season, I felt like I did a lot of really good things in the beginning. And then, kind of toward the end I was dealing with some health issues and some things that were out of my control. All non-diabetic related, thank goodness. I look back on that situation and I can say that I don't think I've had a better year of taking care of my diabetes than I did last year when it came to consistent blood sugars and feeling good from a diabetic standpoint. I felt like all that stuff was really, really locked in. It also proved to myself that this is something I can do for a really, really long time. It just depends on how I do. To think that it's not a health thing, it's just about going out there and playing, that sounds like a -- not an easy thing, but it's easier than thinking that you have to worry about two things when you're on the field.
MiLB.com: How did you know that college ball was the right path?
Mitchell: I think it became pretty prevalent, pretty quickly, I think out of high school. A thing that just struck me was just like I knew how good I was, I also knew how good my abilities were. It just wasn't in the right timing. God's timing, I think, is everything so for me it just became very, very clear, very fast once the Draft came and went that my focus was college. I obviously would have loved to have gone out of high school, but I didn't end up being in the place I wanted to be, and it seems like teams, I assume, felt the same way. For me, going to a prestigious university like UCLA for not only sports but for school as well was something that I took pride in really quickly. It was the best decision I ever made, and I tell that to anyone who ever asks me. I have a cousin who will be coming up here in the 2023 class, his name is Gavin Grahovac. People might call him a potential first-rounder, but I tell you he's easily a top-10 pick and if he goes any further than that any team would be stupid. But he is in one of those situations where he has a great opportunity to do that and do it the right way and he works his butt off and I couldn't be more proud of him and his journey.
MiLB.com: Some scouts feel you have off-the-charts speed but more power than what you showed in college and last year -- do you think there may be more pop in your future?
Mitchell: Anyone who really knows the game and has played the game of baseball, it's not as simple as just a tweak to change everything, but for me, I didn't even get to play a full year last year. But in the stint that I played, you look at my college record and I had six home runs in 127 games. I had eight home runs last year in a 60 or 70 game span, so, when I look at that, I see that as a positive where you're moving in the right direction. Everything is slight adjustments. But that's not really my concern. I have a lot of other things going on when you talk about tools or things that I can do on a baseball field. And you just got to trust the process. So, I'm not too concerned about the power numbers. I know those are things that will continue to grow as I go throughout my career. But I'm excited for what's to come. I think that power is on it's way. It's starting to be tapped into a little bit more than it was before, and I just got to stay the course. That's kind of my goal, that's kind of my outlook on the whole thing about whether or not I can hit for power. But I'll leave that up for others to sit and worry about, I'm not going to be too concerned about it.
MiLB.com: The Brewers are loaded with outfielders at all levels -- yourself included. What's it like working with a group with that much talent?
Mitchell: It makes you a lot better of a baseball player. I think not only from a challenging standpoint -- you have other guys around you that are really, really good, so it makes you want to work harder. But I think it's good for all of us. I think it gives us all a great opportunity to be able to play at the next level and hopefully we all get to be there around the same time, and if not, hopefully it's all put together very soon. But I know that, as an organization from an outfielder's standpoint that we're in a really, really good spot, and I'm excited for the future of the Brewers.