Prospect Q&A: Rangers outfielder Thompson
Back at full strength, Texas' No. 27 prospect keeps it simple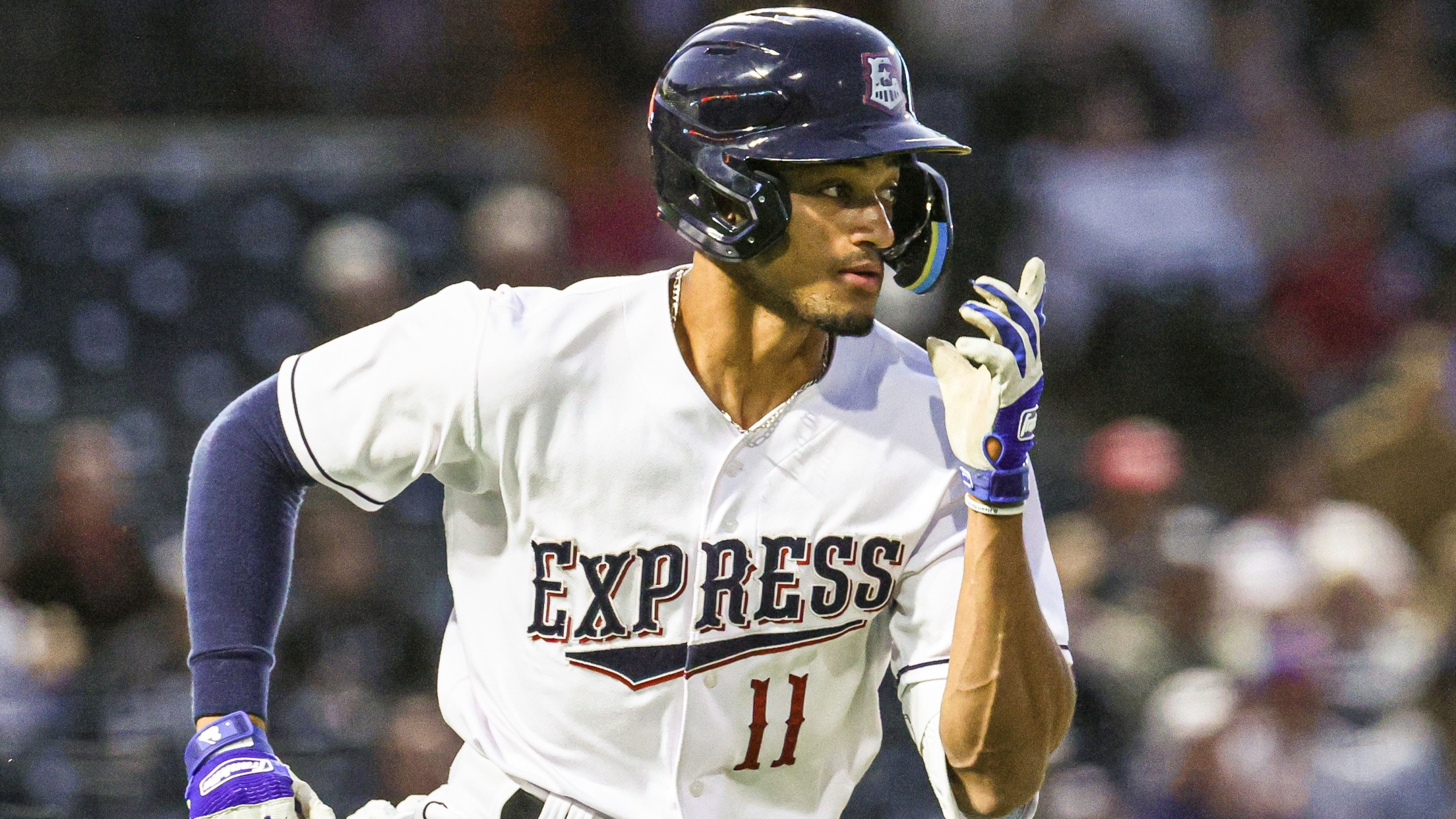 Bubba Thompson was selected with the No. 26 overall pick in the 2017 Draft. (Andy Nietupski/TTL Sports Media)
Throughout the early part of his Minor League career, consistent at-bats were few and far between for Bubba Thompson. The Rangers' No. 27 prospect was limited by a series of injuries after being drafted in 2017, only to recover in time for a season lost to the pandemic. Thompson, who
Throughout the early part of his Minor League career, consistent at-bats were few and far between for Bubba Thompson.
The Rangers' No. 27 prospect was limited by a series of injuries after being drafted in 2017, only to recover in time for a season lost to the pandemic. Thompson, who received a $2.1 million signing bonus after being selected with the No. 26 overall pick, entered the 2021 season with just 647 professional at-bats.
But after proving he still had some prospect luster in a fully healthy season with Double-A Frisco last year, Thompson has taken a major leap forward at the Minors' highest level. In 75 games with Triple-A Round Rock, the 24-year-old is batting .294/.348/.458 with 12 homers, 43 RBIs and 46 stolen bases.
Coming out of McGill-Toolen Catholic High School in Alabama, Thompson drew a lot of interest from Division I schools as a star quarterback. That athleticism lends itself to his best tool -- 70-grade speed -- but he's also shown some advanced power and a better feel for contact than many expected.
In the latest Prospect Q&A, Thompson talks about the simplistic approach that's led to his breakout campaign. He also discusses his work to get back from early injuries, his approach at the plate and what he misses most about his football days.
MiLB.com: You entered the break with some really good offensive numbers -- what was working for you in the first half?
Bubba Thompson: Just keeping it simple. Knowing what I want to do day in and day out. Also, just being on the field. Being healthy and being on the field and getting those reps and just adjusting as the game comes to me.
MiLB.com: I know opportunities were limited -- did you find yourself pressing when you were on the field?
Thompson: I always just keep it simple, man. I'm a simple guy. And it was just coming to it. That's it. The main thing is being on that field. Being on that field, everybody is good when you step on that field, but everyday you got to bring your 'A' game.
MiLB.com: What does keeping it simple entail?
Thompson: Honestly, at the plate, just not thinking too much. Get something I can drive over the heart of the plate and let everything else work out for the best.
MiLB.com: You had some bad luck with injuries. How is everything feeling now?
Thompson: I'm feeling good -- better than I've ever felt. Just got to keep it going and doing the best I can. That's it. [I was] just finding the little things that can tone it down some. My hand, just getting my swing back and where I feel good again and I can compete on the field after coming back from that. And everything else is history.
MiLB.com: You came into some power as well this year. Was that something you wanted to emphasize?
Thompson: I'm just trying to stay with my approach. Hitting line drives and I clip a few. I don't try to hit for more power. ... Just staying line drives through the middle of the field.
MiLB.com: Stolen bases are up for you as well. What led to the boom there?
Thompson: Just going through the years and talking to guys here and there and picking their brains. [Stealing] is what I want to do when I get on the basepaths. And just getting on the basepaths and just learning. All the reps you can. And then it just comes natural to you. But really, just getting out there and going, man. Not thinking, just getting out there and going. Knowing how far I need to get, knowing the situation I need to steal here, but at the end of the day, use my athleticism and what I've been doing all my life and just doing it.
MiLB.com: Was there anything this season that was a point of focus entering the year?
Thompson: Yeah, I always had like a little -- I love to swing. It was brought to me like everybody sees: chasing. I hear it here and there. But I don't really think on it too hard. I got to stay to my approach. But I have been trying to zone in on what I want to hit at the plate as much as I can. That's the main thing I've been working on. And that starts in BP. That starts before the game. It just starts in my [soft toss], starts at the machine [for BP]. Just starting there on squaring something up over the heart of the plate.
MiLB.com: Some of your injuries come from playing the game hard. We saw one earlier this year when the ball hit your eye. What was that like?
Thompson: Man, I was running up against the wall, it was a high fly ball, and I knew it maybe would have scraped the high wall on the left field foul line, and I was running up to it, it was foul but the wind was pushing it back quickly. So, I went to jump by the wall. And, man, I just missed it. And it just smacked me in my eye. And my eye swelled up real fast and I just went ahead and walked into the trainer's room. I had stitches and everything.
MiLB.com: You've gotten to play with a lot of guys who have been contributing to the big club this year. And you're in an organization that relies on a lot of younger guys like yourself. What's it like playing in that environment?
Thompson: It just feel good. Being able to play with those guys and everybody who's been there and got reps at it, it's a blessing to even be around these guys. I know you said the young guys, but Matt Carpenter, he was here a little bit. So, everything has been good. It's just been fun to be out here. And getting these reps and adjusting to the older guys and on what I need to do at this level to be able to get up there one day and play with the big guys and have fun doing it.
MiLB.com: Did Carpenter give you any advice on how to hit a homer every, like, six at-bats the way he's doing with the Yankees?
Thompson: Just his presence. That's it. I see he's doing this thing over there, that's pretty cool.
MiLB.com: I do have to ask about your high school football days. I'm sure it was an easy decision to pursue baseball, but what do you miss most about doing something you were so good at?
Thompson: Man, I love to compete. I love to plan. I love to compete day in and day out on the field. I miss football, but the decision was made for me in that situation. So there wasn't any second guessing for me. But I miss football, and I miss being out there and slinging to routes a little bit.
MiLB.com: What do you want to see from yourself in the second half?
Thompson: Just keep doing it, man. And playing hard. Keep going, playing hard, learning each and every day as I get to the field. That's the main thing. That's what you got to do in this game. Adjust every day. And just play hard. And win for my team and my teammates.