Arozarena keeps slugging for Tampa Bay
No. 19 Rays prospect mashes fifth dinger of postseason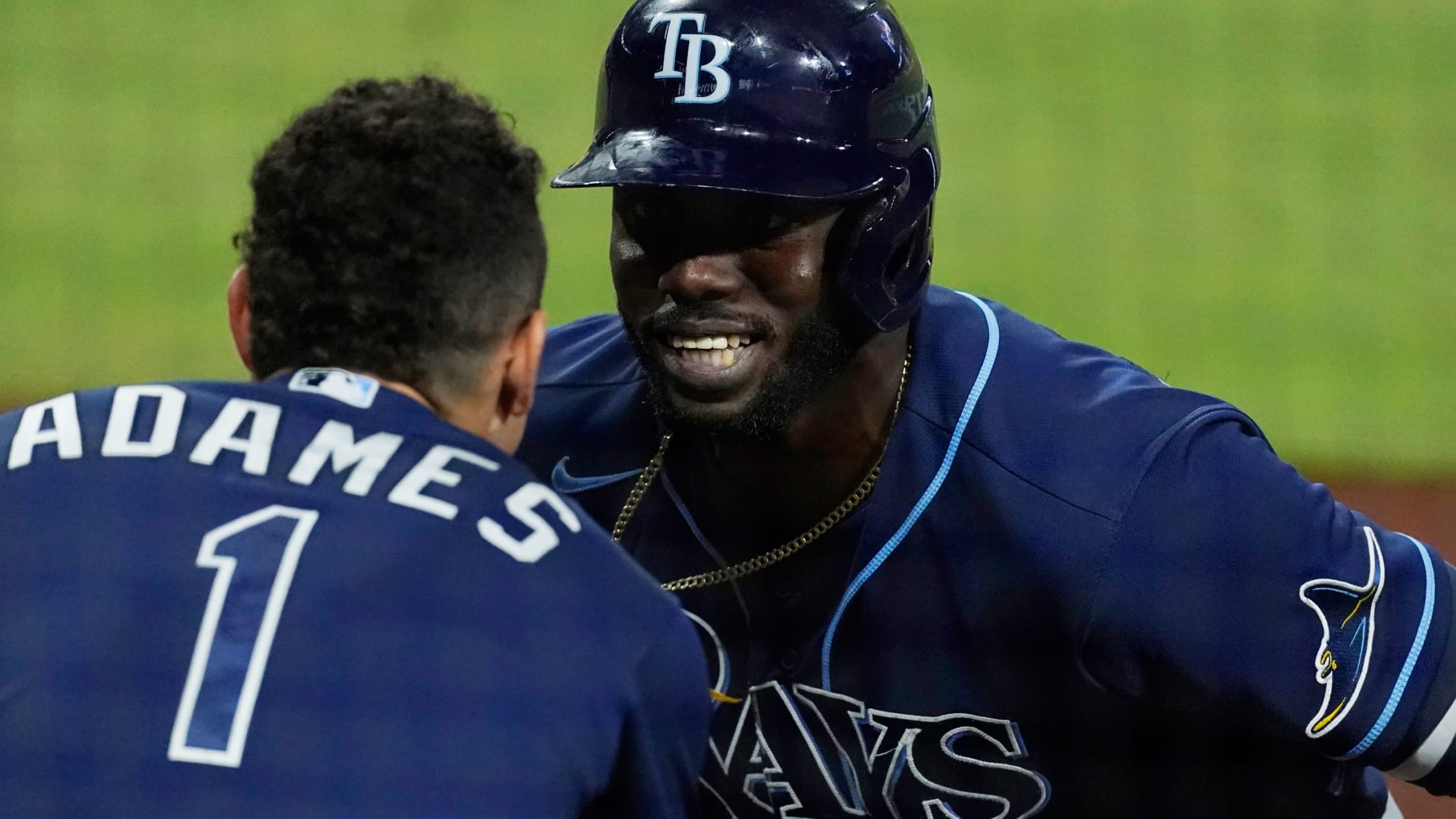 Randy Arozarena trails former Tampa Bay player Evan Longoria for most homers by a rookie in the playoffs by one. (Ashley Landis/AP)
There's being in the middle of a hot streak, and then there's what Randy Arozarena has been doing this postseason. Tampa Bay's No. 19 prospect blasted a two-run homer in the fourth inning, but the Rays fell, 4-3, to the Astros in Game 4 of the American League Championship Series
There's being in the middle of a hot streak, and then there's what Randy Arozarena has been doing this postseason.
Tampa Bay's No. 19 prospect blasted a two-run homer in the fourth inning, but the Rays fell, 4-3, to the Astros in Game 4 of the American League Championship Series at Petco Park. With his fifth playoff roundtripper, Arozarena stands one off the pace set by former Ray Evan Longoria for most long balls by a rookie in the postseason.
Arozarena, who hit safely in the first three games of the series, broke through in the hit column Wednesday with another huge swing in the fourth inning.
Who else?!#Rays No. 19 prospect Randy Arozarena ties the game up with a two-run shot for his 5⃣th homer of the postseason.pic.twitter.com/I4xF5w6xWW

— Minor League Baseball (@MiLB) October 15, 2020
After Austin Meadows singled with one out, the 25-year-old slugger stepped in against Zack Greinke and worked the count to 3-1. The right-hander threw a slow curveball and Arozarena cranked it over the left-field wall for a two-run shot. According to Baseball Savant, the dinger traveled with a 101.8-mph exit velocity, which stood as the hardest hit ball for the Rays in Game 4.
"Throughout the series, they've been starting to throw me a lot more off-speed pitches. On that 3-1 pitch, I'd already seen a couple of off-speed pitches, so I was able to make an adjustment," he told reporters after the game. "We knew going into this that we were going to face a pretty solid team, and they're probably out there thinking the same thing."
Arozarena, Kyle Schwarber of the Cubs and Longoria are the only rookies to have racked up five homers in a playoff run.
For the series, the Cuba native has gone 7-for-16 with two homers, a double and three RBIs. Arozarena, who had a 1.055 OPS to close out the final month of the regular season, has amassed nine extra base hits and a 1.346 OPS over the first three rounds of the 2020 playoffs. He's recorded six multi-hit games, four of which were three-hit efforts.
Game 5 of the series is scheduled for Thursday at 5:07 p.m. ET.
In other action:
Dodgers 15, Braves 3
In a game to forget for Atlanta, its best prospect showed a glimpse into the future. Top Braves prospect Cristian Pache led off the third inning with his first career homer, a 388-foot shot off Julio Urías in Game 3 of the National League Division Series. In the process, the outfielder became the third Braves player after Andruw Jones and Brian McCann to belt a postseason homer before his 22nd birthday. Box score
Andrew Battifarano is a contributor to MiLB.com. Follow him on Twitter, @AndrewAtBatt.