Ready and waiting: Brendan Rodgers
Top Rockies prospect walks long road back from shoulder injury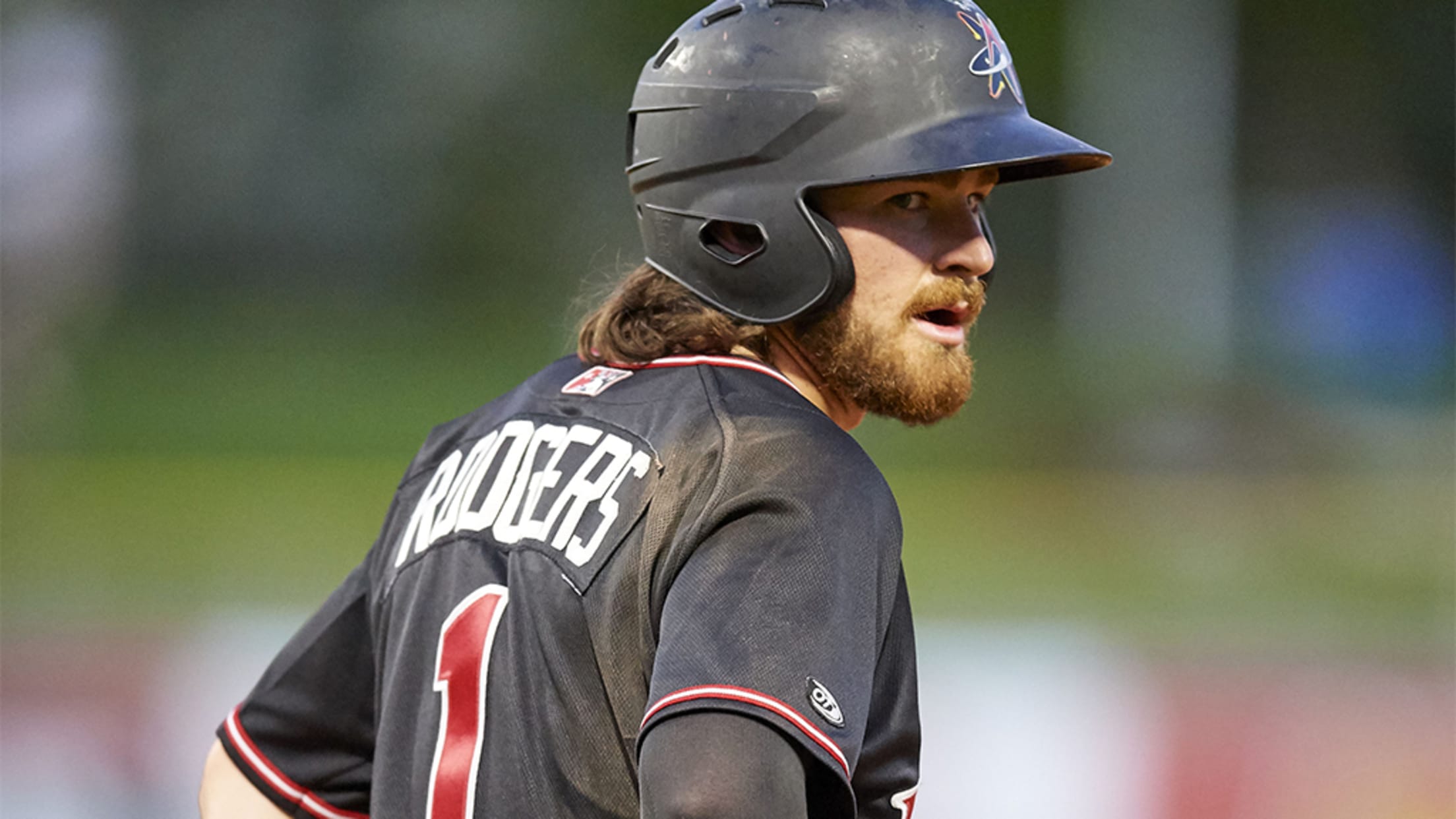 Brendan Rodgers had season-ending surgery on a torn labrum last July 16. (Stephen Smith/Four Seam Images)
Players at all levels of the Minor Leagues missed significant playing time in 2019 due to injury only to have their return interrupted by the global pandemic. Each week, MiLB.com checks in on an elite prospect's road back from injury. First up is Colorado Rockies infielder Brendan Rodgers. A little
Players at all levels of the Minor Leagues missed significant playing time in 2019 due to injury only to have their return interrupted by the global pandemic. Each week, MiLB.com checks in on an elite prospect's road back from injury. First up is Colorado Rockies infielder Brendan Rodgers.
A little more than a month after his Major League debut, Brendan Rodgers was again experiencing something new.
"It started that my fingers were bothering me, tingling a little bit," the Rockies top prospect said, thinking back to the feeling in his arm after a throw from shortstop at Dodgers Stadium on last June. "It just felt like a different pain that I'm not used to."
That tingling was first diagnosed as a right shoulder impingement. A few weeks later on July 16, Rodgers had season-ending surgery to repair a torn labrum.
"Feeling pain today so I can feel strength tomorrow. Ready to turn this into my greatest comeback yet. See you in 2020," Rodgers posted to his private Instagram account the day of the surgery.
The No. 29 overall prospect was set to make good on his promise, but the world had other plans. Instead of opening a series against Salt Lake with Triple-A Albuquerque or closing a set against the D-backs at Chase Field on Wednesday, Rodgers is home in Orlando, Florida.
He's progressed now beyond the four Spring Training appearances he got before baseball was put on hold in March. But since the tremendous amount of work done in rehab can't be displayed in games, those seven Cactus League at-bats are all he has to show for the past 11 months.
Rodgers said he's been lucky enough to have people around him with whom to train and facilities – he's been working out, using the cages and doing field work at nearby Orangewood Christian High School, alma mater of his former teammate Forrest Wall, (who happened to be traded to the Blue Jays for closer Seunghwan Oh, who happened to be shut down for the season the day of Rodgers' surgery) – that he can use during the league's hiatus.
"There's definitely room to improve, obviously, in every aspect of the game," he said. "All the work that has been put into the offseason that I learned from this season; I'm just trying to put all the pieces together like I'm sure a lot of people are too. Just try to be as ready as I can whenever we get things going. So, I'm patiently waiting."
The No. 3 overall pick in 2015 said that he's out of rehab mode. His body returned to normal in the past two months while his work has been focused on regaining strength and weight that he lost in Spring Training. Although his shoulder is no longer affecting throws or swings, it has added extra work to his daily routine.
"I like to mess around with the guys now and say I'm on a pitcher's program," Rodgers said. "On top of getting a lift in and on-the-field work, I have other shoulder stuff -- shoulder warmup and recovery -- that I have to do for myself every day. I know it needs to be done, so that's kind of like the new mindset."
He's in a position now to retain the Minor Leaguer's ultimate prize. Rodgers overcame a difficult start to earn his place in the Majors last season. Just 14 games into 2019 with the Isotopes, his average dipped to its lowest mark at .245. From that point until his debut with the Rockies on May 17, Rodgers batted .427 with a 1.283 OPS, 23 runs, 16 extra-base hits -- including seven homers -- and 17 RBIs over a 21-game game stretch.
The 6-foot, 180-pounder learned the difficult lesson last season that, "the hardest part isn't getting [to the Majors, it's] staying there." Rodgers batted .224 with 27 strikeouts in 76 at-bats with the Rockies, driving in seven runs and scoring eight times. He was sent back down to Albuquerque for two games but returned to the big club for four games before suffering the injury.
"Every day is learning for me. I come in every day, and I'm trying to learn something new. Do something that will help me improve to be a better player and may help our team win," Rodgers said, noting that he was fortunate to pick the brains of a number of veterans in the Rockies' lineup, like Trevor Story, Nolan Arenado, David Dahl and Ryan McMahon. "That's the overall goal, is just no matter what team it is, I'm playing my butt off every night. Being the same me."
He told the club that he was in pain after the Dodgers series and felt the effects of the injury on his bat speed before going under the knife. He saw a drastic improvement from that point until the start of Spring Training, but it didn't stop him from feeling a little anxious when camp started.
His body felt right but he knew not to push it too far after reconstructive surgery. The now-23-year-old had three hits this spring, two of which came in his first game back against the White Sox on Mar. 5. It was his first time seeing live pitching for a while, and he notably put three balls in play to the opposite field.
"It felt good to start getting the feet wet," he said. "But I kept telling myself to not put more pressure on myself, and kind of just play like it's the backyard wiffle ball. Just relax."
Besides simply getting reps and making sure he was staying healthy, Rodgers biggest goal this spring involved his development as a second baseman. Rodgers has played nearly three times as many games at shortstop than second base in his Minor League career. But with All-Stars Story and Arenado occupying the left side of the Rockies' infield – Rodgers has also spent nearly 200 innings at the hot corner in the past two seasons – Rodgers was used more at second than short during his time in Colorado.
Even with years of experience in the Minors, Rodgers still had to adjust to the different arm slots, footwork and angles at each position. It's a challenge made tougher since there are no games to play.
"Second base was definitely a new thing to me," Rodgers said. "My goal was just to get my feet and my hands better at each position. Pretty much every day, I try to get grounders at short, second and even a little bit of third base too here and there. I'm just trying to learn."
It seems to be coming together well for Rodgers, who had a decent chance to break camp with the big-league club, if not join soon after Opening Day. Should play resume in 2020, Rodgers may stand to benefit from a few proposed rules changes. Expanded rosters would likely secure his place with the Major League team, and a universal designated hitter could get him more playing time in the Rockies infield logjam.
"I think I'm more than ready. I've done a lot just to prepare," he said. "I'm just trying to show out and be myself, like the player I've been my whole life and just relax and play with that confidence and that swag that I know I have."
Gerard Gilberto is a contributor to MiLB.com. Follow him on Twitter @GerardGilberto._