Reynolds Leads Charge as Soddies Beat Hooks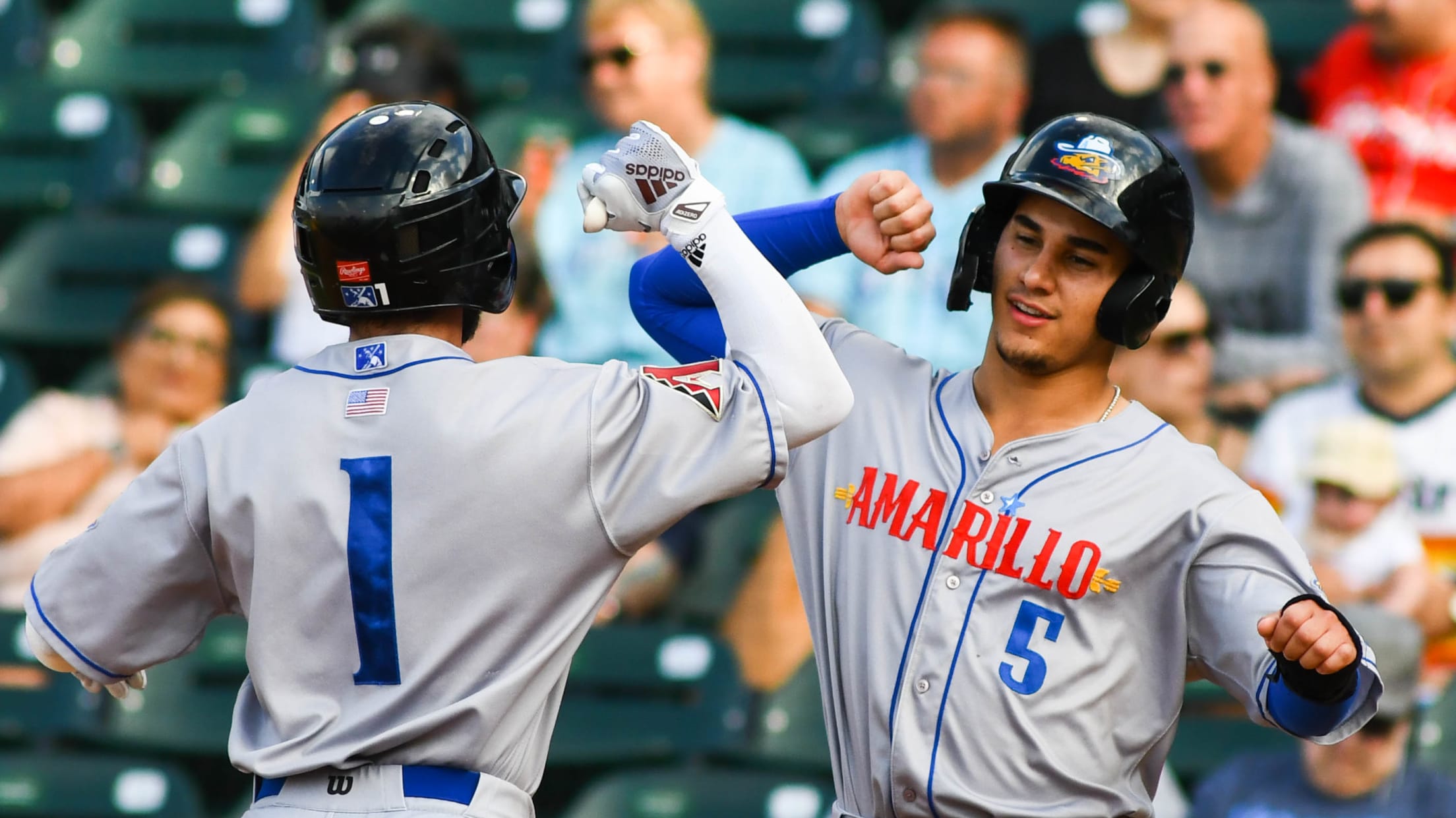 Alek Thomas and Mikey Reynolds celebrate at home plate after Reynolds' belted a two-run home run in the first inning on Thursday's game at Corpus Christi. (Charlie Blalock)
Corpus Christi, Texas — The Sod Poodles scored a season-high 11 runs on Thursday night at Whataburger Field, earning their first win of a six-game set against the Corpus Christi Hooks by a final score of 11-8. The Soddies (11-10) jumped out to an 8-0 lead in the first two
Corpus Christi, Texas — The Sod Poodles scored a season-high 11 runs on Thursday night at Whataburger Field, earning their first win of a six-game set against the Corpus Christi Hooks by a final score of 11-8.
The Soddies (11-10) jumped out to an 8-0 lead in the first two innings against Corpus Christi starter Brett Daniels (0-1).
In the opening frame, Alek Thomas started the game with a single. Mikey Reynolds followed with a two-run homer down the left field line, immediately giving Amarillo a 2-0 advantage. Reynolds' second blast of the season was his first of three hits. He came just a double short of the cycle.
Here's how Mikey Reynolds started us off tonight! 🚀🚀

Mid 3: Amarillo 8, Corpus Christi 0 pic.twitter.com/SQnrBBaKZp

— Amarillo Sod Poodles (@sodpoodles) May 28, 2021
In the second, Amarillo rallied for six more runs. With the bases loaded, Thomas stepped in and hit an RBI single. Reynolds then smoked a ground ball that rolled down the left field line, clearing the bases and resulting in a three-run triple. Amarillo had a 6-0 lead and Reynolds had collected five RBI in the game's opening two frames.
Stone Garrett capped the rally, belting a deep home run to left field off Hooks reliever Hunter Peck. Garrett's second round tripper of the season gave the Soddies an 8-0 lead.
Meanwhile, right-hander Luis Frias tossed three scoreless innings in his start. In the fourth, Frias surrendered an RBI single to Corey Julks and a two-run double to Scott Manea. The Hooks (8-12) inched closer, making the score 8-3.
Amarillo responded with a run in each of the next three innings.
In the fifth, Jarett Rindfleisch came racing to home plate on a wild pitch. Rindfleisch then struck an RBI single in the sixth, while the Soddies manufactured another tally in the seventh to extend their lead to 11-3.
After righty Chester Pimentel (1-0) tossed two scoreless innings out of Amarillo's bullpen, Justin Lewis came on in the seventh as Corpus Christi put together a rally.
The Hooks received back-to-back homers from Marty Costes and J.J. Matijevic to begin the inning. Grae Kessinger later struck a two-out RBI single to cut the lead to 11-6. Julks, who put together a four-hit evening, belted a two-run shot to left centerfield as the Hooks made it a three-run deficit.
Following the surge, Amarillo's bullpen settled in. Justin Vernia replaced Lewis, securing the final out of the seventh.
In the eighth, lefty Matt Gage entered and spun a scoreless eighth. Gage then retired the side in order for a scoreless ninth, earning his first save of 2021 in the process.
With the win, Amarillo snapped a mini two-game skid after dropping the first two games of the series in Corpus Christi.
Matt Reynolds collected his first three-hit contest as a Sod Poodle, while Thomas and Dominic Miroglio turned in two-hit nights. Miroglio hit a pair of doubles.
The Sod Poodles and Hooks continue their series on Friday night at Whataburger Field. First pitch is at 7:05 p.m. Amarillo sends lefty Tommy Henry to the hill, while the Hooks will use righty Cesar Rosado.
The game can be heard on Amarillo's NewsTalk 940 AM and throughout the Sod Poodles Radio Network. Pregame coverage with Sam Levitt begins at 6:45 p.m.
NOTES:
Reynolds Leads the Way: Sod Poodles infielder Mikey Reynolds collected three hits on Thursday night, coming just a double short of the cycle. In his brief stint with Amarillo, the recently signed 30-year-old is 9-for-21 with two homers and 11 RBI.
Reynolds' three-hit game was his first such performance in affiliated Minor League Baseball since July 28, 2013 when playing for the Danville Braves at rookie level. Reynolds was drafted by Atlanta in the 5th round of the 2013 MLB Draft out of Texas A&M.
Hits Kept on Comin': With Amarillo's 11-run outburst on Thursday night, the team set a new season-high in runs scored. The Soddies also collected 12 hits, which tied their season-high.
The Amazin' Alek: Soddies outfielder Alek Thomas is currently riding a five-game hit streak. He is 8-for-20 with two doubles, one triple, three RBI, and six runs scored during the span.
Thomas raised his season batting average to .343, which ranks 4th among Double-A Central hitters. Thomas also owns the second-best OPS in the league at 1.034.