Scouting report: Rockies' Zac Veen
First-round pick in 2020 could move quickly in Colorado system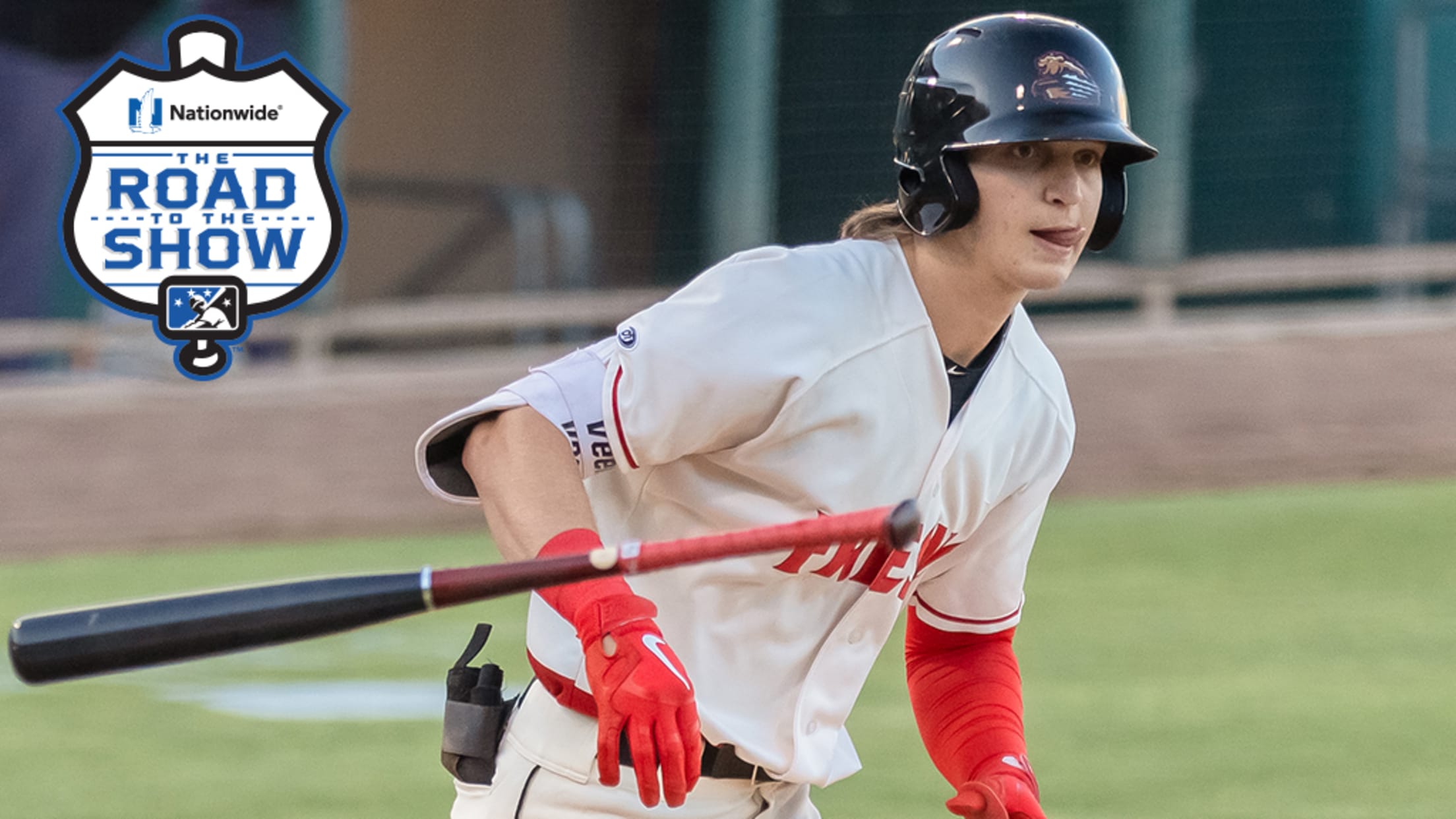 Outfielder Zac Veen was selected ninth overall in last year's Draft out of Spruce Creek High School in Port Orange, Florida. (Aaron Provencio/Fresno Grizzlies)
MiLB.com's Scouting Report series spotlights players who are just starting their professional careers, focusing on what the experts are projecting for these young phenoms. Here's a look at top-ranked Rockies prospect Zac Veen. For more player journeys on The Road to The Show, click here. The Colorado Rockies needed to
MiLB.com's Scouting Report series spotlights players who are just starting their professional careers, focusing on what the experts are projecting for these young phenoms. Here's a look at top-ranked Rockies prospect Zac Veen. For more player journeys on The Road to The Show, click here.
The Colorado Rockies needed to make a splash.
With a depleted farm system and on the way to their second consecutive losing season after back-to-back playoff appearances in 2017-18, the franchise was interestingly positioned at the 2020 MLB Draft, picking ninth overall. As names came off the board, their splash arrived.
The Rockies snagged MLB.com's highest-rated high school player in last year's class from that No. 9 spot. Outfielder Zac Veen led the prep group in a college-heavy Draft thanks to a loud bat that graded as a 60 with a 55 power tool on MLB Pipeline's 20-to-80 scouting scale.
"We think he has a chance to be a very, very good player," said Bill Schmidt, then Colorado's vice president of scouting and now the franchise's interim general manager. "We were fortunate that he was there when our turn came to pick. He's a very talented individual that we think has tremendous upside and can be an impact player for us at the Major League level some day."
Zac Veen, the No. 9 overall pick in the 2020 Draft, headlines the new #Rockies Top 30 Prospects list: https://t.co/Kv2DVZUb32 pic.twitter.com/NKXLIo4YCk

— MLB Pipeline (@MLBPipeline) March 12, 2021
Veen has all the potential tools of a future big league star. His smooth left-handed swing and extremely projectable 6-foot-4, 190-pound frame are prototypical features for a slugger who could put Coors Field's right-field porch to use.
Prior to the Draft, Veen received comparisons to the National League's last two Most Valuable Players: Cody Bellinger of the Dodgers and Christian Yelich of the Brewers. Whether his career follows a similar track or not, the young slugger holds substantial promise.
"There's some natural balance and there's rhythm," Schmidt said last year. "He seems to be on time and it's a loose, fluid swing. He's got the ability, has shown the ability to impact the baseball."
Now the Rockies' top prospect, Veen is still growing and developing, telling MLB.com after the Draft that he went from 160 to 205 pounds over two years in high school. His swing is one "that scouts can dream on," according to MLB Pipeline's pre-Draft evaluation last year.
"I've never really tried to hit for power," Veen told MLB.com. "I just try to hit the barrel, and I think my power's going to continue to get there the more I grow into my body."
Defensively, Veen could see action across the outfield. As a prep star in Florida, he played center field for his loaded Spruce Creek High School program, but that doesn't mean he'll stick there as a pro.
"We play them all over in the Minor Leagues at all three (outfield) positions," Schmidt told the media after the Draft. "As the body matures, we'll see where it goes. He's got the arm strength to play right. We'll see what the future holds as he develops into a man."
Veen, who worked out with fellow Floridian and 2015 Rockies third overall pick Brendan Rodgers before the Draft, signed with the Rockies and made his organizational debut during instructional league play in the fall of 2020. After the coronavirus pandemic wiped out the Minor League season last year, the now-19-year-old got a strong assignment to kick off 2021, heading to Low-A Fresno.
Still in search of his first professional homer after 11 games, Veen has put his speed on display with 10 stolen bases, including a swipe of home over the weekend.
If he can put it all together, Veen will be calling a hitters' haven home for the start of his big league career, something that wasn't lost on the young slugger after he was selected by the Rockies last year.
"I know they do a good job developing hitters, and the ball flies there," he said. "Hopefully I'll be there in a couple years and win a World Series."
Here's what the experts at MLB Pipeline have to say about Veen:
Scouting grades (20-80 scale)
HIT: 60
POWER: 55
RUN: 50
ARM: 55
FIELD: 55
OVERALL: 55
"A product of Spruce Creek High School in the Daytona Beach area in Florida, a school that previously had just one draftee, Veen came out of the summer showcase circuit as a solid prospect for the Class of 2020, an outfielder who ranked No. 22 on MLB Pipeline's Top 100 Draft prospects the December before the Draft. The 2020 season may have been cut short, but Veen made the most of it, coming out on fire and jumping all the way up to No. 7 by the time the Draft rolled around. He ended up being the second prep bat taken, going No. 9 overall and signing with the Rockies before making his unofficial pro debut in instructional league play.
"Long and lean, Veen has already shown off plus hitting ability and plus raw power, with much more to come as he fills out his projectable 6-foot-4 frame. The left-handed hitter has a pretty swing with plus bat speed and can create leverage and loft when he stands more upright, drawing some Cody Bellinger comps along the way.
"A good athlete who is a solid average runner, Veen has played center field in the past and the Rockies certainly could let him play up the middle until he shows he can't. He has the arm, and the future offensive profile, to look very good in right field should he slow down enough to necessitate the move."
Tyler Maun is a reporter for MiLB.com and co-host of "The Show Before The Show" podcast. You can find him on Twitter @tylermaun.