Simoneit slam highlights doubleheader split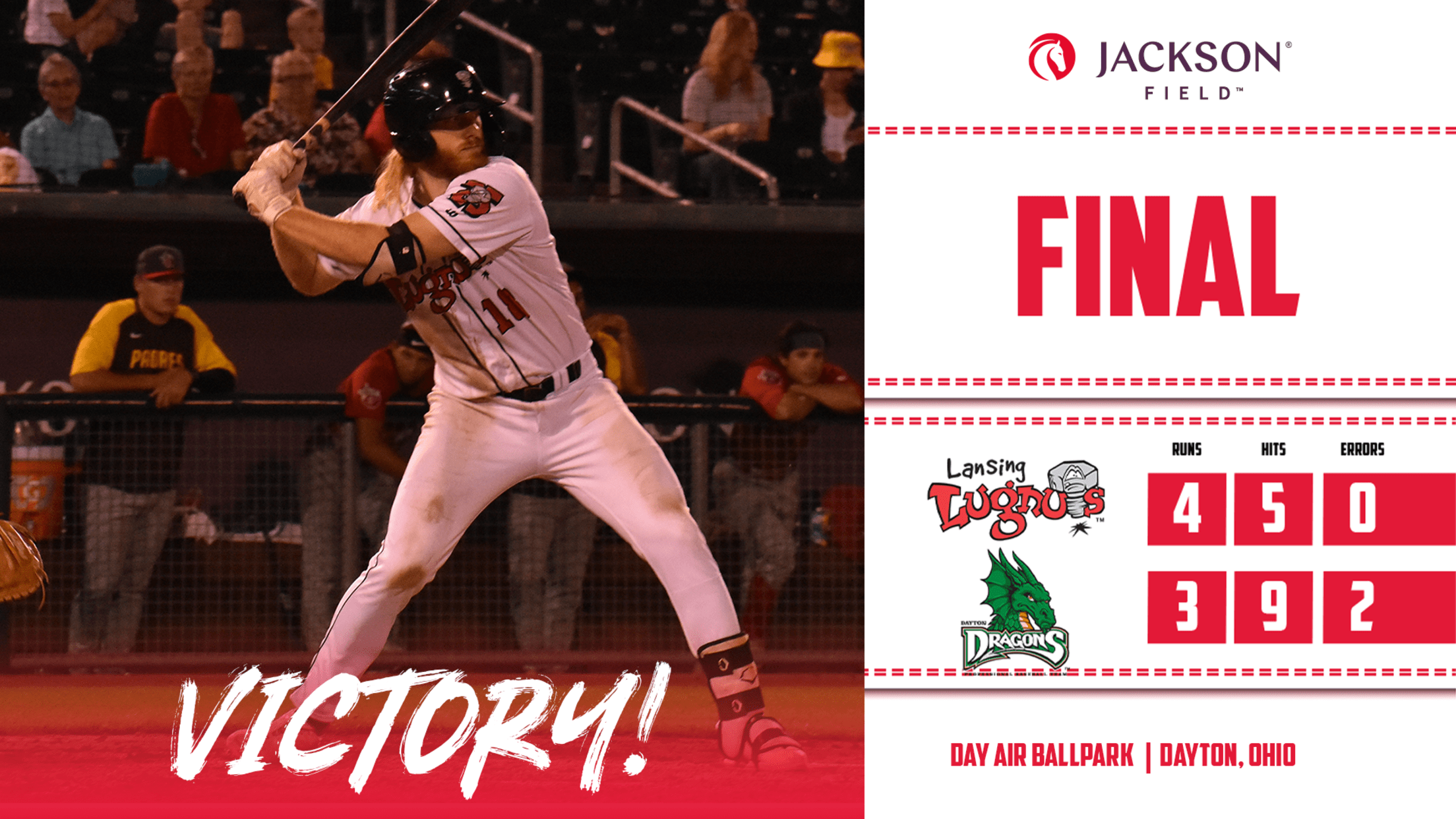 DAYTON, OHIO – William Simoneit belted a two-strike, two-out, seventh-inning grand slam to lift the Lansing Lugnuts (49-54) to a 4-3 Game 1 victory before the Dayton Dragons (53-50) struck back with a 5-3 win in Game 2 in a Wednesday night doubleheader split at Day Air Ballpark. One week
DAYTON, OHIO – William Simoneit belted a two-strike, two-out, seventh-inning grand slam to lift the Lansing Lugnuts (49-54) to a 4-3 Game 1 victory before the Dayton Dragons (53-50) struck back with a 5-3 win in Game 2 in a Wednesday night doubleheader split at Day Air Ballpark.
One week prior, the Lugnuts had split a doubleheader at home against West Michigan, with Simoneit delivering a seventh-inning walkoff home run to win Game 1. Consider this an encore.
Dayton rode a 3-0 lead all the way to the end behind a three-run second inning and the shutout pitching of debuting right-hander James Proctor (four innings) and reliever Stevie Branche (two innings). In the seventh and final inning, Dragons closer Francis Peguero gave up a single to Lester Madden, Jr., struck out two straight batters, and reached two-strike counts on both Drew Swift and Austin Beck but walked both to load the bases.
That brought up Simoneit, who took a called Strike 1 and a called Strike 2, akin to the Mighty Casey. And then, entirely unlike Casey, he made tremendous contact on the third pitch, drilling it to the lawn over the right-center field wall for a shocking 4-3 lead.
Charles Hall issued a leadoff walk in the bottom of the seventh but rebounded to strike out top Dayton prospects Michael Siani, Matt McLain and Juan Martínez to end the game and notch his tenth save.
In the nightcap, the Nuts appeared poised to break the Dragons' hearts again. Trailing 5-3 entering the seventh inning, Yerdel Vargas led off with an infield single against Matt Gill. After a diving catch by center fielder Allan Cerda robbed Patrick McColl of a base hit, Shane Selman doubled to the left-field corner to put the tying runs at second and third. Drew Swift worked the count to 3-and-2 before Gill departed due to injury precaution, with new pitcher Jake Gilbert – fresh from a stint in the Arizona Complex League – completing the walk to load the bases, putting the potential go-ahead run aboard for Austin Beck. Ah, but a second straight thrilling rally was not in the cards; Beck grounded into a game-ending 6-4-3 double play.
In the loss, McColl crushed his sixth home run of the season and Jared McDonald blasted his fourth home run of the year off the batter's eye in center field.
The Lugnuts and Dragons reconvene for the third game of their six-game series on Thursday night at 7:05 p.m. Lansing right-hander Kyle Virbitsky (4.50 ERA) gets the start against Dayton right-hander Christian Roa (7.02).
The series with Dayton will conclude Sunday, followed by a six-game series at Fort Wayne. Lansing returns home to end the season from September 14-19 against West Michigan. To purchase tickets or for more information, visit lansinglugnuts.com or call (517) 485-4500.
# # #