Simoneit walks off Game 1, closes Game 2 in twinbill split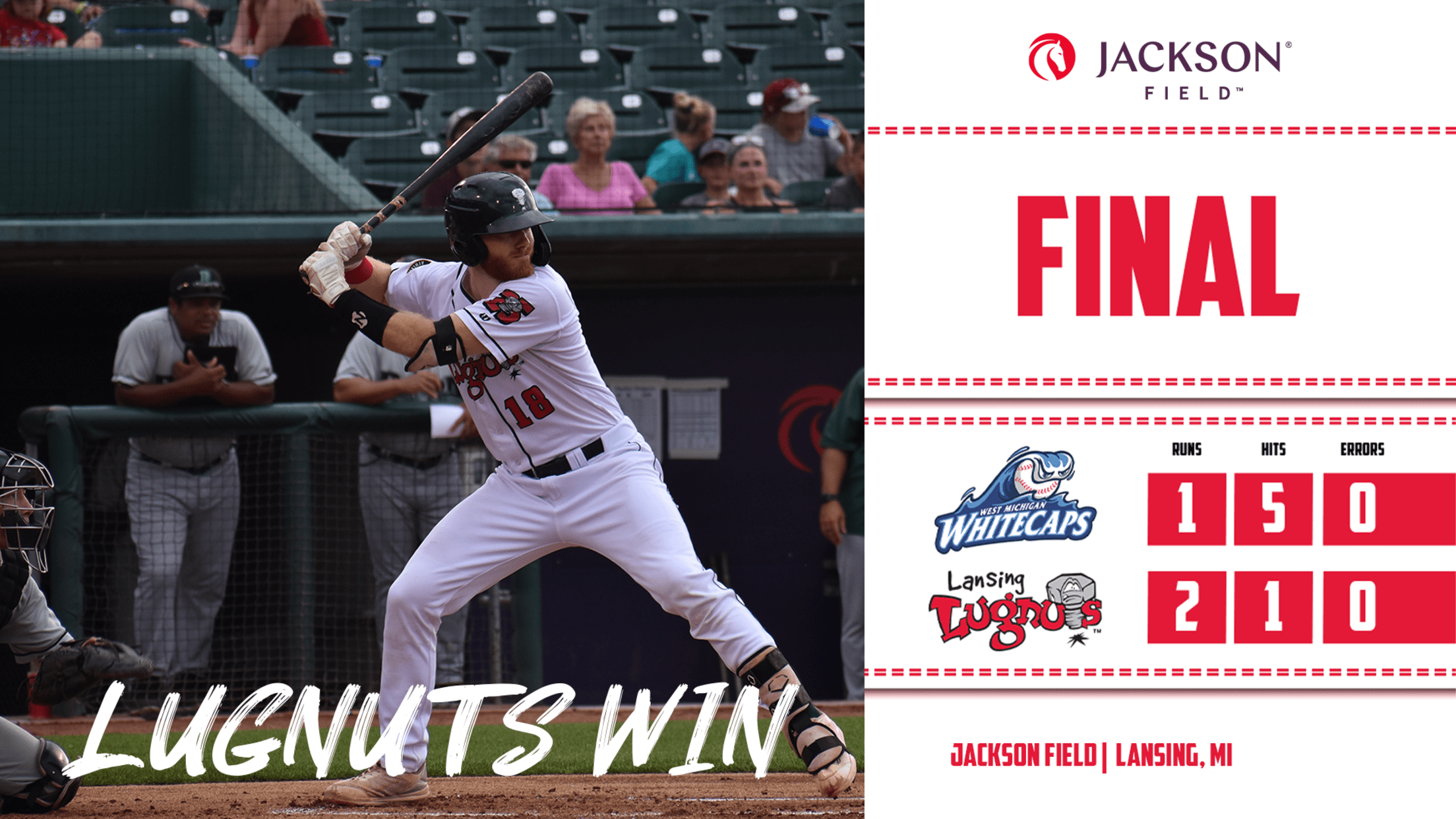 LANSING, Mich. – William Simoneit broke up a no-hitter with a walk-off home run, leading the Lansing Lugnuts (46-52) to a 2-1 Game 1 victory over the West Michigan (46-52), and then pitched the final inning of a 9-2 Game 2 loss, as the Nuts and Whitecaps split a Wednesday
LANSING, Mich. – William Simoneit broke up a no-hitter with a walk-off home run, leading the Lansing Lugnuts (46-52) to a 2-1 Game 1 victory over the West Michigan (46-52), and then pitched the final inning of a 9-2 Game 2 loss, as the Nuts and Whitecaps split a Wednesday night doubleheader at Jackson® Field™.
In the opener, West Michigan starter Austin Bergner and reliever Chris Mauloni held the Lugnuts hitless for the first six innings, with Lansing's only base-runners coming via two walks and an HBP in the third inning.
A Jonny Butler sacrifice fly in the third inning gave the Lugnuts a 1-0 lead, but the Whitecaps knotted the score on a Cooper Johnson sac fly in the fifth.
The combination of Colin Peluse (three innings), Leudeny Pineda (two innings), Charles Hall (1 2/3 innings) and Brock Whittlesey (1/3 of an inning) held the Whitecaps to just that one run, with Whittlesey relieving Hall and needing only one pitch to strand runners at first and third, ending a jam in the top of the seventh.
Simoneit then led off the bottom of the seventh against Mauloni and drilled a 2-2 pitch over the wall in right-center for his seventh home run of the year. It was the Lugnuts' first walk-off home run since D.J. Davis played the hero in the bottom of the tenth inning vs. Clinton on July 20, 2014.
In the nightcap, Gage Workman (3-for-3, two RBI doubles, solo home run) and Jimmy Kerr (two-run homer) powered the Whitecaps to victory while the Lugnuts again managed only two runs, this time on two hits – a Shane Selman single and a Selman RBI double.
Lansing starter Shohei Tomioka allowed five runs on four hits and two walks in 4 1/3 innings, striking out two, knocked out amid a five-run fifth inning. Charlie Cerny gave up three runs in 1 2/3 innings, bridging to Simoneit, who effectively used his eephus to hold the Whitecaps to a run on two hits in the seventh.
The third game of the six-game series is a Labatt Blue Thirsty Thursday beginning at 7:05 p.m., with $2 domestic drafts and $4 craft drafts. Lansing will start left-hander David Leal (6.57 ERA) against West Michigan southpaw Jack O'Loughlin (54.00 ERA). To purchase tickets or for more information, visit lansinglugnuts.com or call (517) 485-4500.
# # #