Sod Poodles Sink Hooks By 13
Largest Winning Margin This Season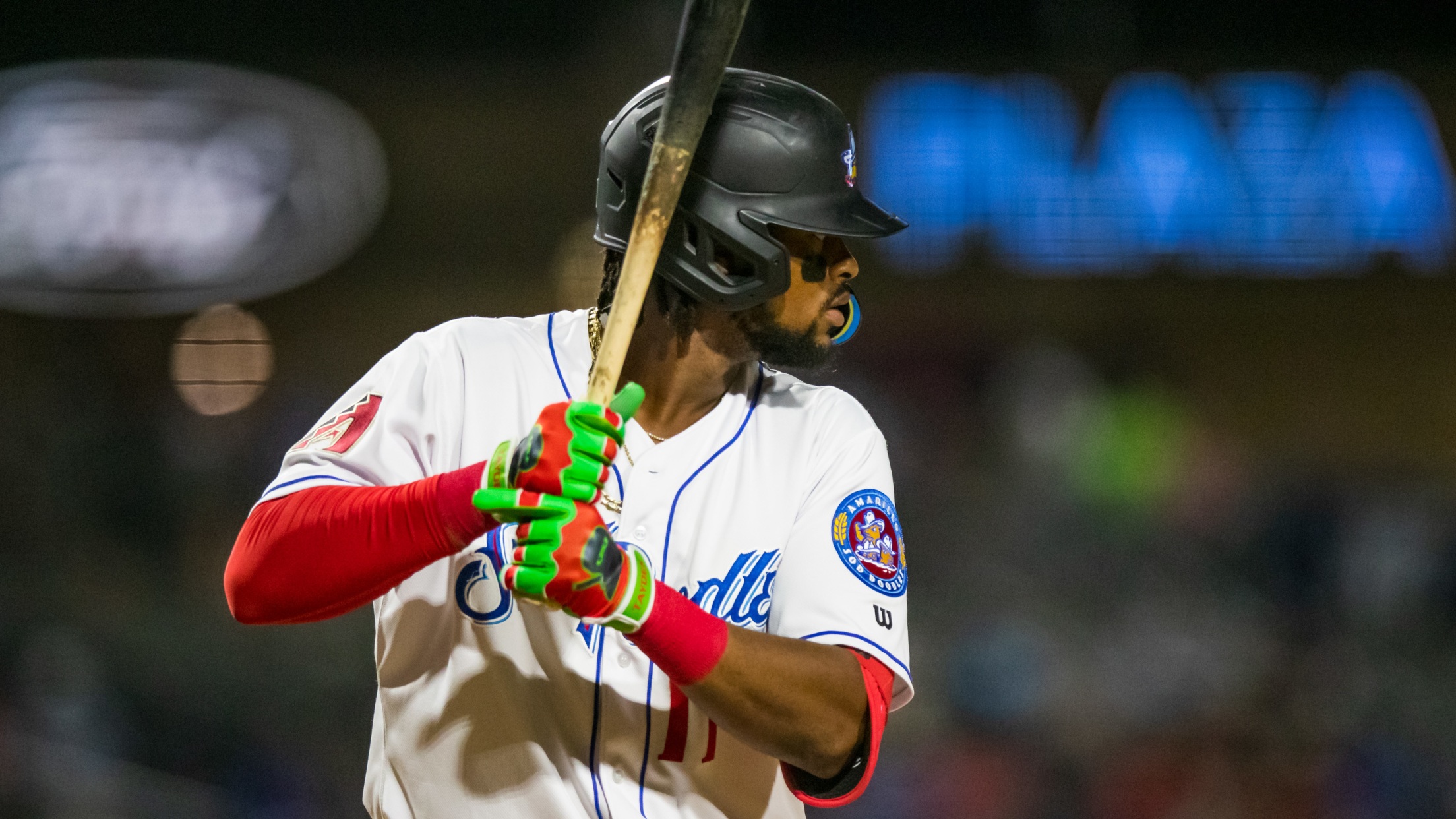 (John Moore)
Amarillo, Texas – The Amarillo Sod Poodles collected 15 runs on 17 hits in a 15-2 victory over the Corpus Christi Hooks on Thursday night, their largest margin of victory in 2022. Amarillo scored in six different innings and recorded their second-highest hit total of the season. After a 59-minute
Amarillo, Texas – The Amarillo Sod Poodles collected 15 runs on 17 hits in a 15-2 victory over the Corpus Christi Hooks on Thursday night, their largest margin of victory in 2022. Amarillo scored in six different innings and recorded their second-highest hit total of the season.
After a 59-minute rain delay before the first pitch, starter Slade Cecconi struck out two in the 1stinning. The Amarillo offense got started fast and furious, giving him a lead with two runs in the bottom of the frame.
Jorge Barrosa led off the inning with a walk and he was replaced on first base by Dominic Canzone after a fielder's choice. Canzone stole second base and was scored on a two-out, two-base error off the bat of Tristin English. Juan Centeno scored him with an RBI single to make it 2-0, Amarillo.
Cecconi's start was cut short due to the delay, and he was relieved by Kenny Hernandez after 2.1 innings of 1-hit ball. Hernandez inherited a runner on first in the 3rd inning and ended the frame with a double-play.
Amarillo tripled their lead with four runs in the bottom of the 3rd. Leandro Cedeño doubled with one out and Centeno singled to pick up his second RBI. Roby Enriquez followed him with a bloop single, and Nick Dalesandro reached on an error to load the bases. Ti'Quan Forbes took the batter's box with two outs and the bases juiced and promptly unloaded the bases with a 3-RBI double.
The Sod Poodles continued the onslaught with two runs apiece in the 4th and 5th innings. Cedeño launched a two-run homer in the bottom of the 4th to score Barrosa, his team-leading 21st home run of the season. Forbes then crushed a 458-ft moonshot to left field in the 5th, his seventh long bomb of the year. Drew Stankiewicz followed him with a double, and an RBI single by Canzone made it 10-0, Soddies.
Thanks for the Tacos, @TiquanF ☺️

4️⃣5️⃣8️⃣ ft. ☄️ pic.twitter.com/zWYyDRWoZi

— Amarillo Sod Poodles (@sodpoodles) July 29, 2022
Hernandez was relieved by Brent Teller after an excellent line through the middle innings, finishing with 2.2 IP, 2 H, 0 R, BB, and 2 K. Teller picked up right where he left off by striking out the side in the 6th.
Forbes delivered once again in the bottom of the 6th to extend Amarillo's lead to 12-0. After English and Centeno reached on a walk and a single, Enriquez was hit by a pitch to load the bases. Forbes came through in another bases-loaded situation with two outs and drove in two runs on his second RBI double of the game. He ended the night with six RBI, which tied his career high.
What's better than one bases-clearing double?

2, of course! @TiquanF picks up RBIs 4, 5, & 6 on his 3-hit night! pic.twitter.com/dP75BkOx9i

— Amarillo Sod Poodles (@sodpoodles) July 29, 2022
Amarillo scored three more times in the 7th their fifth inning in a row with a run scored. Barrosa led off the frame once again with a single, and Canzone scored him on a two-run homer to right field. Canzone has now homered in three straight Double-A games including one on Tuesday and one back on April 21, the game before he was promoted to Triple-A.
Tristin English continued the inning with a double and Nick Dalesandro scored him with an RBI double of his own. The Sod Poodles ended up collecting seven doubles tonight, which set a new team season-high.
Corpus Christi scored their first run of the contest in the bottom of the 7th, a solo home run off of Teller. They added one more on an RBI groundout in the bottom of the 9th off of Jake Rice before he secured the win.
Every Sod Poodle recorded a hit tonight, led by three each from Canzone and Forbes. Their 17 hits tied their second-highest total this season, and they were also aided by three errors by the Hooks. Forbes collected six RBI while Canzone added three, en route to the largest victory so far this season.
Now leading the series 2-1, Amarillo will turn to LHP Blake Walston (2-3, 7.16 ERA) in tomorrow's game four. He will face Jaime Melendez (2-8, 5.10 ERA) for the Hooks.
Notes:
Offensive Leader: 1B Leandro Cedeño has been mashing the baseball all season long and continued his terrific season tonight in a 2-for-5 performance with a double, home run, two RBI, and two runs scored. He jacked a two-run homer in the top of the 4th his team-leading 21st of the year. He also extended his team-leading totals of 68 RBI and 92 hits, which rank 1st and 11th in Double-A, respectively.
"He's about to go downtown Hollywood brown" - our clubhouse manager

He called his shot for @learcedeo and for that we are grateful 🙏🏻

End 4 | AMA - 8 | CC - 0 pic.twitter.com/Fk2Mf99e89

— Amarillo Sod Poodles (@sodpoodles) July 29, 2022
New Position, Same Bat: 3B Ti'Quan Forbes made his first start of the year at second base tonight and exploded for a 3-for-5 performance with a home run, two doubles, and six RBI. He cleared the bases with a two-out, three-RBI double in the bottom of the 3rd, crushed a 458-ft homer to left field in his next at-bat, and drove in two with another bases-loaded double in the 6th. On the year, the eight-year pro is batting .247 with seven home runs and 39 RBI. He also set his RBI season-high and tied his career-high, which he set on August 7, 2016, as a member of the Hickory Crawdads (A, TEX).
Do The Can-Can-(Can): OF Dominic Canzone sent a two-run home run to the right field berm in the 7th inning, his third Double-A game in a row with a home run. He homered in his final game before being called up to Triple-A Reno on April 21 against San Antonio and clubbed one in his first game off the injured list on Tuesday. This is the fourth time a Sod Poodle has hit a homer in three consecutive games, as Leandro Cedeño did it twice and Drew Stankiewicz accomplished it once. Canzone has been superb against Double-A pitching this year, slashing .396/.473/.833 with five home runs, six doubles, and 17 RBI in 13 games.
Two Is Better Than One: The Sod Poodles hit seven doubles as a team tonight, the most in any game this season. Nearly half of their 15 hits went for two bases and they hit a double in four different innings. The Hooks hit two doubles of their own, and the nine combined two-baggers are tied for third-most in a Sod Poodles game this year.
You Get A Hit, Everybody Gets A Hit: Every Sod Poodle recorded a hit in tonight's 17-hit explosion, tied for their second-most hits in a game this season. Dominic Canzone, Juan Centeno, and Ti'Quan Forbes led the way with three hits apiece, Centeno's second game in a row with three hits. Jorge Barrosa and Leandro Cedeño both added two hits as well. Forbes led the way with six RBI, Canzone added three, and Cedeño added two, along with Centeno. This was eighth time this year that every starter recorded a hit, most recently July 23 against Midland. Amarillo is now 6-5 when notching at least 15 hits.
And with this, all 9⃣ hitters have a hit tonight! Welcome to the party @NickDeli12!

We've racked up 16 hits so far. pic.twitter.com/UjV7awSm4A

— Amarillo Sod Poodles (@sodpoodles) July 29, 2022
Righteous Relievers: LHP Kenny Hernandez and RHP Brent Teller shut down the Hooks offense after starter Slade Cecconi allowed just one hit through the first 2.1 innings. Hernandez struck out two in 2.2 scoreless frames with two hits, and Teller struck out five in three innings while allowing Corpus Christi's first run on a solo homer.
Thursday The 13th: OF Roby Enriquez extended his hitting streak to 13 games on Thursday night in a 1-for-3 performance. The native of Puerto Rico has recorded a hit in 32 of 39 games to begin his Sod Poodles career and is batting .352 (19-for-54) over his streak, the second-longest by a Sod Poodle this season. On the year, Enriquez is batting .320 with 11 doubles and 27 RBI.