Soddies Drop Series Opener to Hooks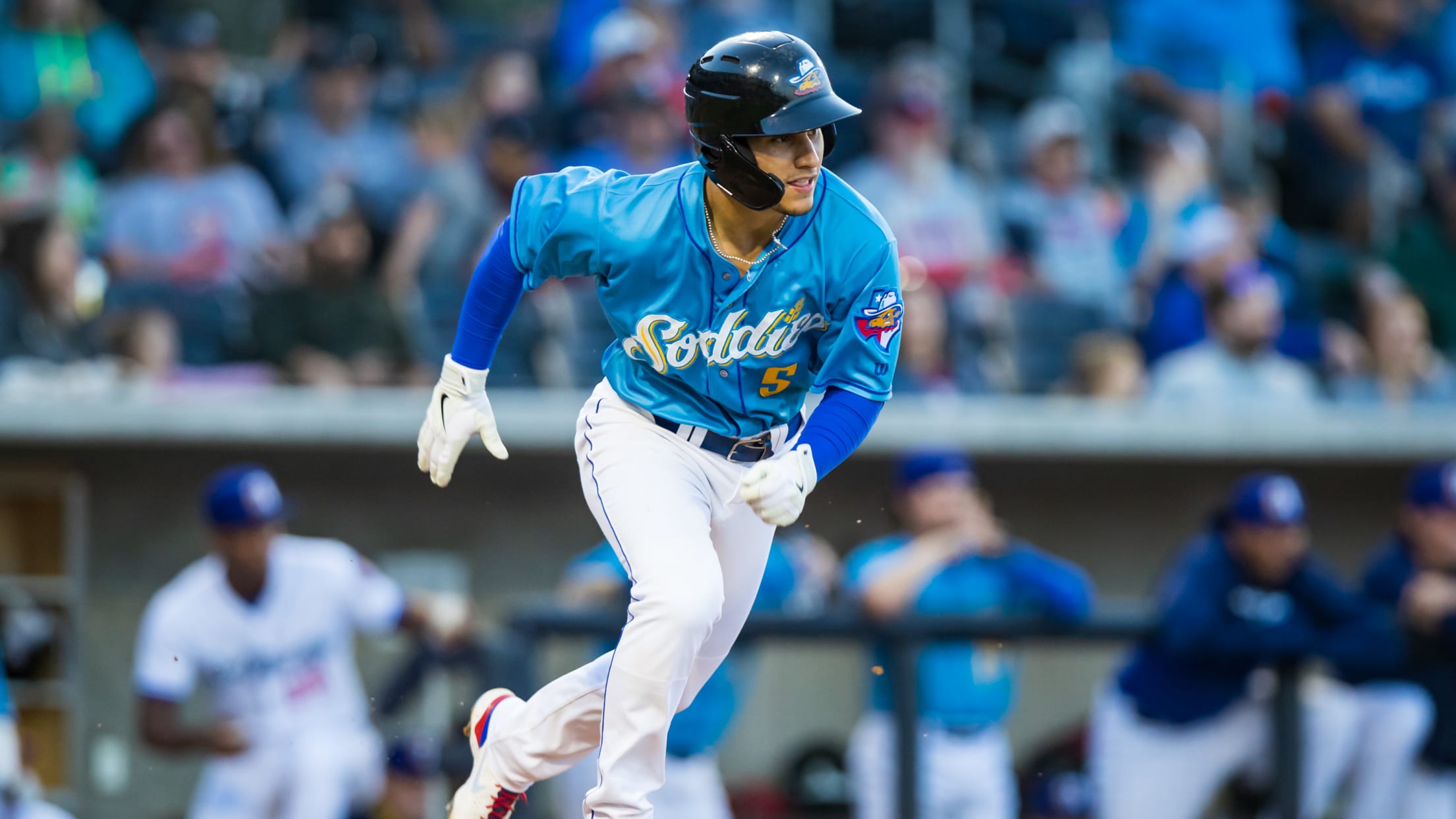 Sod Poodles outfielder Alek Thomas hit a solo homer and a triple in Tuesday night's game at Corpus Christi. (John Moore)
Corpus Christi, Texas — Despite a quick start, the Sod Poodles fell 17-4 to the Corpus Christi Hooks on Tuesday night in the opener of a six-game series at Whataburger Field. Amarillo center fielder Alek Thomas started the ballgame with a bang, crushing the evening's very first pitch from Hooks
Corpus Christi, Texas — Despite a quick start, the Sod Poodles fell 17-4 to the Corpus Christi Hooks on Tuesday night in the opener of a six-game series at Whataburger Field.
Amarillo center fielder Alek Thomas started the ballgame with a bang, crushing the evening's very first pitch from Hooks starter J.P. France over the right field fence.
Thomas' second home run of the year was followed with Mikey Reynolds' double, and he later scored on an RBI groundout from Jarett Rindfleisch. The Soddies led 2-0.
The Hooks (7-11) responded immediately against Amarillo starter Jeff Bain (0-1), plating a run on Norel Gonzalez's RBI single in the bottom half of the first.
In the second, Corpus Christi put together a six-run frame against Bain. Pedro León collected his second double of the game, clearing the bases in the process. Gonzalez capped the rally with a two-run shot, giving the Hooks a 7-2 lead.
After the Hooks got two more runs in the fourth, Corpus Christi erupted for a five-run frame in the fifth against lefty Tyler Holton. J.J. Matijevic belted a three-run homer in the inning.
In the sixth, the Hooks extended their lead again with Colton Shaver's three-run home run. Corpus Christi scored a season-high 17 runs on 18 hits. Both were also highs allowed by Amarillo pitching.
Bright spots for the Soddies included the play of Thomas, who also tripled and scored another run in the fifth inning. Dominic Miroglio also collected a multi-hit game, walloping a solo homer into the Corpus Christi left field bullpen in the ninth inning.
Amarillo (10-9) received solid bullpen work from Justin Vernia, who went 1.1 scoreless innings after replacing Bain. Luis Castillo was charged with just one run over two innings in relief, while Mitchell Osnowitz spun a scoreless eighth inning.
Corpus Christi lefty Jonathan Bermudez (2-2) picked up with victory, allowing just Miroglio's home run in four innings of relief.
The Sod Poodles and Hooks continue their series in South Texas on Wednesday night. First pitch is at 6:35 p.m. Amarillo sends right-hander Humberto Mejia to the mound. Corpus Christi will start righty Jose Urquidy, who is on a rehab assignment from the Houston Astros.
Pregame coverage on NewsTalk 940 AM and the Sod Poodles Radio Network begins at 6:15 p.m. with Sam Levitt.
NOTES:
First Pitch Swinging: Alek Thomas hit Corpus Christi starter J.P. France's first pitch of the game over the right field fence on Tuesday night, crushing his second home run of the season. Thomas would also later triple and score a run in the fifth inning.
With his two hit evening, Thomas raised his batting average to .344. That mark ranks in the top-10 among Double-A Central hitters.
Reynolds Keeps Rollin': After hitting a key go-ahead homer in Sunday's win against Midland, infielder Mikey Reynolds collected a double to begin Tuesday night in Corpus Christi.
Reynolds, who joined the Soddies last week, is now 6-for-16 with a home run and six RBIs.