State of the System: Miami Marlins
Glut of top prospects propelled Miami to playoffs in 2020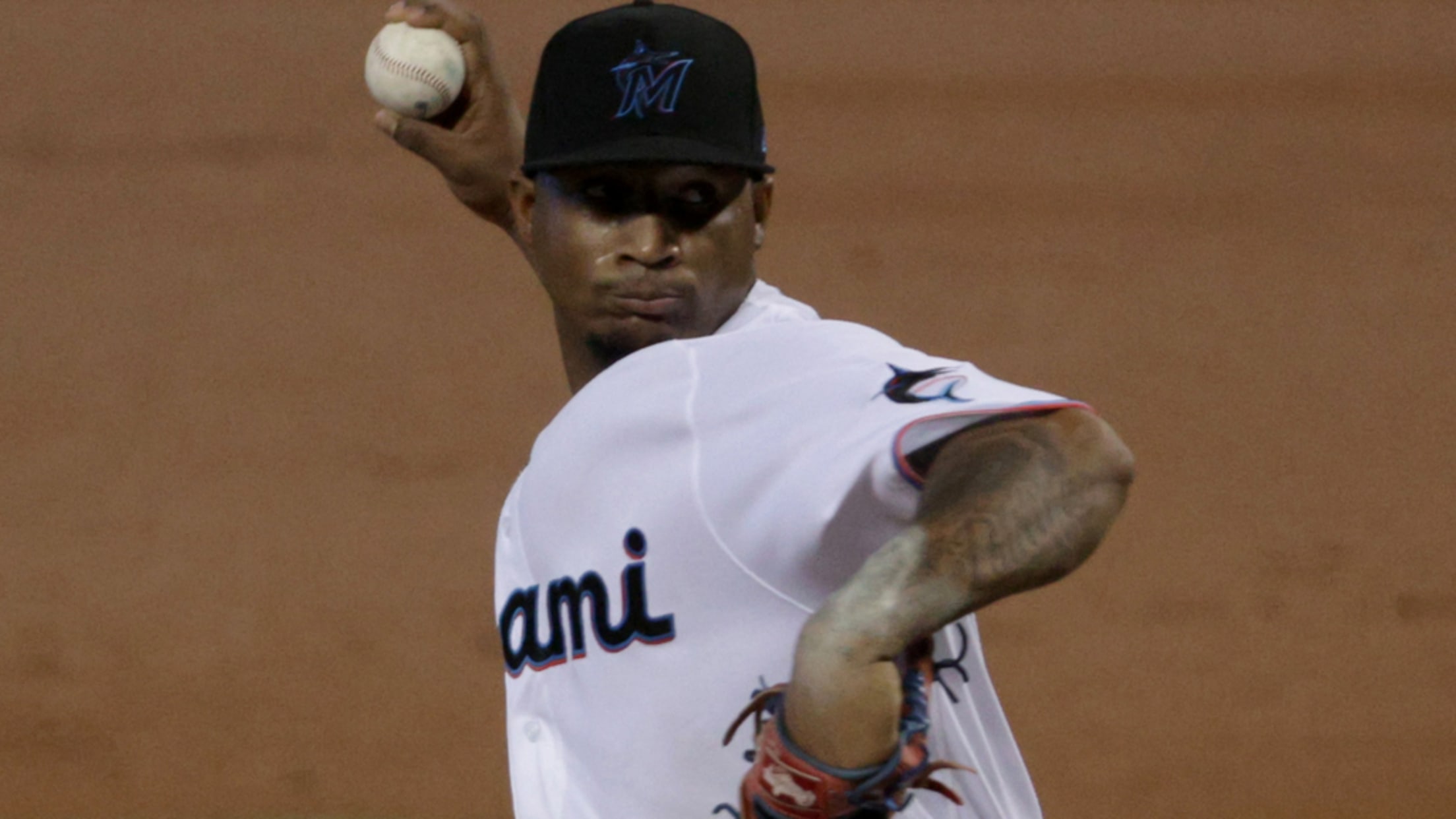 Sixto Sánchez made seven regular-season starts for the Marlins and one appearance in the postseason. (Mark Brown/Getty Images)
Starting in October and running through the end of the year, MiLB.com's State of the System series will evaluate the strengths and weaknesses of each Major League organization, highlights prospects who've made the biggest strides in 2020 and offers a peek at 2021. The Major League season was barely underway
Starting in October and running through the end of the year, MiLB.com's State of the System series will evaluate the strengths and weaknesses of each Major League organization, highlights prospects who've made the biggest strides in 2020 and offers a peek at 2021.
The Major League season was barely underway and it looked like it was going to be a disaster for the Marlins. The team was stuck in Philadelphia as a COVID-19 outbreak through its ranks. After taking two of three games from the Phillies, Miami waited as its next seven were postponed and the organization tried to figure out how to field a healthy team.
With one of the baseball's most talented farm systems, the Marlins made it work. A host of top prospects helped not only patch the squad together but make a run to the postseason for the first time since 2003. Once the team reached the playoffs at the end of a tumultuous and at times tenuous regular season, it didn't stop. Miami swept its best-of-3 Wild Card Round series at Wrigley Field, advancing to the Division Series, where its season came to an end.
A campaign that could've been a disaster was salvaged, and in the larger baseball picture, it provided a glimpse of what could -- with new general manger Kim Ng at the helm -- be a budding National League East heavyweight.
System strengths: Prior to 2020, one may have described Miami's youth and depth as the system's assets. Now it's experience and depth, especially on the mound. Four of the Marlins' top six pitching prospects debuted this season, with right-hander Sixto Sanchez, ranked No. 19 overall by MLB Pipeline, leading the way.
"The way that he went up there and fit right in and performed immediately and pitched in the playoffs, incredible," Marlins director of Minor League operations Geoffrey DeGroot said. "His talent speaks for itself. His ability speaks for itself, but he's also a very confident kid in a good way. He's competitive. You combine those two things and it makes for a scary, scary looking pitcher out there."
Sanchez impressed in seven regular-season starts, posting a 3.46 ERA and 1.21 WHIP, before dominating the Cubs in his lone playoff outing, tossing five scoreless innings and scattering four hits and a pair of walks while striking out six.
"The thing we've seen him improve on the most is just his work and his routine and his consistency and that," DeGroot said. "The more consistent he is with his daily work, the more consistent his performance is on the field. He's worked great and it's been awesome to watch him grow."
Areas for growth: While the Marlins' glut of pitching talent contributed, their group of position players sent a host of prospects to The Show. Unfortunately, their performances were a mixed bag. Shortstop Jazz Chisholm, Miami's No. 3 prospect, batted .161/.242/.321 in 21 games but showcased impressive defensive tools. Outfielder Jesús Sánchez (No. 5/) produced a .040/.172/.080 slash line in 29 plate appearances but had played only 35 games above Double-A before this year. First baseman Lewin Diaz, the Marlins' No. 8 prospect, hit .154/.195/.205 in his first action above Double-A. Only Chisholm homered, going yard twice.
What's changed: If anything, Miami's biggest change is that its window of contention may have opened sooner than expected due to the team's unanticipated promotions.
"Our plan was to develop our guys at the alternate training site the best way that we could," DeGroot said of the team's early-season uncertainty. "We were getting creative with ways we were doing that obviously with limited players and limited staff, but we had a pretty good plan in place. That changed pretty quickly, but it gave our players the opportunity to play at the Major League level probably sooner than they might have had that not be the case. There's incredible benefits to that. Obviously, they're going to go through some growing pains up there the first time they make it up there. I think that's pretty common, but it's going to be great for them in their future."
All told, eight of the Marlins' top 11 prospects saw big league action this year while retaining prospect status for 2021, with their eyes on the first division title in franchise history.
"The way we look at it, it's actually probably a benefit all in all because now, the next time, they are ready," DeGroot said. "If they get called up to the Major Leagues or start in the Major Leagues next year, they know what to expect. They've been there before. They've faced some of those pitchers. They know the routine. They've played in the ballpark. They've played in opposing ballparks. They've been on the road. They've been on the flights. It's going to allow them to prepare for that much better this offseason and going forward."
Alternate site standouts: Catcher Will Banfield, the Marlins' No. 29 prospect and the 69th overall pick in the 2018 Draft, drew rave reviews from DeGroot.
"He hadn't played above low-A ball in the Midwest League, and we brought him to our alternate training site from the beginning," he said. "He was playing against Triple-A and big league players, and I would say he's probably our most improved player from last year to this year. He got more physical. His lower half is stronger. He's hitting the ball harder. The power is there. The defense continues to improve. Will really stood out, the way he was competing against older, more experienced players."
Banfield is likely still a few years away from the Majors but left a strong impression.
"His makeup is off the charts. He's respectful. He's coachable. He wants to learn," DeGroot said. "He just does a great job at that position. That position is so much more than just tools. There's intangible things that you need to have, a way of handling a staff and toughness and knowing how to call a game. He's just everything that you would hope for at that position."
Impact rookies: Sanchez especially fits the bill, but he was joined by some other promising arms. Lefties Braxton Garrett and Trevor Rogers, the Marlins' seventh- and ninth-ranked prospects, also debuted in 2020.
"Each outing at the alternate training site, they were improving," DeGroot said. "Each outing was better than the one before, and they were improving on the things that we were asking them to improve on. Trevor's breaking ball continued to get better from outing to outing. Braxton added a slider. Everything that they were doing was trending in the right direction."
The pair helped fill a need as the Marlins' faced a grueling schedule making up games down the stretch.
"We played through the whole month of September and had a handful of doubleheaders in that time as well without an off day, so we needed pitching," DeGroot added. "Those guys, because of the work they did at the alternate training site, they were the best options."
Next big thing: There are probably multiple players in this category. The closest is outfielder JJ Bleday.
"Every day, he's the same guy," DeGroot said of the 2019 fourth overall pick out of Vanderbilt. "You can't tell if he went 0-for-4 or 4-for-4 with four homers, it's the same guy every day. He's got a quality work routine he sticks to. He listens. He's coachable. He's very self-aware and he works hard at all areas of his game. It's not just offense or defense or baserunning, it's all of it. Just a true, true professional, and I think that's a credit to JJ and the Vanderbilt program as well."
Bleday, MLB Pipeline's No. 24 overall prospect, didn't reach the Majors this year but could be there quickly in 2021.
"The fact that he came in and was competing against Triple-A and big league players and standing out at our alternate training site was something that was really encouraging for us because we hadn't seen him play above the high-A level until this point," DeGroot said. "He was there facing guys like Sixto and Trevor and Braxton, lefties, righties, and performing and doing a very nice job. A lot of exciting things to come out of JJ Bleday."
On the mound, the Marlins have another new talented face. Miami took its new No. 3 prospect, righty Max Meyer, out of the University of Minnesota with the third overall pick in the Draft and got him work at the alternate site.
"The way that he acclimated to the situation and adjusted to everything and went with the flow, it was incredible," DeGroot said. "It took him a little while to get used to the routine, especially because it was such a unique routine, only playing every few days and then we had to shut down some workouts because of what was going on at the Major League level. It was just back and forth. When he finally got on a consistent schedule, we really saw him take off and he rolled that right into instructional league and continued to trend in the right direction."
It wasn't just Meyer's maturity that impressed his new team.
"One thing that was really nice for us to see was how good his changeup is," DeGroot said. "Everybody knows about his plus-plus slider and the fastball, but the changeup you didn't see much in college because he didn't really need it. He started using that and showing that here, and it's got a chance to be a plus pitch as well."
Tyler Maun is a reporter for MiLB.com and co-host of "The Show Before The Show" podcast. You can find him on Twitter @tylermaun.