State of the System: Milwaukee Brewers 
Ashby, Williams, Turang taking Brewers system to next level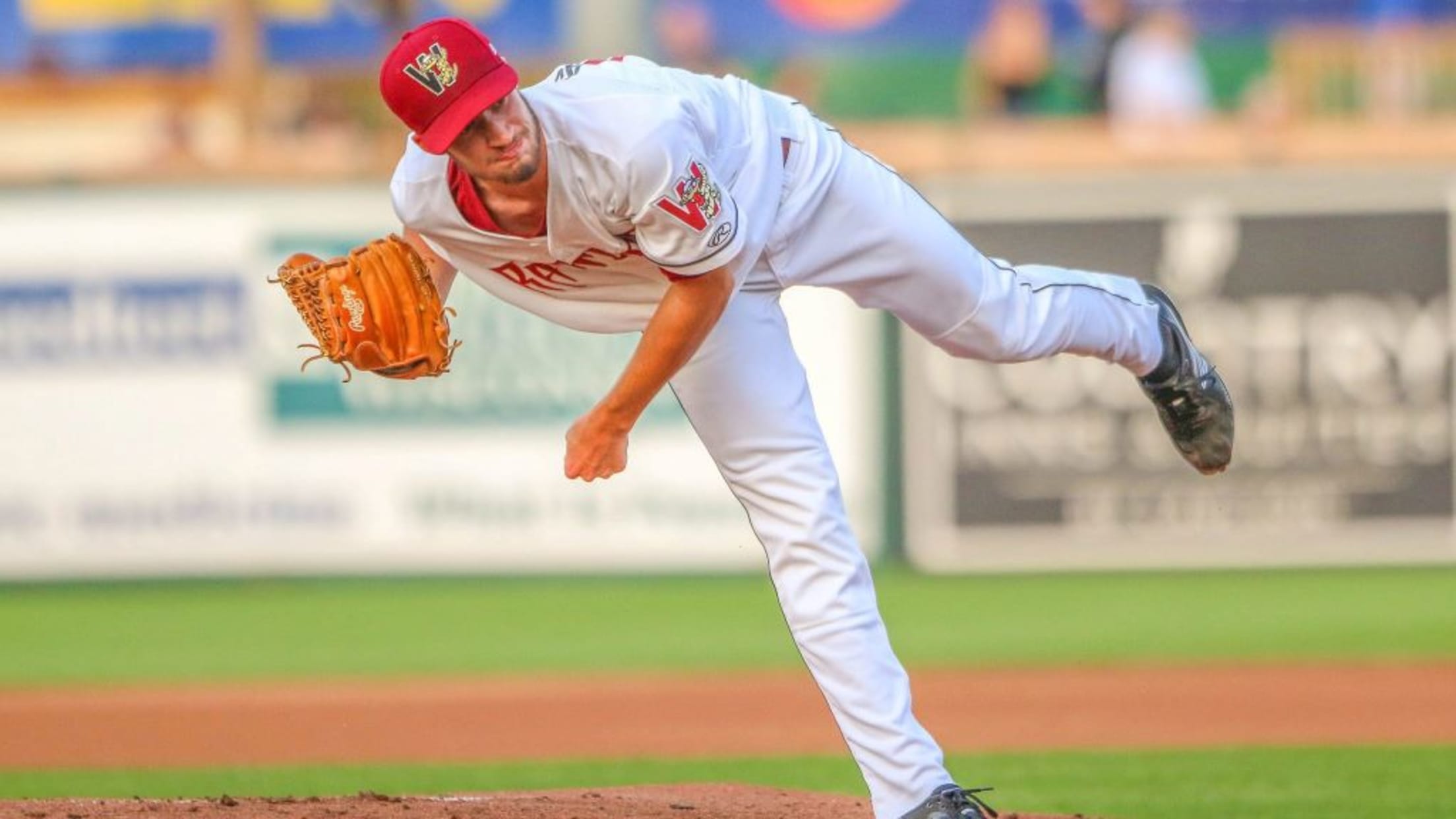 A fourth-round pick in 2018, Aaron Ashby owns a 3.53 ERA over two Minor League seasons. (Nick Gunther/Wisconsin Timber Rattlers)
Starting in October and running through the end of the year, MiLB.com's State of the System series will evaluate the strengths and weaknesses of each Major League organization, highlights prospects who've made the biggest strides in 2020 and offers a peek at 2021.
Starting in October and running through the end of the year, MiLB.com's State of the System series will evaluate the strengths and weaknesses of each Major League organization, highlights prospects who've made the biggest strides in 2020 and offers a peek at 2021.
For the Brewers, it's easy to see the glass half full. Despite a 29-31 record and a fourth-place finish in their division in 2020, Milwaukee still secured the final seed in the National League playoff bracket. The Brewers started 2020 in the cellar of MiLB.com's Overall Farm System Rankings but nabbed highly touted Garrett Mitchell in the first round of the June Draft to give them a Top-100 prospect. To round out the year, Devin Williams took home the National League Jackie Robinson Rookie of the Year award, becoming the first reliever to earn the accolade in nearly a decade and the first in history to do so without recording a win or save.
That same optimism applies to Milwaukee's farm system as a whole. Mitchell remains the club's only Top-100 talent, but Brice Turang, Mario Feliciano and Tristen Lutz pack plenty of excitement as well. Additionally, Aaron Ashby and Micah Bello jumped off the page at both the Brewers' alternate site and the fall instructional league.
Even with the loss of a 2020 Minor League season, the Brewers were still able to ensure plenty of development time to their biggest names. The team sent the majority of their top prospects -- including nine of their top 10 -- to the organization's alternate training site in Appleton, Wisconsin, with more joining instructional leagues in Phoenix this fall.
System strengths: Milwaukee's strengths come in two tiers, according to vice president of Minor League operations Tom Flanagan.
"I think overall we have a lot of pitching from top to bottom," Flanagan said. "At the lower levels, there were quite a few position players that really caught our eye, especially in instructs this year."
Ashby, the club's sixth-ranked prospect, leads a robust crop of young pitchers on the Wisconsin farm. The 22-year-old southpaw posted a 3.50 ERA over 24 games across two levels in 2019, topping out with Class A Advanced Carolina. In 126 innings, Ashby notched 135 strikeouts and limited opposing hitters to a .222 average. Per Flanagan, the 2018 fourth-rounder carried that same success into instructs, where he's shined as one of the club's top arms alongside seventh-ranked prospect and fellow left-hander Antoine Kelly. Alexis Ramirez and Abner Uribe -- two unranked right-handers -- also made waves in the system this summer, with top pitching prospect Ethan Small improving as well.
As far as position players go, Bello impressed both at the plate and in center field, according to Flanagan. Listed as Milwaukee's No. 30 prospect, the 20-year-old Hawaiian has yet to play a full professional season but made strides during camp this year.
Bello joins Mitchell and Lutz as the core outfielders of the future for the Brewers, with all three projected to reach the big leagues in or around 2022.
Areas for growth: The Brewers feature a relatively young and unproven Minor League system, making the cancelation of the 2020 Minor League season even more of a blow. Milwaukee's biggest concern is working through reps and making sure their young players are still able to develop, even with an absence of live games.
"We are really happy with the guys we have, but needing those at-bats, those innings, it has to come from somewhere," Flanagan said.
"The guys that were able to take part at the alternate site or instructs, they might have a little bit of a leg up, but I think back to our staff doing a great job keeping up with all of our players remotely. We can still monitor and still set goals from afar to make sure they're getting some work in."
What's changed: Prior to the 2020 season, Milwaukee was the only team in baseball to not have a single prospect on the Top-100 rankings. That changed with the signing of Mitchell, a 22-year-old outfielder out of UCLA. Originally projected to be selected within the first 10 picks of the 2020 Draft, the Brewers were thrilled to be able to land Mitchell with the 20th overall selection, who only fell in part because of his Type 1 diabetes diagnosis. That aside, the former Bruin is a plus-plus runner who can show a plus hit tool from the left side. His arm is also considered plus, and that, along with the speed, should help him stick in center field.
Milwaukee's farm system has struggled in years past, but the signing of Mitchell -- who currently ranks 56th overall -- along with the prolonged development of guys like Turang and Feliciano provides plenty of promise for the Brewers' future. Additionally, an intriguing group of young and able pitchers are even more reason for excitement down on the Wisconsin farm.
Alternate site standouts: Though there were plenty of candidates, when asked for his pick of an alternate site standout, Flanagan was quick to reply.
"The biggest one is Antoine Kelly," he said.
Selected by the Brewers in the second round of the 2019 Draft, Kelly would've been entering his first full season of professional ball in 2020. He spent most of his debut season in the Arizona Rookie League but made the jump to Class A Wisconsin near the end of the season. Over the two levels, he posted a 2.84 ERA and whiffed 45 batters over 31 2/3 innings.
Instead of building on those numbers at higher levels, the 20-year-old Chicago native worked with the Minor League staff to establish a list of things to improve on, the biggest being preparing for a five-day rotation.
"That was something he hadn't had to do in high school or junior college, and that was still a grind for him," Flanagan said. "He had that down in a matter of outings in Appleton."
Kelly's quickness to adapt wasn't all that stood out. Both his slider and changeup improved vastly and by the end of camp, all eyes were on the club's seventh-ranked prospect.
"Every outing he'd do something that would make you draw attention to him. We're really looking forward to what he's going to be in the years to come."
Impact rookies: It's safe to say no rookie in the National League had a better campaign than Williams. The 26-year-old right-hander put up video game numbers in 2020, allowing just one earned run over 27 innings. That run included a scoreless stretch that spanned 20 appearances from July 29 until the end of the season. Williams surrendered just eight hits and struck out a remarkable 53 batters of the 100 he faced on the year.
It's official: Devin Williams is your 2020 NL Rookie of the Year!

Congrats @DTrainn_23 on a remarkable season.#ThisIsMyCrew pic.twitter.com/zvZfRkRh8d

— Milwaukee Brewers (@Brewers) November 9, 2020
Most known for his prolific changeup, the St. Louis native became the third Brewer in club history to win Rookie of the Year and the first since Ryan Braun in 2007. He also joined American League winner Kyle Lewis as the first Black players since 1984 to sweep the honor.
"Devin was outstanding. I think it was a testament to all the work he's done," Flanagan said. "He certainly left his mark. ... From outing to outing you were wondering, 'Is this for real?'"
Williams was Milwaukee's first-round pick in 2013 and was a top prospect in the organization before undergoing Tommy John surgery, which sidelined him for the entirety of the 2017 season. He struggled in his return in 2018 but shined in 2019 -- earning a nod to the All-Star Futures Game and a September call-up to the Majors.
Rookie of the Year wasn't the only hardware Williams took home this season. He was also pegged the National League Reliever of the Year, marking the third straight year a Brewer won the award. (Josh Hader accomplished the feat in 2018 and 2019.)
Next big thing: The Brewers have some different possibilities here. While Mitchell seems to be an obvious choice, he is just getting his career going and hasn't played an official professional game yet. Second-ranked prospect Turang has been a notable name in the organization since the club made him their first-round pick in 2018. His success at both the alternate site and instructs has also put the 20-year-old infielder even more squarely on the map. Fourth-ranked Feliciano put in a solid summer as well, although the Brewers will have to find a place on the roster for the 21-year-old to protect him from the Rule 5 Draft this winter. Lutz has also improved his defensive prowess while continuing to impress at the plate.
In the eyes of Flanagan, the next big thing may not be just one player, but a group of them instead -- although the Brewers certainly won't rush it.
"I wouldn't hang it all on one individual," he said. "I think we have a nice wave of guys coming that'll be impacting the big league team in the years to come.
"With missing [the 2020 season], there won't really be that normal progression, but they're still making their way to the big leagues. It'll be a group that we'll be excited to get there eventually."
Katie Woo is an editorial producer for Minor League Baseball. Follow her on twitter at @katiejwoo.