State of the System: Minnesota Twins
Lewis, Kirilloff lead batch of top prospects nearing the Majors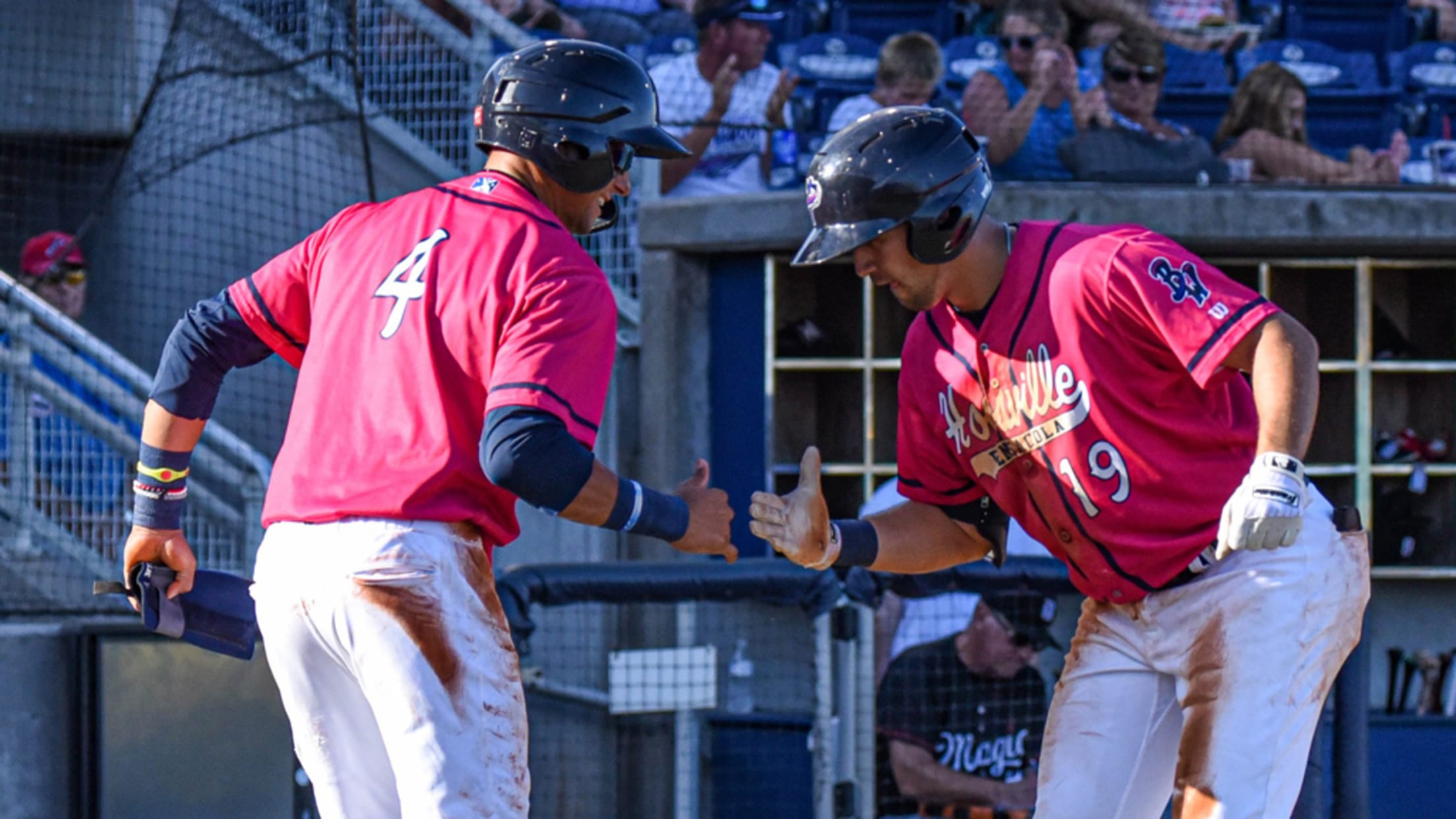 Royce Lewis and Alek Kirilloff were teammates for most of the the 2018 and 2019 seasons. (Pensacola Blue Wahoos)
Starting in October and running through the end of the year, MiLB.com's State of the System series is evaluating the strengths and weaknesses of each Major League organization, highlighting prospects who've made the biggest strides in 2020 and offering a peek at 2021. After a tough stretch for most of
Starting in October and running through the end of the year, MiLB.com's State of the System series is evaluating the strengths and weaknesses of each Major League organization, highlighting prospects who've made the biggest strides in 2020 and offering a peek at 2021.
After a tough stretch for most of the decade, the Twins proved 2019 wasn't a fluke and they are ready to be competitive again in the American League Central.
The youth movement is alive and well in Minnesota with lineups full of homegrown talent who debuted in the past five years. Byron Buxton and José Berríos have settled in while Ryan Jeffers and Jorge Alcala stepped up this year. And even more top prospects should be ready next year.
"We have a lot of upper-level talent, we have a wave of guys that are right on the cusp of hopefully making an impact at the Major League level," said Alex Hassan, the club's director of player development. "We're excited to see those guys hopefully take a step forward in 2021 and really be knocking on the door and being available whenever the need arises that they're ready to step in and contribute and help us win meaningful games."
System strengths: As Hassan pointed out, the Twins boast a lot of talent on the cusp of the Majors. Of their top six prospects, five reached Double-A or higher in 2019. And the sixth, Jordan Balazovic is 22 with four Minor League seasons under his belt. Catcher Ryan Jeffers spent most of 2020 in The Show while Alex Kirilloff made his big league debut in the postseason. After a breakout 2018 and an injury-riddled 2019, baseball's No. 27 overall prospect proved at the alternate training site the former was better representative of his game.
"Really great at-bats, controlled the strike zone, incredible barrel control and played solid defense," Hassan said. "He's one of our most calm and collected players that we have, so we felt like if there's anybody who's gonna be able to handle making their debut of the playoffs, it's gonna be Alex."
And with this first hit, @AKirilloff19 makes history as the first player to get his first big league knock in the postseason! pic.twitter.com/v4Gpr72xsV

— Minor League Baseball (@MiLB) September 30, 2020
Shortstop Royce Lewis continues to turn heads and create questions for Jorge Polanco's future in the Twins' infield. After winning MVP honors in the 2019 Arizona Fall League, the No. 7 overall prospect did what he could this summer to keep that momentum rolling while in St. Paul, particularly by hitting the ball to all fields and improving his defense.
"Both [Lewis and Kirilloff] did an outstanding job and really put themselves in a position that hopefully they're ready to contribute at the Major League level in the not-too-distant future," Hassan said.
Areas for growth: The Twins' Top 30 prospects are pretty well-rounded, except in one way: left-handed pitchers. With the graduations of Devin Smeltzer and Lewis Thorpe, Minnesota doesn't have any top southpaw prospects. Hassan said he and his staff are not concerned, calling it "cyclical" after the graduations.
"No one who's in that upper echelon of prospects that we're talking about right now," he said of lefties on his radar. "In terms of like our top, top-tier talent, I mean, certainly it's right-hand dominant."
Some southpaws who are trying to break through are Tyler Watson, who showed promise in the second half of the 2019 season in the Class A Advanced Florida State League and teammate Bryan Sammons, who did well for Fort Myers before struggling at Double-A Pensacola.
What changed in 2020: The biggest trade of the year for the Twins came in February when they sent then-No. 83 overall prospect Brusdar Graterol, Minor Leaguer Luke Raley and a Draft pick to the Dodgers for ace Kenta Maeda and catcher Jair Camargo. The trade ended up working out for both sides as Minnesota picked up a Cy Young finalist and Los Angeles got a reliable arm for their World Series-winning bullpen.
At the Draft, the Twins nabbed college first baseman Aaron Sabato, college outfielder Alerick Soularie, high-school hurler Marco Raya (yes, right-handed) and high-school outfielder Kala'i Rosario. After being selected 27th overall out of UNC, Sabato jumped into the rankings as the club's No. 8 prospect. While power is the 21-year-old's best tool, Hassan also loves his makeup.
"He's a strong kid. He's got a really good swing and a really good feel for what he's doing at the plate and then he has competitive at-bats and it has really good power," Hassan said. "So a lot of the characteristics that we saw in the Draft, he showed up in instructional league and we saw a lot of those strengths."
Alternate site standout: While Lewis and Kirilloff grabbed the most headlines, they were not the only ones who really stood out for Hassan at St. Paul. Right-hander Josh Winder, a 2018 Draft pick out of Virginia Military Institute, impressed with the work he put in both in the weight room and on the mound. Hassan noted Winder "really took a meaningful step forward."
Matt Canterino came into the alternate site later in the summer with just 25 Minor League innings under his belt, but the 2019 second-round pick performed above his experience.
"He worked his butt off during the shutdown as well," Hassan said. "Matt has really good stuff. He has four really good pitches and has stuff similar to Jordan [Balazovic]. Really ticked up and we were thrilled with what we saw from him."
From the dish, Hassan liked the strides made by Twins No. 7 prospect Keoni Cavaco. At just 19, the shortstop was able to develop off-field routines that translated into games.
"He did a really good job on offense, controlled the strike zone a little bit better, put some more balls in play and flashed the tools that that made him a first-round pick in 2019," Hassan said.
Impact rookies: No rookie (or catcher for that matter) got more playing time in the Twins' lineup this summer than Jeffers. The 23-year-old backstop is best known for his defense, but he also has some pop. In 26 games, Jeffers batted .273/.355/.436 with three homers and seven RBIs. He allowed one passed ball while his 0.5 fWAR ranked ninth among all Twins.
"He's always had an ability to be a really good receiver for us. He's a good game-caller, he managed the staff really well and I think those things all showed up," Hassan said. "And he's been a really good hitter throughout his Minor League career and had good at-bats at the Major League level."
Out of the bullpen, Alcala's 2.63 ERA placed fourth among Twins pitchers with more than three innings pitched. The 25-year-old right-hander got a taste in 2019, but really carved a path for himself this year, notching 27 strikeouts and only eight walks in 24 innings spanning 16 appearances.
Next big thing: Balazovic was drafted in the fifth round in 2016, but he didn't start turning heads until two years later. He ended 2018 as the club's No. 29 prospect. After a breakout 2019, he became the organization's No. 4 prospect. With a plus-plus fastball and a plus-slider, Balazovic turned himself into the Twins' top Minor League arm.
Balazovic didn't get to the alternate training site until late summer, but because of the work he put in at home, he impressed in his limited time at St. Paul and in the instructional league.
"His stuff looked great, he really hadn't lost much at all on his stuff. If anything, probably picked up a tick across the board," Hassan said. "We're excited about him. He was added to the Major League roster, the 40-man roster this offseason, so he'll be a big league camp this year obviously, and he'll be competing just like everybody else. So we don't think he's too far away."
Kelsie Heneghan is a writer for MiLB.com. Follow her on Twitter @Kelsie_Heneghan.