Stripers Lose Slugfest in Lehigh Valley on Record-Setting Night
Rylan Bannon's eight RBIs, Delino DeShields' five runs scored not enough in 14-13 loss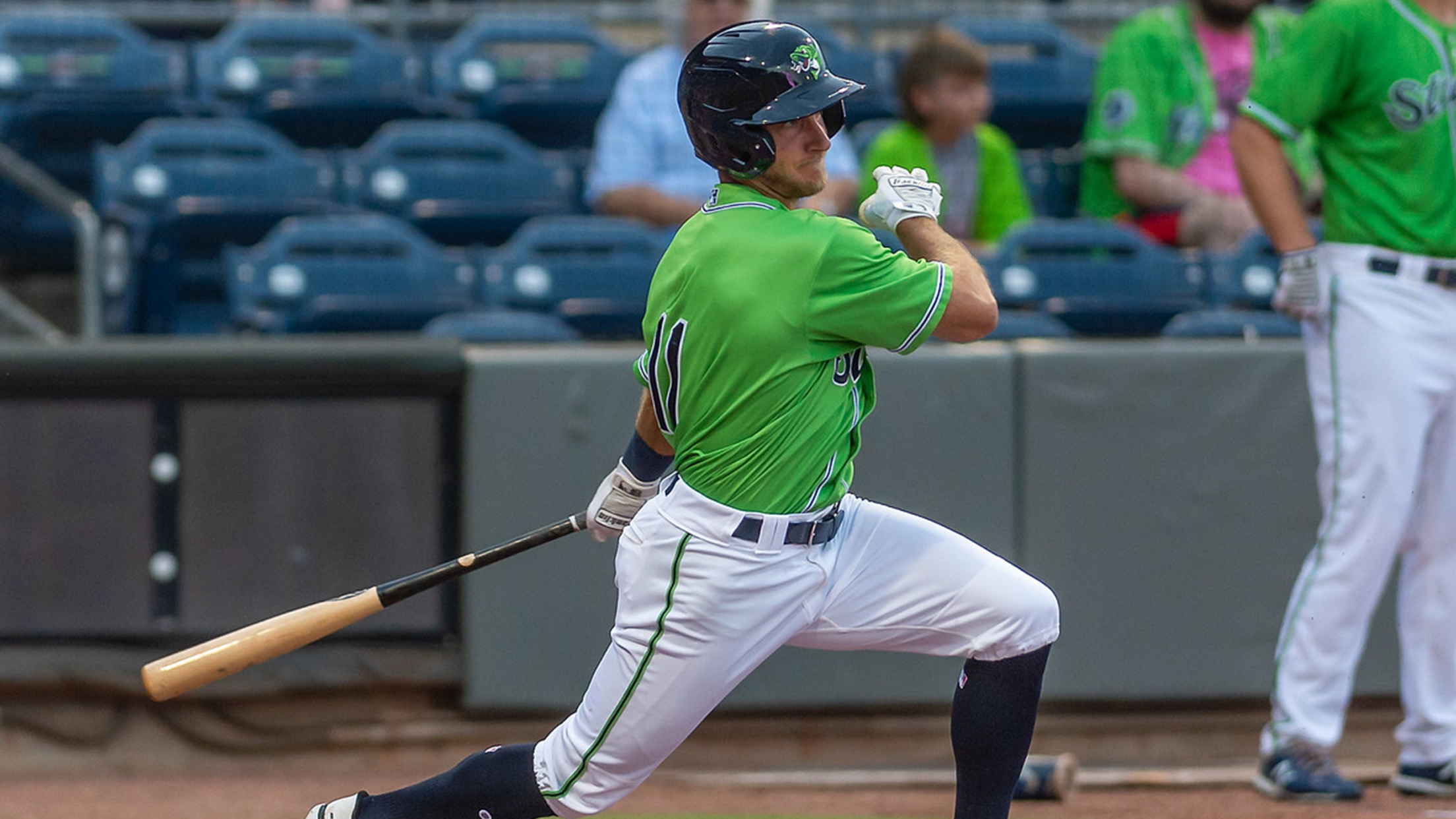 Rylan Bannon became the first Gwinnett player with an eight-RBI game since Austin Riley (May 13, 2018 vs. Norfolk) on Friday night at Lehigh Valley. (Paul Daniel)
ALLENTOWN, Pa. – Rylan Bannon tied a Gwinnett single-game record for RBIs (8) and Delino DeShields Jr. set a Gwinnett single-game record for runs scored (5), but it wasn't enough for the Stripers (59-62) to overcome Lehigh Valley's onslaught in a 14-13 loss to the IronPigs (67-54) on Friday night
ALLENTOWN, Pa. – Rylan Bannon tied a Gwinnett single-game record for RBIs (8) and Delino DeShields Jr. set a Gwinnett single-game record for runs scored (5), but it wasn't enough for the Stripers (59-62) to overcome Lehigh Valley's onslaught in a 14-13 loss to the IronPigs (67-54) on Friday night at Coca-Cola Park.
Decisive Plays:Gwinnett saw leads of 4-0 and 9-5 slip away but took a stunning 12-11 lead on Bannon's three-run home run (12) in the top of the seventh inning. The lead didn't last long, however, as Lehigh Valley answered with three runs in the bottom of the seventh highlighted by an RBI double from Daniel Robertson and RBI singles from Dustin Peterson and Dalton Guthrie. DeShields' RBI single in the eighth cut the deficit to 14-13, but the comeback ended there.
Key Contributors: Bannon went 4-for-5 with a double, homer, and eight RBIs, becoming the first Gwinnett player to notch eight RBIs in a game since Austin Riley (May 13, 2018 vs. Norfolk). DeShields went 2-for-2 with four walks and one RBI, becoming the first Gwinnett player ever to score five runs. He also tied Gwinnett's single-game record for stolen bases with three (first since Danny Santana on August 14, 2018 vs. Louisville). For Lehigh Valley, Guthrie (4-for-4, 2 doubles, 3 RBIs), Brandon Marsh (3-for-4, 3 runs, 3 RBIs), and Donny Sands (1-for-4, homer, 3 RBIs) all had three-RBI efforts.
Noteworthy: Despite the loss, Gwinnett set a season high with 13 runs scored. The Stripers drew 11 walks on the night, one short of tying the club record (12 on July 15, 2021 at Charlotte).
Next Game (Saturday, August 27): Gwinnett at Lehigh Valley, 6:35 p.m. at Coca-Cola Park. RHP Mike Soroka (0-0, 5.40 ERA) for the Stripers vs. LHP Michael Plassmeyer (4-2, 2.83 ERA) for the IronPigs. Radio Broadcast: 6:20 p.m. on MyCountry993.com.
Next Home Game (Tuesday, August 30): Gwinnett vs. Jacksonville, 7:05 p.m. at Coolray Field. Radio Broadcast: 6:50 p.m. on MyCountry993.com. It's a Family Value Tuesday at Coolray Field. Enjoy $2 hot dogs and $1 select desserts, courtesy of Coolray Heating & Cooling.