The Road to The Show™: Brewers' Chourio
No. 10 overall prospect experiences meteoric rise as a teenager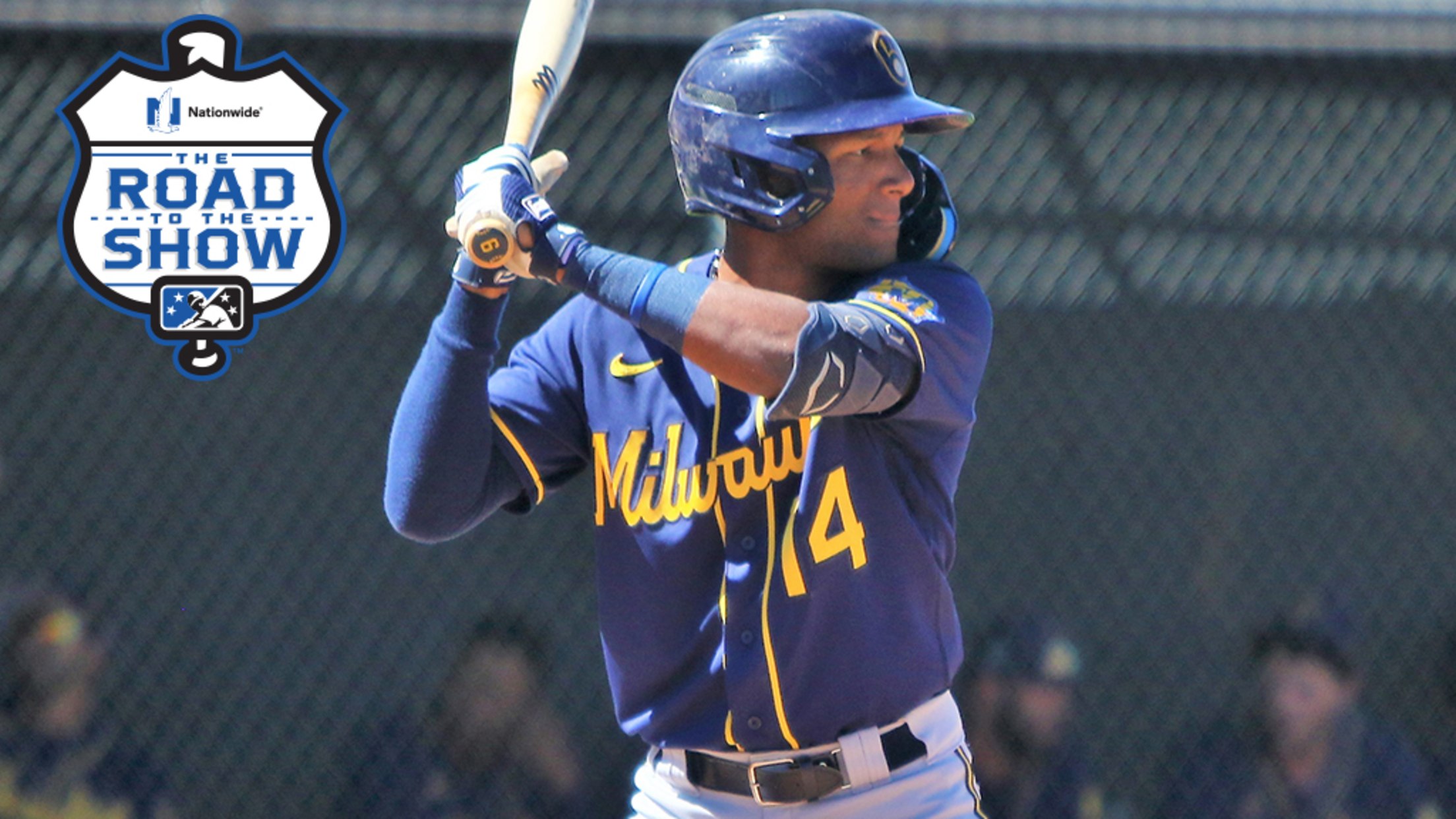 Jackson Chourio hit 20 homers as an 18-year-old in his first full Minor League season. (Jerry Espinoza/MiLB.com)
Each week, MiLB.com profiles an elite prospect by chronicling the steps he's taken toward achieving his Major League dream. Here's a look at top Brewers prospect Jackson Chourio. For more stories about players on The Road to The Show, click here. It became evident very quickly in 2022 that the
Each week, MiLB.com profiles an elite prospect by chronicling the steps he's taken toward achieving his Major League dream. Here's a look at top Brewers prospect Jackson Chourio. For more stories about players on The Road to The Show, click here.
It became evident very quickly in 2022 that the Brewers had a special prospect in Jackson Chourio.
By the end of the season, Chourio ranked as MLB Pipeline's No. 10 overall prospect -- no simple task considering he started the year in extended Spring Training. He quickly made it out of the complex and finished 2022 with a six-game stint at Double-A Biloxi, putting up numbers that few teenagers have reached in recent memory.
All but one of Chourio's tools currently grade as plus -- his arm strength the only exception. When he signed with the Brewers for $1.8 million out of his native Venezuela, he was considered a contact over power hitter -- which could be backed up by his numbers during his first professional action in the Rookie-level Dominican Summer League in 2021. But his approach and his actual swing both got a lot more aggressive this past season.
"The way he swings the bat, when I'm coaching third base, I can hear that vroom," Carolina manager Victor Estevez told MLB.com in July. "His bat speed is really, really, really fast."
With the new violent hack, the homers appeared, and Chourio's power output placed him in rare company. He was one of only five players since 2007 to play exclusively in full season leagues and hit at least 20 homers in their age-18 season.
It took a little while for Chourio to get the handle on the new approach. His final strikeout rate (26.9 percent) was nearly twice as high as his 2021 mark, and his 7.3 percent walk rate was nearly half of what it had been a year prior.
"His damage is off the charts and he hits the ball extremely hard to all fields. I think it starts there," Flanagan told MLB.com. "Now it's just a matter of continuing to improve those other areas. His swing decisions are probably the main driver because he makes pretty good contact. But as he improves there, lets that damage take over, I think that'll be huge."
Chourio's ability to put the bat on the ball gives him the skill set to make the most of his aggressive approach. Currently, his speed (70), power (60) and fielding ability (60) all grade higher than his hit tool, which had been his headlining characteristic as an amateur.
Jackson Chourio, Gold Glove Winner 🏆🥇

You know about his offense … but don't sleep on his defense. Chourio is one of three OFs across all of MiLB to take home the Gold Glove.

Did we mention he's 18 years old?#ThisIsMyCrew pic.twitter.com/v2Y3ePD6aK

— Brewers Player Development (@BrewersPD) November 23, 2022
Listed at 6-foot-1, 165 pounds, Chourio's initial signing eligibility was pushed back by the pandemic to last January. When he first inked the deal with the Brewers, he played shortstop and the outfield but was mostly viewed as future outfielder. The change in schedule for international signees gave the club limited opportunities for evaluation and he began his professional career in the DSL.
The Maracaibo native was a different player in his first professional action. He impressed with his speed, athleticism and defense while batting .296 with an .833 OPS in 45 games in the DSL. He also clubbed five homers and seven doubles, drove in 25 runs and scored 31 and had nearly as many walks (23) as strikeouts (28).
Chourio played six games at second base during the 2021 season, his only infield action in the professional ranks. He's otherwise played exclusively in center field.
By the end of the 2021 season, Chourio ranked as the Brewers' No. 15 prospect. Although he was kept in extended Spring Training until May, the club did challenge him with seven at-bats in the Cactus League. He debuted with the Mudcats on May 3 and began to make the rounds as the youngest player everywhere he went, including full season ball at the time of his debut.
Chourio tore the cover off the ball in 62 games with Carolina, batting .342 with a .973 OPS, 12 homers and 23 doubles. He also had a wRC+ of 160 and a .423 BABIP. During this incredible run, he detoured to the Futures Game at Dodger Stadium in Los Angeles, where he was once again the youngest on the field. He went 0-for-2 in the prospect showcase but was promoted to Wisconsin less than two weeks later.
He hit the ground running in the Midwest League. His strikeout rate dipped by more than 6 percent from his 28 percent mark in Carolina, and he was able to maintain an impressive .488 slugging percentage and hit eight more homers. But his .252 average and .317 on-base percentage seemed pedestrian in comparison to what he's done in the past -- a profile that makes it easy to forget that he's simply much younger and less experienced than his competition.
"He can run, he can throw, he can play defense. He's a good one," Wisconsin manager Joe Ayrault told the Milwaukee Journal-Sentinel in October. "Every time he came to the plate, he was a threat to do something. No matter what the pitcher had. … It's just like, wow. At 18, to face premium stuff like that, it was impressive."
After the Wisconsin season ended, the Brewers decided to give Chourio more reps as Biloxi played out the rest of its schedule. Chourio didn't have a great debut week at Double-A, but he made a nice first impression with a three-run double in his first games with the Shuckers.
While there were a number of fast risers in 2022, Chourio's youth makes his breakout the most noticeable. He's drawn comparisons to fellow Venezuelan Ronald Acuña Jr. and Andruw Jones because of his well-rounded skill set and potential to crack the big leagues before his 21st birthday.