Ivey, Buies Creek cap semifinal sweep
Astros No. 25 prospect takes perfect game into sixth inning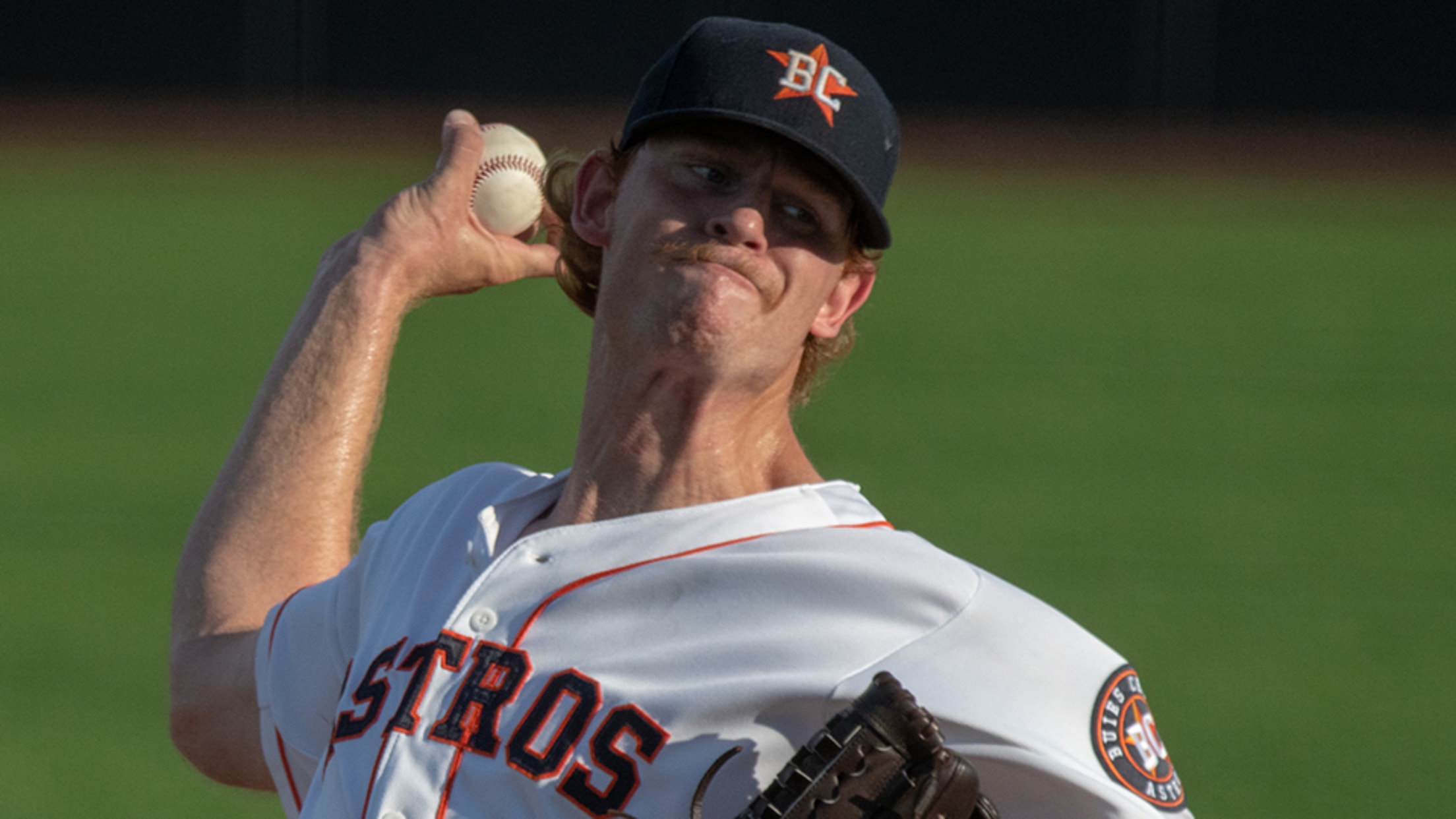 Tyler Ivey was 4-6 with a 2.97 ERA in 24 games, including 18 starts, across two levels during the regular season. (Joseph Dwyer/MiLB.com)
Tyler Ivey was almost perfect, even if the last couple of innings weren't.The Astros' No. 25 prospect took a perfect game into the sixth and ended up tossing 7 1/3 solid innings as Buies Creek held on for a 6-5 win over Winston-Salem, completing a sweep of the best-of-3 Carolina League
Tyler Ivey was almost perfect, even if the last couple of innings weren't.
The Astros' No. 25 prospect took a perfect game into the sixth and ended up tossing 7 1/3 solid innings as Buies Creek held on for a 6-5 win over Winston-Salem, completing a sweep of the best-of-3 Carolina League semifinal series.
Gameday box score
Ivey (1-0) allowed three hits and a walk to go along with six strikeouts in his longest outing since the Astros selected him in the third round of the 2017 Draft.
"Everybody is so excited, especially after winning that first game, because they were the favorites," he said. "Our team is really close as a unit and we have great chemistry, so we expected to win. To get the sweep against those guys, especially at home, it was huge. They're a great team and were really fun to play against."
The 22-year-old retired the first 17 batters faced before walking JJ Muno with two outs in the sixth. White Sox No. 3 prospect Luis Robert followed with a double, but Ivey stranded both runners by striking out 14th-ranked Luis González.
Guided by a steady fastball and a healthy dose of off-speed offerings, Ivey had all of his pitches clicking before the game. And the bullpen session carried over for one of his better outings of the season.
"Everything was working," the Texas native said. "Everything felt good coming into the start. It was just go attack, the regular game plan, just go out there and throw strikes. Finish hitters how I need to. My defense played very good behind me. It was really fun, it was a really enjoyable experience. I'm so glad to get the win tonight. I'm just really, really excited."
After a perfect seventh, Ivey surrended a two-run homer to White Sox No. 28 prospect Laz Rivera with one out in the eighth and was pulled after throwing 60 of 89 pitches for strikes.
• Complete postseason coverage »
The right-hander exited with a 6-2 lead, but No. 32 overall prospect Nick Madrigal delivered an RBI single and Robert raced home on a passed ball to get Winston-Salem within 6-4. White Sox No. 15 prospect Gavin Sheets homered in the ninth, but Colin McKee struck out Ti'Quan Forbes and Rivera to nail down his second save of the series.
"Playoff baseball will literally give me a heart attack," Ivey said. "There's really nothing better than playoff baseball. We were up, 6-0, and then I came out of the game at 6-2 and had complete confidence in my bullpen they were going to get it done. Colin McKee pitched great. We're all just so happy to get the win and the sweep and, honestly, it's just been magical."
Astros No. 7 prospect Seth Beer hit a three-run blast in the sixth and Buies Creek got solo shots from Osvaldo Duarte, Cody Bohanek and Jake Adams.
"It was exhilarating," Ivey said of the offense. "It was a pitchers' duel through four or five innings, and you think it's going to be one of those games. Then, all of a sudden, we just start hitting home runs. I couldn't be any more proud of the offense tonight. They were unbelievable. Cody Bohanek hit an absolute tank. We're just so proud of everybody. It's been a great experience and now we get to play in the Championship Series and we're so excited."

In other Carolina League playoff action:
Potomac 4, Lynchburg 0, suspended
Game 3 of the other semifinal series was suspended due to rain in the sixth inning, with the Nationals holding a 4-0 lead. It will be resumed on Saturday.
Marisa Ingemi is a contributor to MiLB.com. Follow her on Twitter @Marisa_Ingemi.