Udder glory: Wisconsin wins Alter Ego Challenge
Timber Rattlers add to accolade collection for bovinic pseudonym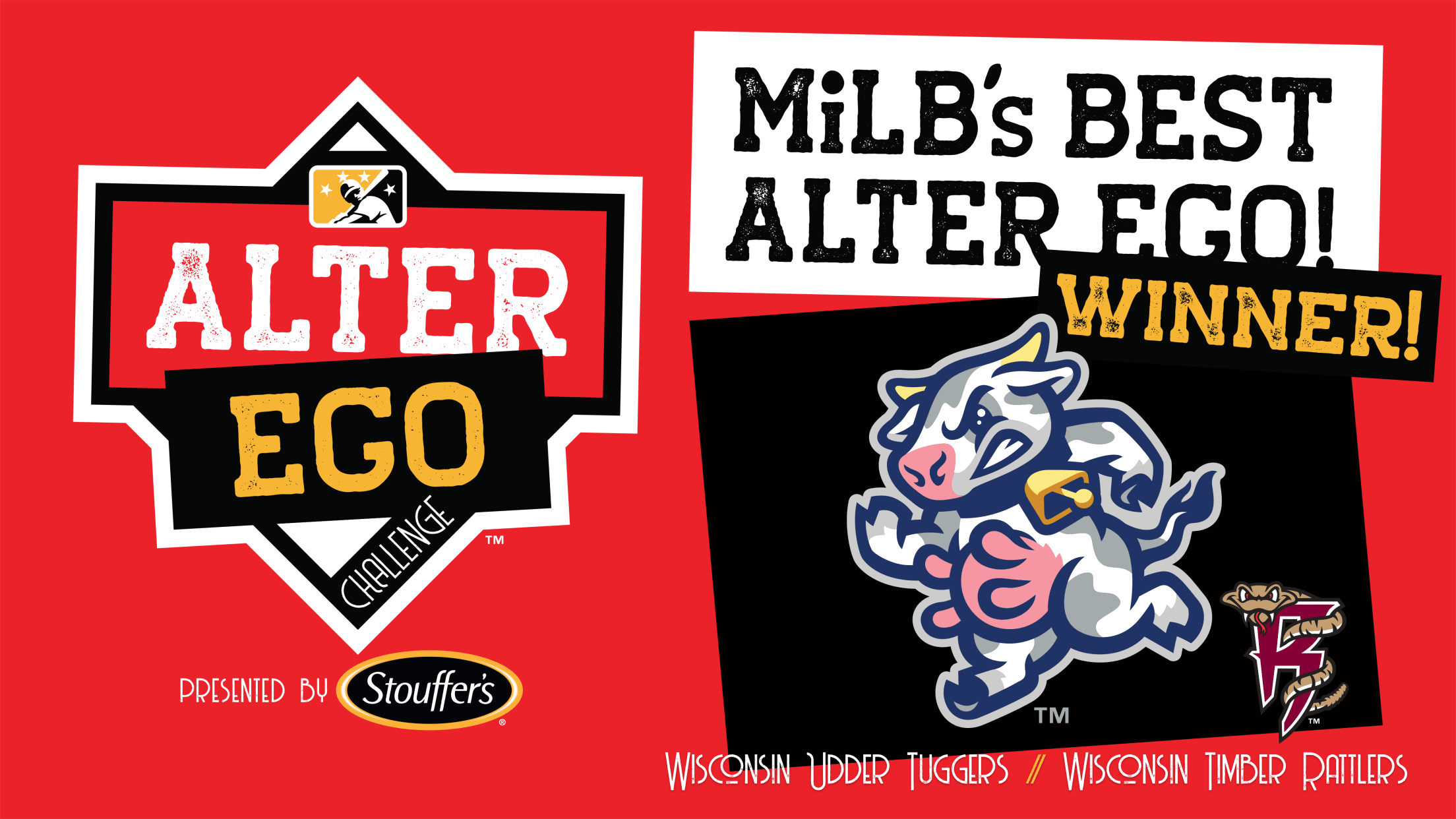 The Udder Tuggers have been garnering fan attention and piling up industry awards since their 2019 debut.
At this point, the success of the Wisconsin Timber Rattlers' alternative identity has become udderly re-moo-cow-ble. On Friday, the Wisconsin Udder Tuggers were named the winners of the Alter Ego Challenge, a fan-voted contest featuring a field of 28 teams. The sometime moniker of the Milwaukee Brewers' Class A affiliate
At this point, the success of the Wisconsin Timber Rattlers' alternative identity has become udderly re-moo-cow-ble.
On Friday, the Wisconsin Udder Tuggers were named the winners of the Alter Ego Challenge, a fan-voted contest featuring a field of 28 teams. The sometime moniker of the Milwaukee Brewers' Class A affiliate made it to the finals Tuesday, launching a frenzied vote-off in which they edged the Pensacola Mullets (usually known as the Blue Wahoos), the Clearwater Beach Dogs (Threshers) and the Fresno Tacos (Grizzlies).
As though by an act of bovine intervention, the Udder Tuggers yanked the title out from under the formidable competition, adding to a collection of honors that already included Golden Bobblehead awards for 2019's Best Theme Night and Best Overall Promotion.
"It's an honor. I really thought the Tacos had a shot, because they've been at it too, but it's an honor to win," Wisconsin director of media relations Chris Mehring said. "It's a credit to the hard work that everybody -- the social media team, the people in the store -- have put in to keep the Udder Tuggers' name out there, even without a season this year."
The Rattlers calved the Udder Tuggers name for the 2019 iteration of their annual Salute to Cows promotion, giving new flavor -- if not exactly a sense of maturation -- to a tradition of honoring the state's dairy industry. Haters may call it cheesy, but the Salute to Cows, beginning in 2009, previously featured cow-patterned jerseys, mooing contests, curd-tossing and more in a celebration of National Dairy Month. (That's June, for all of you cow-tipping bullspitters.)
"We've brought in dairy cows. We've done cow-themed on-field promotions. That's all great and our fans appreciate it, but it wasn't bringing new eyeballs to the product," Mehring said. "Using the Udder Tuggers was a way to get new eyeballs, and we thought it was a one-time thing: 'This is what we'll be called this day.'"
Get gear for your favorite alternate identity »
The team kept the name stabled away since the 2015-16 offseason, when it joined forces with Marian University to create a new entry to a collegiate wood-bat circuit. The Timber Rattlers worked with longtime partner Brandiose to develop an identity for that franchise, and it nearly became the Udder Tuggers.
"It started when we were naming our Northwoods [League] team in Fond Du Lac. The Udder Tuggers were floated as a name for the Dock Spiders," Mehring said. "We thought a full-time team named the Udder Tuggers might be a little too far out there, and everybody did really like Dock Spiders. But we still had Udder Tuggers in the vault. When we were thinking about this idea to use it for an alternate identity, the work was pretty much already done. We'd done a lot of work with Brandiose over the years, and that's been a great partnership."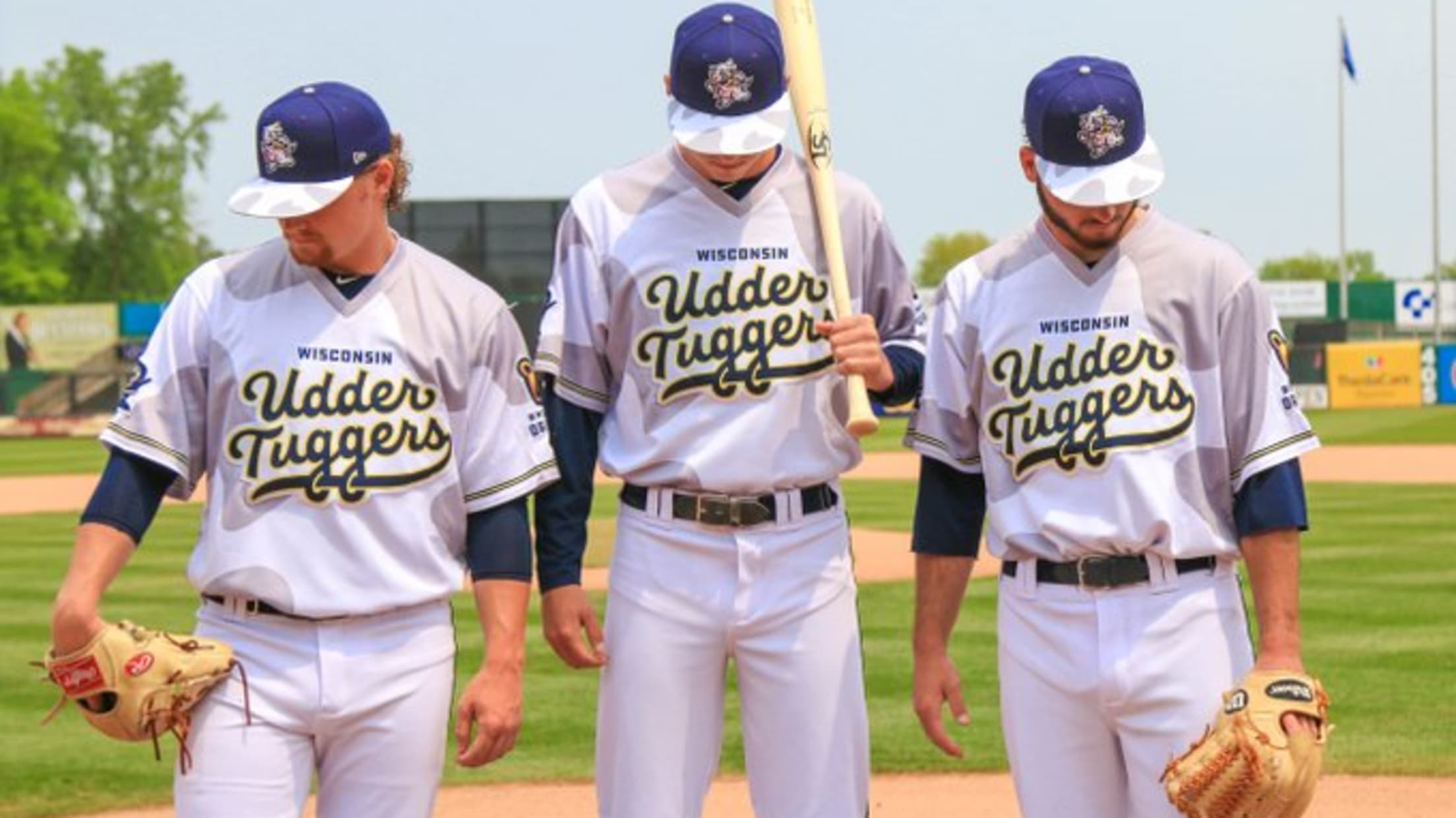 During a promotion brainstorming session following the 2018 campaign, the notion of using the Udder Tuggers moniker and logo resurfaced. ("There was some excitement, but we kind of thought, 'Are people going to like it? Are they not?'" Mehring recalled.) The decision to milk the name for all it was worth was followed by months of careful consideration and planning. In the end, not one drop of the effort was spoiled.
"I don't know how many meetings we went through to decide how to release it at the exact right time and in the exact right way," Mehring said. "The day that the announcement was made was our first off day in a long time. It was the first Tuesday in June. ... I was doing the posting of the story and some social media stuff from home. [Director of marketing] Hilary Bauer and [president] Rob Zerjav and some of the others were out on a golf outing that day. Jay Grusznski, our merchandise guy, was in the store. We released it at 10 o'clock, and within a half hour, I had to turn off my phone notifications. Jay texted and said, 'This thing is going crazy.'
"In five hours, we sold out of all the merchandise at the store. We realized we had something really special, but for it to be so special this far into the future is something we never would have dreamed of."
Like many of the Minors' greatest hits, the achievement was made all the more special because the club shared its triumph with the community. Game-worn jerseys from the 2019 Salute to Cows game were auctioned online, with proceeds going to Farm Aid. This summer, 20 percent of Udder Tuggers-related merchandise sales was donated to two charities supported by the Dairy Farmers of Wisconsin -- Hunger Task Force Free & Local and the Wisconsin Food & Farm Support Fund.
"We still pushed it in June, even without a season, and we did really well on that," Mehring said. "We had new stuff too. Fans are still just loving the Udder Tuggers, and they're continuing to purchase Udder Tuggers stuff."
In Mehring's view, Udder Tuggers gear has become the most popular thing since bottled milk for simple reasons.
"I just think the name is so unique and the logo is a fun logo -- the way the cow looks on the logo with 'Udder Tuggers' underneath. It's just a fun name, an eye-catching name," he said. "People see it and say, 'We really need to get something like that.' We sold [Udder Tuggers merchandise] to all 50 states when it first went out, and it's still out there. The name is so unusual that people just want to get it and give something Udder Tuggers for gifts or for themselves. It's just a fun name, and it reflects what Minor League Baseball can be about."
It's not going anywhere either. At this date, it's not known when fans will be safely welcomed back to the ballpark, but the Wisconsin front office is already chewing the cud about ways to expand upon the Udder Tuggers' success in 2021.
"With the Udder Tuggers, we caught lightning in a bottle. We've still got that bottle and we're taking care of it. We're going to try not to beat it into the ground, but continue to have fun with it," Mehring said. "I think all the other teams up for the award, they have something really special in what they're doing too. Just to have all those other teams in there and compete for this, that's something really cool. Everybody in Minor League Baseball, whatever comes next, it's such a great group to be a part of."
Josh Jackson is an editor for MiLB.com. Follow and interact with him on Twitter @JoshJacksonMiLB.